Bad backlinks and the impact they will have on SEO has become a concerning factor among different webmasters and site owners. With the introduction of the Penguin update which was set to penalize low value backlinks, the situation will worsen with the upcoming Penguin 2.0. Site owners may be justified for crying foul as they often don't have control over links from external websites. A competitor could deliberately point thousands of spam links to your site to encourage penalties on your side, a practice known as bad SEO.
Even sites that are not targeted by such spam links may still be penalized for past link building practices as long as they don't confirm to Google's Webmaster Guidelines, and if they fail to have such links removed.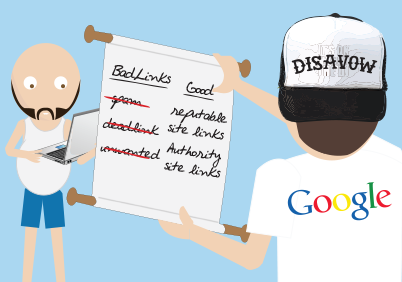 Fortunately there is a way in which webmaster can resolve the matter, and that's by using Google's Disavow Link tool. Basically the Disavow link tool lets site owners submit files through the Google Webmaster Tool listing those links that should be valued and those to be devalued.
Say you have 5 good links pointing back and one bad one. With Disavow link tool you can let Google know of the 5 links you would like considered when your site's links are valued.
This has actually come as a great solution to webmasters and site owners struggling to remove low value backlinks, and with Google's Penguin 2.0 set to roll into motion it will be gravely important for site owners to remove poor quality links. However there are some things to bear in mind when using this feature.
Disavow Links May Harm You
Note that if you submit links incorrectly and choose to remove non malicious links your site could drop in search engine rankings. For example, if you choose eliminating links by domain name instead of by individual backlinks you risk removing links from good sites which may have actually contributed to your site being where it is.
Use Disavow Only In the Event of An Attack
With the potential of harming your search engine rankings, site owners should only use Disavow links once sure that they've fallen prey to negative SEO, or in the event that certain backlink issues are not resolved with other site owners.
Separate Negative Backlinks from Beneficial Links
Note that the process of separating negative backlinks from beneficial ones can be a hectic process and one that will devour your time and effort. Sites such as Majestic SEO charge $49.99 to retrieve your entire link profile. From then it will be up to you to determine which links are worth removing and which are not. Bear in mind that certain malicious looking links may actually be rated by search engines, and it will depend on how they are placed on the referring site.
How Disavow Links May Harm Your Website Rankings
Google hasn't really given a solid explanation on how it uses data obtained from the Disavow Link Tool. Although it may remove reported links from your site's profile, it also reserves the right to thoroughly and independently review your submission and decide on which links to value or dis-value.
Given that the links submitted may come useful as supporting evidence in the event that you want your business reconsidered by Google after penalization in search rankings. With the potential harm associated with using the tool incorrectly it will best to use the services of a qualified SEO professional instead of attempting to troubleshoot and repair damage from SEO attacks on your own.
If you want to know more about using Google Disavow tool in details read this.
Did I missed any point? Are you using this Google Disavow tool? Does it really work?
Source: https://allbloggingtips.com/disavow-link-tool-to-get-rid-of-bad-backlinks/
---
---
You might also like this video