Did you know that Pinterest has 463 million monthly active users?
The best part? It is a rapidly growing social media platform as its userbase increased by 7% year over year (Source: Official Pinterest Press Release)
If used right, Pinterest can send you lots of traffic to your blog or website. If you're looking for a free guide on using Pinterest for blogs, you're in the right place.
Have a look at our Pinterest analytics;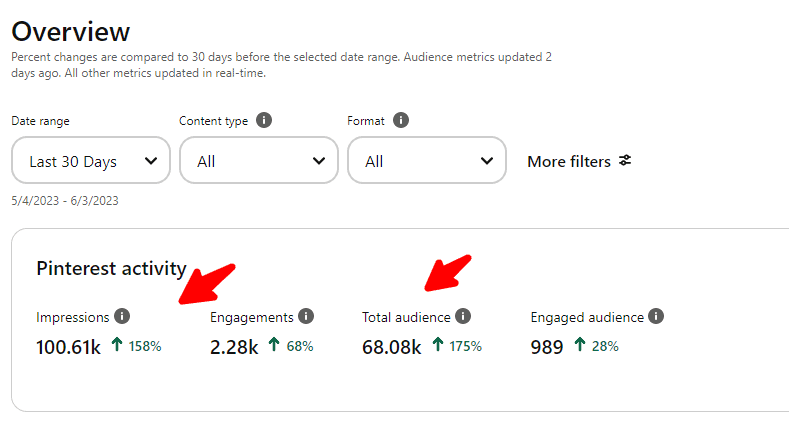 As you can see, in the last 30 days, we got over 100,000 impressions and over 2K people engaged with our pins. The good part? We started our Pinterest journey recently.
Want to know how we generated more views, likes, and engagements on our pins?
If you're looking for Pinterest tips for blogging, this free guide is for you where you'll discover the following;
Benefits of using Pinterest as a blogger
Proven ways to get more out of Pinterest
The best tools to save more time on scheduling, publishing, and much more.
Are you ready? Let's get into the details without much ado.
What is Pinterest?
Pinterest is a popular image sharing platform that allows you to save and discover information on the web using images.
It can be considered a search engine to find a ton of images on almost any topic.
On the Pinterest platform, you can find hundreds of exciting ideas like recipes, home decor, car styling, interior, and more.
What are the benefits of using Pinterest for blogging?
Why should you start using Pinterest as a blogger? Here are some of the benefits of using Pinterest in 2023.
Traffic: With the launch of AI tools like ChatGPT, Google is making a ton of changes to its algorithms.
Most of those algorithms are designed to kill the traffic of website owners. There are a ton of websites that lost almost 90% of their search traffic overnight.
Surviving in blogging is impossible if you're heavily dependent on search traffic. You must diversify your traffic sources, and Pinterest is an excellent option.
Networking: Pinterest is all about connecting with other bloggers. Don't be too promotional if you want to succeed on Pinterest.
Follow other bloggers in your niche, and pin their content to your boards. That's how you get noticed by other bloggers and their followers.
Profits: One great benefit of Pinterest is you can make money. According to HubSpot, "83% of users have made a purchase from content they've seen on Pinterest."
You can use Pinterest to promote your products or services. You can also promote affiliate products by creating appealing visuals and linking them to your review posts. Start promoting your products ONLY once you have a decent following (over 5K followers).
So how can you get more out of Pinterest as a blogger? Let's find out.
---
How to use Pinterest for blogging to increase traffic?
Create Pinterest boards
You can create Pinterest boards for your blog posts.
Unlike pictures posted on Instagram or Facebook, you can easily organize all your pins (images) on boards.
In simpler terms, a Pinterest board is a collection of images where you can save specific pins. Each board has a "specific theme" or "topic."
For instance, if you have a blog covering "digital marketing" topics, you can create individual boards for each category, such as;
Email marketing
Blogging
SEO and the list goes on
In a nutshell, your Pinterest profile should consist of multiple boards covering each topic or theme (that you cover on your blog).
Here's the good thing: your Pinterest followers can either follow your entire account or the specific boards relevant to their interests.
Here's how you can create a board on Pinterest.
Once you log in to your account, click the Add+ button in the top left of the page.
Here's what it looks like;
Once you click the "Create a Board" option, you'll be asked to name the board.
Have a look;
You can name the board based on the pins you want to create (in a specific category). You can also select the option of keeping the board secret – so only you and your collaborators can see it.
Tip: It's a best practice to keep your board name simple and include specific keywords related to your niche. That way, when new users search for ideas, your board might show up for those topics (or keywords).
Create eye-catching pins
If you're using Pinterest for blogging, you must create catchy pins.
Simply put, pins are "visual bookmarks" on Pinterest that people use to save content they like. These pins can be images or video pins. You should experiment with both types of pins to see what works best for your audience.
To create a pin, click the "Create Pin" button from the top left menu.
Once you click on it, you'll be redirected to a "Pin builder" page which looks like this;
As you can see, you'll see the following options;
Drag and drop function (to upload images or videos)
Title of your pin
Alt text for the image
You can also add a destination link (to your website or specific blog post related to the pin)
Once you've uploaded an image or video, you can publish it instantly or later.
To create stunning visuals, you need to use the proper tools.
We recommend the following two tools for creating catchy pins for your account.
Canva: Canva is a free graphic design tool that gives you access to special layouts that are suitable for Pins. The best part? Even if you're a beginner with zero image editing skills, you can create amazing images as it offers plenty of options, including a drag-and-drop editor.
Photoshop: If you've knowledge of Photoshop, this is the BEST tool to create almost any type of image you want. You can create truly unique pins for your target audience. If you lack skills, you can outsource someone or find a graphic designer from sites like Upwork.
Check out our Pinterest account to see how we craft our image and video pins.
If you want to learn SEO and blogging, you can follow us on Pinterest.
No matter what tools you use, make sure to experiment with different pin sizes and layouts.
Here are a few quick tips for a winning pin strategy in 2023.
Comment on other users' pins: Once you've created and published pins on your account, start commenting on other users' pins. This is an excellent way to attract other users' attention and followers' attention.
Repin popular pins: You don't always need to create new (or unique) pins to get more engagement. You can use Pinterest Analytics to find popular pins and repin those images to be seen by more people.
Use strong CTA (calls to action): CTAs are extremely important in generating more user engagement. Tell people what you want them to do after they see your pins.
Do you want them to visit your website? Sign up for your email list? Or click on any product link? Make sure you create compelling and clear calls to action for better results.
For blog post pins, you can include a link to the blog post. Make sure to write a short summary of the post so your audience will know what they will discover.
You may also want to include a call to action, such as "Read More," "Check out my blog post," and "Subscribe to My Blog."
Write engaging content for your pins
Here's the key to getting more views on your pins: Use relevant keywords.
Make sure to do a quick research to find the relevant keywords for your pins. You can also use keyword tools like Semrush, Ubersuggest, etc., to find keywords.
While creating pins, you can include relevant keywords in the following places;
Title
Description
Image alt text
Here's an example of the description and title we created for one of our pins;
As you can see, the description is engaging, and we also used a few related hashtags to reach a new audience with our content.
Tip: If you're new to writing, you can use AI tools like ChatGPT or Jasper AI. Both these tools are amazing and help you create descriptions and titles for your Pins (automatically).
You can check out our ChatGPT vs Jasper AI tutorial for more details.
Promote your Pinterest boards
Promotion is the key to getting more views and likes on your pins.
But most people forget the promotion part entirely as they only spend time creating content (creating pins).
When you create a new pin, be sure to promote it online. This will help you reach a wider audience and attract new followers.
Share it on your blog, Twitter, Facebook, and other social media channels.
Here are some of the practical tips to promote your Pinterest account.
Link your account to your website. On your Pinterest bio, you can add a website's URL. You can also show your website's Pinterest feed to redirect visitors to your profile.
Send an email to your list. You can create a unique email promoting your Pinterest account if you have an email list.
Use hashtags. You can easily add relevant hashtags for Pins in the description by typing "#" followed by a keyword or phrase. You can use up to 20 hashtags for every pin description.
Pin at the RIGHT time. According to HubSpot, the best times to post on Pinterest are between 3 PM and 6 PM. The best day to post on Pinterest is Friday, and the worst is Sunday.
Be consistent
One of the KEY secrets to Pinterest's success is to be consistent.
Most bloggers create a few pins and stop pinning when they don't see good results in terms of traffic.
Here are a few tips to be consistent on Pinterest.
Set a pin posting frequency: Decide how many pins you want to post on your boards. You can set weekly goals while starting out. For instance, you can post seven pins weekly (or one pin daily). Decide the posting frequency based on your time.
Once you've set a regular Pinterest posting schedule, you can gradually increase the frequency of your pins.
Also, brainstorm ideas for pins and a list of topics for your Pinterest account in advance. This will help you stay ahead of the game.
You can also schedule your Pins by putting your Pin uploads on autopilot using Pinterest's scheduling tool. It's free for all users.
Set realistic traffic goals: You might have read success stories of bloggers generating millions of visitors from Pinterest. Remember, it won't happen overnight. They probably would have worked really hard to reach that level.
If you're starting, set realistic goals of getting a few hundred views a month. Otherwise, you'll be demotivated.
The key here is to experiment with different types of content, keywords, and text. See what works well for your audience.
Use Pinterest analytics
Want to boost your Pin performance, traffic, sales, and conversions? Then, you should learn how to use Pinterest analytics like a pro.
The best part? It's free to use.
To get started, click on the "Analytics" section from your Pinterest account.
Here's what it looks like;
Once you click on the "Overview" button,
You'll see all of your key Pin metrics on the overview page. You can even filter the audience metrics by content type, device, age, gender, etc.
Here are some of the things you should know to understand your Analytics better;
Impressions (it shows you the number of times your pins were seen by your audience)
Engagements (it shows the number of engagements on your pins, including saves, likes, etc)
Total audience (it shows the total number of pinners who have seen or engaged with your pins)
Engaged audience (the number of pinners who've engaged with your pins)
The key here is to pick a metric (such as clicks) and find all the pins with the maximum user engagement.
Here's what it looks like;
As you can see, you'll find a list of all the top pins with the most clicks. Analyze those pins individually to see why they're performing well (when compared to other pins).
That way, you can create similar types of pins and pin descriptions to get the best out of your pins.
All in all, Pinterest Analytics can help you understand how well your Pins are performing and identify what types of content work best for your audience.
Use the right Pinterest tools
There are specific tools that make it easier to manage your Pinterest account.
Here's a handpicked list of the best Pinterest tools for bloggers in 2023.
To design your pins
If you're a beginner without graphic design skills and looking for the best tools, try the following.
These tools offer free plans that let you create amazing pins for your account.
To grow your followers
If you're looking for growth hack tools to get more followers on Pinterest, here are a few tools for you.
Bot these tools help you conduct online contests and giveaways, which help you with new followers.
For Pinterest research and topics
If you're struggling to come up with new ideas for your pins, you can use the following platforms.
PinGroupie ( which lets you discover attractive Pinterest Boards, Influencers, Pins, and keywords)
Semrush (excellent tool to find relevant keyword ideas to use within your Pins)
---
FAQs | Pinterest for Bloggers
Here are some commonly asked questions about Pinterest for blogs.
Is Pinterest good for blogging?
Pinterest is an excellent traffic source for bloggers. According to a recent study, Pinterest trends took off 20% faster than other social media networks. If you're looking for an easy-to-use platform to promote your posts, Pinterest is a great choice.
Why is Pinterest important for blogging?
Here are some of the benefits of using Pinterest for blogging;
– Increased traffic
– Increased profits and conversions
– Build relationships with other bloggers
How do I promote my blog on Pinterest?
Here are some PROVEN ways to promote your blog on Pinterest.
– Create attention-grabbing pins
– Link to your blog posts (or website) from every pin you publish
– Use relevant tags and keywords within pins to attract new followers
– Use your bio to link out to your website
Is Pinterest good for traffic?
Pinterest is an excellent source of traffic for bloggers. It can send thousands of visitors to your website or blog for free. Use proper keywords, create appealing images (pins), and be consistent with your efforts.
What are some tips for creating effective Pinterest pins?
Use tools like Canva or Photoshop. Discover related keywords or trending topics around your niche (and create pins around them). Use hashtags as they can help you reach a wider audience.
Related Resources:
---
Final thoughts on how to get traffic from Pinterest
Hands down, Pinterest is a GREAT platform that can help you drive more traffic to your blog.
Creating a successful Pinterest account is a marathon, not a sprint. Sometimes, you'll be frustrated with the results, but if you're consistent, you'll succeed.
What are your thoughts on using Pinterest for blogging? Did you find this guide helpful? Have any questions? Let us know in the comments.
Source: https://bloggerspassion.com/how-to-use-pinterest-for-blogging/
---
---
You might also like this video