Are you excited about What WordPress has cooked inside the new version? We have tested the new WordPress 5.7 features thoroughly and created this insightful post for every WordPress lover. Definitely, the whole community is anxious to know the fresh improvements. Currently, the beta version is rolling out for a while now. WordPress 5.7 is all set to be released on March 9th, 2021.
Content Trustworthiness
We have consumed 28 working hours to create this article.
It took us 10 Working days to test the new features of WordPress 5.7.
We bought an additional Bluehost hosting plan to test the WordPress 5.7 updates.
Without wasting time let's start exploring the improved version of WordPress
New WordPress 5.7 Features in Block Editor
The upper left corner of the editor area is proven heaven for all the content creators. Block Editor is always a center of attraction for the new improvements. This tradition continues with the latest WordPress update.
We spend more than 70% of our time creating content with the help of Block Editor. Let's check what exciting features we found while testing the beta version.
Drag and Drop Feature Enabled in Block Editor
WordPress 5.7 will allow you to drag and drop new blocks to your content area from the inserter. The drag and drop feature helped me placing new blocks either above or below the existing content blocks directly.
Also, we have found that the average time to create an article was decreased. Now, that's exciting.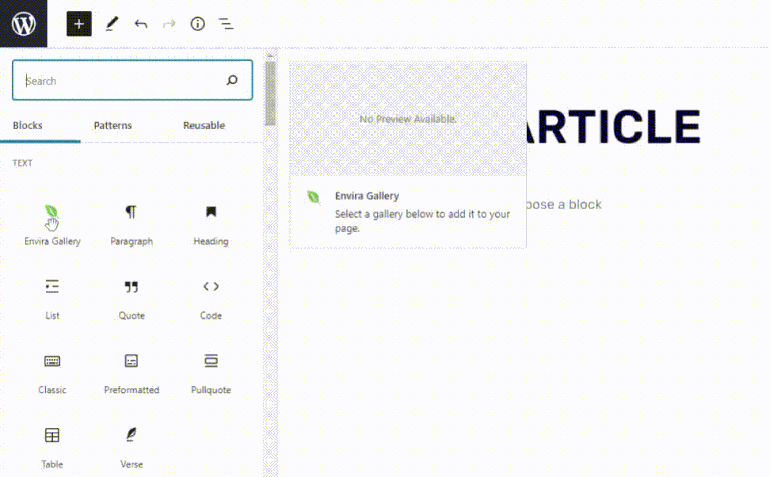 Full Height Support for Selected Blocks
Have you noticed while using the cover, group, and column blocks, that they cover the area as per their respective size [height and width]? We already have a full-width option to change the view of the above-mentioned block type.

With the WordPress 5.7 update, you will be able to create full height blocks easily. This improvement will significantly improve the visual content appeal.

Reusable Block Improvements
Reusable blocks are a great way to save time when you are using a particular snippet block repeatedly in your blog posts. For example, I use a snippet at the end of articles asking my readers to follow us on social media.
With the new enhancement, reusable blocks will be saved automatically while we update the article.
There is one more improvement with the reusable block we experienced. Reusable blocks got a separate tab under the block inserter. You will get all your saved reusable blocks in a single place. Definitely, the new improvement will help us to save few more minutes.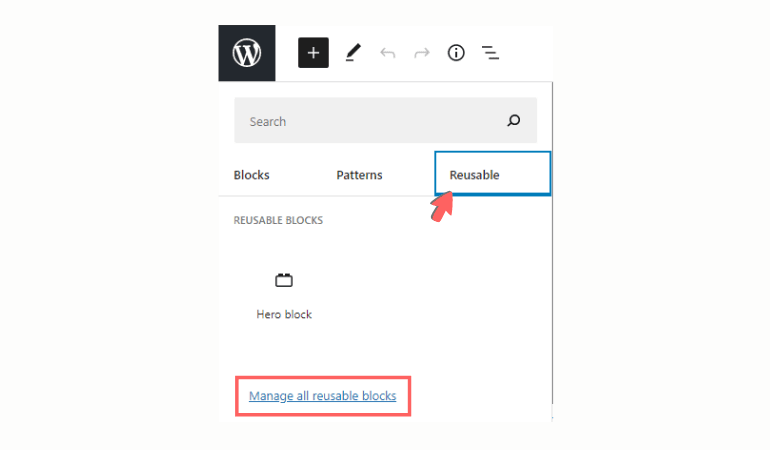 You can control your saved blocks by using the Manage all reusable blocks option. Simply click on the option, and you will be redirected to a new window. In the new window, you will find all the reusable blocks that you have added so far. Further, you can delete or edit existing reusable blocks easily.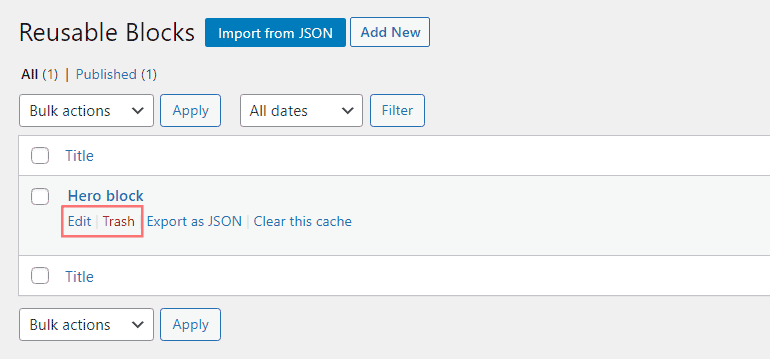 Vertical Alignment Enabled for Button Blocks
We were using multiple button blocks but with horizontal alignment only. With the release of WordPress 5.7, you will be able to align multiple buttons in vertical alignment.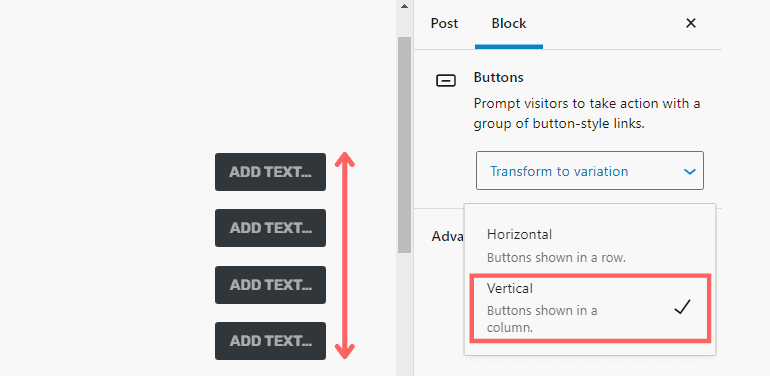 Additionally, you can adjust the width of button blocks in percentage.

Blocks Will Come With The Description
This improvement is a beginner-friendly feature. You can explore the functionality of different block variations.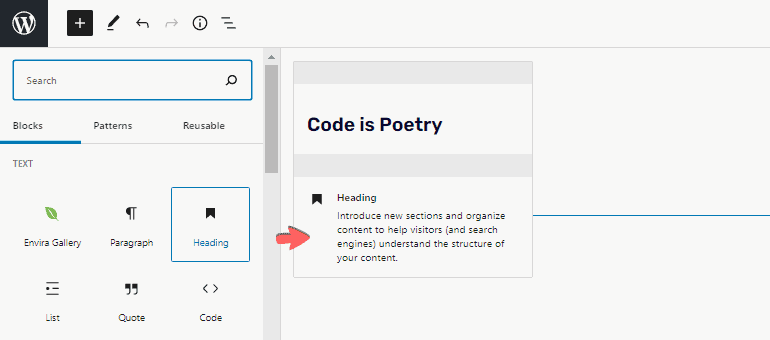 To do that simply, move your cursor and point to the block you wish to know about. You will see a popup with a description of that particular block.
Size of Social Icon Blocks is Now Editable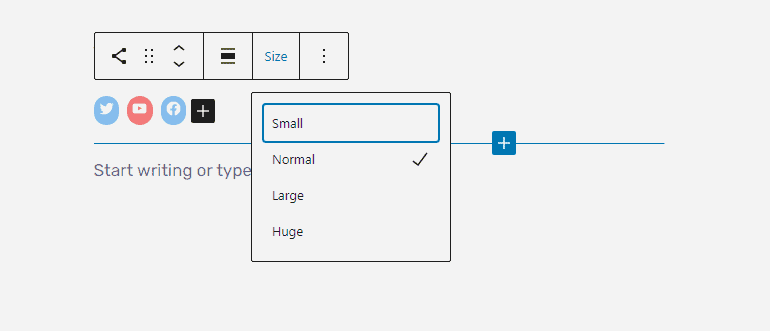 New WordPress 5.7 features will include power of social icon size editing. You can resize them in small, normal, large, and huge icons.
List and Code Blocks Improvements
Before this improvement, list and code blocks were using the default font size set by you. We use both blocks type to show our content differently to our website visitors. So it will be a great add-on for creating content more creatively. Simply insert the code block and change the font size using the block settings panel from the right side.

You can follow the same process to change the font size in the list block as mentioned above.

Core Improvements in WordPress 5.7
Apart from block editor improvements there are significant new core updates are included in WordPress 5.7. Let's learn them as well.
Lazy-load Attribute
We always wish to keep the speed of our WordPress website lightning fast. We configure several plugins to speed up the site. Now, with the new WordPress release, your website will load fast with the lazy-load iframe attribute.
Let me explain if you don't know. We embed video content like YouTube and Vimeo videos through the iframe attribute. The lazy-load iframes will help us to load the website swiftly. Further, it will play a critical role in ranking your websites with rich snippets.
One-Click HTTP to HTTPS Migration
You heard it right. While migrating your site from HTTP to HTTPS, you have to edit your URLs manually, which were already part of your existing content.
Now, WordPress version 5.7 has included a feature in the Site Health tool. You can switch your website from HTTP to HTTPS from site health.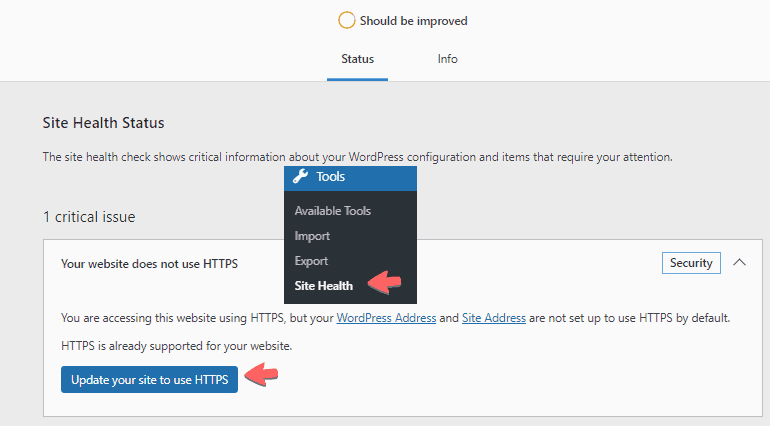 All you need to do is open site health under the tools menu. It will ask you to migrate your site from HTTP to HTTPS. Click on the blue button there. This will log you out to reauthorize your account for security purposes. Once you login again, site health will start migrating your website from HTTP to HTTPS. Within few seconds, the process will be finished. You can see a message has popped up saying site URLs switched to HTTPS.
New Robots API
New Robots API will provide enhanced control to the developers. As they can add the direction how they want robots meta tags to be read by Robots while crawling.
WordPress 5.7 will introduce wp_function to add the functionality of manual editing the robot meta tag.
As explained by WordPress –
The new Robots API allows the filter directives to be included in the 'robots' meta tag. Also, the directive max-image-preview:large is now included by default to allow large image previews to be displayed in search engines (unless the blog is marked as not being public).

By Ebonie Butler [WordPress Core Contributor]
WP Admin Color Pallete is Standardised Now

I found this feature more useful for the theme and plugin developers. This change will establish better consistency between their WordPress products and WordPress core. They can create next-level themes and plugins with better visual impact.
Conclusively we can say that WordPress is working very seriously to make your content elegant and inserting more features to speed up content creation.
Which WordPress 5.7 feature you loved over others? Share your valuable thoughts.
We have published a comprehensive post on WordPress 5.6 features previously. If you want to take advantage of the latest WordPress features, above mentioned post will be helpful along with this post.
Our Social Addresses
Be with us on Twitter, Facebook for something new and value additions. Also, for the latest WordPress updates and SEO tips.
We request you to join our Facebook group BlogStudies Vitamins. You can ask questions and interact with group members there. We encourage you to share your WordPress experiences with WordPress enthusiasts.
Source: https://blogstudies.com/wordpress-5-7-features/
---
---
You might also like this video