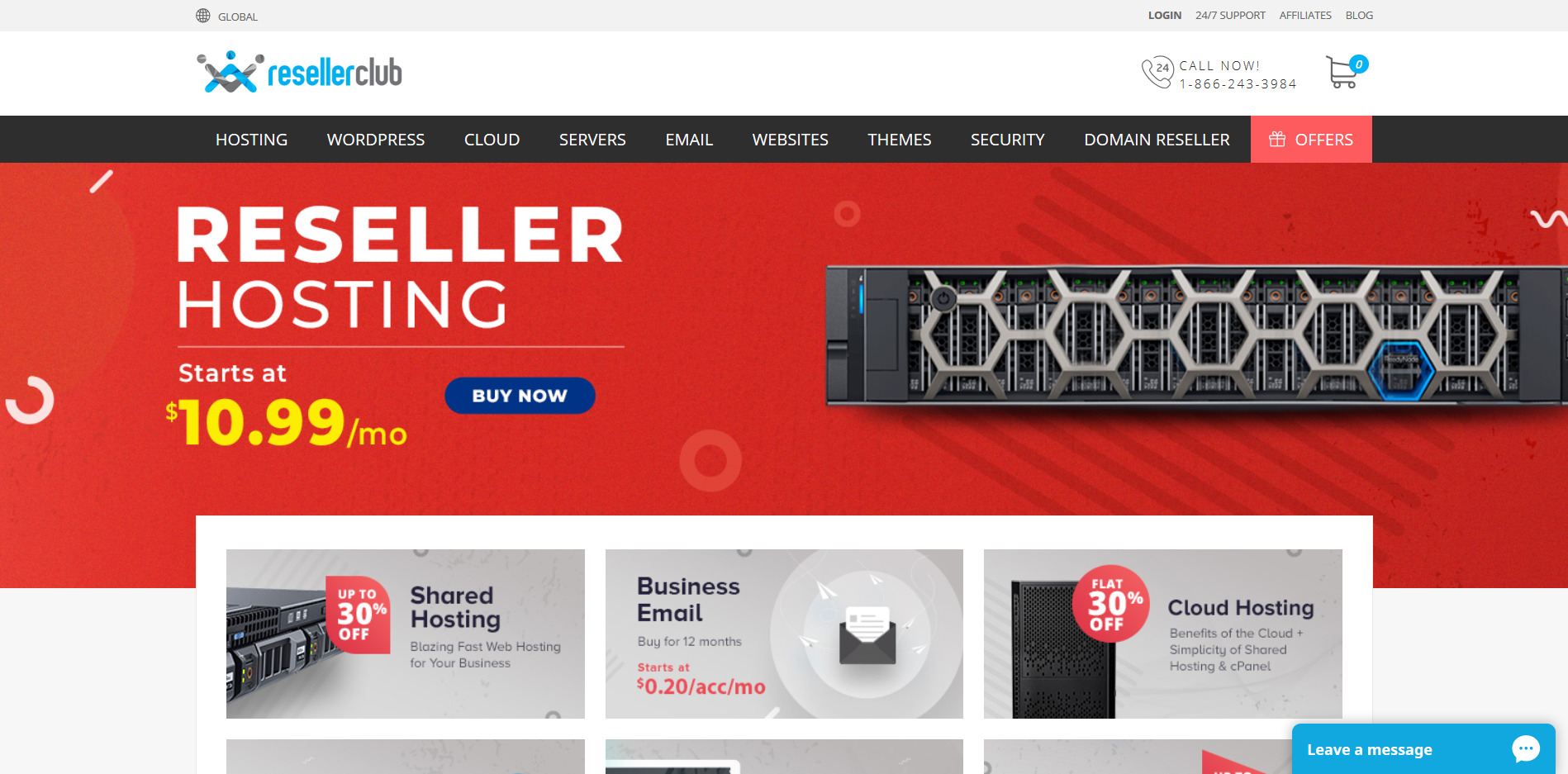 ResellerClub aims at becoming a one-stop shop globally for web-presence needs of professionals as well as businesses. With the wide range of products; starting from the basic web-hosting, email-hosting, cloud-hosting, website security and backup products to the latest trendy products like domain-reselling, ResellerClub has it all. Almost all of these services are combined in various packages according to the needs of different clients.
ResellerClub also offers WordPress, Magento and Drupal hosting under the umbrella of CMS Hosting services. Their advanced services also includes VPS and Dedicated Server options, with various packages and features. Another amazing option is to choose from their pool of themes and use the very much user-friendly drag-and-drop editor for website building.
What Does ResellerClub Offer?
We'll first discuss the various hosting services ResellerClub provides.
Shared Hosting
Shared web hosting implies hosting of multiple websites on a shared web server. This setup helps in reducing the cost per website since server maintenance cost is amortized over the number of websites. Shared hosting services at ResellerClub are available on Linux, Window based.
Their servers of ResellerClub are located in India, United States and United Kingdom. ResellerClub offers three main packages: personal, business and pro. The features, complexity, and costs of these packages increase from personal to pro. The cost also varies depending on the location of server chosen to host the website.
ResellerClub provides attractive features with their shared web-hosting packages. They promise quick loading pages and easy to build and manage websites because of C-Panel. Moreover, the easy 1-click installer makes it convenient to add various applications and plug-ins to the websites. The 24/7 customer support available is also an added advantage, in addition to the security protocols (SNI), and general support for leading server scripting languages (My SQL, Ruby, PHP), website upgrades and migration.
Cloud Hosting
Cloud hosting is the form of hosting in which a website's resources are spread across multiple web-servers. This allows for better management of peak loads and also improves down-time. Cloud hosting packages at ResellerClub provide you the superior advantages of cloud computing, while still offering C-panel dashboard for easy maintenance of your website. Cloud hosting packages are slightly expensive than the Shared hosting ones.
Like shared hosting, Cloud Hosting packages at ResellerClub start from the basic Personal package which is suitable for a small business and hosts one website. The packages improve on features as they move up to Business, and finally to the Pro package. With both of these packages, you can host multiple websites. All three packages include unmetered disk space, bandwidth, e-mail accounts and free c-panel.
The basic features of money-back guarantee, a rather simplified yet scalable cloud computing environment, full-fledge website management of hardware and operating system upgrades, free data migration and quick installation of popular applications make the Cloud Hosting packages suitable for various clients across the globe. The resource monitoring option makes it easy and quick for you to monitor the cloud metrics and manage resources accordingly.
Reseller Program
Reseller Hosting is the new buzz word in the field of technology and implies a very interesting concept whereby anyone can start a business of hosting websites for his/her client without actually investing in web servers or data centers. With ResellerClub reselling hosting packages, a client can further create and manage custom hosting plans for his/her clients. The hosting infrastructure is managed by the ResellerClub.
The reseller packages at the ResellerClub cater to the needs and budgets of a diverse set of clients. If you are new to this world of opportunities, you can start with R1 package. This package is ideal for people who are beginners in the field. As you learn more and your business grows, you can move up to R2, R3 and R4. All of these packages enable you to resell unlimited websites, email and C-Panel accounts. They differ with respect to Disk Space and Data Transfer; ranging from 40 GB to 200 GB disk space and 800 GB to 4000 GB Data Transfer from R1 to R4 respectively.
In addition to lucrative features like 24/7 customer support, free hosting migration, installation fo more than 400 applications, scalability and security, ResellerClub offers money back guarantee for a month in case a client changes his mind or is not happy with the services rendered.
What are good things about ResellerClub?
Pricing
ResellerClub provides a wide range of packages with different technical specifications to cater to diverse needs of their client. You can start with getting your personal website or blog hosted for as low as $3.49 per month for shared hosting plans. Cloud computing starts with $7.99 per month. The rates increase as the package moves from the basic one for blogs and small business, to highly professional ones for medium sized businesses with multiple domains.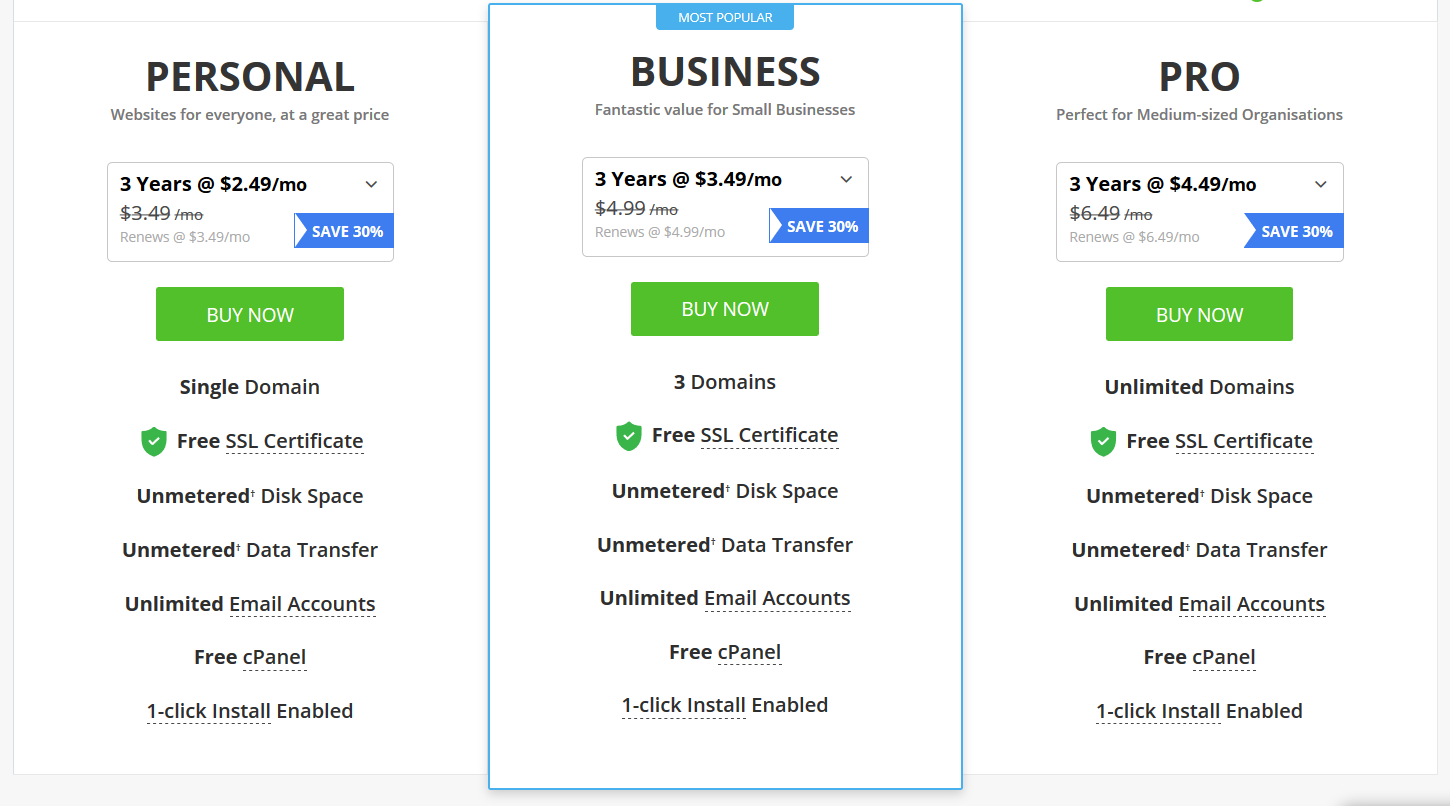 In addition to different priced packages for shared and cloud computing, ResellerClub offers various discount offers and promotions for different domain names. If you want to strike a better deal; you can keep an eye on the Offers section and purchase accordingly.
Customer Support
Managing the technicalities involved in not just setting up but also successfully running a website is not everyone's cup of tea. Especially for the major chunk of website owners; very few of them are trained or have the time to learn the complex aspects or fix the technical glitches which may arise as a normal course of business.
The 24/7 customer support provided by the ResellerClub, both live as well as via phone takes away a lot of hassle from the web-owner's mind. Their quick and reliable customer service provided round the clock and around the globe makes the ResellerClub stand-out in the pool of hosting providers.
Strong Reseller Program
The ResellerClub has kept its product pool very much up-to-date by offering four different packages for the Reseller hosting regime. As discussed in detail in the section above, the packages cater to varying demands of reselling hosting; just as the market has been evolving.
The salient features of reseller hosting packages make them a smart choice for people venturing in the business of reselling. The ResellerClub has ensured it has the right package viz-a-viz cost, disk space, data transfer for different clients. The reliability of the ResellerClub's servers and infrastructure gives its reselling packages a unique advantage.
Security
The various hosting packages at the ResellerClub come with the SSL certificate layer that not just puts a trust mark on the website, but also protects passwords, identity and payment information of its visitors and clients. They also offer Sitelock that monitors and fixes potential threats.
To ensure your website's backups are periodically taken, the ResellerClub also has GIT based off-site backup and monitoring option. Their packages are also SNI enabled which makes it easy to install SSL certificates. These arrangements show that the ResellerClub has quite comprehensive security settings.
Final Verdict
As we have seen, the ResellerClub excels in the breadth as well as depth of web-hosting services it provides. Their experience, expertise and global scope have translated into highly reliable yet affordable product range. This especially holds true for their reseller hosting plans that enable you to sell hosting plans to your own customers. Given the competitive pricing and reliable hosting services, the ResellerClub is your go-to place for purchasing reselling hosting services. your odds of making a good fortune out of reselling business are especially high if you are located in India, for that is where their main focus is. So without further ado, head over to the ResellerClub and delve into the interesting and intriguing world of reseller hosting.
Source: https://allbloggingtips.com/resellerclub-review/
---
You might also like this video