Whether you're a college student or a recent graduate, starting a side hustle is a great idea.
A side hustle is a hobby project that you pursue alongside your studies or primary job. A side hustle can help you build your skills, network with other professionals, and generate additional income.
Simply put, when you start earning money on the side, you'll get real-world experience.
With experience, you'll be able to find high-paying jobs in the future. Instead of wasting time, you can use the power of the internet to build skills and make money.
So, what are the best online side hustles for college students? Let's find out without further ado.
Best Online Side Hustles for College Students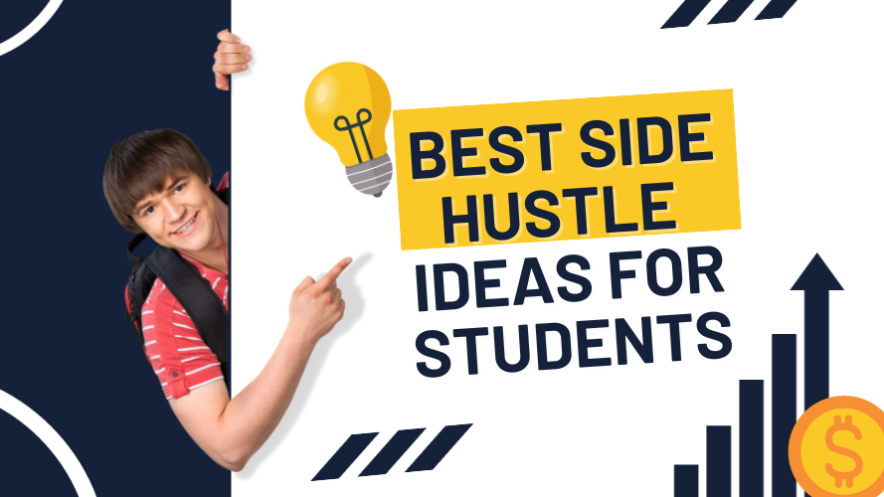 1. Freelance writer
Did you know there are over 1.57 billion freelancers worldwide as of 2023? The worldwide freelance market size is estimated to be worth over $1.5 trillion, and expert freelance writers make around $42,000 annually.
There's a HUGE need for freelancers (especially writers) for almost every online business.
So, if you've content writing skills, you can offer a wide range of writing services, such as;
Blog writing
Creating marketing copy for businesses
Creating powerful copy for email newsletters
Landing pages
Essay writing and the list goes on
Here are some tips to make money from freelance writing as a college student.
Pick one topic: Don't write content on everything under the sun as a freelance writer.
Specialize in one particular topic. You can charge more if you've expertise in one specific topic.
For example, if you're good at writing good content around "SEO," you'll be able to attract high-paying clients more than someone who writes on general topics.
So, choose a niche and find out what topics you have expertise in. It's always better to pick a topic you are interested in to make your writing engaging and informative.
Build a portfolio: You must showcase your writing samples as a freelance writer. Your portfolio is your best-selling tool, so make sure it is well-written. You can include writing samples from your college coursework, blog posts, or personal projects.
Start finding clients: Once you know what you're passionate about and created a portfolio, it's time to find clients. There are many ways to find freelance writing clients, including;
Search online job boards such as Problogger Jobs
Reach out to businesses directly
Ask your friends and family to refer your writing services
Or network with other writers on Facebook groups or LinkedIn
You can also use platforms like Upwork to find freelance writing gigs.
Above all, be flexible with your hours. Why? As a college student, you may have limited time to offer freelance writing services. So, find out when you'll have free time to write and be willing to work evenings and weekends.
2. Try AI jobs
AI market size is expected to reach nearly two trillion U.S. dollars by 2030.
Thanks to AI tools like ChatGPT, almost every business is now using some kind of artificial intelligence.
So, how can you use AI to find jobs and make money online as a student?
Here are some proven ways to make money using artificial intelligence as a college student in 2024.
Create and sell AI-powered products: There's a HUGE demand for AI products these days. Find a problem or need that people need a lot of time or effort to finish. Then, learn all the skills you can to develop AI-powered products, such as mobile apps, web applications, or software tools.
You can also create and sell AI-powered chatbots, as most websites and businesses want to automate customer support.
Sell Content: You can also create and sell AI-generated content, such as blog posts, essays for students, and eBooks. Make sure to proofread and fact-check for every content you create with AI tools like ChatGPT, Bard, or Jasper.
Teach AI courses: Once you've enough expertise in AI, you can teach courses and sell membership sites to those who want to improve at AI. You can either teach online or in person. You can sell courses on many platforms, including Udemy, Coursera, Teachable, etc.
Become an AI consultant: Many businesses are looking for AI consultants to help them implement AI solutions such as customer support, email automation, product development, etc.
Here are some of the best digital products to sell if you're looking for more ideas to make money online.
3. Become a virtual assistant
There are many businesses and full-time website owners who ALWAYS look to outsource some of their tasks to remote workers, such as uploading blog posts, responding to emails, monitoring social media, etc.
So, if you're looking for an easier way to earn side income as a student, offer VA services.
Here are some specific tasks that you can do as a virtual assistant;
Social media management tasks such as creating social media posts, engaging with followers, replying to comments, etc.
Help in research for content and case studies for bloggers or small business owners
SEO-related tasks such as keyword research, finding broken links, etc
Content creation, such as editing blog posts, videos, etc
Help with website design
Video and photo editing
Translation
Here are some tips to make money as a virtual assistant.
Build your network. This is the most important thing. You need to create a list of 20 to 30 people (or businesses) that you can help with your VA services. You can either use LinkedIn or platforms like Upwork to find potential clients.
Create an online presence. You should market yourself. Get in touch with other website owners. Use social media platforms to build and grow your brand.
Set your price. When you're starting out, you'll make less amount as a VA (between $3 to $5 an hour). But, if you're good at managing more advanced tasks like customer service, email handling, WordPress management, etc. – you can charge $15 to $25 per hour. You can also research other VAs in your niche to see what they charge.
Learn the high-demand skills. SEO, web design, email outreach, etc., are always in demand. Once you master those skills, you can charge high prices as a VA.
Above all, learn the art of upselling. Once you have a client, look for opportunities to upsell or cross-sell your services. For example, if you provide SEO services, you could upsell your clients on social media services or cross-sell them on freelance writing services.
4. Become a blogger
If you're a student and looking for a legitimate way to earn side income online, start a blog.
Blogging is one of the PROVEN ways to earn passive income. The best part? Blogging is a relatively low-cost and low-risk side hustle, and it can be a lot of fun.
Here are some of the benefits of starting a blog as a student.
It can help you build your writing, editing, and digital marketing skills
It can help you connect with other people who've similar skills
It can help you make money in many ways, such as advertising, affiliate marketing, sponsored posts, selling your own products, etc.
Want to start your own blog?
There are many different platforms you can use to create your blog. WordPress is a popular choice, as it is easy to use, and many plugins and themes are available for WordPress users.
You can read our free guide on how to start a blog to find more details.
You can use a popular web hosting provider like Hostinger to start a professional for just $3/month.
If you are interested in starting a blog, here are some of the things you need to do:
Choose a niche: A niche is a small topic in a large market (for example, "fitness for students in school" is a niche for the main market "fitness"). Choose a niche that you are interested in and that you have some knowledge about.
Create content: The most essential part of blogging is creating great content. Find relevant keywords for your niche using free tools like Ubersuggest, KeywordTool.io, etc. Make sure to write blog posts that are informative for your target audience.
Promote your blog: Promotion is extremely important to succeed in blogging. Once you have created some content, promote your blog as much as possible. Use your WhatsApp groups, Telegram groups, social media profiles, etc so more people can visit your site.
5. Become a Tutor
Online tutoring is a great option if you've some skills to teach a specific subject.
There are basically two ways to make money as a tutor;
Starting your own independent tutoring business (through a website)
Using tutoring platforms
If you're just starting without any online presence, go for tutoring platforms where you must register and submit your application. You may be required to provide information about your education, experience, and qualifications. Once your account gets approved, you can start offering tutoring sessions to make money.
Here are a few platforms you can use to make money as a tutor;
Skooli
Tutor.com
TutorMe
Chegg
Brainfuse
GeeklyHub
Revolution Prep
Here are a few tips that you can use to make money as an online tutor;
Pick one specific topic. What you're really good at? Are you good at programming? Teaching English? Or anything specific? There's a demand for many subjects where you can earn money online as a tutor.
Be flexible with your tutoring services. Students worldwide may need your classes, so you need to be flexible with timings.
Try to teach high-demand subjects, such as maths, science, and English. These subjects are ALWAYS in demand around the world.
Try to specialize in tutoring, such as providing teaching classes for test preparation or English TOEFL tests.
Did you know that there are 4.8 billion social media users worldwide? Which means around 59.9% of the global population and 92.7% of all internet users.
The MAJORITY of internet users are on at least one social media platform, such as Facebook, Instagram, Twitter, etc.
That's why businesses all around the world spend billions of dollars on social media marketing every year. So, if you're looking for a demanding side hustle as a college student, offer social media marketing services.
Here are some effective tips to make money as a social media marketer;
Offer social media services in ONE specific field. Don't try to be a jack-of-all-trades in AI. It's better to focus on a specific niche, such as website promotion, SEO, etc. You can easily attract more clients if you're an expert in your field.
Networking is the key. Businesses don't come to your college to hire you for social media tasks. You need to hustle. You need to network with other social media influencers. You can connect with other social media managers on LinkedIn or Facebook groups.
Interaction is the key. No matter who you're offering your social media service to, you should be interacting with your audience as much as they are interacting with you. Reply to their comments, like their replies, and try to build engagement.
Learn to track and analyze metrics. Almost all the social media platforms give you access to in-built analytics. So, use those analytics to your advantage. Do more of what works.
7. SEO jobs
There's a HUGE demand for SEO.
The global market for SEO is estimated at $68.1 Billion in the year 2022, and it is projected to reach over $129.6 Billion by 2030. (Source: Research and Markets)
Have a look at the following illustration to see the average hourly rates in SEO;
So, SEO can be a long-term career if you master it. SEO (Search Engine Optimization) is the process of improving a website's rankings in search engines like Google.
Here are a few SEO jobs you can consider as a college student to make a side income.
Keyword research
Website audits
Link building
PPC advertising
Content creation and optimization
Here are some quick tips for getting started with SEO jobs as a college student.
Get certified: There are a ton of SEO certification programs available, such as the Google Search Console Certification, Moz Academy courses, and more. Getting some certificates is better as it's the best way to show your skills to attract clients.
Build your portfolio: Start by creating a portfolio of your SEO work. This could include things like keyword research reports, website audits, and link building campaigns. Try publishing guest posts on authority sites so you can attract high-paying clients.
Network with other SEOs: You can use LinkedIn groups to find and connect with other SEO professionals. You can also attend SEO meetups and conferences. Networking is the best way to find SEO job opportunities.
Show results: It's better to build your own blog or website and drive traffic more traffic from search engines like Google. You can attract many potential clients if you already have proven results from SEO.
Above all, start small. Don't expect to attract high-paying SEO gigs right away. Start by offering your services to friends, family, and local businesses.
Once you've enough things in your portfolio, you can pitch your SEO services to bloggers, website owners, and marketing agencies.
Where to look for SEO jobs?
Some of the best ways to find SEO jobs are;
Start a website and offer SEO services
Use LinkedIn
Use platforms like Upwork or Freelancer
No matter what type of platform you use for hunting jobs, build a portfolio. Make sure to keep in touch with your clients regularly to discuss their marketing goals so you can work according to their needs. If you always overdeliver, you'll grow faster in the SEO industry.
8. Become a video editor
There are millions of YouTubers out there. Most people hate editing their videos.
Do you know why? It's a daunting task. Learning how to edit videos effectively takes time and skill, and trying to do it yourself can be frustrating.
That's why many online video creators hire other people to edit their videos.
If you've video editing skills, you can make money online as a student in your spare time in many ways, including;
Edit Wedding or Birthday Videos
Edit Home Videos for People
Edit Promotional Videos for Companies
Edit Videos for Full-Time YouTubers or Agencies
Here are a few tips if you want to start making money as a video editor.
Learn the basics of video editing. If you don't have any editing skills, start learning the basics. Many online tutorials and resources can teach you the basics of video editing.
Use a video editing software program. Many different video editing software programs are available, both free and paid (such as Filmora, Adobe, InVideo, etc). Choose a video editing software that is easy to use and offers plenty of features to edit videos.
Don't be afraid to experiment. Try different editing techniques and see what works best for you. You can analyze other popular videos and learn from their editing style.
Start a YouTube channel or website to showcase your video editing skills to attract potential clients. You can also use platforms like Upwork and Fiverr to find potential clients for freelance video editing.
The key here is to start learning video editing as soon as possible. Whether you're looking for editing jobs or becoming a YouTuber, these skills will come in handy whenever you need them.
---
FAQs on college side hustles
Here are some FAQs about easy side hustles for college students.
Which side hustle is best for students?
Blogging is the best side hustle idea for most students. It helps you build many high-income skills such as writing, networking, promotion, SEO, etc.
How can a college student earn a side income?
Here are some of the best ways for a college student to earn a side income online;
– Freelance writer
– Social media manager
– Graphic designer
– Web developer
What are the top side hustles?
Selling handmade crafts, prompting affiliate products, and starting an online store are the top side hustles that can help you with passive income.
Is Upwork a legit site to earn money as a student?
Yes, Upwork is a 100% legitimate platform where you can find many freelance gigs, including writing, design, SEO, etc.
Is blogging a good career for students?
Yes, it is. It helps you earn passive income. Also, it can help you connect with many other professionals across various industries.
Related Resources:
---
Final thoughts on easy side hustles for college students
If you're a student, we HIGHLY recommend you consider starting a side hustle. It's a great way to earn extra money, gain new skills, and build your personal brand.
In this post, we only mentioned a few legitimate side hustles, and many other ideas are suitable for students. The best way to find the right side hustle for you is to think about your skills and interests.
So, what are your thoughts on the side hustles listed here? Have any questions? Let us know in the comments.
Source: https://bloggerspassion.com/side-hustles-for-college-students/
---
---
You might also like this video