There used to be a time when content creators had to struggle to build a platform to connect with and build their audience. But then WordPress came, and everything changed.
But that's not all. Today you have more than a few "specialized" platforms for content creators. The tables have turned, and now content creators face a different problem. The problem of plenty.
But we will help you solve this dilemma. This post will go in-depth with the comparison between WordPress and Kajabi, one of the popular specialized platforms for content creators.
Kajabi vs. WordPress – A Quick Overview
So let us quickly introduce you to both of these platforms. Kajabi, as we mentioned above, is specifically built with content creators in mind.
It aims to offer everything content creators would need under one roof. From hosting infrastructure to monetizable content creation functionalities to marketing tools, with even payment gateway integrations.
So you can go from creating content for your audience to accepting payments from them to access your coaching, courses, mentorship, etc. without leaving the platform.
WordPress, on the other hand, is a much "broader" platform with a lot more flexibility, control, and customization. WordPress isn't built with any particular type of website owner in mind, but that doesn't stop anyone from using it for whatever purpose they intend.
Its massive collection of all types of plugins helps you create any type of website you want with all types of specific functionalities. Moreover, as a content creator, you enjoy complete control over your content, audience, web assets, and what could potentially be your brand in the future.
Advantages of Working with Kajabi
We know this sounds like just scratching the surface, so let us dive deeper into the important factors of comparison between these two platforms. More specifically, let us start with the advantages of using Kajabi as your content creation, hosting, and monetization platform.
Ease of Starting Up and Overall Use
Most content creators are no experts with tech or building a website from scratch. This is why the ease of starting up and also the overall ease of use can be of paramount importance to them.
Kajabi does enjoy a somewhat upper hand here, especially in terms of out-of-the-box usage. Since it offers many tools and functionalities as a kind of combined package, content creators don't have to spend much time learning how to use or manage specific tools or functionalities.
On the other hand, while WordPress is far from complicated or difficult to work with, it does require a beginner to put in at least some work and effort to learn the basics. These include things like installing a theme, downloading a plugin, creating a post, creating a WordPress registration form with payment options, or using a WooCommerce PayPal plugin.
To be fair, none of these things are difficult or very technical, but it can get a little intimidating for an absolute beginner to get a hang of these basics.
It can all be more than worth it in the longer term, but that's for discussion for another factor.
No Hosting Hassles
One of the things content creators can be thankful for is that managing their content creation system's hosting infrastructure has gotten a lot easier than it used to be. Gone are those times when you had to seek the assistance of dedicated hosting experts to manage your hosting server for you.
That said, however, a complete beginner may still not want to deal with hosting at all. Choosing between the plethora of hosting services available out there, deciding on the type of hosting needed such as a shared hosting or a VPS, setting up nameservers, and installing an SSL certificate, might all sound "alien" to someone who has never created a website before.
Again, these are all things that you could learn in a day or two, but they may still cause some friction for first-time digital content creators.
Such content creators may find Kajabi a more preferable option solely for not having to deal with any hosting-related matters. This is because, as we said, Kajabi functions as a "package" platform.
It has its own hosting infrastructure where it hosts all the websites created on its platform. So there would be no need to research or set up an external hosting service.
One Platform vs. Building from Scratch
Kajabi's biggest selling point is being a complete, single platform for content creators. Some of the important functionalities it offers include the following.
Different templates to choose from according to your needs and preferences;
Built-in page builder to create the kind of page design you want;
Email marketing and other analytical tools to help you with marketing your content without having to purchase or set up external marketing tools;
Sales funnels to convert your visitors into customers without learning complex external funnel setups.
This is probably one of the most important points of this Kajabi vs. WordPress comparison. Building a complete content creation setup – including marketing and other service integrations – can be a time-consuming process.
This is especially true since when you're starting from scratch as a beginner, you will need to put time and effort into learning each of these specific elements of your content creation business. Furthermore, as you build an audience and scale up your business, you may have to grow out of the free or cheap options and purchase full-scale services and tools.
So this will also be an expense factor you will need to take into account for the future. However, we will talk about the pricing factor in detail later in this post where we find that Kajabi still turns out to be pretty expensive.
Working on Technical Aspects
The modern age of digital content creation is full of opportunities, but it's also full of competition. You can't simply create some videos and expect to have people pay you to access them.
While the standards have been set higher for the quality of content, coaching, mentoring, or whatever it is that you're offering, there are also other aspects of your business to take care of.
Talking particularly about technical aspects, the speed optimization and security of your website tend to be fairly underrated but important factors. A slower website will not only make search engines like Google ignore you in its search results for your target audience, but it can also be frustrating for your paying customers or subscribers.
When working with Kajabi, you don't have to pay much attention to these technical factors. Kajabi manages to do a good job here, and most websites hosted on its platform are believed to enjoy a higher level of security than WordPress websites with no security features.
Similarly, WordPress websites with a lot of heavy video content and no focus at all on the speed aspect will suffer in comparison to a site hosted on the Kajabi platform in its default form.
That said, with some effort or expert help, you could easily build a comparable level of security and speed – if not better – to a standard Kajabi site.
Messing Around with Code
Of course, modifying snippets of code is the last thing most content creators could imagine themselves doing. Kajabi ensures that their content creators have nothing to do with code in any way.
Now, this does have its own downsides, particularly in the form of limited or lack of customizations in many areas.
Most content creators don't have to do any kind of code modifications using WordPress either. They just have to choose the right plugins that serve as an effective alternative to working with code.
Managing Payments
Kajabi manages to offer payment gateways as a part of its overall system too. You can accept payments using PayPal or Stripe as your payment gateway.
In addition, Kajabi also offers its in-house payment method, which they call Kajabi Payments. The best thing about their payment gateway is that in addition to accepting payments through credit cards, it also allows you to accept payments made using popular wallets including Apple Pay and Google Pay.
However, this payment is currently in its beta phase and is only available to creators from the US.
Integrating different payment gateways into WordPress is no difficult task either. You can just install and set up a WooCommerce Stripe plugin to integrate the Stripe payment gateway and a PayPal plugin for integrating PayPal as a payment method.
Reasons to Go with WordPress
After going through the advantages offered by Kajabi, it might seem as if it's a no-brainer compared to WordPress. But a comparison is never complete without exploring the other side of the coin, is it?
So let us understand what WordPress has to offer to content creators in detail below.
Pricing
You might not have expected to see pricing as the top factor when discussing WordPress, but it surely is the most important for small-time content creators who are just starting out on a tight budget.
The cheapest and most basic plan of Kajabi is priced at $119 per month. Along with the expensive upfront cost, the limitations in terms of the overall functionality are also an issue.
Let us point out a few specific limitations that a content creator may find disappointing.
Only 3 products and 3 funnels allowed: This can be an issue for content creators selling multiple courses or those looking to utilize a wider range of marketing funnels;
A maximum of 1000 active customers: This also could be a problem for content creators selling a premade cheap digital product and rely on volumes than the dollar value per order for their revenues;
Only 1 website and 1 admin user: It would be a hindrance for creators who want to have separate websites for product offerings in different niches; Similarly, you can't get anyone from your team to help you with main website operations as you would be the only user allowed as an admin.
The only plan that seems without any real limitations (it does limit the features too in some way, but offers enough to cover most content creators) is the Pro plan. It would set you back by $319 every month, and that's a big upfront cost for small-time content creators or those who are just starting out.
Kajabi does offer a 14-day free trial, but that's not going to be very helpful in terms of managing the actual costs involved in running a content creation business.
WordPress, on the other hand, is hard to beat for not just Kajabi, but any other similar specialized platform. You just need the following to get started.
WordPress.org account – It's free;
Hosting plan – A shared hosting plan costing somewhere around $5 a month will be enough for most content creators;
WordPress membership plugin – A complete WordPress membership plugin like Paid Member Subscriptions can help you get started for free, but even the cheapest paid plan is priced at just €99 or around $105 per year (according to the $ to € conversion rate at the time of writing this post).
You do have to choose and install a WordPress membership theme for your site, and a few basic plugins to help you with the overall functionality. However, there are plenty of well-designed themes available for free or at a cheap price, while most basic plugins are free as well.
Why Paid Member Subscriptions?
The paid plan of PMS covers a lot of the other important features too, as it offers content restriction functionality, the ability to create a WooCommerce private store as a content creator, email customization and reminders, discount codes, and other innovative pricing options as a marketing feature, payment gateway integrations for PayPal and Stripe, handling recurring payments, and much more.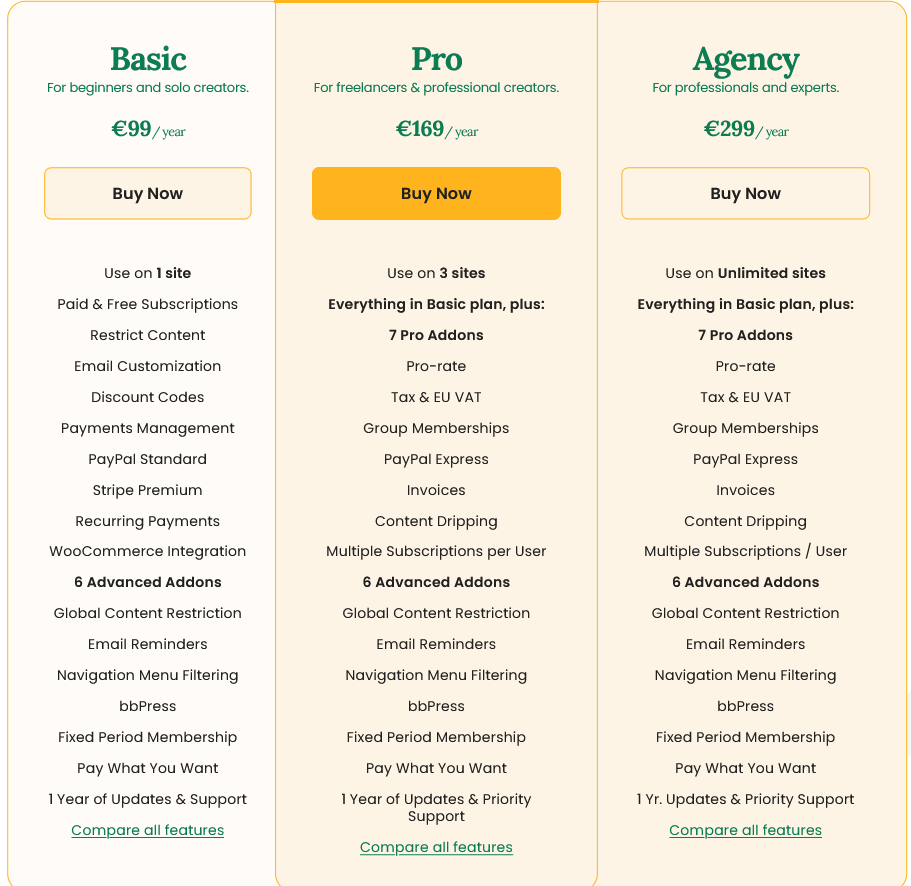 However, if you scale up your business and need more of any specific functionality like email marketing or page builder, there are many options available. To be a little specific here, Mailchimp as an email marketing service and Elementor as a page builder are great options.
In terms of pricing, the entire cost of running your content creation business would still be much cheaper than going with the full-scale plan of Kajabi.
Finally, however, it's crucial to note that WordPress even allows you to get started and test the waters for free. You can just get the free version of Paid Member Subscriptions and upgrade to the paid plan only when you have got the ball rolling and some revenue coming in.
Range of Customization
Some content creators may not think of it much, but customizations are going to be an essential requirement as you learn that running a content creation business is a lot more than just creating valuable content and being done with it.
Kajabi does offer customizations to its design and other features to some extent, but there's no room for expansion there. For instance, its page-building customizations and overall ability will never match what a specialized WordPress page builder plugin like Elementor can offer.
The same goes for specific but important features like content creation, customizable subscription tiers, creating WordPress or WooCommerce private products, managing recurring payments, flexible discount management, content dripping functionality, and integrations. These features are either lacking or limited in Kajabi.
What does a Kajabi creator do when they want to add customized upsells to their site's cart? How about creating customized 'thank you' and other important pages? You can do these kinds of things easily using plugins in WordPress.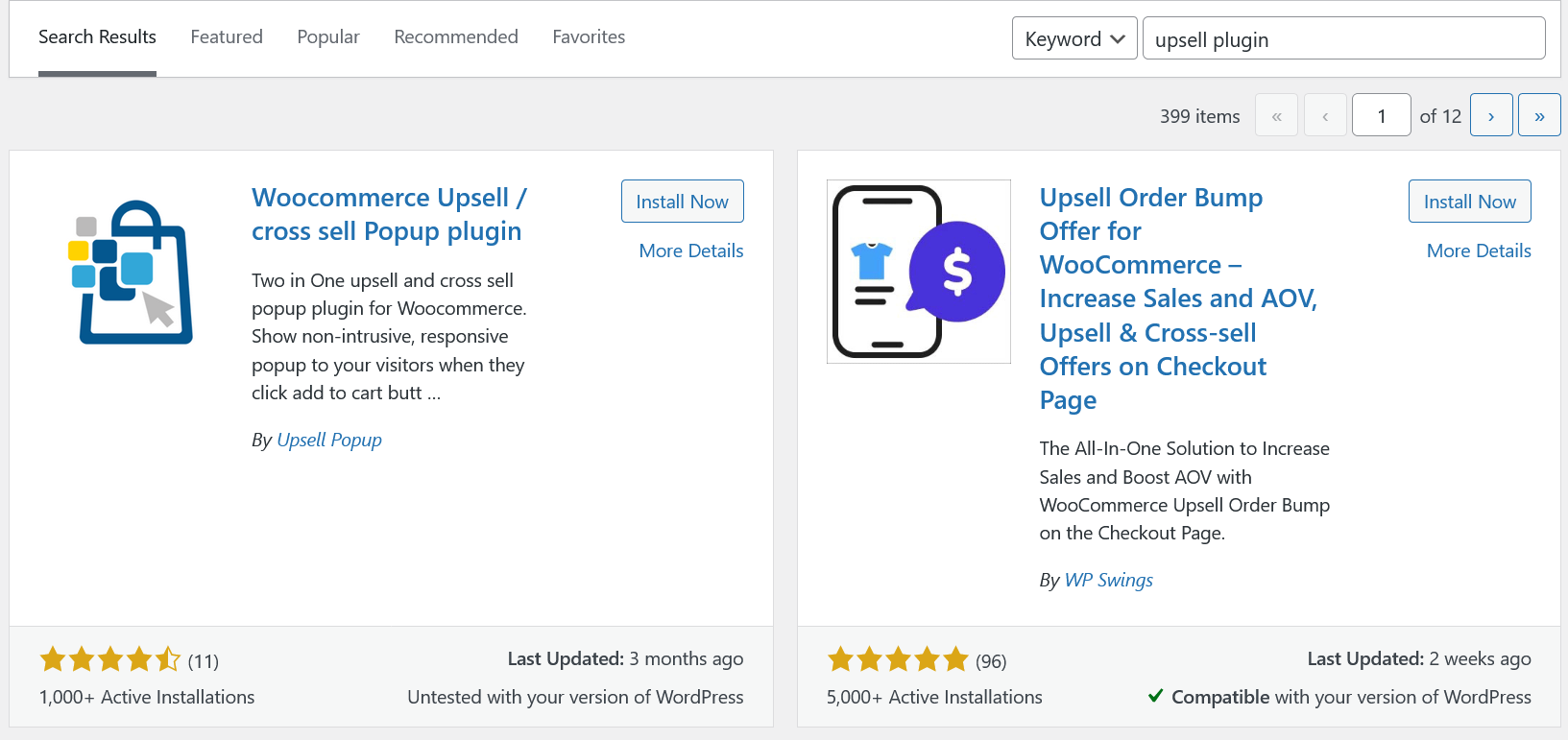 Kajabi does severely limit such customizations, which could be a deal-breaker for successful content creators in the future if they aren't right now.
But with specialized plugins for different functionality areas available in WordPress like Paid Member Subscriptions, you can add all these functionalities to your site with a great range of customizations wherever applicable.
Control Over Your Business
There is an important distinction between WordPress and Kajabi that often slips through most comparisons. But since we are covering all bases, we will not ignore this important factor.
The importance of having full control over your business can't be overstated. When you're hosting your site with Kajabi, you're not exactly in complete control of your business.
Your playground is going to be limited by Kajabi's offerings. You can't grow out of it properly without moving away from the platform.
Neither can you add your own customizations like in WordPress, either through modifying certain files or simply using dedicated plugins. You can't do much to improve the speed or SEO of your website beyond its limited features in those areas.
There are a number of templates available in Kajabi but with little to no room for customizations. You just have to make do with the one that's the closest to what you want.
We can go on and on about control and customizations, but we think you get the drift already.
The SEO Challenge
Depending on how you plan to market your content products, SEO may or may not be the most important marketing channel for you. Generally speaking, however, it's going to be one of the biggest, if not the biggest source of targeted traffic to your website, which will eventually convert into customers or subscribers.
As with pretty much everything with Kajabi, what you can do in terms of SEO is going to be pretty limited. Moreover, managing on-page SEO, or "internal" SEO to put it simply, can be pretty daunting if you have to do it without the help of any tools.
Thankfully, WordPress offers world-class powerful SEO tools in Yoast SEO and Rank Math. You will likely be running from pillar to post to add the same kind of SEO functionality in Kajabi.
Mobile Optimization
Google has publicly announced that it prioritizes websites that have been optimized for mobile devices as against those that haven't. It goes on to state how important optimizing for mobile devices is in general.
No matter whether Google search traffic is a top marketing priority for your business or not, optimizing your website properly for mobile devices is still important. But with not enough control or customization options with Kajabi, you will not be able to do much about it.
This could affect your business and eventually, your revenues more significantly than you may think, especially in the long term.
It's worth noting though that Kajabi does make available a mobile app for your customers that they can use to access your content. However, it doesn't function as a marketing channel like a mobile-optimized website does.
When using WordPress, however, you can simply use a WordPress AMP plugin to optimize your site for mobile devices in the right way.
Kajabi WordPress Integration – Is It Possible?
Those of you who are more tech-savvy might be wondering whether it's possible to have a Kajabi WordPress integration and try to get the best of both worlds.
You could use Kajabi for its ease of use, but let WordPress take over in areas where more customizations and control are needed.
Well, Kajabi officially doesn't offer any option to integrate itself with WordPress. There's a kind of technical workaround though that could help you here to some extent.
There's an automation service called Zapier. It can help you connect Kajabi and WordPress in some way.
You can then select certain actions from one of these two options as "trigger" points, and also choose the resultant reactions from the other platform. It could also facilitate certain types of data transfer between these two platforms.
So, can you really use Kajabi with WordPress? The thing is, setting up this automation correctly and in a way that offers some real benefit to you can be a challenge in itself. How much you will be able to get out of this integration using a third-party service is also questionable, since Kajabi doesn't officially support it.
Needless to say, very few content creators would even be able to think of setting up something like this and be able to use it effectively.
Kajabi vs. WordPress – The Facts Have Been Revealed
This has probably turned out to be the most comprehensive post on the comparison between Kajabi and WordPress. If you have gone through it carefully, you must have enough clarity in your mind at this point to make the right choice as per your requirements.
If you have decided to go with WordPress, understand that you will need a membership and payments plugin to go with it. This is the only way WordPress will function as an alternative to Kajabi.
As we mentioned above, our choice here would be our complete membership and payment management plugin Paid Member Subscriptions. It offers a lot of features you don't even get in Kajabi, while still covering a lot of the bases which makes it a worthy alternative to Kajabi.
We have even got a completely risk-free, 100% money-back guarantee. If you purchase PMS Pro and change your mind to switch to Kajabi within 15 days, you get a full refund with no questions asked!
There couldn't be a better reason to give it a try!

Paid Member Subscriptions Pro
You would never know what you could achieve as a content creator with PMS and WordPress if you never give it a test!
If you have any questions about any aspect of this post or comparison, don't hesitate to let us know in the comments below.
Source: https://www.cozmoslabs.com/2225616-kajabi-vs-wordpress/
---
---
You might also like this video