AI is growing rapidly.
The artificial intelligence market size was $428 billion in 2022 and is projected to grow from $515 billion in 2023 to USD 2,025 billion by 2030, according to Fortune Business Insights.
The opportunities are UNLIMITED when it comes to making money with AI.
If you're interested in using AI tools to make money, you've come to the right place. In this FREE guide, you'll learn;
How to use AI to get rich
Proven tips with real-life examples
A quick checklist on leveraging AI to make money and much more
Are you ready? Let's get started!
How to Use AI to Make Money Online? EIGHT Ways for Beginners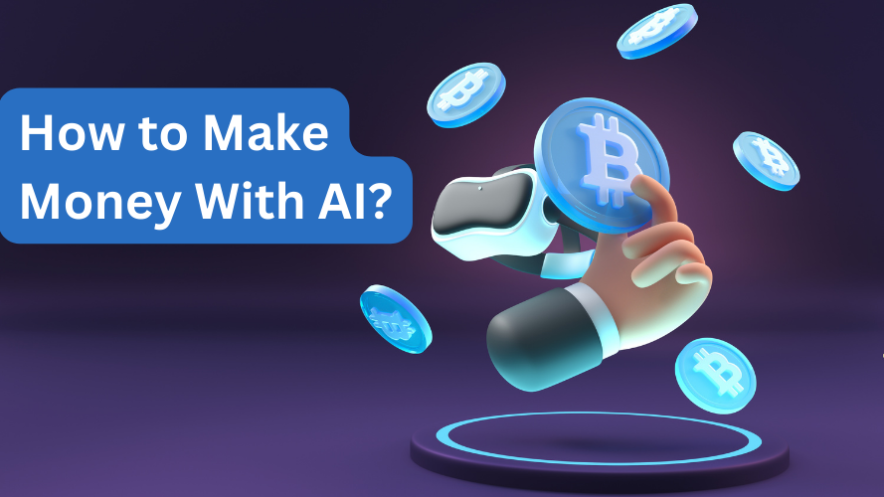 1. Create and sell AI-generated content
Almost every single business (and website) needs "CONTENT."
People are ready to spend thousands of dollars monthly if you can provide high-quality and engaging content for their businesses.
The best thing about AI is that you can quickly create many articles. You can monetize content by writing blog posts, generating marketing copy, or creating social media posts.
There are lots of AI-writing tools that can help you generate engaging copy. The best example is Jasper AI.
Jasper offers over 50 copywriting templates to create content for your websites, social media or email newsletters.
Have a look;
As you can see above, you can create almost any type of content including;
Ads
Blog posts
Improving existing content
YouTube video scripts
SEO-friendly titles and descriptions
And the list goes on
The best part? Jasper is affordable as its price starts only at $39 per month. You can check out our in-depth Jasper review to find its tutorial and benefits.
If you don't want to pay for Jasper, you can try other free AI tools like Bard, ChatGPT, etc.
There are many ways to promote and sell your content writing services, including;
Your own website
On platforms like UpWork
Running targeted online ads (e.g., Google Ads or Facebook Ads)
Cold email outreach, etc
2. Create and sell a product
Build an AI product if you're looking for a long-term monetization source. Make sure to identify some tasks that are difficult or time-consuming for most people to do. Then, you create profitable products related to AI that can do more efficiently and effectively. The best example is AI chatbots.
A quick search on Google shows a TON of products built with AI's help.
Have a look;
As you can see above, many AI products are appearing for the search term "chatbots for website". That's just one topic. There are hundreds of more such topics where AI products are already created and sold.
So, if you're looking for a SOLID way to make HUGE money with AI, create and sell AI products.
Here's a 3-step quick formula for selling products with AI.
Find a problem or need that AI can solve
Build an AI solution
Market and sell your product
Let's talk briefly about these 3 steps with a real-life example. Let's assume you want to build an AI product based on SEO.
Step 1: Problem or need
Many website owners struggle to rank their websites high in Google search results. It could be because of so many reasons, such as:
Lack of knowledge about SEO
Struggling to find relevant and low competitive keywords
Difficulty creating high-quality content that is optimized for search engines
Competition from other websites and the list goes on
Step 2: Creating an AI solution
You can build an AI SEO product that can help website owners to overcome these challenges by providing them with:
Personalized recommendations on how to improve their website's SEO
Providing tools to find better keywords in their industry
Tools to help them create high-quality content that is optimized for search engines
Step 3: Marketing and sales
Once you create an AI product, it can be marketed and sold to website owners who want to improve their website's ranking in Google. You can also sell it to businesses of all sizes.
You can use a wide range of channels to market and sell your AI product, such as:
Your own website
Online marketplaces like AppSumo and Product Hunt
Through social media or paid ads
SEO agencies that work with website owners
The opportunities are unlimited with AI.
No matter what kind of product you want to build with AI, there are a ton of ways to improve its usability. For example, if you're building an SEO product, you could use AI to:
Generate personalized SEO best practices
Automate tasks such as keyword research, content creation and competitive analysis
Offer new SEO strategies and tactics
Here are a few product ideas you can create with AI;
AI chatbots (where you can build customer service chatbot that can answer customer questions instantly)
AI-powered healthcare tools
AI-powered educational tools
AI-powered marketing tools
AI-powered security tools
AI-powered gaming tools
AI-powered research tools
So, make sure to do your own research. Find competitors and build better products.
3. Make money through web design
Did you know that you can build a website with ChatGPT?
What are the most important elements of a website?
Web design elements
Content
Proper code
All the powerful AI tools, including ChatGPT, Bard AI, etc., can be used to generate code, design elements, and create content for a website.
And… there's a HUGE demand for web designers, as many businesses want to build an online presence. Building a website is the FIRST step for most businesses.
So, if you can create amazing websites, you can generate hundreds of dollars for each product.
Here's an example code generated by ChatGPT;
As you can see above, ChatGPT will generate the necessary code for you. This is just a basic example, of course. ChatGPT can generate more complex websites with multiple pages, images, and other features.
Here are some tips for using AI tools like ChatGPT to build a website:
Give clear commands: Here's the thing about AI tools: you should be as specific as possible when giving instructions. The more detailed your instructions are, the better ChatGPT will be able to understand your needs and generate the desired output.
Use ChatGPT to generate code: The key here is NOT to generate the whole website code at once. Instead, generate code for individual components of your website first (such as footer, about page, contact page, navigation, etc). This will make it easier to review and edit the code, and it will also give you more flexibility in designing your website.
Test the code: Yes, ChatGPT can generate code, but nobody is sure whether it's error-free. That's why you need to review and test the code generated by ChatGPT carefully before using it so you can easily identify and fix any errors.
Remember, any AI tool including ChatGPT is NOT a complete website builder. You need to put some effort into generating and reviewing the code generated by these tools. But they can save you a lot of time regarding website creation.
4. Affiliate marketing
Are you looking for a passive income source to make money with AI? Then, you should try affiliate marketing.
Affiliate marketing is performance-based marketing where you generate commissions whenever someone purchases a product using your affiliate link.
The blog you're reading generates over $18,000 monthly from affiliate marketing.
Here's one of our blog's affiliate earning reports;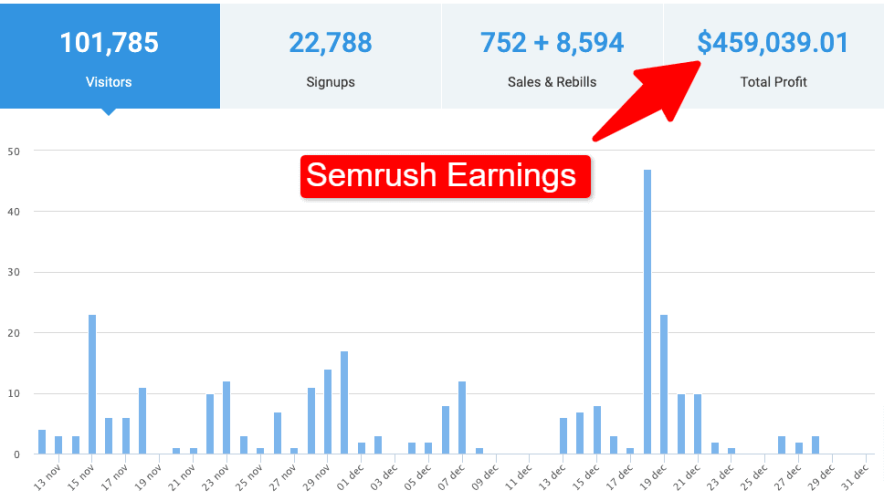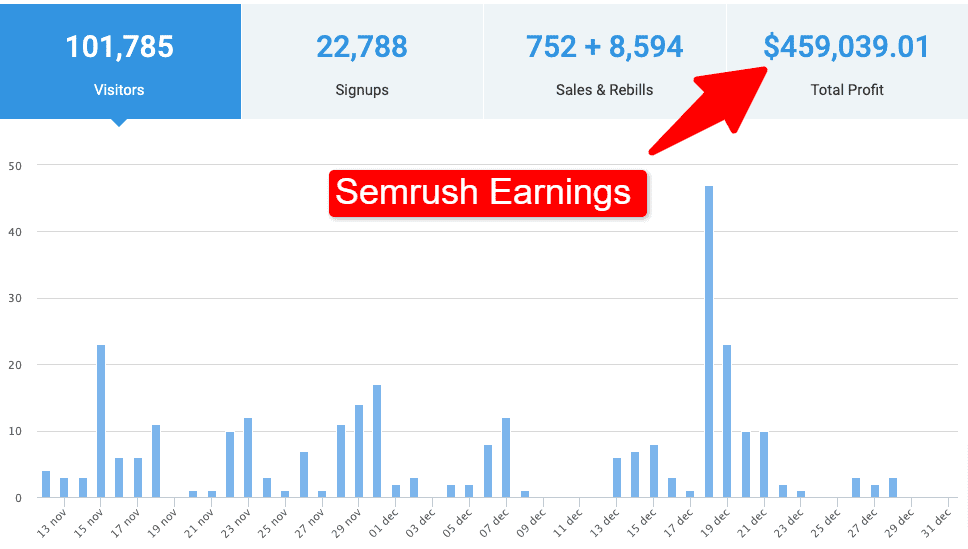 As you can see, we generated over $450,000 from only one affiliate product called Semrush.
So if you're considering to use AI to make money, start your affiliate marketing journey.
Here are a few ways you can use AI in affiliate marketing to increase your sales.
Find profitable products: You can use AI tools to analyze affiliate platforms like Amazon, eBay, ClickBank, etc to identify products that are in high demand and have high conversion rates.
Use AI for content creation: There are many free AI tools (including ChatGPT) you can use to create content around affiliate products you promote. You can create any type of content, such as;
Product reviews and descriptions
Video tutorials
Checklists and tutorials on using the products
Email newsletters around the products
Ad copies, social media posts, and so on
Use AI to automate your affiliate marketing tasks: AI can be a POWERFUL tool to automate tasks such as keyword research, content creation, social media marketing, and more. This can save A LOT of your time as AI tools work 24/7.
Remember ONE thing when using AI tools: they can save more time and money. However, it's important to remember that AI tools are NOT a replacement for hard work and creativity.
Most AI tools rehash content, so hire someone who can edit, proofread, fact-check and make necessary changes to the content generated by such tools.
5. Freelancing in AI
You can offer your freelancer services to businesses needing help with AI projects.
If you're wondering, many businesses need help with so many things, such as;
Language Translation
Content creation
ChatGPT consultant
Data analysis
Neural networks
Robotics and many more
All these things can be done if you're good at using AI tools.
So, find ONE high-demanding skill. Learn how to leverage that skill using AI and make money.
For example, you want to offer freelance services in a high-income skill like "SEO".
You can offer services like AI-driven content optimization, keyword analysis, website audits and automated reporting.
The key here is to educate your clients on the benefits of AI in SEO (or any specific service you offer).
6. Start and monetize a blog
The blog you're currently reading generates over $18,000 every single month. You can read our blogging journey to find more details.
Hands down, blogging is the best way to use AI to make money.
The earning potential is HUGE with blogging, as there are a ton of full-time bloggers who earn upwards $100,000 every single year.
There are many things involved in blogging, such as;
Creating blog posts
Coming up with great topic ideas
SEO
Email marketing
Social media, and more
Most of those things can be easily done with the help of AI tools.
You can NOT completely automate the process with AI but you can certainly save a ton of time on most blogging tasks.
And… starting a blog is NOT expensive.
If you're curious, here's a quick tutorial on starting a WordPress blog on Hostinger.
Quick note: Millions of websites use Hostinger, as it offers powerful hosting features at affordable prices.
To get started with their WordPress hosting, click on this special link.
Their plans start at just $2.99 per month.
Once you're on their website, click the "Add to Cart" button to continue to the payment page.
Here are 3 pricing options offered in WordPress hosting from Hostinger;
Premium plan costs just $2.99 per month, and you can install up to 100 Websites With 100 GB SSD Storage and free Weekly Backups along with a free domain.
Business plan costs just $3.99/month, where you can install up to 100 Websites with increased (Up to 5x) performance. You'll also get 200 GB NVMe Storage and free Daily Backups and free domain.
The Cloud Startup plan is perfect if you want a dedicated IP address and 10x better website performance. This plan costs you only $8.99/month, and you can install up to 300 websites with 200 GB NVMe storage and free domain.
To get a 78% discount, use our exclusive coupon code: BLOGWITHBP
With this discount, you can get 4 years of hosting for only $152!
Have a look;
So there you go! If you need detailed instructions, you can read our free guide on how to install WordPress on Hostinger.
7. Teach others about AI
If you are REALLY good at AI, you can teach others about it.
Millions of people are looking to improve their knowledge and skills in AI.
Why? Because artificial intelligence is a billion-dollar industry.
According to Statista, the global artificial intelligence market is expected to reach $1847 billion by 2030.
That's a HUGE growth!
AI is a great option if you're looking for a booming industry to make money online by teaching.
So, how do you teach others about AI?
Here are some of the top ways to make money through teaching AI.
Online Courses: You can create and sell online courses on platforms like Udemy, Coursera, or Teachable. These platforms are easy to use and offer plenty of tools to create and sell online courses.
Seminars or webinars: You can create workshops, webinars, or seminars on AI topics for individuals who are looking to learn about AI applications and technologies.
Writing: You can consider writing books, ebooks, or articles about AI. Then, you can earn money through book sales on platforms like Amazon or freelance writing opportunities.
YouTube: If you want to build your online presence by teaching AI online, create a YouTube channel. You can start an educational YouTube channel focused on AI topics. You can monetize these platforms through ad revenue, sponsorships, and donations from your audience.
Tutoring: You can offer one-on-one mentoring sessions to people who want to learn from your expertise.
8. Sell AI-generated art
You can create many appealing images, art and illustrations using AI tools.
Some of the best AI tools to create AI art are;
DALL-E 2 and DALL-E 3 (text-to-image models developed by OpenAI)
Midjourney
Jasper Art
These AI tools are getting EXTREMELY powerful in generating creative art.
Here's an example of AI art generated by DALL-E 3;
As you can see, the art is incredible. The key here is to use descriptive prompts and the tools will instantly generate images for you.
Can you sell AI art?
Yes, of course, you can. AI-generated art can be sold on the open market, just like any other type of artwork.
In fact, there is a HUGE market for AI art, as many art collectors are interested in this new art form.
There are a ton of online marketplaces where you can sell AI art, such as ArtStation, DeviantArt, and OpenSea. You can also use platforms like Etsy, Redbubble, Society6, etc to sell your art online.
These marketplaces allow you to create a profile and upload your artwork for sale.
You make money whenever someone purchases your artwork directly.
---
A Quick Checklist On How to Leverage AI to Make Money
Here's a quick checklist for making money with AI:
Get your hands on tools: You should get access to all the trending and popular AI tools like ChatGPT, Bard AI, etc. There are many different AI tools and resources available, both free and paid. Experiment with different AI tools to find the ones that work best for you and your needs.
Stay up-to-date: The AI industry is growing RAPIDLY, so it's important to stay up-to-date on the latest trends. Watch videos and read the latest blogs and books on AI, which will help you find new opportunities to make money with AI.
Build a network: No matter what skill you learn, networking is the key to success. So, connect with other AI experts to find potential clients. You can join Facebook groups, LinkedIn groups, attend AI conferences, join online forums, etc.
Be creative: Don't be afraid to think outside the box and come up with new ideas. The sky's the limit to your earnings if you're creative.
Pick one skill: Yes, you can do a lot of things with AI. But don't waste time learning too many things at once. Pick one skill such as content writing, web design, SEO, etc and use AI tools to master that skill.
---
FAQs on AI tools to make money
Here are some questions people often ask about AI tools to make money.
What are the best ways to make money from AI?
Some of the best ways to make money from AI are;
– Resume Creation
– Writing Reviews for Products
– Content Creation
– Web Design
What are the best AI tools for freelancers?
You can use the following AI tools as a freelancer;
– Jasper AI (for content generation)
– ChatGPT (for creating live chatbots)
– Google Bard (for web design and coding purposes)
How to earn money using ChatGPT?
ChatGPT can be used to make money in many ways, including content creation, language translation, customer support, etc.
Does AI save money?
Yes. Whether you're running a business or website, you can save a lot of money with AI tools. They can help you save time and money in multiple ways such as customer support, content creation, web design, and more.
How can I learn AI at home?
You can learn artificial intelligence by taking an online course or enrolling in data science training courses from platforms like Coursera or Udemy.
Related Posts:
---
Final thoughts on how to leverage AI to make money
There are a gazillion ways to make money with AI. It all depends on how YOU are going to use it.
Try to learn how to use the AI tools like a pro. Take online courses, try the tools by yourself, or watch videos to master AI skills.
So, what are your thoughts on using AI to make money? Have any questions? Let us know in the comments.
Source: https://bloggerspassion.com/how-to-make-money-with-ai/
---
---
You might also like this video