Why do businesses spend billions of dollars on digital marketing?
Because of so many reasons;
Increase in user engagement
Better sales
Attract more leads
More website traffic and online visibility
Digital marketing is ESSENTIAL for anyone wanting to grow their business online.
If your business is NOT online yet, you should get started today. In this free guide, you'll find out why.
Let's get into the details without much ado.
What Is Digital Marketing?
Digital marketing means using all kinds of online marketing channels, such as SEO, email, websites, social media, etc., to connect with your target customers.
Did you know that the global digital advertising and marketing market was estimated at $350 billion in 2020 and is projected to reach $786.2 billion by 2026?
Online marketing is growing RAPIDLY. If you want to reach more people QUICKLY, internet marketing is the best way.
So, let's find out the advantages of e-marketing without much ado.
---
10 Amazing Advantages of Digital Marketing
1. Reach people worldwide
Global reach is one of the biggest advantages of digital marketing.
With digital marketing, ALL kinds of businesses can reach a worldwide audience with their products and services.
How is it possible? Because it uses various marketing channels, such as search engines, social media networks, email marketing, etc., that are accessible to people worldwide.
So, what's the benefit of a global audience?
The benefit is that you can expand into NEW markets.
Remember, NOT all countries are the same. The US has a BIGGER GDP than countries like Bangladesh. Did you know that the US estimated GDG as of 2023 is over $26.856 trillion?
That means you can quickly grow your business by marketing your products and services to people in other countries.
2. The ability to create multiple types of content
With digital marketing, you're NOT limiting yourself to creating one type of content.
You can create a wide range of content types with internet marketing, which include;
Blog posts
Podcasts
Email newsletters
Ebooks, checklists, PDF's
Infographics
Social media posts
Webinars and the list goes on
For example, with email marketing, you can collect email addresses of your potential customers. Persuade them to try your products or services by offering discounts or free trials.
You can easily connect with potential customers worldwide through social media networks such as Facebook, Twitter, Instagram, etc. You can create engaging content, run targeted ads, and engage with users to build relationships.
Similarly, with video marketing platforms like YouTube, you can establish yourself as an authority in your industry.
All in all, digital marketing helps you build and grow your audience from scratch by creating various content.
3. It is cost-effective
Digital marketing can be very cost-effective, especially compared to traditional marketing methods.
For example, starting a blog or website is one of the easiest ways to get started with digital marketing.
You can start a professional blog for as little as $3 a month. Yes, you heard it right.
If you're wondering, here's a quick tutorial on using a web host like Hostinger (the #1 hosting choice for millions of people) to start your blog within a small budget.
Click on this link to visit the Hostinger website.
Once you click on our exclusive link, you'll land on our co-branded page that looks like this;
As you can see, you'll be getting a 78% discount. The coupon is automatically applied.
Have a look;
Once you click on the Add to Cart button, you'll be taken to the payment page.
As you can see above, the four-year hosting from Hostinger costs just $129.17.
How affordable is it to start a blog? If you're unhappy with Hostinger's web hosting, you can request a full refund within 30 days, as Hostinger offers a 30-day money-back guarantee.
4. It is interactive
Can you directly interact with your audience if you're using TV ads or Billboards?
But with digital marketing, you can easily interact and with your audience in real time.
Examples include;
Instagram Live, Facebook Live, YouTube Live, etc
Responding to people's comments on social media sites
Interacting with your audience on your blog (through blog comments or emails)
And the list goes on
What's the benefit of interacting with your followers or customers?
It allows you to build customer relationships and helps you generate more sales.
Remember, people will buy from those they trust. When you interact with your customers frequently, you'll build trust.
Trust is the currency online. The businesses that build trust often generate tons of profits. The best examples are companies like Apple, Microsoft, Adobe, etc as they always focus on building trust with their customers.
With digital marketing, you can build trust and create awareness through blog posts, guides, product demos, and the list goes on.
5. Easily measurable
Another benefit of digital marketing is that it is easily measurable.
There are a ton of tools that give you access to ALL the insights and data you need.
You can track everything from website traffic to sales, user behavior, and much more.
What's the benefit of tracking your results?
The #1 benefit is that you can see what's working and what's not. This can save you a ton of time and money, giving you a better ROI in the long run.
In case you're wondering, here are some of the tools to track and measure your digital marketing campaigns.
Google Analytics: It's a free tool from Google that helps you track the traffic on your website, know where your visitors are coming from, the amount of time they spent on your website, etc.
Semrush: This is an essential SEO toolkit for all website owners that offers over 50 tools under one platform. It helps you with keyword research, site audits, competitor analysis, and more.
Google Search Console: Another free tool from Google that helps you check your website's indexing status, search queries, and crawling errors.
6. It helps with credibility
Why do you think businesses like HubSpot, Mailchimp, Semrush, etc., spend so much money on digital marketing?
All these highly profitable businesses know that digital marketing works.
They also know that it helps with brand credibility. That's why they put extra effort into making their content and products HIGHLY useful.
So, how does digital marketing help you build credibility?
It allows businesses to create engaging content. When you create helpful content consistently, it shows that you're an expert in your field.
Here are some tips to build credibility with digital marketing.
One of the best ways to build credibility and authority is to create high-quality content for your target audience. You should pick relevant topics that your audience is interested in. You can use tools like Semrush to find relevant topics or spy on your competitors' top-performing keywords.
Be consistent with your branding. For example, if you're using Blue color for your branding purposes, keep it consistent across all your marketing channels, including your website, social media profiles, email marketing, etc.
Be active on social media, as it's the easiest way to connect with your audience and build relationships. Make sure to create engaging posts, answer questions, and interact with your followers.
Above all, build and grow an email list. Email list offers the best ROI.
Did you know that email marketing generates a HUGE $36 ROI on $1 you spend? You can check out these interesting email marketing stats for more details.
7. Save time with lots of tools
By now, you know the importance of digital marketing.
One good thing about digital marketing is you can access a TON of marketing tools.
Here are a few ESSENTIAL digital marketing tools you can use to save more time;
Let's quickly talk about these three tools so you can understand better.
1. ChatGPT
ChatGPT is a large language model AI developed by OpenAI. It can be used for many things, including;
Generate text (be blog posts, emails, social media posts, etc.)
Translate languages
Write different kinds of creative content for social media
Use it as a chatbot to answer your user questions
All in all, ChatGPT can be used for various digital marketing tasks. Also, it's free to use!
2. Semrush
Semrush is an essential SEO toolkit for digital marketers. It is used by over 10 million people worldwide and offers over 50 tools under one roof. It helps you with a lot of things, such as;
Research your competitors
Track your website's performance
Find thousands of relevant keywords
Identify opportunities to improve your website's SEO
Site audits and the list goes on
3. Canva
Canva is a graphic design tool that allows you to create professional-looking images, infographics, presentations, and more.
Canva is a must-have tool for all marketers who want to create social media graphics, marketing materials, featured images for blog posts, etc. It also has a free version.
Read: Top Digital Marketing Tools Everyone Should Be Using
8. People are getting smart
Gone are the days when people relied on TV or offline advertisements before purchasing something.
People are now researching A LOT about the products before making a purchase.
Do you know why? It is because they have access to a TON of information about almost every product and want to get the best value for their money.
Here's where digital marketing comes into play.
It allows you to reach your target audience where they are already spending time online.
For example, if your target customers are teenagers, you can use platforms like Instagram, Snapchat, TikTok, etc., to engage with them easily.
Similarly, if your target audience is women aged 35 to 45, you can use platforms like Facebook, Pinterest, and LinkedIn to connect with them.
9. Increase website traffic
Many business owners use digital marketing because of traffic.
You can drive more traffic to your website in many ways, including;
Search engine optimization (by optimizing your pages and blog posts for specific keywords so that your website ranks higher in search engine results pages)
Social media marketing (by building an audience or followers who are interested in your products or services)
Email marketing (by collecting emails and sending them regular emails with updates about your business, products, or services)
Influencer marketing
Pay-per-click advertising
Content marketing and the list goes on
Let's take our own website, BloggersPassion.com, for example.
In the first year of its launch, only 3000 people visited our site.
Have a look;
Fast forward to 2022, we generated over 2.6 million page views and over 1.4 million visitors.
So, how did we go from 3,000 yearly visitors to over 2.6 million views annually?
Because we had a solid digital marketing strategy.
The key to digital marketing success is setting goals, analyzing competitors, and creating engaging content to reach more people.
10. Improve overall sales
Did you know that ad spending in the "Digital Advertising" market will reach $680 billion in 2023? (Source: Statista)
Why do businesses are spending so many billions?
Because of the ROI (Return on Investment), digital marketing offers high ROI.
Don't believe it?
Here's one of our blog's affiliate earnings;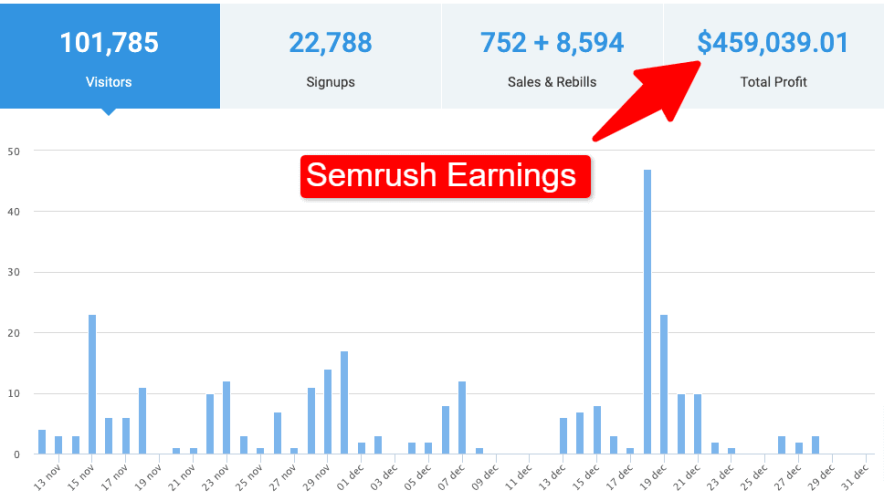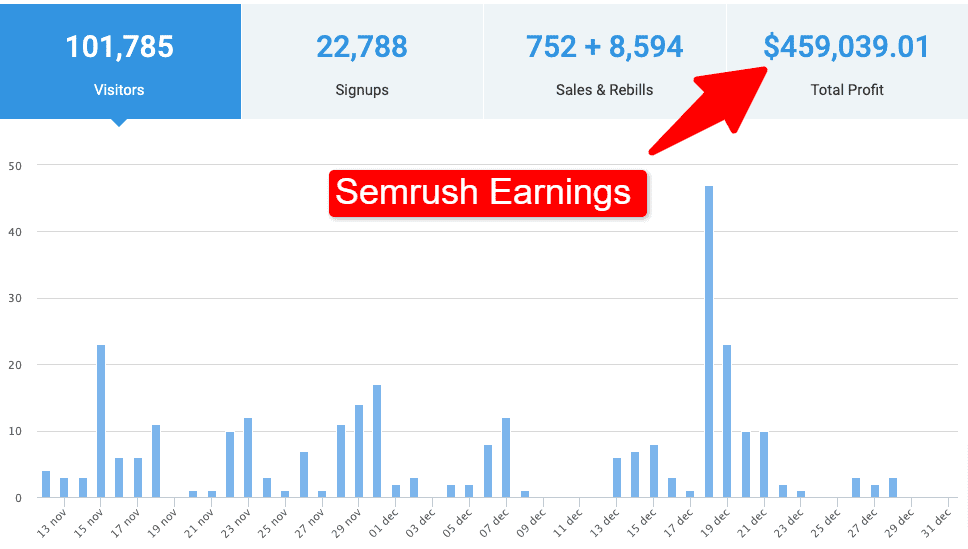 As you can see above, we made over $459,000 from just one affiliate product called Semrush affiliate.
We generate over $15,000 monthly from the blog you're reading now.
So how did we do that? Thanks to digital marketing, we often focus on various channels, such as content marketing and SEO.
Both content and SEO helped us create helpful content, ultimately generating a ton of sales.
All in all, digital marketing is a powerful way to generate more traffic, grow your audience, and generate more profits.
---
Pros and cons of digital marketing
Here are some of the advantages and disadvantages of digital marketing in 2023.
Pros:
You can easily reach a target audience by targeting specific demographics, genders, age groups, and locations.
It is affordable (For example, starting a blog costs as little as $3 to $5 a month, depending on the web host you choose)
It is scalable, so you can quickly increase or decrease your digital marketing spending according to the results you get.
You'll get instant feedback with digital marketing
Digital marketing campaigns can be easily measured, as you can use tools like Google Analytics, Semrush, etc to track your website traffic and keyword rankings
It is incredibly flexible, as your ads or marketing campaigns can be created for specific audiences.
Cons:
One major drawback is that it takes time (at least a year or two) to get solid results from digital marketing. You can't expect overnight results.
It requires expertise, as beginners will NOT get any good results.
You need to deal with a lot of criticism. Whether you're posting on YouTube or creating content for your website, you'll face a lot of negative feedback from people.
---
FAQs on advantages of Internet marketing
Here are some FAQs on digital marketing benefits for business.
What are the benefits of digital marketing?
Some of the benefits of digital marketing include;
– Connect with a worldwide audience
– The ability to create viral content online
– Generate leads, traffic, sales, and more
Is digital marketing better for the future?
Yes, it has a bright future, as businesses spend billions of dollars on digital marketing. If you're looking for a cost-effective way to reach millions of people, digital marketing is an excellent choice.
What are the types of digital marketing?
Several types of digital marketing include SEO, email marketing, social media, paid ads, influencer marketing, etc.
What are the best tools for online marketing?
The best tools for Internet marketing include;
– Semrush for SEO purposes
– Rank Math for content optimization
– Tools like Jasper AI and ChatGPT for content creation
What are the disadvantages of digital marketing?
Some of the disadvantages of digital marketing are;
– It takes a lot of time to get good results
– You need expertise and skills to succeed
– You need to deal with negative feedback and reviews
Related Posts:
---
Final thoughts on the benefits of online marketing
If you're running a business and looking for an affordable marketing strategy to expand your reach, digital marketing is an excellent way.
With a solid digital marketing strategy, you can reach more people, generate more sales, and grow your business.
What are your thoughts on the advantages of digital marketing? Have any questions? Let us know in the comments.
Source: https://bloggerspassion.com/benefits-of-digital-marketing/
---
---
You might also like this video