Want to generate a lot of buzz and clicks for your content?
Try Clickbait content.
Clickbait is a headline text or a thumbnail link that is created with just one purpose: generate a lot of clicks.
That's why creators use a ton of clickbait titles while creating content, including YouTube videos, blog posts, newsletters, etc.
But… most people hate clickbait because it is seen as manipulative. It often uses misleading words to grab attention.
So how to write clickbait headlines that are both effective and NOT annoying? In this guide, you'll find the following;
Clickbait definition
Examples of good and bad clickbait
How to write effective clickbait that works and much more
Let's get started!
Examples of Clickbait Headlines: Everything to Know
What is clickbait?
Clickbait is a type of content that's PRIMARILY created to attract INSTANT attention and clicks. It persuades people to click on a particular article, page, or video link.
Most clickbait content (or headlines) uses misleading or sensational words to capture people's attention immediately.
A few examples include the following;
"This One Crazy Trick Will Make You Lose Weight Overnight!"
"You Won't Believe What This Kid Can Do!"
"How I Made $5 Million Last Month From One Video"
All the above examples are clickbait. They're not only unbelievable but misleading.
The primary purpose of clickbait articles is to generate more clicks and drive more traffic to a page.
Bad Clickbait Examples
Look at the following thumbnail of a YouTube video.
That's photoshopped and misleading. Although the video content shows various snakes the video thumbnail is 100% fake.
Here's another example of a bad clickbait.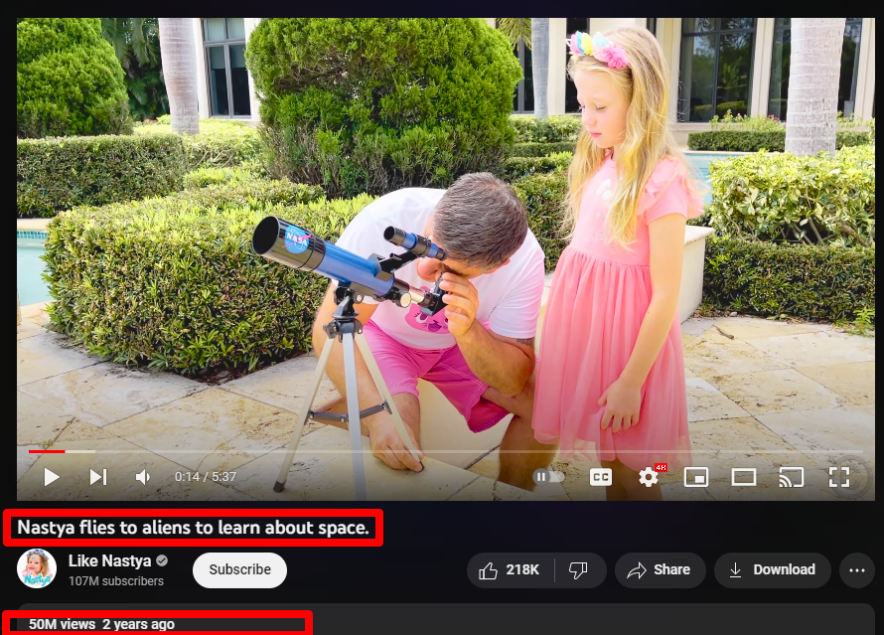 Again, there are no aliens whatsoever. But the video generated over 50 million views. As a side note, "Like Nastya" is a funny kids channel. But still, it's a clickbait.
As you can see, bad clickbait examples are often misleading. They don't add ANY value to the audience. They often waste people's time.
Bad clickbait examples may use words like "you'll never believe this" or "this one trick" to create an instant emotion. They may also use images (or YouTube thumbnails) that are IRRELEVANT to the content.
Excellent Clickbait Examples
Are all the clickbait headlines and content BAD?
No. If used correctly, they can be engaging and helpful to your audience.
Are you Looking for great clickbait examples that add value and instantly persuade people to click? Here are a few of them.
Example #1: "Exercise isn't the best way to lose weight" (from Vox YouTube channel)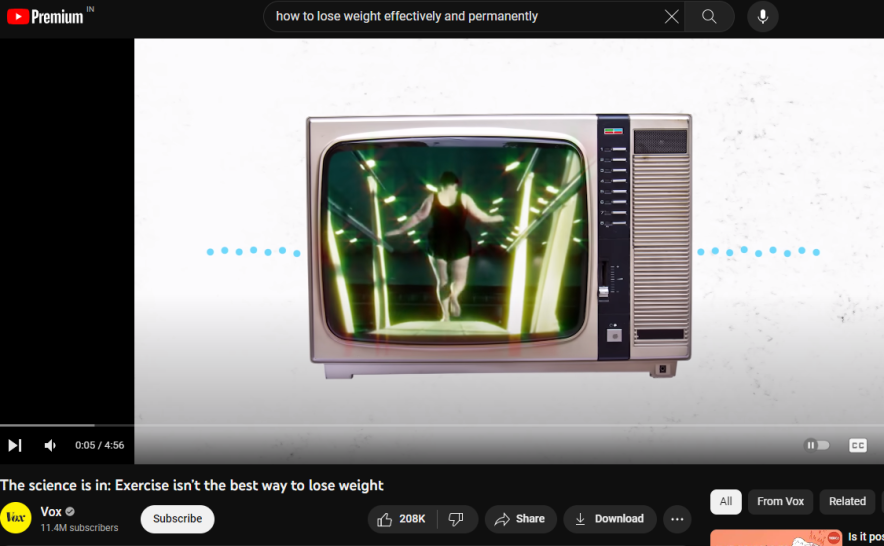 As you can see, it's a clickbait title for sure. But it's 100% legitimate stuff, which is backed by science. That's why people liked it so much (the video has over 200,000 likes and generated over 12 million views).
Example #2: $1 vs $1,000,000,000 Yacht! (Mr Beast's YouTube video)
Looking at the headline, we can easily say it's a clickbait video.
But.. it's one by Mr. Beast, who posts HIGH-QUALITY content. In this video, he shows you all kinds of Yachts ranging from $1 to over $100 million.
Not only this video, but MrBeast's net worth tripled in the last few years because of his ability to create clickbait content. Watch a couple of videos on his primary channel and you'll subscribe immediately. That's how his videos are.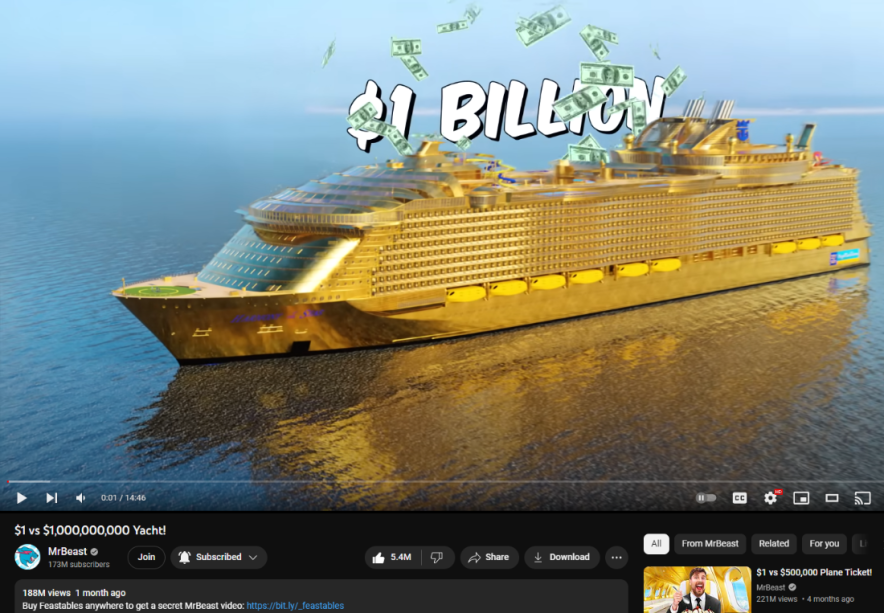 As you can see, great clickbait examples are MOSTLY engaging, informative, and accurate. They may use words like "how to" or "the benefits" to describe the content. They may also use appealing images that are 100% relevant to the content.
How to write click-worthy clickbait headlines?
Here are some tips for writing great clickbait.
User power words: Clickbait headlines often use words that create curiosity, such as "shocking" or "amazing." These are MOSTLY "power words" that are highly effective at getting people to click.
If you want to create clickbait content, make sure to power words like;
Free
Life-changing
Guarantee
Amazing
Discover
Secret
Revealed
Limited Time
Shocking
Be informative and accurate: If you want to create great clickbait headlines, ensure they're 100% accurate to the content inside (be it an article or video).
You should ALWAYS use clear and simple language. Make it short. Most clickbait headlines are short and powerful. They should be easy to understand. If possible, try to avoid using sensational words like "you'll never believe" or "this one trick will work"
The key here is, to be honest about what the content is. The headline and the content should MATCH with each other.
Be specific: The key to writing clickbait titles is to make them specific. The more specific your headline is, the more likely it is to get them to click.
For example, "How to Lose 3 Kgs in 30 Days" is a more specific headline than "How to Lose Weight."
People often like to click on those headlines that are specific and believable. The above example is the BEST example.
Tease with words: You need to create curiosity in your headline. They can be a question, a bold statement, or even a phrase that surprises the reader.
The sole purpose of your headline is to engage your audience enough to make them click. You don't want to tell the FULL story of your blog posts in your headline. Your headline should leave them curious and wanting more.
For example, "This one weird trick will make you earn more overnight!" is a classic teaser headline.
Always over deliver: The reason most people hate clickbait articles and headlines is this: they are always misleading. They don't deliver what they promise in the title.
When you write a headline, deliver on what you promise. If you say that your article or YouTube video will teach people how to lose weight, make sure that it does.
People are more likely to trust you and come back to your website or YouTube channel for more if you deliver on your promises. So don't promise too much, and always over deliver.
Here are some specific examples of how to always deliver more.
Instead of saying, "This will change your life!", say, "This will teach you how to save money on your travel."
Instead of saying, "You won't believe what happens next!", say, "This reveals the secret to getting a hike in your salary."
Instead of saying, "This is the most important thing you'll ever read!", say, "This is why you should invest in cryptocurrency."
Ask questions: Questions can create an instant curiosity in people's mind and make them more likely to click.
Here are some questions you can ask to write clickbait titles in your articles and videos.
Can you believe this? This question is an evergreen way to create a sense of curiosity.
What happened next will shock you! This is the most popular question creators use, as it promises to reveal something surprising.
This one weird trick will change your life. This question works like a charm because it promises an easy solution to a problem, which instantly grabs the attention of those who're looking for a shortcut.
This is the secret everyone is talking about. This question works in most industries as it promises to reveal a secret that everyone else knows.
Using strong verbs and adjectives is the key to using questions in your titles. Why? They often create instant curiosity that will make people click on your content.
Use numbers: Numbers are also attention-grabbing. The best part? If you use numbers and statistics in your content, they make your content instantly more credible.
Here's a quick tip: use specific numbers instead of general terms. For example, instead of saying, "Best tips to lose fat today," say, "10 tips to lose fat instantly (#3 tip will shock you)."
Use eye-catching numbers, such as 7, 10, 21, 100, etc. These numbers are WIDELY used with list posts.
The last tip is to use numbers to show the benefits of your content. For example, say, "This video will teach you 10 ways to save money," or "This study found that 79% of people are likelier to click on a headline with a number in it."
Always test your headlines: Once you've written a few headlines, test them out to see which gets the most clicks. Without testing them, how will you know which works best for you? You can use a tool like Google Analytics to track the performance of your headlines.
A Quick Checklist to Write Great Clickbait Titles
Here's a handy checklist for writing clickbait headlines without misleading or annoying your audience.
Be honest about what your content is about. Whether you're creating blog posts or videos, don't promise something you can't deliver. Always let your audience know that your headlines are genuine and trustworthy. That way, they'll trust you and click on your links whenever you post something new.
Use clear and concise language that describes what's inside of content.
Avoid using misleading words that don't match the content inside.
Keep your headlines short and to the point. Use powerful words that can persuade people to click on your content.
Use numbers to make your headlines more compelling. Listicles ALWAYS work online.
NEVER use clickbait to trick people into clicking on your videos or blog posts. It works in the short term but doesn't work after a while.
Try creating content on timely topics, as people are likelier to click on content relevant to current events or news.
Always experiment. Try different blog posts or video thumbnails to see what works best for your audience. If you're noticing a lot of negative feedback from users, stop using those clickbait. Why? Your #1 focus should be on users, not on attention.
---
FAQs on examples of clickbait
Here are some questions people often ask about clickbait examples and content.
What is the clickbait definition in simple words?
Clickbait is the practice of writing misleading headlines to generate more clicks to a page or video instantly.
Is Clickbait bad?
Mostly clickbait headlines are misleading. So they're BAD. Yes, you can use click-worthy headlines but don't mislead people, as it can lead to a bad user experience.
How do you identify clickbait?
If a headline or piece of content is TOO good to be true, it can be considered clickbait content. Most YouTube video thumbnails are the best examples of clickbait content.
What are the advantages of clickbait?
There are many benefits of clickbait, including;
– Generates more clicks and views on your content (including articles, social media posts, videos, etc.)
– You can generate instant buzz online
– Can help you with ad revenue and more traffic
Does YouTube or Google punish clickbait?
While search engines like Google or YouTube don't take down videos for containing clickbait headlines. But if those videos are not getting better engagement from users (in terms of time spent, likes, comments, etc.), they'll be much less likely to show it to people
Related Posts:
---
Final thoughts on clickbait headlines
The #1 reason most people hate clickbait content is this: their content is mediocre.
So the best way to make clickbait headlines work is to make sure your content is worth consuming. Whether you're creating a video or writing a blog post – always be upfront about what your content is about.
If the "intent" of your content matches your titles, people will trust you and come back more for such content. Have any questions? Let us know in the comments.
Source: https://bloggerspassion.com/clickbait-examples/
---
---
You might also like this video