Can't decide between Ninja Forms vs. Gravity Forms? Welcome to the party; you aren't alone.
Nearly every website needs forms, and your membership site is no different. First, you need a conventional contact form.
How else will members contact you when they have an issue?
Second, you need an assortment of other forms. For instance, how do you grow your email list without a newsletter form?
To onboard new members, you will need a user registration form. And how will you collect payments without a payment form?
If you were to host a webinar, you would need a form to invite attendees. Perhaps you'd like to host an event for your online community instead. That, too, requires having an event booking form.
I am sure you see where I'm going with this.
Forms are essential, which makes choosing the right solution crucial. But the many form builders in the market make choosing the perfect one a tad harder.
This is why you should join us as we compare two of the most popular form builders available.
In today's post, we pit Ninja Forms vs. Gravity Forms based on user ratings, ease of use, features, pricing, and more.
If that sounds great, let us raise the anchor and set sail.
Ninja Forms vs. Gravity Forms: A Basic Overview
The Battle of the Titans is on, so it's only fair that we learned more about the contenders before the showdown.
Also, while Gravity Forms is slightly older than Ninja Forms, its age does not impact the comparison between the two today.
Another thing, be objective about your specific needs whether you choose Ninja Forms, Gravity Forms, or any other form builder.
Related reading: A Hands-On WPForms vs. Contact Form 7 Comparison (Bonus: A Possible Better Alternative!)
Ninja Forms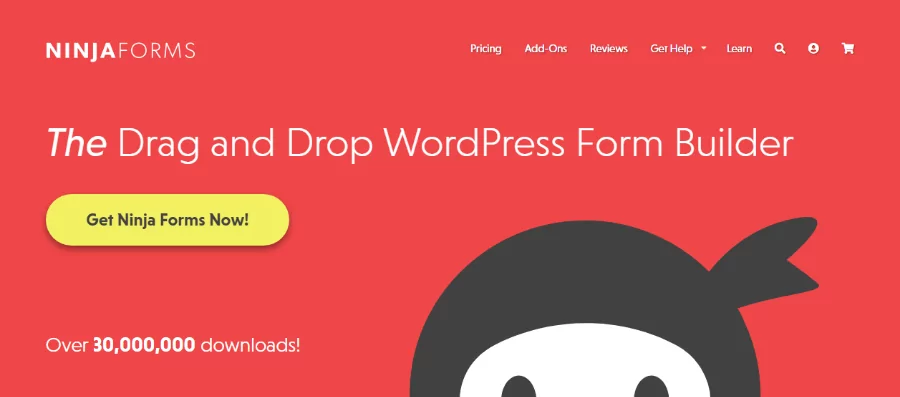 Ninja Forms is a powerful WordPress form builder for creating beautiful forms in a snap. The plugin was launched in 2011 by Saturday Daze.
Over the years, Ninja Forms has grown into a popular form builder with over 30 million downloads. At the present time, it has more than 800k active installations, according to WordPress.org.
With a stellar rating of 4.3/5.0 by 1,186 reviewers, regular updates, and top-notch support, Ninja Forms is arguably one of the best form builders in the game.
The plugin has many features allowing you to create different forms without coding.
And it's a darling of many, as shown by numerous rave reviews on the web.
When developers need a variety of components to create a form-based application on WordPress, they're hard pressed to find a richer set of options that's easy to use. – Chris Lema, chrislema.com.
And what is there not to love about Ninja Forms? It's intuitive and feature-rich, which makes it perfect for beginners and developers.
What's more?
The base version of Ninja Forms is 100% free, but you can go pro if you ever need more features. For this reason, it is incredibly attractive to new sites or people with tight budgets.
Gravity Forms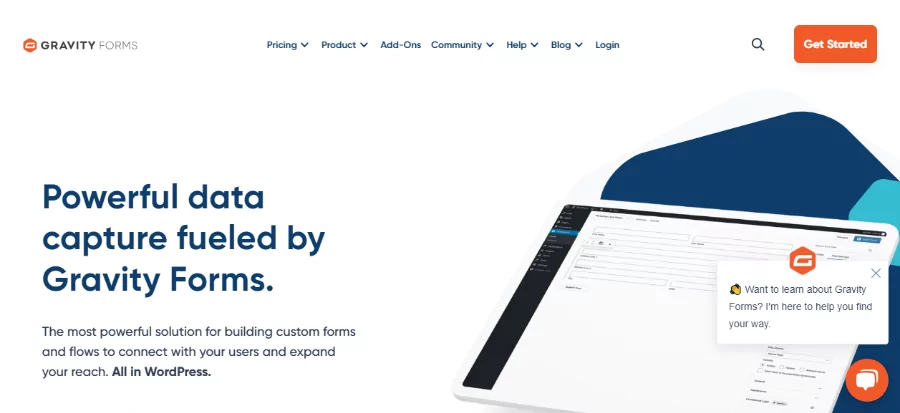 Gravity Forms is an award-winning WordPress form plugin trusted by millions of users. The brainchild of Rocketgenius, the plugin first saw the light of day back in 2008.
For over 14 years, Gravity Forms has been the go-to WordPress form builder for over five million websites. Presently, Gravity Forms has over 969k active users, according to BuiltWith.
It grew from a simple WordPress form plugin into a robust data management system trusted by big-name brands all over the world.
One of the best things about Gravity Forms is the diverse add-on ecosystem that allows webpreneurs to build custom solutions for collecting and managing data.
And people love that.
The ability to connect with so many third-party solutions has made it our preferred form plugin. – Kristina Romero, wpcaremarket.com*
Additionally, the Gravity Forms plugin offers many sweet features that help you create various forms without writing a single line of code.
The plugin has a spectacular rating of 4.7/5.0 by 225 reviewers, incredible support, and regular updates. All things considered, it's undoubtedly worth checking out.
In my opinion, Gravity Forms will turn into a complete SaaS platform in the future if it isn't moving in that direction already.
That aside, the folks at Gravity Forms don't offer a free version. Even so, you can sign up for a 14-day demo to test the waters before you make the jump.
Verdict: This is an easy tie, considering there aren't pronounced disparities in user base and ratings.
*Psst: wpcaremarket.com is a canny example of a successful membership site.
Now that you know what were are working with, and this Ninja Forms vs. Gravity Forms comparison isn't biased, let's look at other important factors.
Ninja Forms vs. Gravity Forms: Ease of Use
Have you ever installed a plugin that made you feel like punching your computer screen? I have, and I uninstalled it immediately.
As you choose a plugin, you don't want feature bloat, poor code, and a clanky interface to get in your way. Luckily, Ninja Forms and Gravity Forms are remarkably easy to use.
Ninja Forms
Once you install the plugin, click Ninja Forms to open the clean dashboard, which looks like this: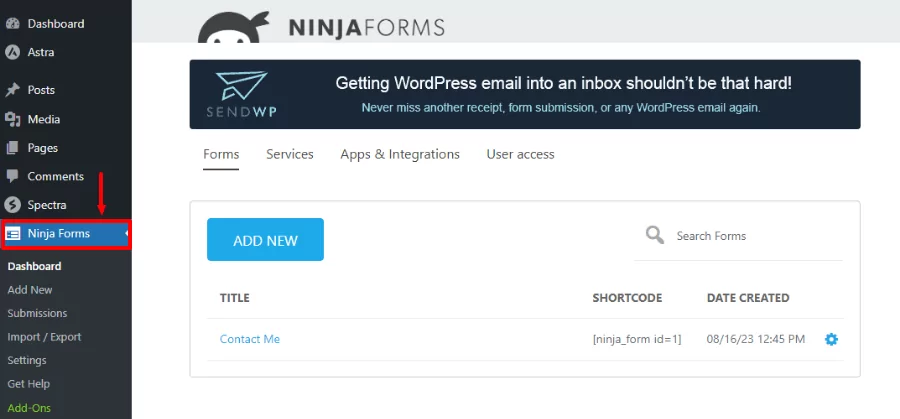 As shown above, the user interface (UX) is neat, and you already have a premade "Contact Me" form you can customize.
To create a new form, click the Add New button to start with a blank canvas or choose a template.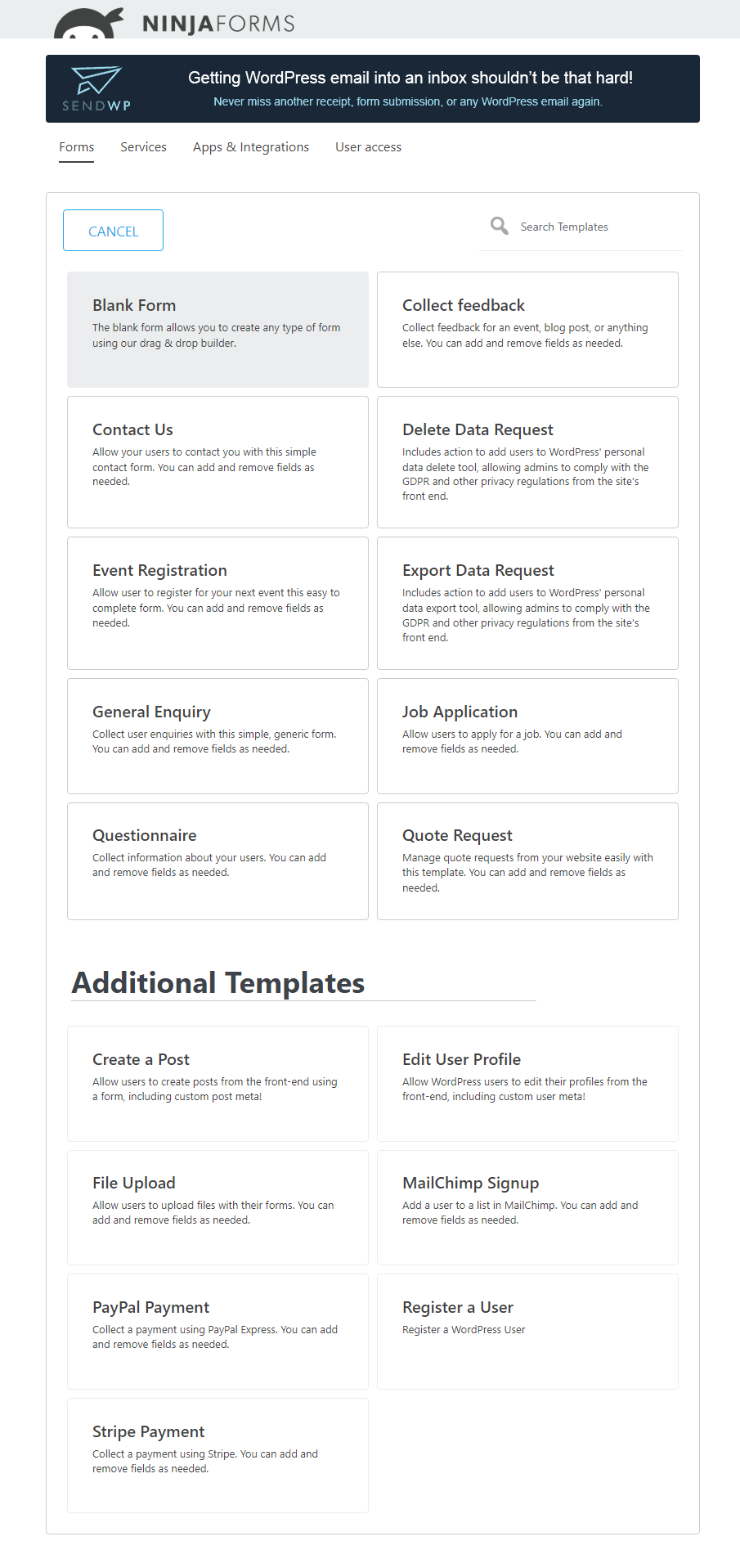 At this time, every template under the "Additional Templates" section requires purchasing the requisite add-on first.
As an illustration, I started from scratch because I love a challenge. Doing so leads you to the clean drag-and-drop visual builder.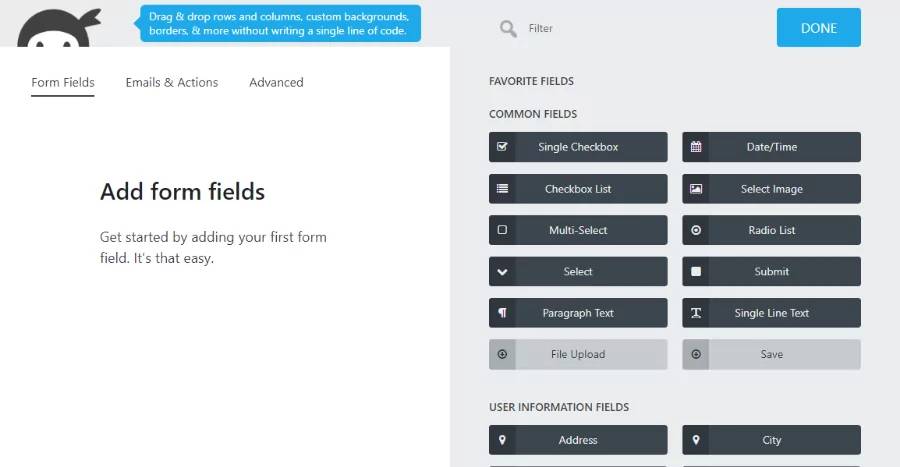 Pretty neat, right? All around a good start.
After that, drag and drop fields into the blank canvas to build the form of your dreams.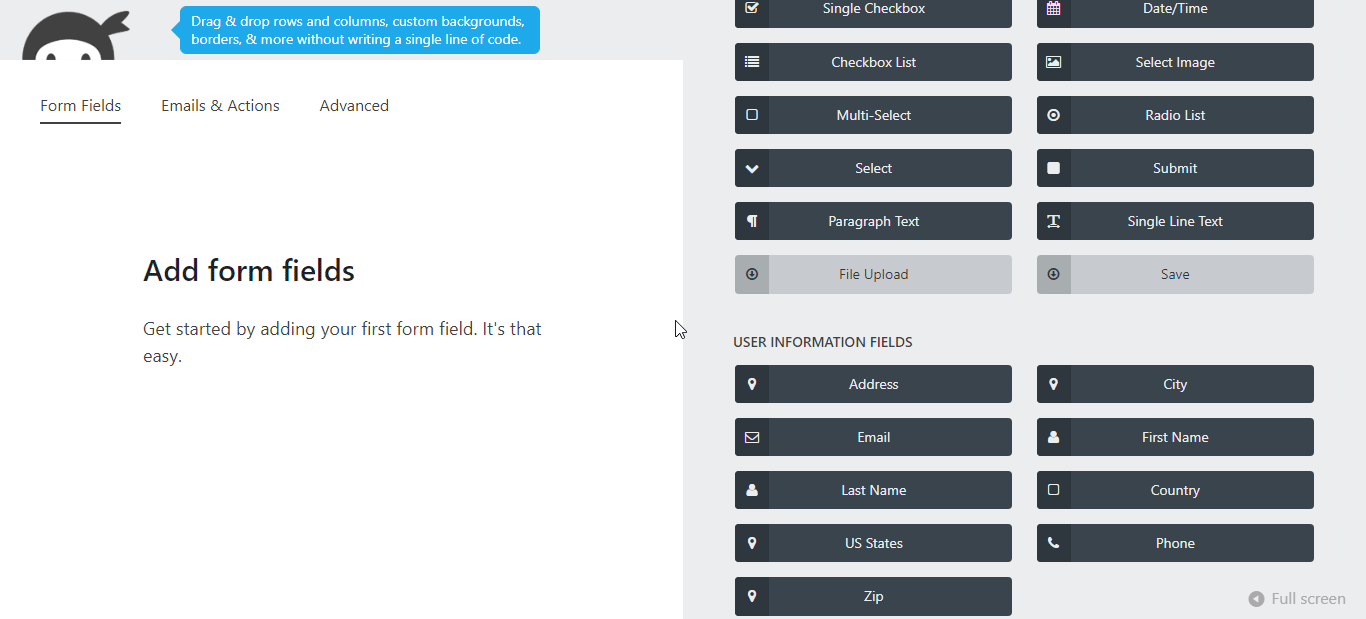 Alternatively, you can point and click instead of drag and drop 🙂
After that, click on any field in your form to customize it further. For example, I customized my anti-spam options, as shown below.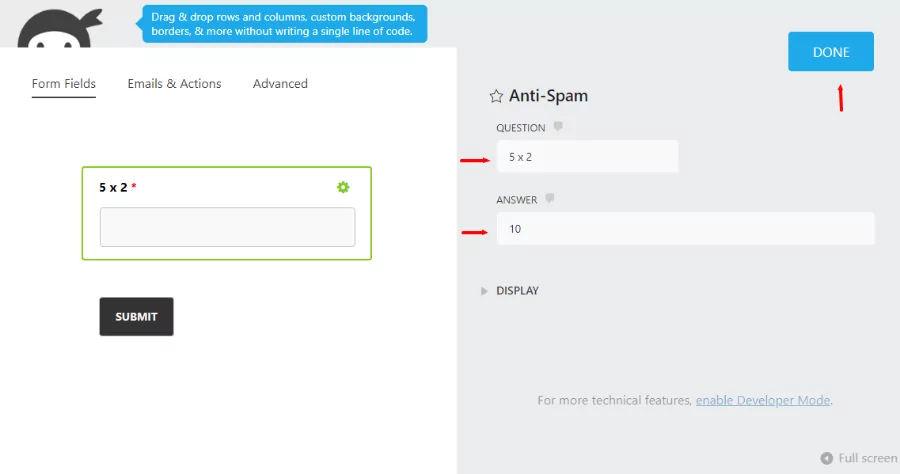 As a result, every time someone fills out the form, they must enter 10 in the anti-spam box.
As seen above, you want to click the Done button to save your changes once you customize your fields.
When your form is ready, hit Publish.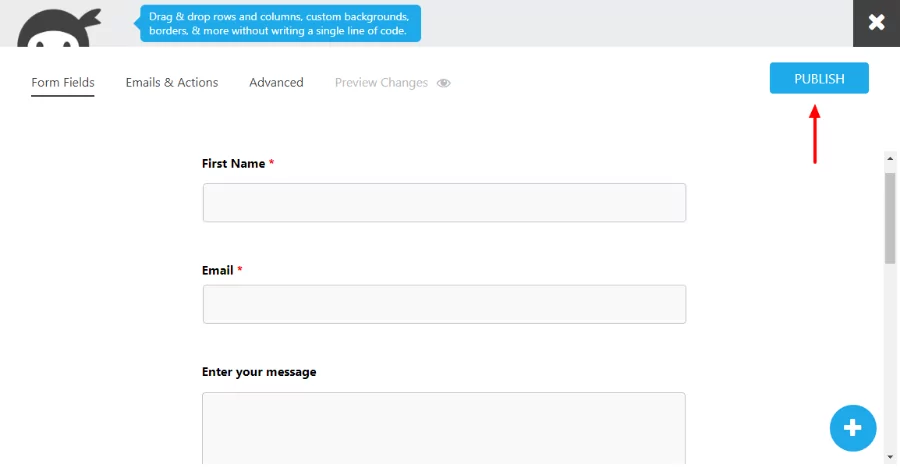 After that, give your new form an appropriate name, and hit Publish. Note that if you start with a premade template, you won't see this part. This only appears if you start with a blank form.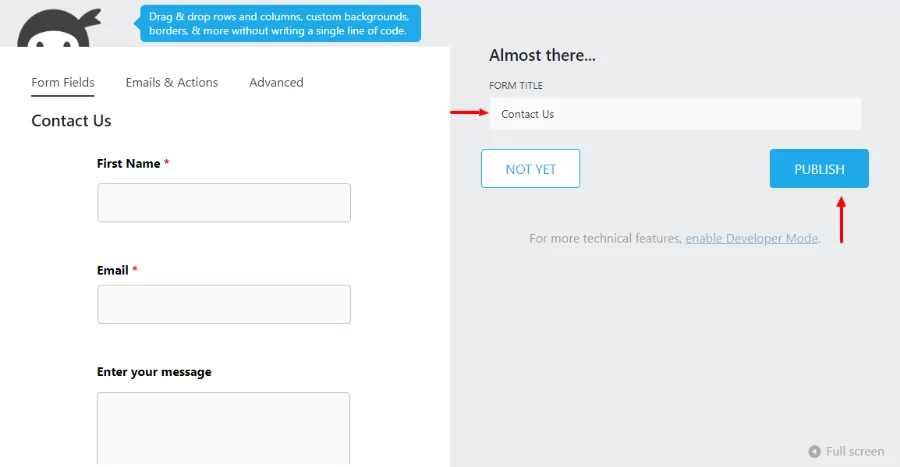 Next, click the close (x) button at the top to exit the form editor.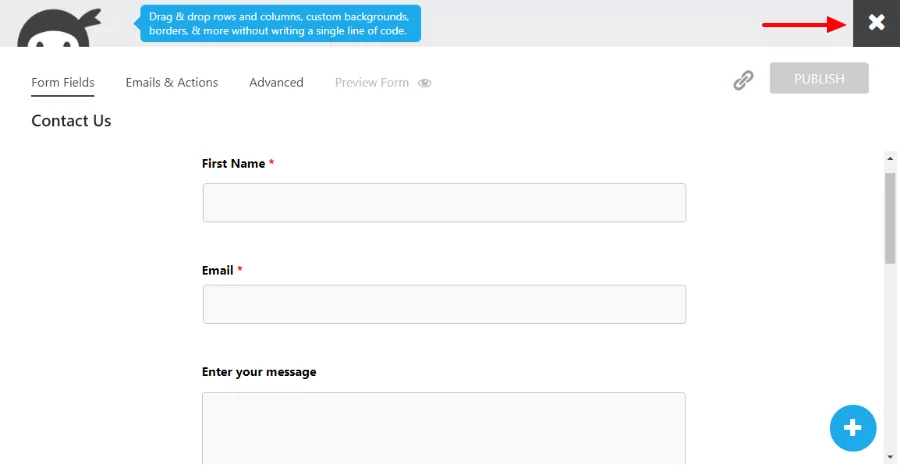 Doing so leads you back to the Ninja Forms dashboard, where you can see your new form, complete with a shortcode.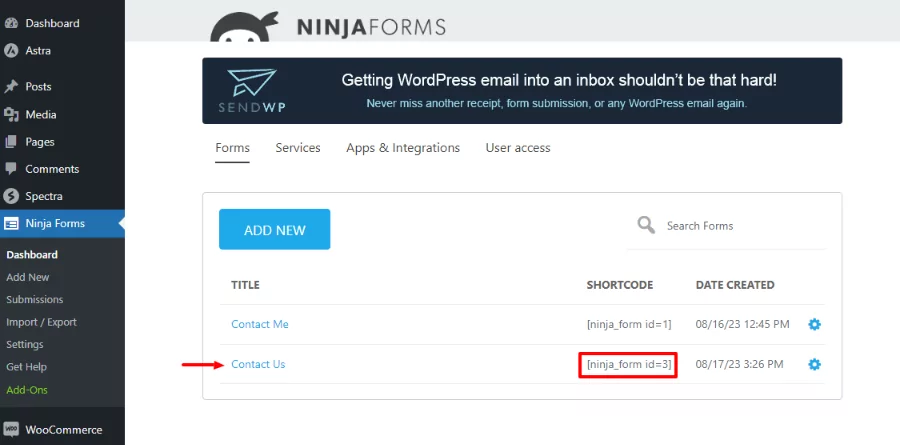 Finally, it's time to test your form.
To add the form to your website, go to the page where you need it. Add a new Ninja Forms block, choose your new form, and publish/update the page.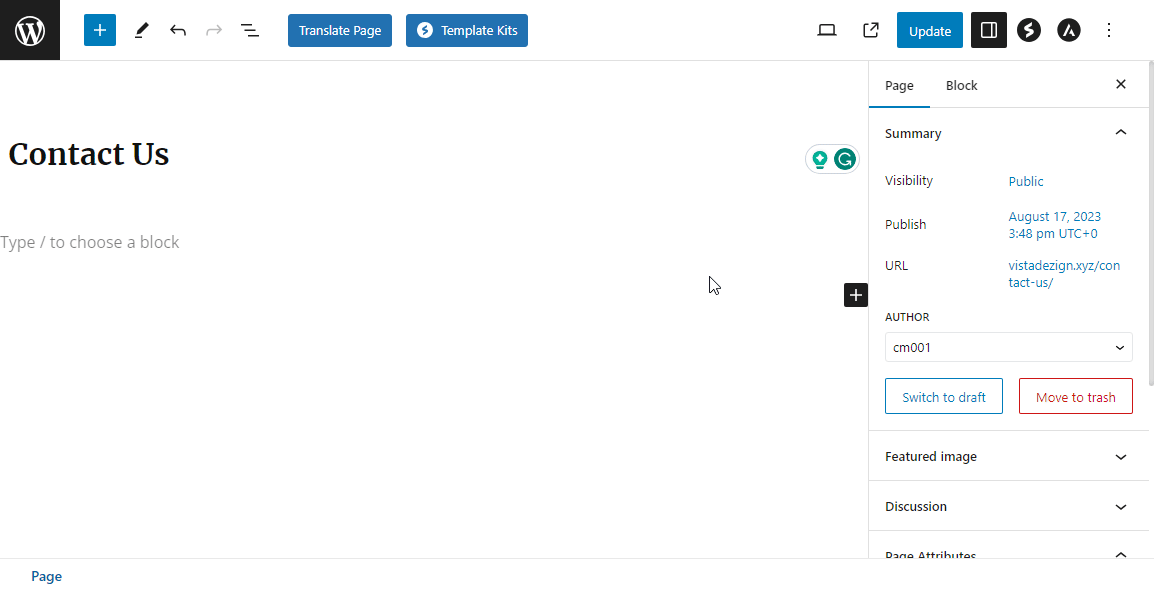 Alternatively, you can copy-paste the shortcode on any page you want.
The result?
Here is how the form looks on our test site: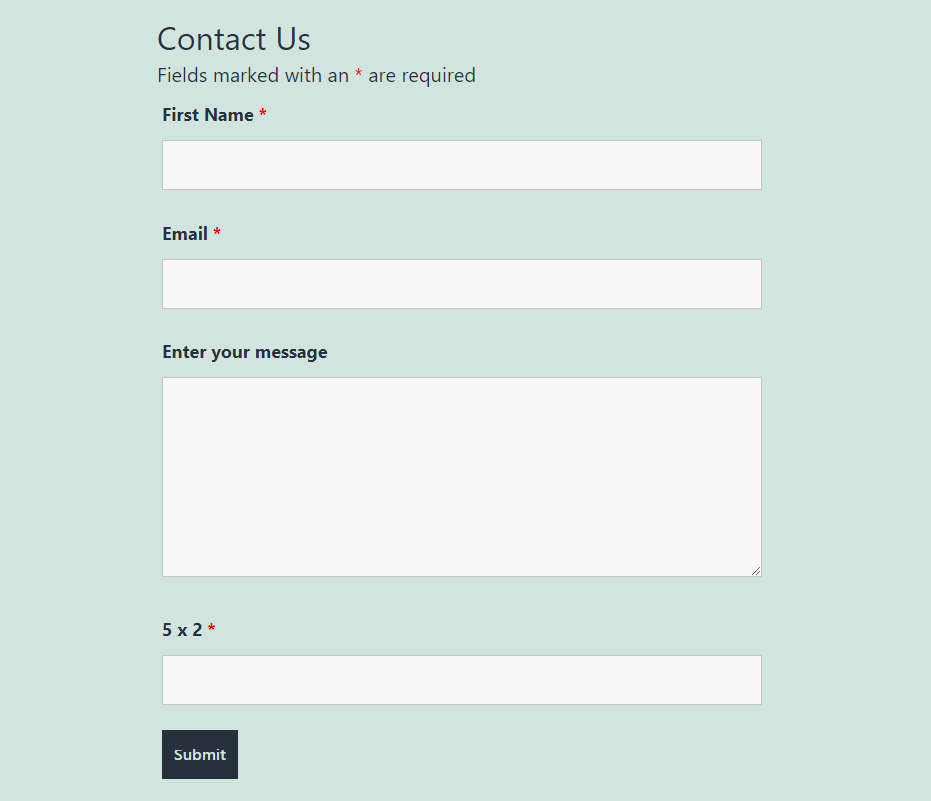 All things considered, you must agree that was as easy as pie.
But does the form work? I filled it out to find out.
To see your results, navigate to Submissions → Select a form, and as you can see below, we are in business.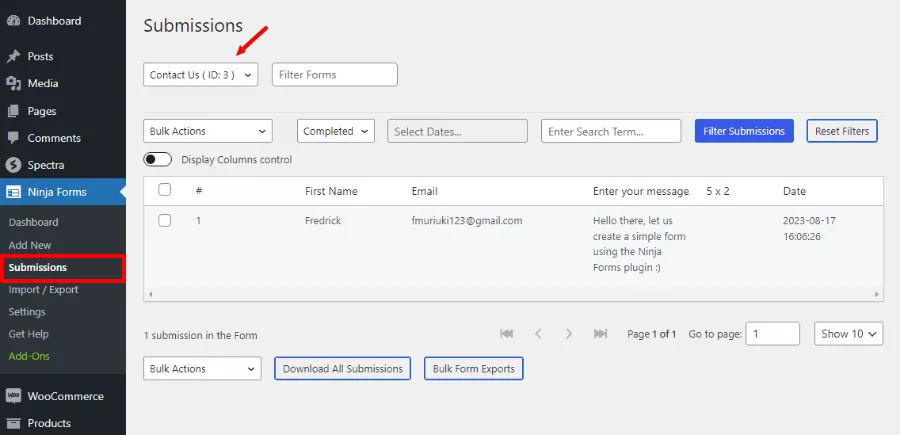 Not so bad. It is safe to say Ninja Forms is easy to use.
How About Gravity Forms?
Ninja Forms passed the "ease of use" test. Can Gravity Forms compete?
Once you install Gravity Forms, navigate to Forms and click Add New to start.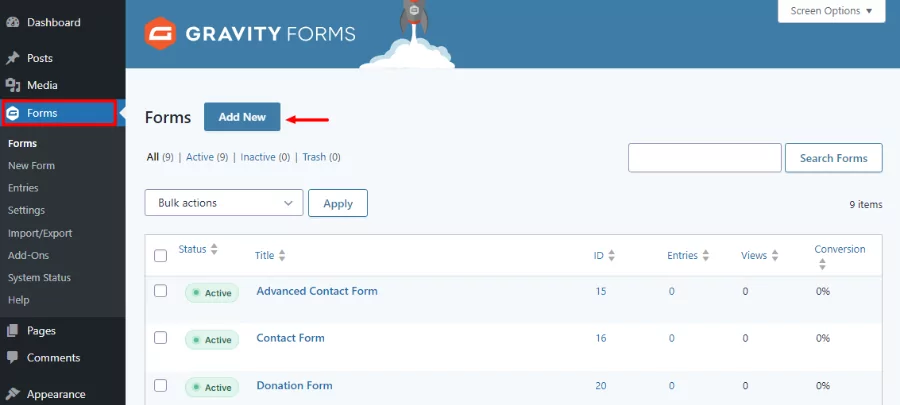 Next, you can start with a prebuilt template, but let's go with a blank form to level the playing field.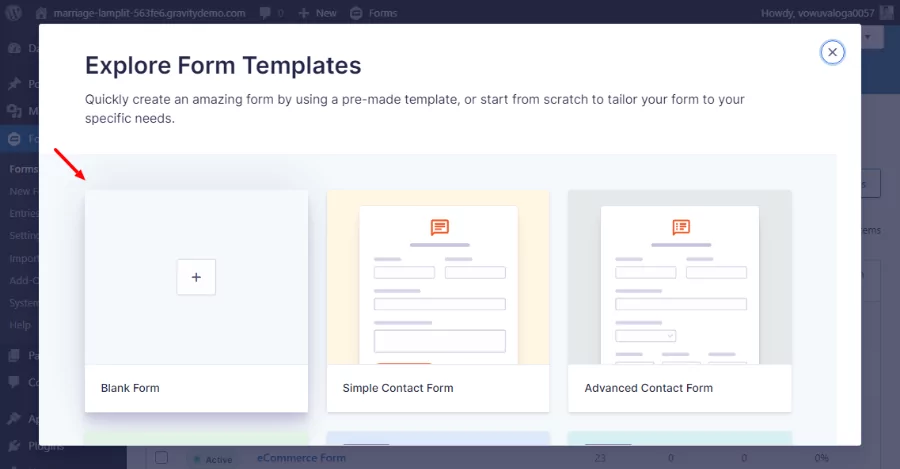 After that, add the form title, description and click Create Blank Form.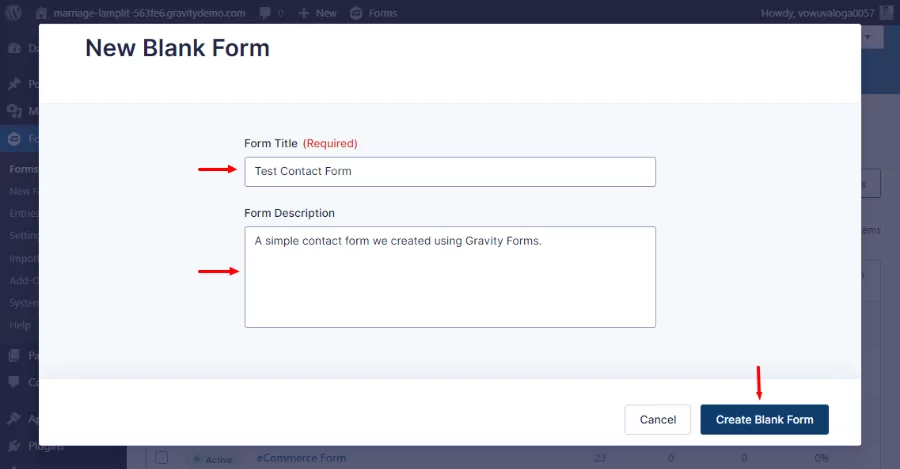 At this point, you should be looking at the following drag-and-drop visual form editor: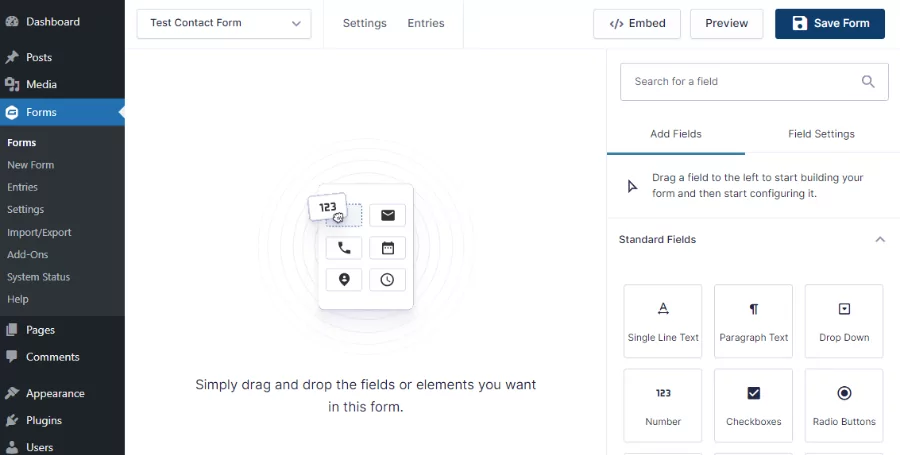 As can be seen, the Gravity Forms plugin features a beautiful visual form builder that is also a breeze to use.
During testing, I found the visual builder easy and pleasant to use.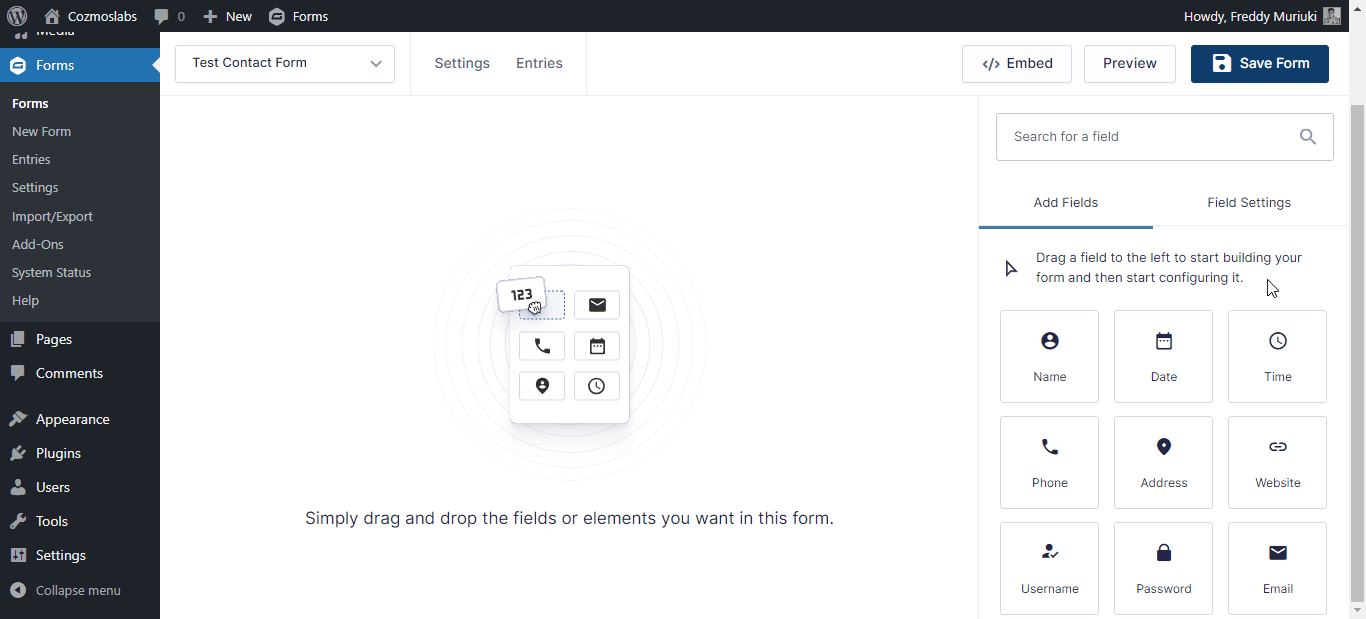 Tip: Instead of drag and drop, you can point and click to add fields to your form.
Also, you can customize each field like Ninja Forms. Click settings and customize your options in the right panel.
Lastly, click the Save Form button at the top.
Afterward, add the form to your page. How? Add a new Gravity Forms block, choose your form, and publish/update your page, as shown below.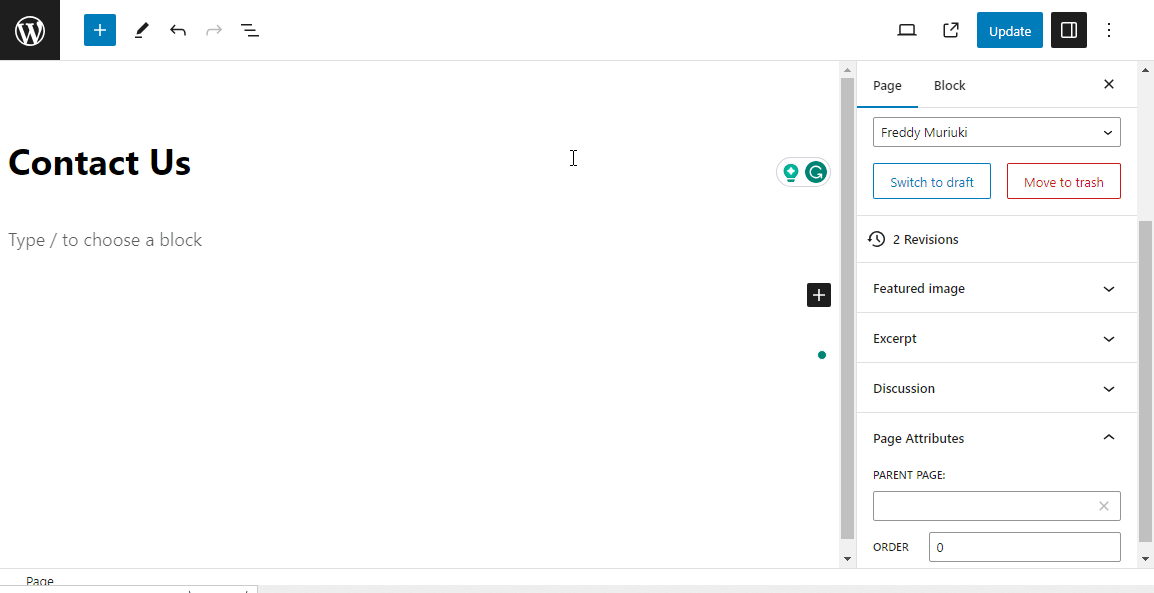 As easy as A, B, C.
Here's how our final form looks on our test site: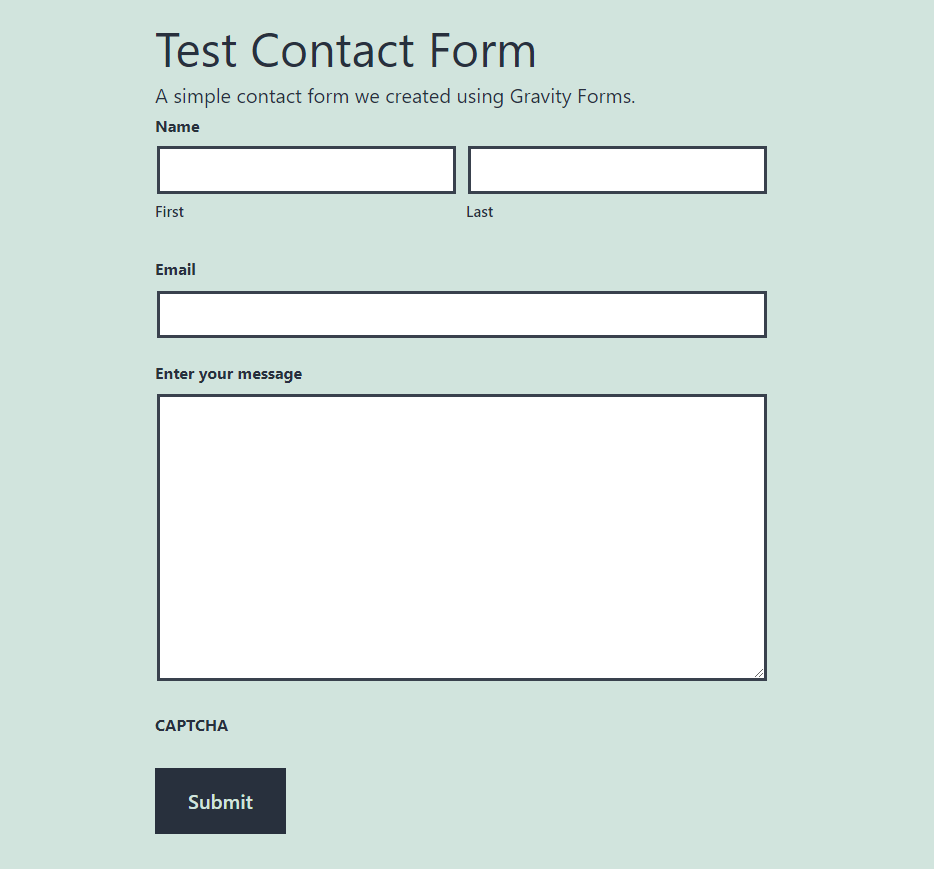 Not bad, right? But does the form work? Yes. I tested it.
To view your form submissions in Gravity Forms, navigate to Forms and select your form. After, click Entries at the top.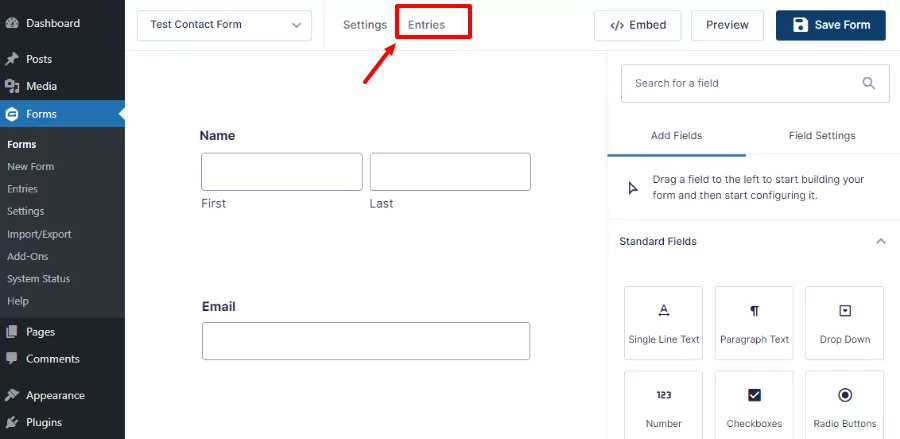 This leads you to the following entries page.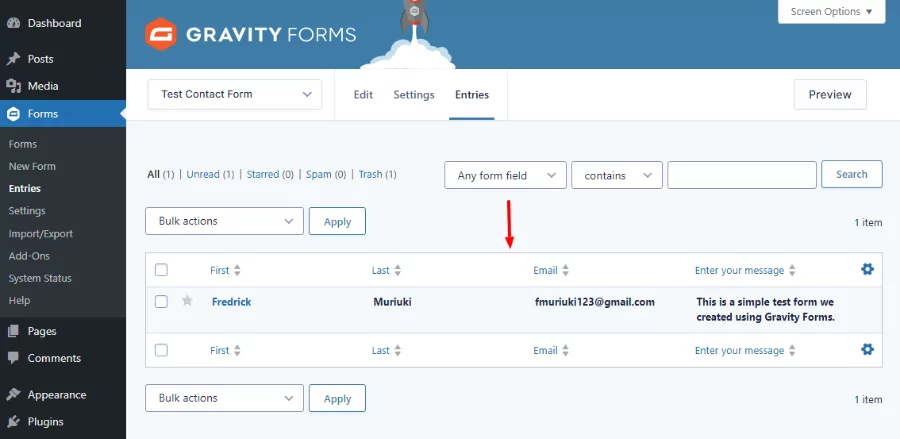 As can be seen, Gravity Forms is also easy to use.
Verdict: To be honest, this is a tough call. Both form builders come with superb drag-and-drop editors that make creating forms easy. It could easily be a tie.
With that out of the way, let us investigate how Gravity Forms vs. Ninja Forms compare in the features department.
Ninja Forms vs. Gravity Forms: Features
Gravity Forms and Ninja Forms are powerful WordPress form builder plugins that provide an extensive range of features to cater to even the most demanding requirements.
Furthermore, you can enhance the functionality of either form builder thanks to many add-ons and workarounds. Remember to go for features that are mission-critical to your project.
Supported Form Types
We've already seen that these two bad boys have solid drag-and-drop form editors. To learn more, let us shift our focus to the types of forms each plugin supports.
Ninja Forms
If you want to create different types of forms quickly, Ninja Forms doesn't disappoint. The plugin comes with 16 premade form templates that help you hit the ground running.
The templates let you create forms for many use cases, such as:
Event registration;
Post submission;
PayPal and Stripe payments;
Mailchimp signup;
User registration;
Edit user profile;
And more.
Besides the templates, Ninja Forms offers an Add-on Manager that lets you install premium extensions with a single click. You can also integrate with the SendWP service without breaking a sweat.
Inside the visual editor, you have more features to fine-tune your forms. First, you have Email & Actions, which is where you go to edit the emails that users and admin receive upon form submission.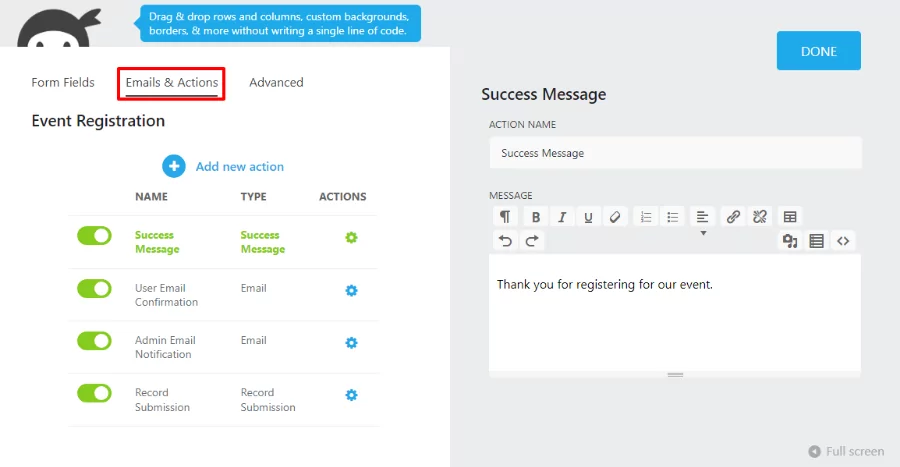 Next, you have the Advanced tab with several unique features to control the look and behavior of your forms.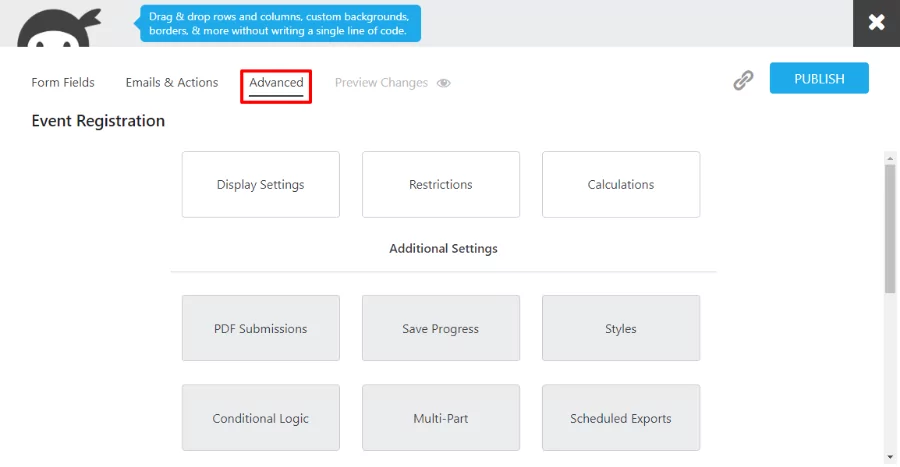 Under the Advanced tab, you have:
Display settings – Allows you to hide the form title and choose the default position of labels, among other things;
Restrictions – You can require users to be logged in to view the form;
Calculations – Great for order and payment forms;
PDF Submissions – Generate and export a PDF of the form submission;
Save Progress – Users can save incomplete forms for later;
Multi-Part – This lets you create multi-page forms that boost conversions;
Conditional Logic – Create forms that change depending on user input;
Styles – This feature allows you to design gorgeous forms without design skills;
Scheduled Exports – This feature allows you to set hourly, daily, or weekly exports of form submissions to any email address.
Don't let the relaxed demeanor of Ninja Forms fool you – it's packed to the brim with features.
Gravity Forms
How does Gravity Forms stack up in the features department?
First, Gravity Forms has 14 premade templates that you can customize to create unlimited forms for multiple uses, including:
User registration;
Even registration;
Surveys;
Donations;
Newsletter signups;
ECommerce forms for PayPal and Stripe;
Webinar registrations;
Contests;
And more.
The sky is the limit with Gravity Forms what with an extensive list of features that will blow your mind. Inside the visual form builder, you'll find the Settings tab containing nearly every option you'll ever need to supercharge your forms.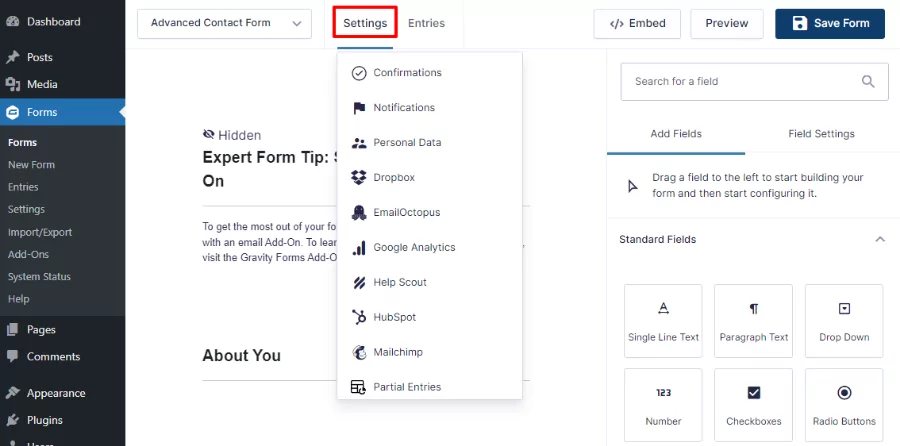 If we dive deeper into the settings, there are so many goodies. On the first screen, you can edit:
Form basics, such as title and description;
Form layout, including a custom CSS class name that allows you to override default form styles;
Save & continue, so users can pick up where they left off;
Restrictions – Limit the number of entries per form, schedule the form, and require users to be logged in to view the form;
Form options – Enable anti-spam honeypot and activate animated transitions.
The second and third screens let you customize confirmation messages and notifications. The fourth screen helps you to set privacy options. In other words, you can prevent the storage of IP addresses during form submission and integrate with WordPress tools for erasing personal data.
The rest of the settings page allows you to configure feeds and extra options for active add-ons.
Other notable features:
Build WCAG 2.0 AA compliant forms for accessibility;
30+ form fields;
Conditional logic;
Import and export;
Calculations;
Digital signatures;
Discount codes;
GDPR compliant;
Extensive API for developers;
BYOA (Build Your Own Add-on);
Well-documented code;
Et cetera.
If we were to cover everything under the Gravity Forms hood, we would be here all day. We would need an entire post series, and I'm not kidding!
I now understand why Gravity Forms has been the go-to WordPress form builder for over a decade. I mean. These folks went all out.
Verdict: I'll have to give it to Gravity Forms in the features department. It's well-suited for beginners and developers thanks to a vast suite of brilliant features. Surprisingly, Gravity Forms is well-planned so that nothing gets in your way.
Ninja Forms vs. Gravity Forms: Integrations
Integrations (add-ons or extensions) allow you to extend the functionality of your WordPress form builder. To beginners, add-ons are WordPress plugins that add features not inherently part of your form plugin.
Ninja Forms and Gravity Forms offer many integrations for different features, such as email marketing, CRM, workflow automation, and payment processing.
Ninja Forms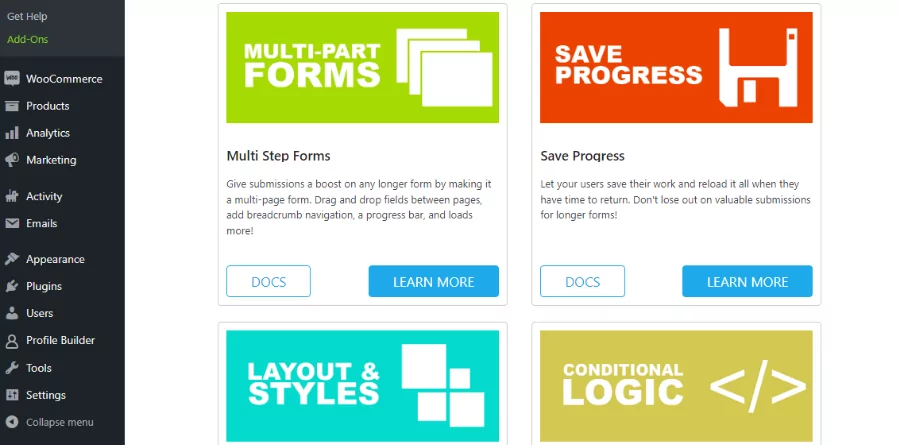 The Ninja Forms plugin offers you 40+ add-ons that you can access by clicking Add-Ons in your WordPress admin menu.
Remember that the basic version of Ninja Forms is free. That means you can purchase only the add-ons you need. However, this can become expensive and inconvenient in the long term, especially if you have many websites. As such, we recommend springing for one of their membership plans.
All in all, Ninja Forms offers you a decent selection of add-ons. The plugin also connects to Zapier, which allows you to connect to over 4,000 web applications.
Other notable integrations
Multi-step forms;
Save progress;
Layout & styles;
Conditional logic;
Excel export;
File uploads;
AWeber;
Constant Contact;
User analytics;
Help Scout;
Salesforce;
Trello;
And more.
I was surprised to see some vital features aren't part of the core. But perhaps that's how they drive sales to their extensions and paid plans. After all, they gave us Ninja Forms for free.
Gravity Forms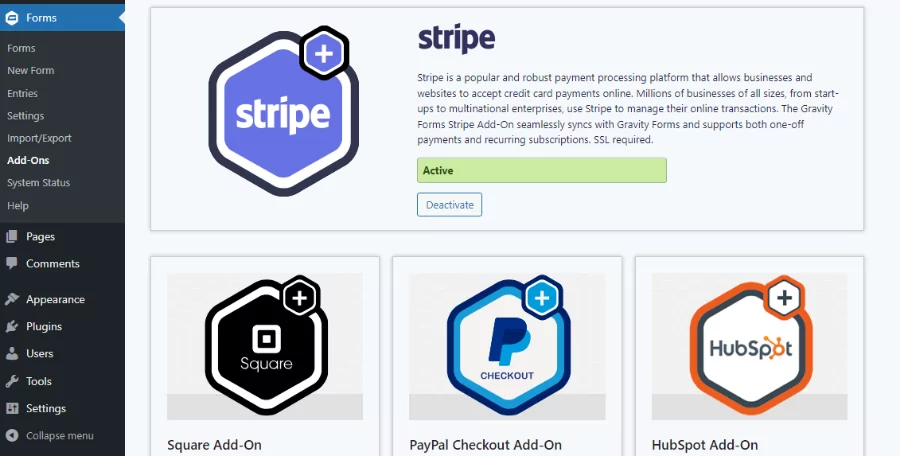 Gravity Forms offers you a whopping 130 official and certified third-party add-ons. Official add-ons are developed and supported by the Gravity Forms team.
To view active add-ons, navigate to Forms → Add-Ons on your WordPress admin menu. Go to Forms → Settings to configure each add-on. The process is usually straightforward I don't expect you to run into problems.
The number of add-ons available to you will depend on your Gravity Forms membership plan.
Popular Gravity Forms add-ons include:
HubSpot;
2Checkout;
ActiveCampaign;
Zapier;
Authorize.Net;
Coupons;
Fillable PDFs;
GFChart;
Geolocation;
Google Analytics;
Gravity Flow;
User registration;
Agile CRM;
Dropbox;
And so much more!
You can see the complete list of Gravity Forms add-ons on the official website.
Verdict: Gravity Forms wins this round. First, there is the sheer number of Gravity Forms add-ons. Second, some features inherent in Gravity Forms require add-ons in Ninja Forms, which is a bummer. Examples include multi-step forms, conditional logic, and file uploads.
Ninja Forms vs. Gravity Forms: Pricing
Pricing is an important factor to consider when choosing between Ninja Forms vs. Gravity Forms. For starters, you don't want to break the bank when a cheaper alternative is available. Secondly, you don't want to waste money on features you probably will never need.
Ninja Forms Pricing
As I have said severally, the basic version of Ninja Forms is free. That means you can install the plugin and start creating forms right away. If you need more power, you have several options.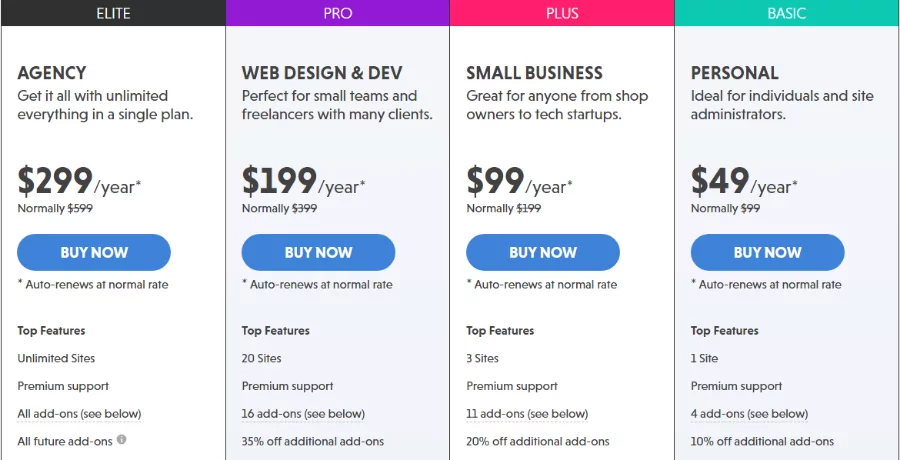 You have four yearly plans:
Personal – $49/yr (normally $99/yr) for one site, four add-ons, and premium support;
Small Business – $99 (normally $199/yr) for three sites, 11 add-ons, and premium support;
Web Design & Dev – $199/yr (normally $399/yr) for 20 sites, 16 add-ons, and premium support;
Agency – $299/yr (normally $599/yr) for unlimited sites, all add-ons, and premium support.
If this isn't your cup of tea, you can purchase only the add-on you need. Say, for instance, you'd like to add multi-step forms. The price is $99/yr for up to 20 sites.
Gravity Forms Pricing
On the other hand, Gravity Forms is a premium plugin without a free version. They offer you several price options depending on your needs.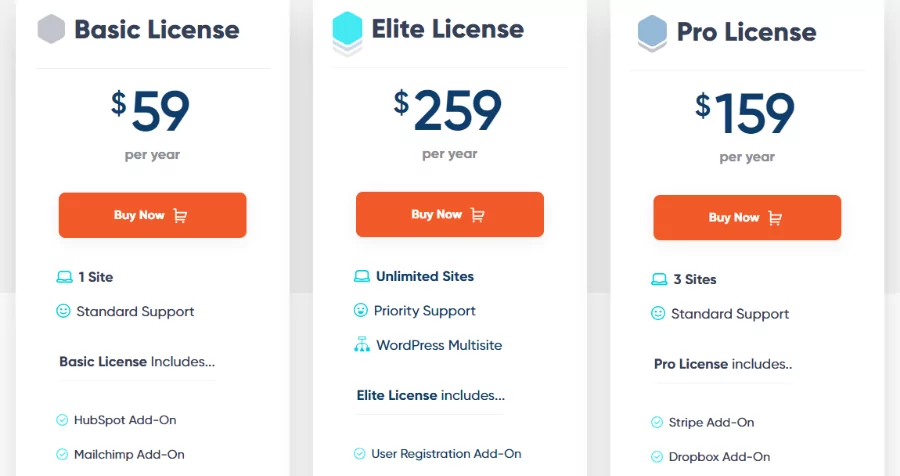 You have three plans:
Basic License – $59/yr for one site, 18 add-ons, and standard support;
Pro License – $159 for three sites, 33 add-ons, and standard support;
Elite License – $259/yr for unlimited sites, 49 add-ons, and priority support.
But wait, you said there were 130 add-ons? Well, the above represents official Gravity Forms add-ons 😉 You have to purchase third-party add-ons separately.
Verdict: Tricky one. If you're needs are simple, Ninja Forms does the job for less money, and it does it very well. However, if you're going to need add-ons and extra functionality, Gravity Forms offers good value for money, even if it's more expensive.
A Case for Profile Builder
Undoubtedly, Ninja Forms and Gravity Forms are formidable form plugins for WordPress. However, they don't offer enough user registration options, especially for membership sites with complex needs.
For that, I would love to share a hidden gem. Ladies and gents, say hello to Profile Builder.
The plugin helps you to:
Create attractive user registration, user login, and user edit profile pages to woo your site visitors;
Restrict premium content enticing mere visitors to join your site;
Manage user roles effortlessly;
Build a beautiful membership directory to boost engagement on your site;
Add social logins to your site so that users can sign in with a single click;
Create custom redirects to send your users exactly where you want.
But don't take my word for it. Why don't you take the free version for a ride and let me know what you think?
Ninja Forms vs. Gravity Forms: Final Verdict
As always, choosing the right plugin depends on each individuals specific needs and want, but let's recap what we've learned.
In terms of user base and ratings, we didn't observe considerable differences. Besides, ratings and the number of users can change at any time.
Evidently, both form plugins are incredibly easy to use. They come with drag-and-drop form builders that help you to create impressive forms without breaking a sweat. It really is a tie when it comes to this.
While both form builders ship with tons of awesome features, Gravity Forms comes on top here. The same goes for integrations, although it is true you might not need them all.
When it comes to pricing, Gravity Forms is a tad more expensive than Ninja Forms, but it also offers more.
Lastly, I bet both companies offer fantastic customer service based on customer reviews.
With this in mind, I truly believe you can't go wrong with any of these 2 choices.
If your website doesn't need too fancy of a form, and you just want a plugin that's easy to use and delivers nice-looking forms, Ninja Forms will do that for less money. But if you own a more complex website and need a little more from your form builder, then spending a little more on Gravity Forms is completely worth it.
After all, it all depends on what your needs and resources.
What's your take? Please let us know in the comments below.
Subscribe to get early access
to new plugins, discounts and brief updates about what's new with Cozmoslabs!
Source: https://www.cozmoslabs.com/1900098-ninja-forms-vs-gravity-forms/
---
You might also like this video