Pinterest is one of the popular social media platforms, with over 460 million ACTIVE users worldwide.
Yet, it is one of the underrated platforms that most SEOs and website owners ignore. If you're looking for a powerful platform to grow your presence online, Pinterest is an excellent choice.
Almost 95% of Pinterest users discover new ideas, topics, and blogs through unbranded searches. Meaning Pinterest users are more open to new keywords than branded keywords.
So you have a better opportunity for a fantastic traffic source if you use Pinterest correctly. In this free guide, you'll discover the following;
What is Pinterest SEO and its benefits
Pinterest SEO best practices
How to get found on Pinterest and much more
Are you ready? Let's jump into the details.
What Is Pinterest SEO? What are its benefits?
Pinterest SEO is the process of optimizing your Pinterest account in order to generate more organic traffic from Pinterest.
It involves using relevant keywords to optimize your pins, boards, and profile to attract more views organically.
Here are some of the major benefits of Pinterest SEO;
Better Pinterest SEO can help you with more user engagement metrics, such as social shares
Helps you with more followers
Reach new audience worldwide for your target keywords
You can drive more traffic and sales to your website, and the list goes on
Above all, when your pins are properly optimized for SEO, they are more likely to increase your brand awareness and generate leads.
Get the basics right
Before you jump into the world of Pinterest search engine optimization, you should get the basics right.
Start by creating a Business account. It's FREE, and if you already have a personal Pinterest profile, you can convert it to a Business account from here.
Pinterest Business account gives you access to major things like Pinterest Analytics and the Pinterest Ads Manager.
You can quickly figure out your Pins' performance along with impressions, Pin saves, outbound clicks, etc.
Here's what it looks like;
Here are a few more quick things to remember before you start pinning.
Pick an SEO-friendly username, preferably by keeping relevant keywords or your website's name. Or, simply consider picking a memorable username, making it easier for people to find your profile and save your Pins.
Use relevant keywords in your profile.
Make sure to create a compelling "about you" section where you can provide solid reasons for what people can expect from your account.
Start creating at least one board (preferably up to 5) while getting started. Make sure to use relevant keywords while naming those boards. For example: "Website Design Hacks," "SEO Tools," or "DIY SEO." This is a good SEO practice as it will help your boards appear in Pinterest search results for those topics.
Use Rich Pins
Rich Pins are a type of pin that automatically pulls metadata from the website pages they link to.
Simply put, rich pins display additional information about your website's content, such as the price of a product or the recipe rating.
Rich Pins can make your pins more visually appealing and help you improve your Pinterest SEO. The major types of rich Pins include the following;
Recipe-rich Pins: These are helpful for those who run food blogs. They'll show information such as food serving size, cook time, ratings, diet preference, etc.
Article-rich Pins: These are essential for all website owners as they'll show the headline, the description, and the article's author.
Product-rich Pins: These are useful for affiliate marketers and product creators. These pins include the pricing, availability of the products, and product information.
If you're planning to get more visits from Pinterest to your website, make sure to use rich pins. Why? They can improve the click-through rate of your Pins as they show additional information about your content (or links).
Also, the best part about using rich pins is that if something changes on your website, the rich Pin automatically updates to display that change. That way, Pinterest users will see the up-to-date version of the pin.
Use guided search
Pinterest offers "guided search," which helps users quickly find new ideas on a topic. It can also help discover what's popular and trending.
In simple terms, Pinterest automatically suggests semantically related keyword phrases in the guided search.
If you want to improve Pinterest SEO, you MUST use guided search to understand what users want to see.
To get started with the guided search on Pinterest, simply enter search terms related to your niche into the search bar.
For example, for people searching for "DIY home decor," the guide searches on Pinterest will show you things like relevant users who cover DIY, keywords like DIY hacks, DIY projects, etc.
Have a look;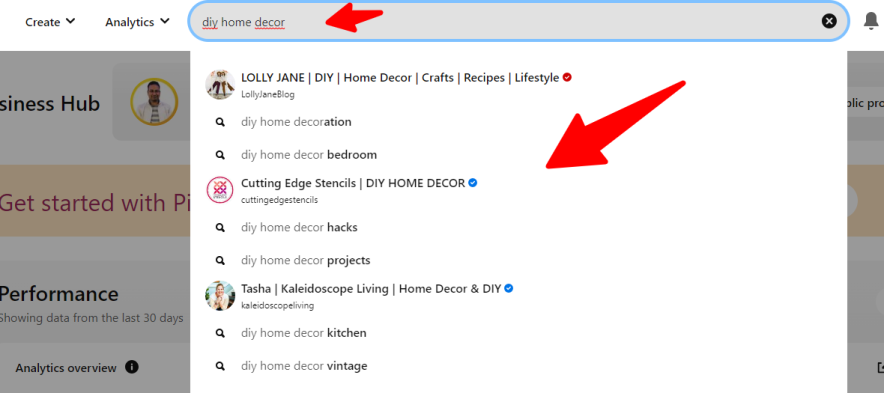 Similarly, if someone's looking for cooking recipes, some popular guided searches in this category include "easy weeknight dinners," "healthy desserts," and "vegetarian recipes."
Using the Pinterest search bar, you can quickly discover what "Pinterest users" are looking for (around your target keywords).
Once you find those broad keywords, you should dig deeper and find more related phrases. You can use all those phrases while creating your Pins in essential places like description, title, etc.
Write keyword-rich titles
If you want your pins to appear in search results, you need properly optimized titles.
It's essential to use relevant keywords in your pin titles to get more views.
Here's the important thing to remember: Pinterest's title character limit is 100 characters.
So don't use LENGTHY titles, as they'll get truncated.
Here are a few quick tips for writing magnetic titles for your Pins.
Use power words: Power words are persuasive words that compel people to take action. If you want to create click-worthy titles for your Pins, you must use power words. They can help you QUICKLY grab attention, build interest, and increase clicks.
Here are a few power words you can include while creating titles for your Pinterest content.
Free
New
Easy
Quick
Guaranteed
Incredible
Results
Secrets
Surprise
Amazing
Use a headline generator tool: Many headline generators can generate tons of headlines for you based on a keyword. Just give a topic or keyword, and they'll give you headlines.
Here are a few free headline generators;
CoSchedule Headline Analyzer
Portent Headline Analyzer
Headline Studio by CoSchedule
Use ChatGPT: You can also use AI tools like ChatGPT, Jasper AI, or Bard AI to come up with unique titles for your Pins quickly. You can give simple prompts like "Give me enticing titles for my pins on the [topic]."
First things first: hashtags are like keywords. They can help your Pinterest content to be easily discovered by more people.
Here are some of the most popular hashtags on Pinterest in 2023:
#pinterest
#diy
#lifestyle
#love
#photography
#art
#fashion
#travel
Although hashtags can help you reach more audiences, NEVER use too many hashtags.
Why? It can make your pins look spammy. There's no need to use every hashtag that's under the sun. A good rule of thumb is to use 5-10 hashtags per Pin.
You can use Pinterest's search bar to search for relevant keywords related to your Pins. Or you can also check out Pinterest's "Trending" section to see what hashtags are currently trending.
User engagement is the key
Almost every social media network (including Pinterest) takes user engagement into consideration.
User engagement metrics include;
Pin clicks
Pin saves
Outbound clicks
Carousel card swipes
Pin save rate (The total saves of your Pins divided by the total number of times your Pins were on screen)
10-second plays and more
If the Pinterest algorithm sees better user engagement on your Pinterest profile for pins, they often show up higher in search results for specific keywords.
You can easily find out the user engagement of your Pinterest account by using Pinterest analytics.
Here's what it looks like;
As you can see, you can see the overall engagement of your Pins over time and find out the Pins that are getting the MAXIMUM engagement. That way you can create similar content to get more out of Pinterest search engine optimization.
Here are some tips on how to increase user engagement on Pinterest.
Create boards that are relevant to your target audience. You must know your target audience. Find out what exactly they want, so you can create specific content that appeals to their needs. When people visit your Pinterest profile, they should be able to find the types of pins they're interested in quickly.
Pin regularly. The more pins you have, the more likely people are to find your content.
Respond to each and every comment you get on your Pins. Most Pinterest users don't leave comments regularly. So when they comment, reply so they'll be encouraged to leave more comments on other Pins.
Use a consistent branding style while posting your Pins. Use the same font color and size that matches your website's brand (or business). This will help people recognize your pins and remember your brand.
Lastly, make sure to tag other Pinterest users or brands in certain pins. You can also use relevant keywords in your pin titles and descriptions so that people can find your content easily.
Try Semrush
Semrush is an all-in-one SEO toolkit that gives you access to over 50 tools under one platform. It's also the #1 SEO tool used by over 10 million people worldwide.
Why do you need Semrush for Pinterest SEO?
The biggest reason is it offers a keyword tool called "Keyword Magic," which gives you access to over 25 BILLION keywords. Yes, you heard it right.
Most Pinterest power users often use Semrush to find relevant keywords to use within their Pin titles and descriptions. They also use it for finding exciting ideas for their Pins.
Semrush keyword tool offers a TON of keyword data, including monthly search volume, 12-month search trend, keyword difficulty, keyword intent, number of organic results, and much more.
Let's say you want to find relevant keyword terms for the topic "DIY home decor".
Here's what the keyword research tool looks like;
As you can see above, for the keyword term "DIY home decor," the Semrush keyword tool suggests over 1800 keywords, including specific hidden keywords highlighted above.
Usually, you won't find such keyword ideas from most tools. So if you're looking to find hidden keyword ideas to rank your Pins in the Pinterest search, Semrush is a must-try.
But… how much does Semrush cost?
Semrush is NOT a free trial and offers three pricing options.
Pro plan costs $129.95 per month, where you can add up to 5 projects, 500 keywords to track, and 10,000 results per report.
Guru plan costs $249.95 per month, where you can add up to 15 projects, 1500 keywords to track, and 30,000 results per report.
Business plan costs $499.95 per month, where you can add up to 40 projects, 5000 keywords to track, and 50,000 results per report.
If you want to try it out for free, you can grab its free trial using the following link.
Activate 14 Days Free Trial of Semrush
Find and pin to other group boards
There are a ton of Pinterest boards that are run by others. They're similar to what you can find on Facebook Groups. You can promote your Pins, engage with their members, and build your following.
The Boards are owned by one Pinterest user who usually gives access to other Pinterest users to add Pins.
You can quickly search for boards from Pinterest search with relevant keywords.
Here's an example;
There are multiple ways to find and pin to Pinterest boards, including;
You can quickly conduct a Pinterest Board search by entering relevant keywords to your niche (from the Pinterest search bar).
You can identify your competitors and see if they've joined any boards. Go to their Pinterest page and click "Saved" to see their Boards.
You can check out Facebook groups for Pinterest Board Owners. Simply search for "Pinterest group boards" on Facebook to find them.
You can use platforms like Pingroupie.com to easily find popular group boards.
Once you've identified similar Pinterest groups, here are a few things you can do.
Follow active people who're contributing to those boards. Repin their stuff. Comment on their pins.
Get to their know websites. Find out how they're using Pinterest boards to promote their blog or website. You can also reach out to them for help.
Make a list of ALL the popular Pins on each board you join. You can create similar Pins to promote to reach a wider audience. It also helps you grow your following, which ultimately helps with better Pinterest profile visibility.
---
FAQs on Pinterest SEO for Beginners
Here are some FAQs people often ask about Pinterest search engine optimization.
What Is Pinterest SEO?
Pinterest SEO is all about optimizing your Pinterest profile to improve its organic traffic from Pinterest. It involves using tactics like relevant keywords in the bio, title, descriptions, etc.
What are the benefits of doing SEO for Pinterest?
Here are some major benefits of doing SEO for Pinterest in 2023.
– Increased visibility
– More traffic and leads to your website
– Increased user engagement such as Pin saves, social shares, etc.
Do hashtags work on Pinterest?
Yes, hashtags work on Pinterest. However, remember that hashtags are NOT a ranking factor in their search algorithm. But they can help your Pins be discovered by more people for specific keywords you're using.
How to improve my Pinterest search engine optimization?
Here are some of the best ways to improve Pinterest SEO.
– Use relevant keywords in your pin titles and descriptions
– Find high-performing pins of your competitors to create pins on the similar lines
– Use relevant hashtags
What are the best tools to perform SEO for Pinterest?
Here are some of the best tools you can use for Pinterest SEO.
– Semrush (can be used for keyword research for Pinterest pins)
– Buffer (to schedule your Pins in advance)
– Pinterest Analytics (every Business profile on Pinterest gets access to it, where you can see all your Pin performance)
Related Posts:
---
Final thoughts on Pinterest search engine
Increasing your Pinterest following is one of the best ways to build your brand and grow your website traffic.
Creating appealing pins, pinning regularly, and using relevant keywords within your Pins are the best practices to improve your Pinterest SEO.
Did you find this guide helpful? Are you going to implement the tips mentioned here? Have any questions? Let us know your thoughts in the comments.
Source: https://bloggerspassion.com/pinterest-seo/
---
---
You might also like this video