WPForms and Contact Form 7 are two of the most popular WordPress contact form plugins. In fact, Contact Form 7 was one of the first 'contact us' form WordPress plugins. Needless to say, it enjoys massive popularity among WordPress site owners, boasting over 5 million active installations.
However, WPForms isn't far behind in terms of popularity despite being introduced much later than Contact Form 7. It's also being used by over 5 million WordPress sites currently.
In other words, the numbers don't give you a clear winner. So we will have to dig deeper, compare these two popular contact form plugins on different factors, and give you the answer you're looking for.
WPForms vs. Contact Form 7: Basic Overview
Let us tell you right off the bat that Contact Form 7 is designed to be a simple contact form plugin while WPForms turns out to be a much more advanced option, especially its pro version. In fact, WPForms with its pro add-ons goes beyond being a contact form plugin.
It allows you to create many other different user forms too. It's a different thing though that those features don't come cheap. More on that later.
Contact Form 7, on the other hand, doesn't even have a paid version. There's only the free version, but it gets the job done for most users who simply want a functional 'contact us' page on their WordPress website.
However, if you need a more customized contact form with specific functionalities and advanced integrations, WPForms may meet your needs better.
But we need to go into all the details to help you understand everything you need to know about these two contact form plugins and make the right choice. More importantly, however, we will also introduce you to another alternative that may actually turn out to be an even better option than both of these contact form plugins for many users.
Profile Builder – A Worthy Alternative to Contact Form 7 and WPForms
First things first, Profile Builder isn't just a contact form plugin. It's a complete WordPress user management plugin.
If you own a WordPress website where the 'contact us' page on your site is just a part of the overall user management, then chances are a traditional contact form plugin won't meet your needs anyway. There's a lot more to user management than just letting the users contact you, which means you'll need much more than just a contact form.
Profile Builder lets you build customizable registration, login, and user profile forms in a few easy clicks. However, it also does a lot more too. Here are some of its highlighting features.
Build fully customizable pages for user registration, user login, edit profile, and more;
Restrict premium content, encouraging users to register to access it or become paid subscribers;
Manage WordPress user roles, including adding new user roles, editing existing user roles, managing editor and author permissions, and much more;
Create a functional, beautiful WordPress member directory using pre-designed templates and search functionalities;
Use it as a WordPress social login plugin, including for setting up a Google login on your WordPress site;
Create custom redirects, including WordPress redirects to another page or external URLs.
There are also many other useful features like managing or removing password strength requirements and WordPress, the ability to enable and approve user registration, hiding products by user roles in WooCommerce and WordPress, and many more.
Some of these advanced functionalities are only available in the pro version. But if you're looking for a complete user management plugin that also helps you design a functional and customizable contact form easily, then it's going to be worth every penny.
Finally, you can also read a more detailed version of how Profile Builder compares to WPForms and Contact Form 7 in our posts on Contact Form 7 alternative and WPForms free alternative.
So now that you're aware of another useful alternative to WPForms and Contact Form 7, let us proceed with comparing these two options on other important factors too.
Contact Form 7 vs. WPForms: Ease of Use
The ease of use is an important factor. Most WordPress site owners aren't familiar with code or finding their way around advanced settings or functions.
Contact Form 7 being a basic contact form plugin manages to keep things fairly simple. You can create a new contact form in a few clicks.
However, it does require some basic HTML knowledge to set up a contact form the way you want. A lot of it is self-explanatory though.
On the other hand, even the free version of WPForms is much more advanced than Contact Form 7. However, surprisingly, that doesn't translate to a more difficult user experience or a complicated interface.
A lot of the setup process just involves drag and drop, which does make things a lot easier. So if you're someone who frets at the thought of playing around with even a little bit of HTML code, then you will find the WPForms interface a lot more relieving.
Adding a word about Profile Builder, the free version itself comes with a simple click-and-add form builder. No HTML knowledge required, no intimidating user interface to deal with.
WPForms vs. Contact Form 7: Overall Functionality
It's pretty clear that Contact Form 7 is quite light on overall functionality. It does offer enough for a simple contact form, but that's pretty much all it offers.
There's a limited number of field types, and there's no functionality to accept payments using the form. Or in any other way for that matter.
On the other hand, WPForms does offer all of this – a wide range of field types and the ability to accept payments using different payment options.
Again, to touch upon Profile Builder's abilities in this area, the overall functionality extends well beyond just form-building. You can not only create different useful user forms like user registration and login pages, but also control the overall user management of your website just as we discussed above.
Some field types not available with Contact Form 7 and WPForms Lite but available in Profile Builder's free version include a user role field to let users choose a user role for themselves, adding reCAPTCHA to WordPress forms, and even a GDPR checkbox for site owners who need it.
You can even add subscription plans right within your forms, though you will need to use the Paid Member Subscriptions plugin to create them and accept payments, which is a complete WordPress membership plugin.
Contact Form 7 vs. WPForms: Integrations
Contact Form 7 doesn't offer any built-in integrations. However, it has partnered up with some third-party solutions that integrate with itself using external APIs.
The integrations include the following third-party solutions:
Brevo (formerly known as Sendinblue) – An email marketing solution;
Constant Contact – Another email marketing platform;
Akismet – Anti-spam plugin;
reCAPTCHA – Another popular plugin to prevent spam by requiring to type in a random, unique on your contact forms;
Stripe – A popular payment solution.
There's no PayPal though.
Coming to WPForms, there's a wide range of integrations. Ranging from 8 marketing integrations to all the popular payment options like Paypal, Stripe, and Square, WPForms manages to cover almost everything you may need to use with your contact forms.
Now, as far as integrations go, Profile Builder covers a lot of bases too while offering a lot of useful built-in integrations in the form of advanced add-ons.
These include the ability to add social login, create multi-step forms, approve user registrations by admin, and much more. In terms of third-party integrations, it supports MailChimp, Campaign Monitor, MailPoet, BuddyPress, and bbPress.
WPForms vs. Contact Form 7: The Pricing
While the much better level of functionality of WPForms is the good thing, the bad part is that you need to get the pro version to access the majority of those functionalities.
In fact, even the URL field type which is available in Contact Form 7 is only available in the pro version of WPForms.
The worse part about WPForms is that the pro versions aren't cheap. While the Basic version is priced at only $49.5/year, it doesn't come with the functionality to accept payments.
You can accept payments using Stripe for free, though. But if you want to use PayPal, Square, or Authorize.net – the other available payment options – then you need to shell out at least $199.5/year, which is quite expensive for a plugin that will just let you create forms and accept payments through them.
Profile Builder fares much better on the pricing factor too. The Basic version of Profile Builder is priced at €99 and will come with most integrations and add-ons.
You only need to go for the more expensive versions if you want some advanced add-ons like multiple registration form, custom redirects such a WordPress logout redirect, email customizer, and more.
Now that we have made a detailed comparison of both Contact Form 7 and WPForms and also presented a worthy alternative in Profile Builder, let us walk you through the steps of setting up a contact form using both Contact Form 7 and WPForms.
Creating a Contact Form with Contact Form 7
Once you install and activate the plugin, you simply need to click on the Add New option under the Contact menu on your WordPress dashboard.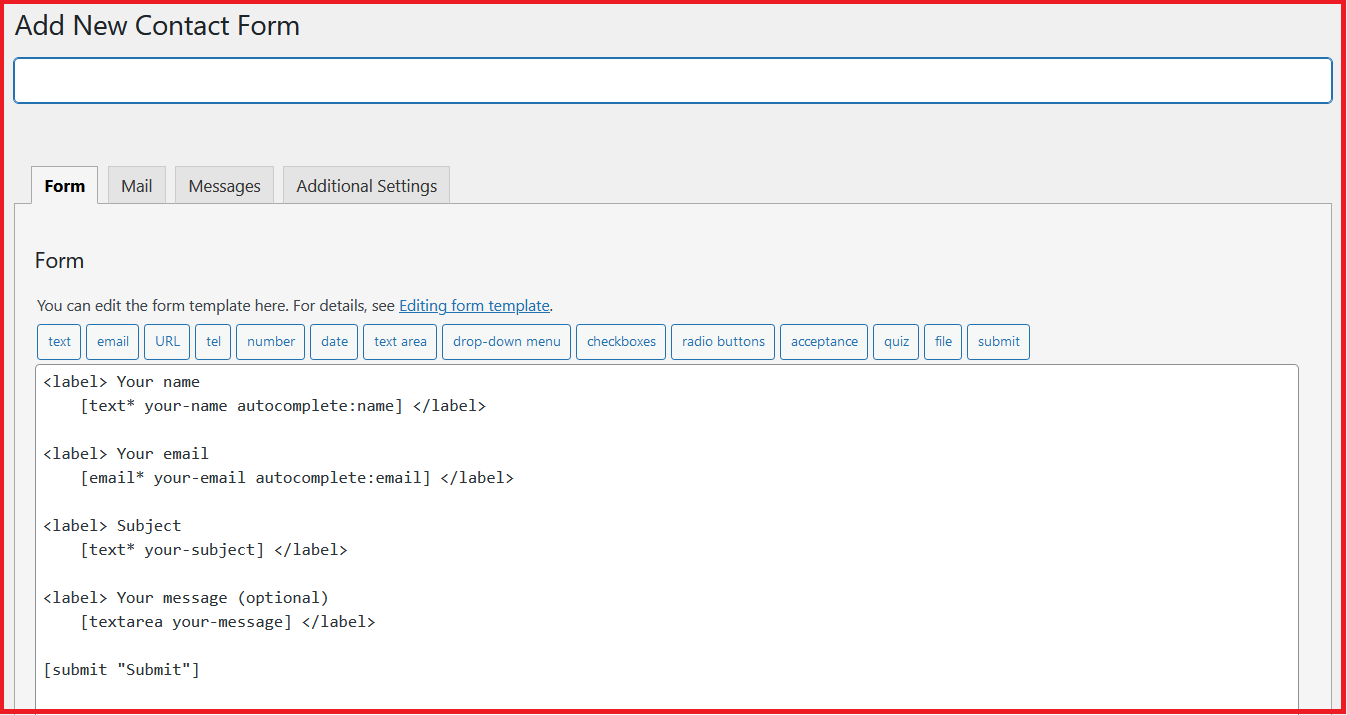 You just need to put in your contact form title in the top field, and then edit the main HTML text the way you want. As you can see in the image above, you can add different types of fields such as URL, email, number, date, and more.
Just select the area in the HTML text section where you want to add a field and click on the field option you want to add.
It will ask you to add certain details like the name of the field. You don't need to put in the other technical details if you don't need them though.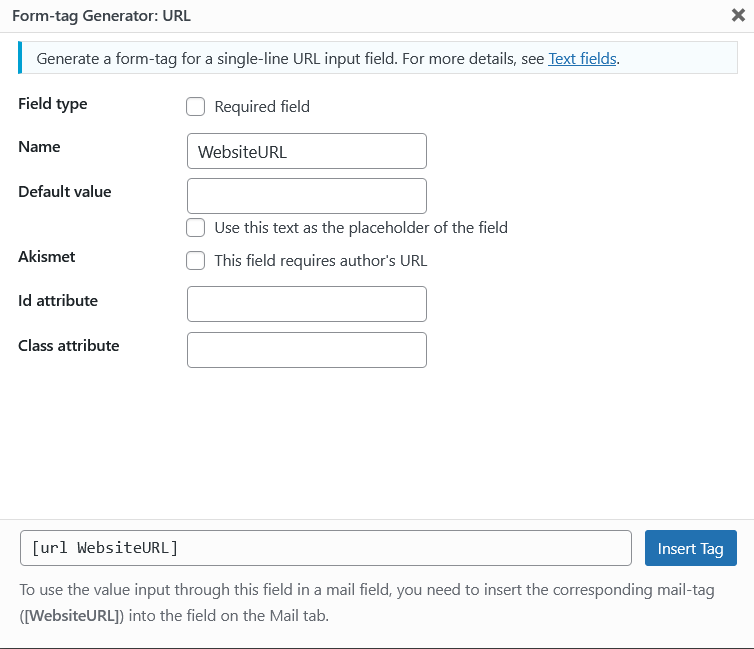 Then click on the Insert Tag option. Repeat the same for all the other field types you want to add. For changing the order in your HTML contact form, you will need to cut and paste the code snippets around in the field area.
The next tab is the Mail tab. It allows you to customize the emails you're sent whenever a user sends a request through your contact form.
Similarly, you can also edit the messages that the user is shown on different outcomes of their request, such as when their message is successfully sent or when the system detects their message as spam.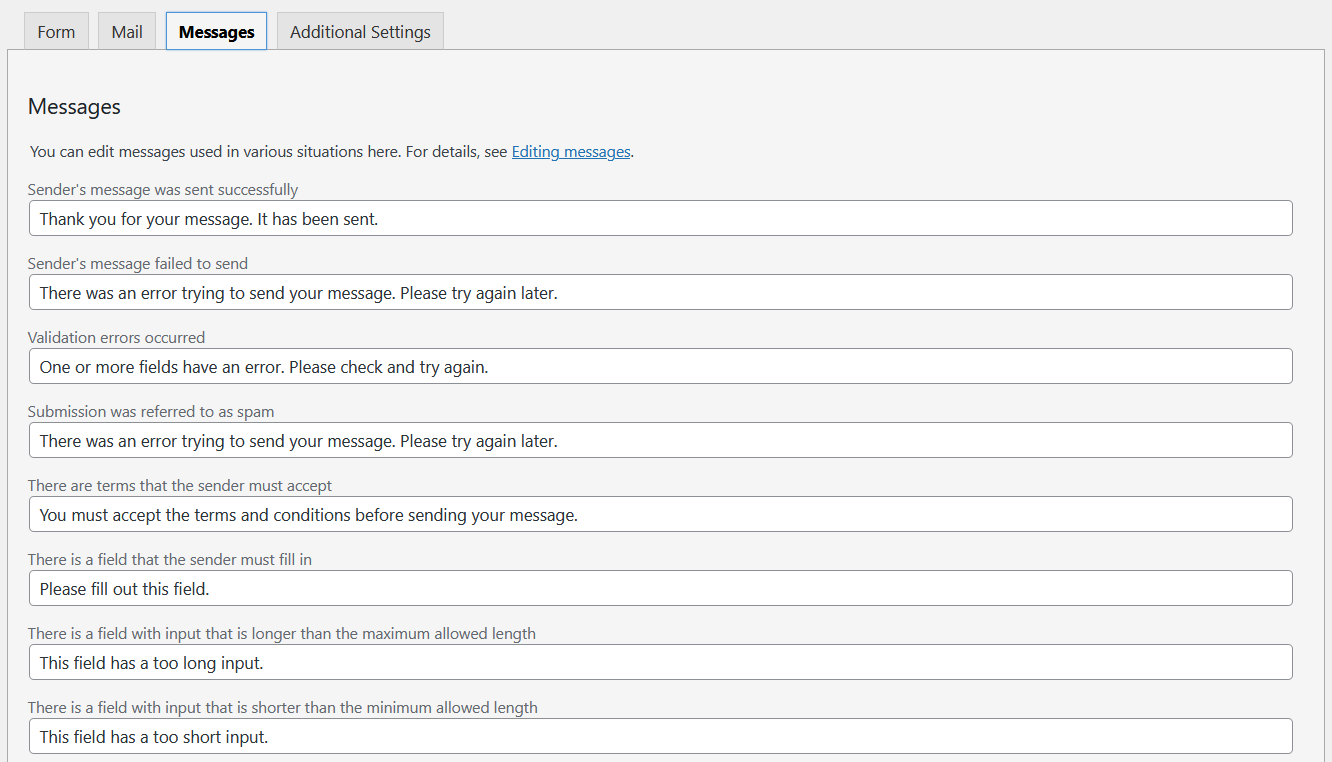 Then there's also the Additional Settings tab. It allows you to add customizations in the form of custom code snippets. We don't see most users needing to do anything here.
Once everything is set, you can go ahead and click on the Save button. This will create a contact form.
You can find all your contact forms under the Contact Forms. However, you still need to create your contact us page using this form's shortcode.
Copy the shortcode from the Contact Forms page for the form you want to use.

Paste it into a new page. Now your contact us page will start showing up on your website.
Creating a Contact Form Using WPForms
Once installed and activated, you will see the WPForms menu on your WordPress dashboard. To create a new contact form, click on the Add New option under it.
As soon as you do that, you will be introduced to a bunch of pre-designed templates. These are all templates designed for different specific use cases, including for a simple contact form.
However, this does offer a lot of versatility to you in case you also want to create other types of forms for different purposes. Do note that a lot of these pre-designed templates are only available in WPForms Pro, but there are a fair few available for free as well.
You can even see the form template in demo mode before choosing it. Simply choose the template you want to use and start playing around with the drag-and-drop functionality.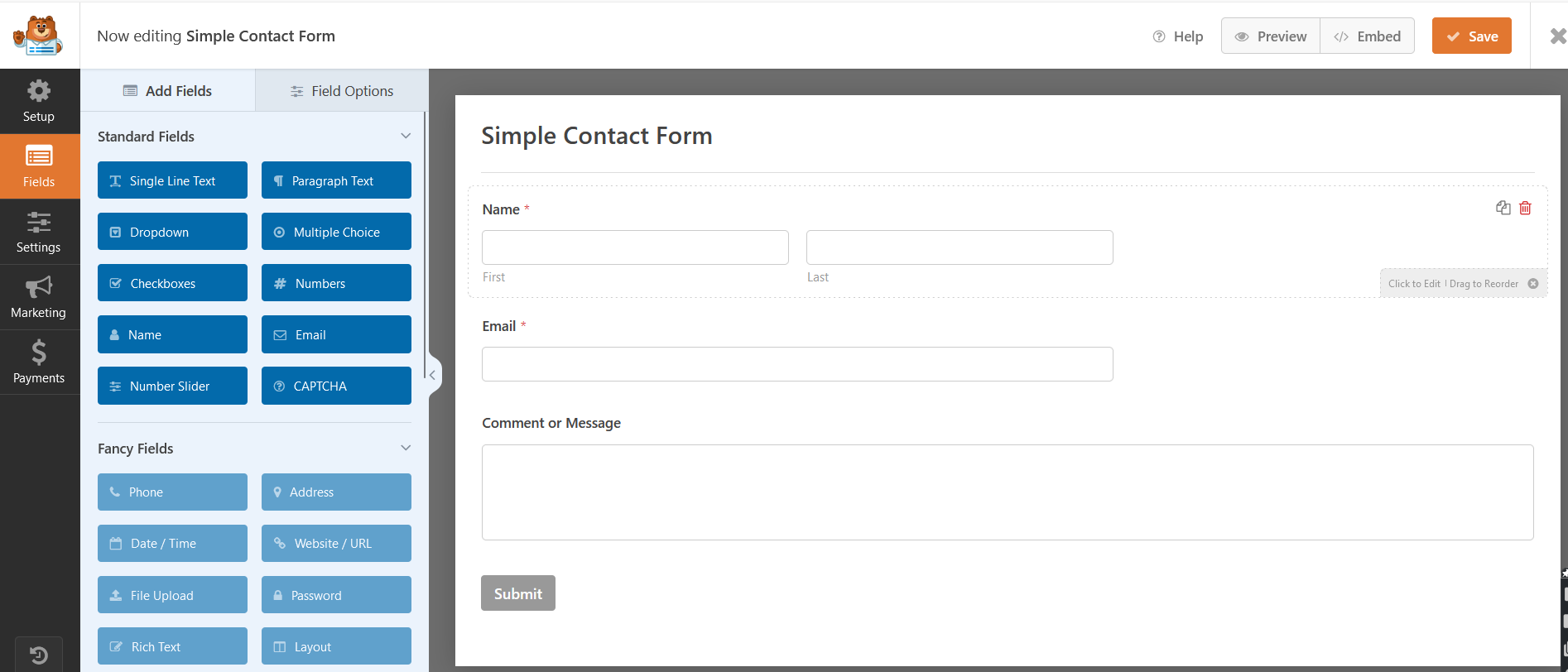 You just need to click on the field type you want on the left and drag it onto the form area where you want to place it. We just added a field that allows us to display and make the users choose from multiple options.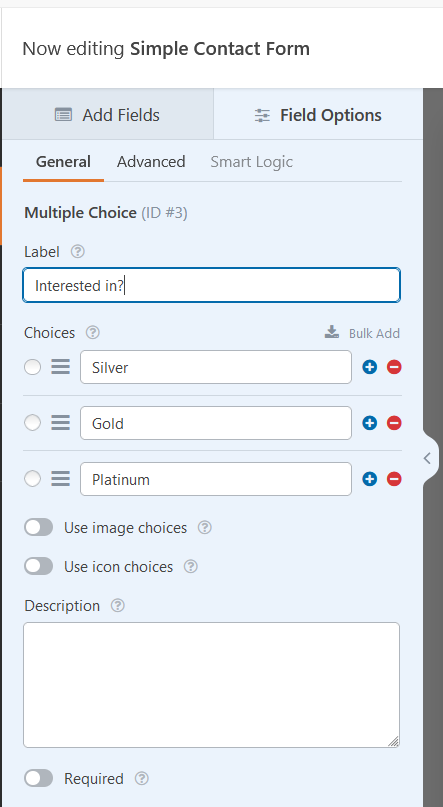 This is how it looks on the front end.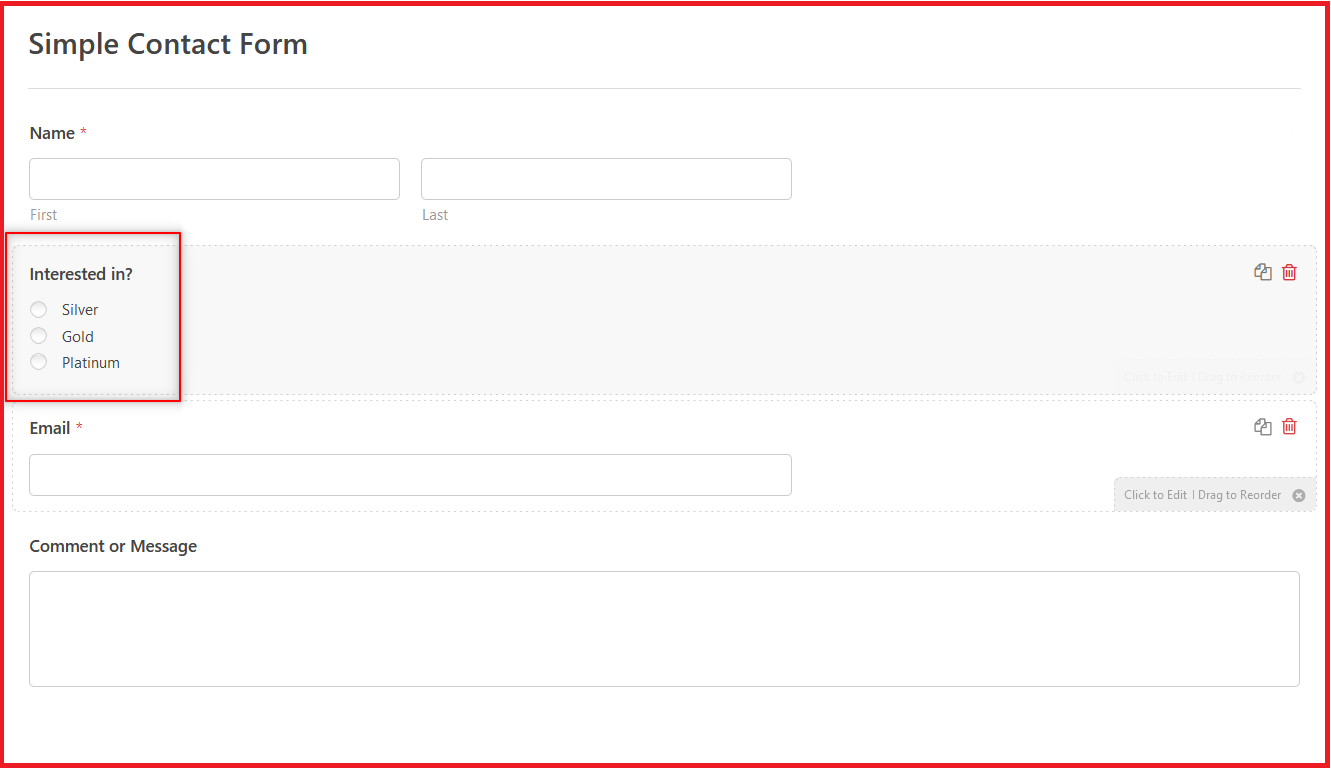 That said, a lot of the advanced fields that you see listed below on your screen under Fancy Fields are only available in the pro version. To our surprise though, a lot of useful and not-so-advanced fields like even the website/ URL field is only available in WPForms Pro, which is a bit disappointing to say the least.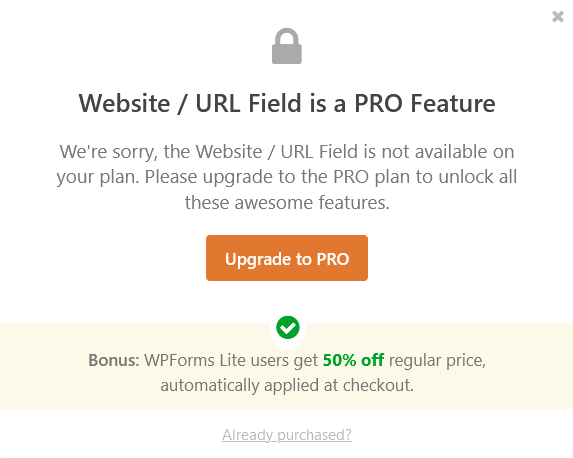 Anyway, let's move to the next step. And that involves customizing any existing fields. WPForms allows you to customize all the pre-existing fields too, which in this case are the name, email, and comment fields.
When you're done with adding all the fields you want and customizing all the fields, you need to click on the Save button at the top.
Now you need to go back to the WPForms menu on your WordPress dashboard, but this time click on the All Forms option. Then copy the shortcode for the form you want to use and create a new page using it.
Once you do that, it will start showing up on the front end of your website. Here's how the form we just created looks on our website.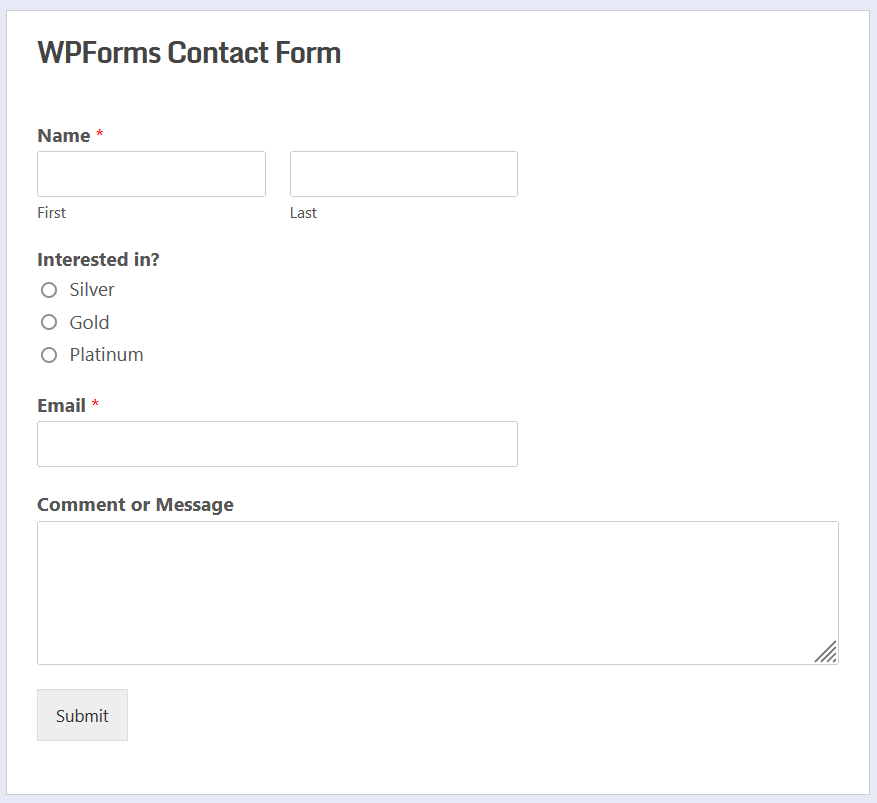 Finally, with Profile Builder, you will already have standard user pages like the registration and login pages created automatically by it when you activate the plugin. You can customize any of the forms you want to make it more suitable as a contact form though.
WPForms vs. Contact Form 7 – What's Your Pick?
We have shared everything in this post that you need to know about both of these plugins. The decision should be pretty easy for you now.
Contact Form 7 has a fair bit of edge over WPForms Lite if you only want a simple, basic contact form since it offers some additional field types for free which are only available in the Pro versions of WPForms.
However, the Pro version of WPForms absolutely blows Contact Form 7 out of the water. It just offers a lot more in terms of functionality and integrations. Not quite without breaking the bank though.
In addition, Contact Form 7 also requires some use of HTML, although it's easy to figure out. But if that still scares you, then WPForm's drag-and-drop form builder should be your pick.
All said and done though, if you're after a more complete user management plugin than just a form builder plugin, then Profile Builder is what you should be considering. It can create advanced, customizable forms for you, but it can also do a lot more such as creating other useful user pages, custom redirects, user roles, and much more.

Profile Builder Pro
Profile Builder is more affordable, more versatile, and easier to use than any other user management or form builder plugin out there!
Subscribe to get early access
to new plugins, discounts and brief updates about what's new with Cozmoslabs!
Source: https://www.cozmoslabs.com/1623348-wpforms-vs-contact-form-7/
---
---
You might also like this video