Affiliate marketing is an excellent way to generate passive income online.
There are a ton of people who're using affiliate marketing to earn thousands of dollars every year.
In fact, we generate over $13,000 per month from the blog you're currently reading.
Here's one of the affiliate commission reports from the Semrush affiliate program.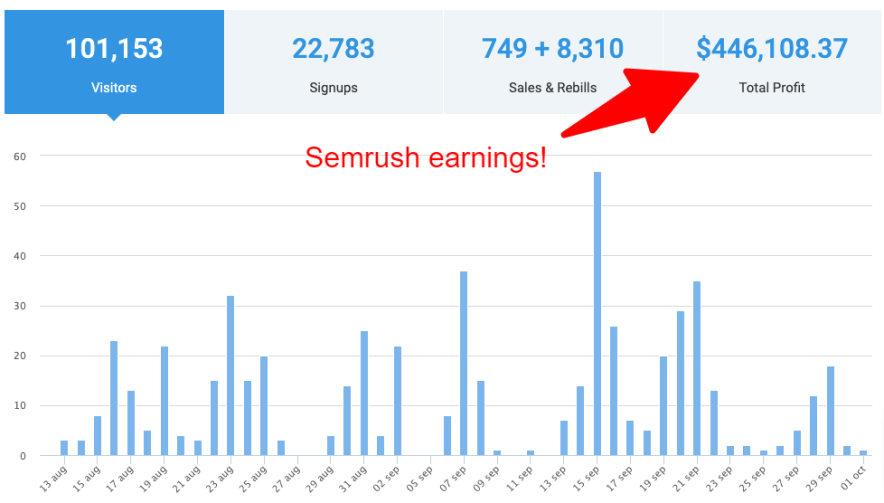 As you can see above, we generated over $446,000 from just one affiliate program.
The good part about affiliate marketing is that the sky's the limit to your earnings.
Affiliate marketing has many types, and in this post, you'll learn what each type does along with examples and how to pick the right one to boost your affiliate earnings.
Let's get started without further ado.
5 Types of Affiliate Marketing With Real-Life Examples [Which One's Right for You]
Let's start with a quick definition of what is affiliate marketing.
Affiliate marketing is a business model which involves the process of earning a commission by promoting another company's (or brand's) product.
You simply choose a product to promote, place an affiliate link on your blog and you generate commission whenever someone purchases through your links.
Have a look at the following illustration for a better understanding;
So, the various affiliate marketing types are:
Blogging
Product review sites
Coupon sides
Email marketing
Influencer marketing and more
Let's now talk about each type of affiliate marketing along with examples.
---
1. Blogging
Blogging is the most popular type of affiliate marketing. According to Similar Web, bloggers make up the largest percentage of all affiliates.
So if you're looking for an effective way to promote your affiliate products, starting a blog is a no-brainer.
What's the best example?
Let us take the example of our own blog BloggersPassion which generates over $13,000 per month from affiliate marketing.
In the last year i.e. 2021, we made $160,836 and our average monthly earnings are $13,403. You can read our blog's income reports to find all the details.
Here's the PayPal earning report for the last year;
Most of our blog earnings come from affiliate marketing where we promote various products including;
SEO tools like Semrush affiliate
Web hosting services like Bluehost
Various tools like Jasper, plugins, etc
What factors work well with blogging to increase your affiliate sales?
Here are a few things that work REALLY well with blogging (the same things that we prioritize on our own blog).
High-quality content: The only way to succeed as an affiliate is to publish high-quality content regularly. The key here is to write for your readers, not yourself. Make sure to define your target audience, know their wants and create content that's helpful to them.
Search intent: To succeed as a blogger and make more affiliate sales, you need to generate as much search engine traffic as you can. In fact, 90% of our blog's traffic comes from Google which ultimately helps us with better conversions and sales.
Make sure to think about search intent before publishing new blog posts. There are several types of search intent including;
Informative (examples include: how to start an affiliate website, how to lose weight, etc)
Transactional (examples include: web hosting coupons, Semrush free trial, etc)
Navigational (examples include: Facebook, Amazon login, etc)
Picking the RIGHT products: Almost every successful affiliate marketer knows the importance of choosing the right affiliate products to promote.
If you're getting started, you don't need to promote a ton of products as you can make a decent income even with two to three products. If possible, choose recurring affiliate programs as they help you generate commissions for a lifetime, not just once.
Who should try blogging to boost their affiliate sales?
If you're passionate about helping people with high-quality blog posts, blogging is a great option for you. Make sure to be consistent for a year or two to get decent results from blogging.
---
2. Product Review Sites
There are millions of products available online. It can be extremely difficult to know which product is the right one for you. Here's where product review websites come in handy.
Review sites can be helpful in deciding which product's model or brand to buy and often have better conversions for affiliates.
Above all, reviews can give you an idea of how easy or difficult a product is to use. That's why product review sites are great for affiliates to make money.
We also have published a free guide on becoming a product review blogger where you can find lots of examples.
What's the best example of a product review website?
WireCutter is probably the best example of a product review website where you'll find a ton of product reviews.
Did you know that Wirecutter was acquired by the NYT company for $30+ million?
Wirecutter generates over 300,000 monthly visitors and most of the keywords are commercial and informative, according to Semrush.
As you can see above, Wirecutter gets almost 70% of its traffic from either informational or transactional keywords. It's a great combination of driving more traffic and generating great sales.
What factors work well for product review sites?
The following things work effectively for product review sites.
Explain benefits and features: Your product reviews work really well when you discuss the details of the benefits and features of all your products. Talk about all the core features along with the benefits.
Walk through them one by one and demonstrate how to use each feature. When you educate your audience about the products you promote, it becomes extremely easy to sell.
Show social proof: The best way to increase your affiliate product sales is to use social proof. For example, when we promote the Semrush SEO tool, we often include social proof like how many people are using it along with the customer ratings.
So it's a good idea to show testimonials or reviews for your reader as it acts as solid social proof. You can use various customer product review platforms like G2, Trustpilot, etc to get social proof where you can find lots of customer reviews around popular products.
Offer special incentives: The best way to generate more affiliate sales from a product review website is to offer special incentives. You can offer anything including;
Checklists
eBooks
Free video tutorials on using the products
Special deals and discounts
Make sure to analyze the competitors in your niche to identify what type of promotion strategies they're using to grow their affiliate sales.
Who should try product review sites to boost their affiliate sales?
If you love to write unbiased product reviews and are good at competitor analysis, starting a product review website is a smart choice.
---
3. Influencer Marketing
Influencer marketing involves influencers promoting an affiliate product or service. In recent years, influencer marketing has become an extremely popular form of affiliate marketing.
Influencer marketing involves partnering with people who have a large following on social media or other online platforms.
It's a win/win approach as the influencer then promotes the company's products and makes money. On the other hand, it allows companies to tap into an existing audience of engaged users. If done correctly, however, influencer marketing is a great way to generate sales and build brand awareness.
What's the best example?
All the social media influencers who're promoting affiliate links including the popular YouTubers like MrBeast are great examples.
MrBeast promotes products like Honey which is a browser extension that automatically finds and applies coupons at checkout.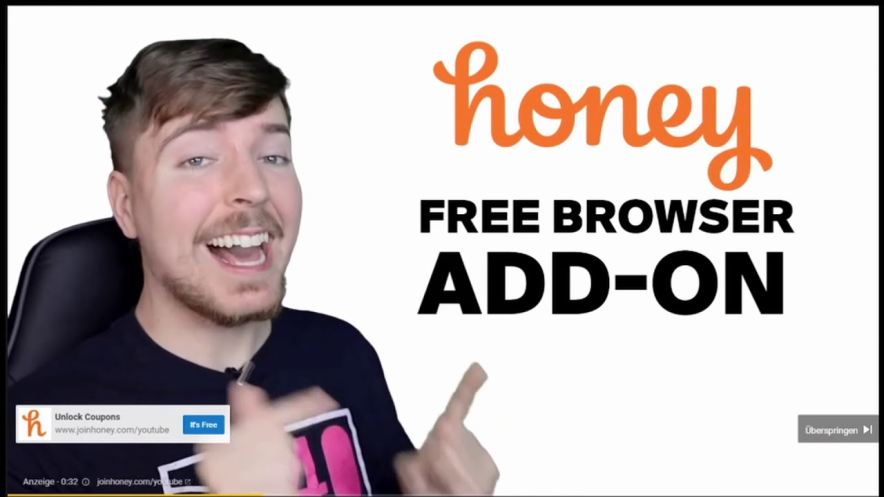 According to many sources, MrBeast generated more than $20 million from the collaboration with Honey, which is insane.
You can read our in-depth MrBeast net worth case study to find out how he actually makes money.
What factors work well with influencer marketing?
Here are a few things that can help you succeed with more sales through influencer marketing.
Constantly create great content: One reason most successful influencers make a lot of money is that they create lots of content. Take the example of MrBeast who creates amazing videos regularly.
The best influencers are those who manage to strike the perfect balance between promoting their sponsors or affiliate products and providing genuine value to their followers.
Promote relevant affiliate products: As an influencer, you may have access to millions of fans from various industries. The key to successful affiliate marketing is to choose a specific audience and promote relevant products.
When choosing what products to promote, be sure to select products that are relevant to your niche and that you would genuinely recommend to your followers.
Who should try influencer marketing to boost their affiliate sales?
If you have a big following on social media platforms like Instagram, YouTube, Twitter, Facebook, etc – try this type of affiliate marketing. Make sure to create awareness about the products or services you promote to increase sales.
---
4. Coupon Sites
Online shopping is growing rapidly. In fact, online shopping is a multi-billion dollar business.
However, it can be difficult to know where to shop online when it comes to finding the best deals. That's where coupon websites come in. These websites collect all the latest deals and discounts in one place, making it easy to find exactly what you're looking for.
So if you're interested in offering the BEST deals possible, starting a coupon website is an excellent choice.
What's the best example of a coupon website?
RetailMeNot.com is one of the most popular coupon websites in the world. It currently has more than 200,000 offers including 19,000+ in-store coupons and 24,000 restaurant deals across the world.
RetailMeNot makes most of its money from affiliate partnerships as it currently has access to over 50,000 partnering retailers.
So whenever someone clicks on any of the RetailMeNot coupon links or codes and makes a purchase, they get a commission.
According to Semrush data, RetailMeNot gets over 15 million monthly visitors from search engines like Google which also helps with better conversions and sales.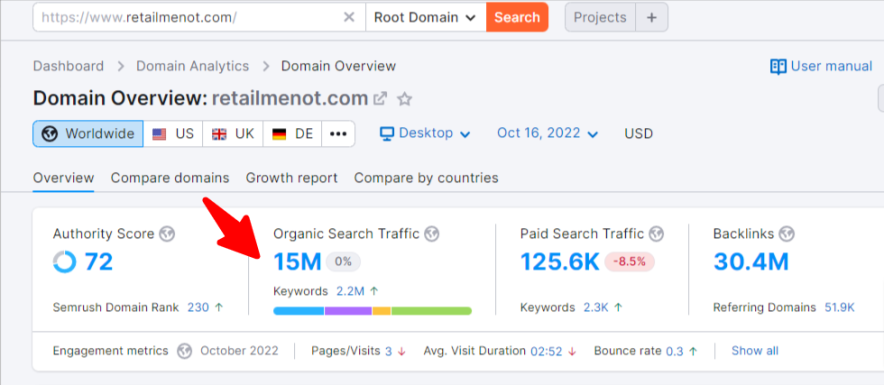 As a side note, J2Global acquired RetailMeNot for a whopping $420 million in 2020.
What things work well for coupon sites?
Here are a few things that work well for coupon websites.
Provide exclusive offers: The key to building a successful coupon website is to offer exclusive coupons and promo codes that you can't find anywhere else.
Rank for transactional keywords: Did you know that 43% of traffic to RetailMeNot comes from transactional (aka buyer) keywords?
Have a look at the following data taken from Semrush;
The main reason behind RetailMeNot's success is that it is ranking for literally thousands of transactional keywords that are helping generate millions of dollars every year.
So if you're planning to launch a coupon website, make sure to optimize your website for transactional keywords and build lots of backlinks.
Who should try coupon websites to boost their affiliate sales?
If you've exclusive connections to different affiliate managers or are able to grab special deals on various products – coupon websites work best for you.
---
5. Affiliate Email Marketing
Affiliate email marketing is all about the promotion of affiliate products through an email sequence. There are literally thousands of marketers using email marketing to promote their affiliate products.
What's the best example?
Pat Flynn is one of the best examples of someone who uses email marketing to make a ton of affiliate sales.
Pat Flynn from Smart Passive Income is good at promoting relevant affiliate products. He earns solid affiliate commissions through email lists while also providing valuable resources to his email subscribers.
What factors work well for affiliate email marketing?
Try the following methods to succeed in affiliate email marketing.
Build a sales funnel: The key to successful email marketing is to build and nurture your email list with email sequences (sales funnel).
Your email sequences should be MOSTLY valuable, not just sales pitches.
Have a look at the following illustration to create an effective email sequence.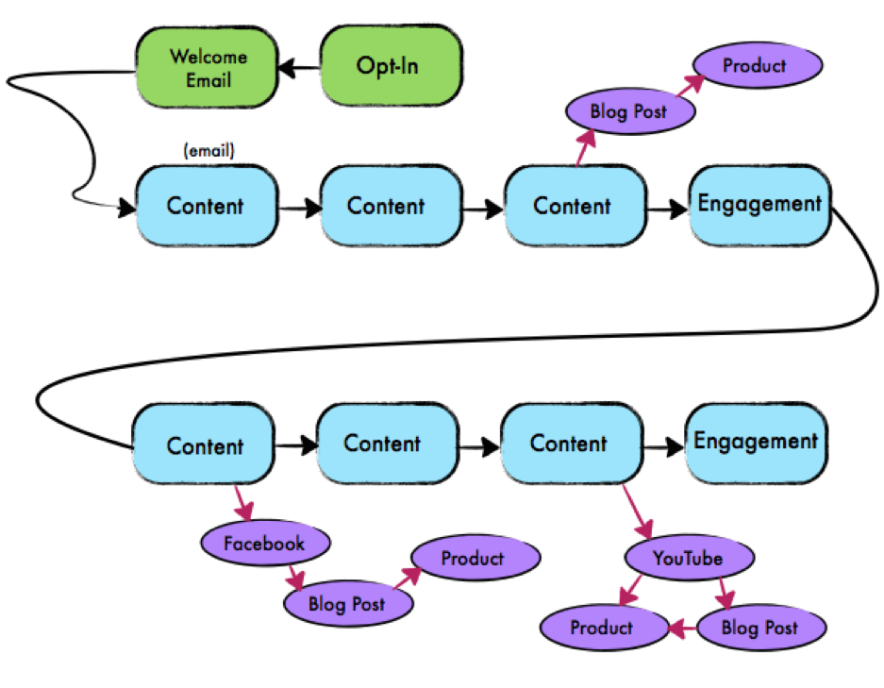 As you can see above, your email sequence should mostly contain helpful content and you should sell affiliate products only after engagement from users.
Offer solutions: To be successful with email marketing, you need to offer solutions to the problems that your audiences have.
Ask yourself;
Who is my target audience?
What are their wants and needs?
What products I can recommend that solve their problems?
Based on the answers, you can pick products that you can create email sequences around.
Who should try affiliate email marketing to boost their sales?
If you're already building an email list or mostly depend on email marketing to build an audience – this type of affiliate marketing works great for you. The key here is to create lots of newsletter sequences to educate your audience about the products you promote.
Read: Types of Digital Marketing to Learn & Master in 2023
---
FAQs | Type of Affiliate Marketing
Here are some of the frequently asked questions about the type of affiliate marketing.
What is affiliate marketing?
Affiliate marketing is a performance-based business model where publishers earn a commission by promoting a product made by another company or merchant using an affiliate link.
What are the 3 pillars of affiliate marketing?
There are THREE main pillars of affiliate marketing including;
– Merchant (who creates the products)
– Publisher (who promotes the products)
– Customer (who purchases the products)
What are the best types of affiliate marketing?
Here are some of the best types of affiliate marketing to grow your sales;
– Influencer marketing
– Email marketing
– Blogging
– Coupon sites and product review sites
Which type of affiliate marketing is best?
Blogging is probably the BEST type of affiliate marketing. Blogging helps you create informative content around the products you promote and lets you promote your affiliate links naturally. Also, blogging is a cost-effective way to grow your affiliate sales.
What are the best affiliate marketing networks?
Here are a few affiliate marketing networks to find great products;
– ClickBank
– Commission Junction
– ShareASale
– Amazon Associates
Related Resources on Type of Affiliate Marketing:
---
Final thoughts on different types of affiliate marketing
Affiliate marketing is growing rapidly, especially after the Pandemic. Why? Millions of offline businesses are starting and growing their presence online. Most businesses are depending on affiliates to grow their product sales.
So if you're planning to start your affiliate marketing journey, today's the right time. Pick the RIGHT type of affiliate marketing such as blogging/vlogging, coupon sites, review sites, etc, and be consistent.
What are your thoughts on the various types of affiliate marketing? Did you find this guide helpful? If you've any questions, let us know in the comments.
Source: https://bloggerspassion.com/types-of-affiliate-marketing/
---
---
You might also like this video