Are you searching for the best side hustle ideas in 2023 to make extra money? Do you want side business ideas to earn money from home?
Your search ends here.
What is a side hustle?
A side hustle is a way to make some extra income outside of your full-time job. Or a side hustle is an extra job that you take on to make more money.
For example, you might have a full-time job as a fitness trainer, but you can also start a website and offer one-on-one fitness consulting services (as a side hustle).
Whether you're looking to replace your day job or looking for financial freedom, starting a side hustle can be a great choice.
There are many different ways to make money with a side hustle, so there is sure to be something out there that interests you. In this post, you'll discover;
Top 8 easy side hustles to make money
Frequently asked questions about side hustles
The best ways to make money from each of the top 8 side hustles, and much more
So are you ready to find them out? Let's jump into the details.
8 Best Side Hustle Ideas for 2023 to Earn Thousands of Dollars Every Month
---
1. Start a blog
Are you looking for a proven way to build a solid income? Searching for the best side hustle ideas from home?
If so, starting a blog could be a GREAT choice.
The best part? It's extremely easy to set up a blog and start sharing your ideas with the world. There are a ton of benefits of blogging including building your online presence, making money, networking with influencers, etc.
But where do you start? The first step is to choose a topic that you're passionate about.
Here's where picking a profitable niche comes into play. It could be anything from fashion to food to parenting. Once you've chosen a topic, the next step is to choose a blogging platform.
There are many different platforms available, each with its own set of features and options. Our recommendation is the self-hosted WordPress platform. Once you've chosen a platform, it's time to start writing, generate traffic and monetize your blog to make money.
How much money can you make from blogging?
The money you make from blogging depends on your experience, skills, and the set of audience you target.
For example, our blog (which is in the make money online niche) generates over $13,000 every single month. You can read our income reports to find our exclusive income and traffic reports.
In case you're curious, here's one of our blog's earning reports;
There are many other top bloggers who generate upwards of $100,000 every year. Most beginner bloggers make around $500 to $1000 per month (considering they're driving at least 1K visits/day). You can read the income reports of top bloggers to find out more details.
What's the cheapest way to start a professional blog?
To create a professional website, you need a self-hosted WordPress platform. In case you're wondering, WordPress is one of the BIGGEST CMS (Content Management System) in the world.
To use WordPress, you need to purchase a domain and web hosting.
So how to start a blog within a small budget? We recommend you go with Bluehost as it offers a free domain and you can grab their hosting for just $35 a year.
Here's a quick tutorial on using Bluehost to start a blog or website.
Click on this link to visit the Bluehost website.
Once you're on Bluehost, go to their pricing section where you'll find various shared hosting plans.
Have a look;
As you can see above, Bluehost offers three shared hosting plans including;
Basic plan costs you $2.95 per month and you can install 1 website along with 10 GB of space
Plus costs you $5.45 per month where you get 20 GB of space and install unlimited sites
Choice plus costs you $5.45 per month where you get all the features from the Plus plan along with free domain privacy and free automated backups
If you're looking for the cheapest option from Bluehost, go with the Basic plan as it costs you just $35.40 per year (with a free domain).
Here's what it looks like;
See that? Just for $35 a year, you get reliable hosting from Bluehost along with a free domain.
Once the payment is done, you can use Bluehost's 1-click install option to quickly install WordPress on your domain to start blogging.
---
2. Create a YouTube channel
What's the easiest way to build an online presence and turn your passion into income?
If you said "starting a YouTube channel", you're absolutely right.
Whether you're into vlogging, gaming, or cooking, there's an audience for your content. The best part is that anyone can start a channel with just a few simple steps. All you need is a Google account and you can create your own channel within minutes.
You can use your channel to post videos about anything you're passionate about, from makeup tutorials to video game walkthroughs to educational videos. Best of all, you can make money from your channel through advertising revenue or sponsorship.
You can read our guide on how to become a successful YouTuber to learn more about YouTube secrets.
How much can you earn as a YouTuber?
There's no simple answer for it as your YouTube earnings depend on several things including;
Your video views
Your audience demographics
The kind of videos you post
The kind of monetization strategies you use (Google AdSense, sponsorships, collaborations, selling your own products, etc)
That being said, the average CPM on YouTube is around $1 to $3 for 1000 views. You can check out our case study on how much YouTubers make to find more details.
What are the best niches for starting a successful YouTube channel?
Here are some of the best topics you can pick to make money as a YouTuber in 2023 and beyond.
Motovlogs
Gaming
Unboxing (particularly gadgets and electronics)
Health & Fitness
Food Recipes
Travel vlogs
Pranks
Celebrity gossip
Entertainment and more
---
3. Start a dropshipping business
Want to sell products without having to carry any inventory? Then, dropshipping is a great option for you.
Dropshipping lets you sell products from the supplier and you don't need to worry about the product inventory or shipping.
Here's how it works: when you receive an order from a customer, you simply contact the supplier, who then ships the product directly to the customer.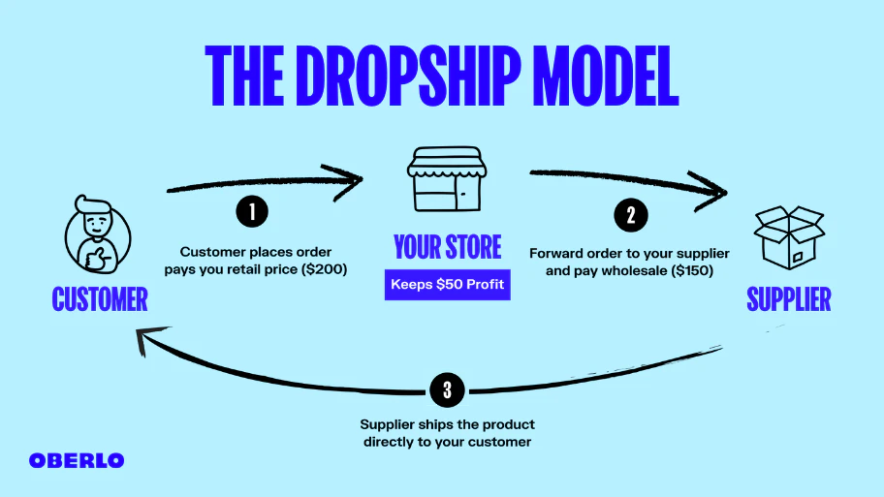 In simple terms, in dropshipping, you act as a middleman where you get a commission for every product you sell.
Dropshipping is an excellent way to start an online store with very little up-front investment, and it's also relatively low risk.
Why? Because you never have to worry about stocking or shipping products. In fact, dropshipping is one of the easiest ways to get started in an eCommerce business.
You can also consider the t-shirt printing business as a side hustle to earn extra income.
How can a beginner start dropshipping?
To get started, you need to first pick products that have high demand and low market competition. Here's where keyword research comes into play. Keyword research is the process of finding words or phrases that people use to find information related to a product or business.
In dropshipping, you can consider selling trendy products like yoga mats, colored LED lights, laptop skins, etc
Just make sure to spend enough time finding products that work best for you.
Once your product research is done, you need to choose a dropshipping supplier. There are several dropshipping suppliers you can consider including;
Automizely
Printful
DropnShop
Then, pick a platform where you can list your items for sale. There are many eCommerce platforms you can choose for dropshipping including;
Shopify
BigCommerce
Wix
WooCommerce
Shift4Shop
Volusion
Do competitive research and find proven ways to promote your business to generate more sales.
How much can you earn from the dropshipping business?
All dropshipping businesses are different, so your earnings depend on several things including the products you promote, the average commission you generate, etc.
That being said, most dropshipping businesses generate $1000 to $2000 in monthly revenue within 12 months.
---
4. Become a virtual assistant
Becoming a virtual assistant is a daunting task but it's worth doing.
Why? There's a HUGE demand for virtual assistants across all industries.
As a virtual assistant (VA), you'll mostly have to deal with small and repetitive tasks such as;
Grammar correction
Blog management such as uploading blog posts to WordPress, removing toxic backlinks, spam comments, etc
Uploading videos to YouTube
Managing social media sites and the list goes on
Here are a few benefits of becoming a VA;
You can work from anywhere
Your income depends on the kind of tasks you perform and the sky's the limit to earnings
You can learn A LOT from your clients (which ultimately helps you launch your own business)
Where to look for VA jobs?
Here are some of the best places to start looking for VA jobs.
Start with social media sites like Facebook groups, Twitter, and Linkedin as most businesses look for VAs across these platforms
Use sites like FlexJobs where you can find work from home and flexible job opportunities
Create your own website to promote your VA services
How much can you earn as a VA?
A lot of newbie virtual assistants charge anywhere around $15 to $20 per hour. Once you've enough experience as a VA, you can charge upwards of $50 to $100 per hour for your services.
The money you make as a VA depends on the complexity of the tasks you perform. Keep learning and improving your skills as a VA to increase your hourly rates.
---
5. Offer freelancing services
Almost every business wants to build and grow its presence online.
But most businesses lack the time or expertise to develop and maintain a website on their own. This is where freelancers can come in handy as they provide valuable services.
So if you've skills or experience in content creation, web design, etc – you can make a decent income by offering freelance services.
What type of freelance services you can offer?
Here are a few freelance services that are in high demand in 2023;
Writing
Web design
SEO services such as link building, keyword research, paid ads, etc
Social media management such as posting regularly on social networks to increase engagement
What are the top freelance services websites?
Here are a few top platforms where you can find freelancing gigs.
Upwork
Fiverr
Guru
People Per Hour
You can also check out these freelancing writing websites if you're a content writer to make money online.
How much can you earn from freelancing?
Most beginner freelancers earn between $20 to $40 per hour while experienced freelancers earn between $50 to $100 (or even more) per hour.
There are many freelancers who also charge per project and their earnings depend on the complexity of the project (usually between $500 to $1000+ per month).
All in all, freelancing can be a great way to earn money on your own terms and you can literally work from anywhere.
---
6. Sell information products online
Whether you're an aspiring entrepreneur, blogger, or hobbyist looking to make extra money online, consider info products.
If you have knowledge or expertise in one or a few topics, you can consider selling info products online.
In simple terms, information products are digital products that offer helpful information to solve a specific problem. That's why having some experience in one or two areas can help you create "helpful info products."
You can visit our BloggersPassion eBooks page to check our info products list to get an idea.
What kind of information products can you sell?
Here are a few types of info products you try selling in 2023 and beyond;
eBooks, checklists, etc
How-to guides and tutorials
Online courses
Video tutorials
What are the best platforms to sell your info products online?
You can consider the following platforms to sell your info products.
Shopify
Your own website
Amazon
Udemy, Skillshare, etc
Teachable
If you don't have a prior audience or experience, it's better to pick a marketplace such as Amazon as they have a huge customer base, and easy product shipping and delivery.
How much can you make selling info products?
You can earn from $5 to $5,000. Top marketers like Ramit Sethi started selling info products (an eBook) for just $5 and now he earns millions of dollars selling his premium courses.
The key here is to start small, get feedback, and improve your products. That's how you can grow your income selling info products in the long run.
---
7. Teach English online
Are you a native English speaker and teaching is your passion? Then, you should definitely try teaching English online.
There's a HUGE demand to learn English all over the world.
Almost every non-native English speaker wants to become good at English.
You'll have better chances to make a full-time income teaching English online in case you have a degree in any of the following.
Bachelor's degree and teaching certification
Master's degree or PhD
State or provincial teaching license
ESL or other language qualification
What are the best platforms to earn as an online tutor?
If you want to become a tutor to teach English, here are a few online tutoring platforms that you can use to make money online.
Most of these tutoring platforms help you set your own schedule. That means you can accept sessions whenever you're free. Once you create an account on any platform such as Skooli, you can log in and be online when you're free to accept instant sessions.
How much can you earn by teaching English online?
Most tutoring platforms pay you hourly rates. Your earnings mostly depend on your education qualification and experience. The average hourly rates range between $30 to $50 and can go up to $100 per hour based on your experience.
---
8. Become a social media manager
If you've some experience in social media management, you can try social media manager jobs. A social media manager is responsible for creating and managing a business or website's social media presence.
You can help businesses promote their products or services through various social media platforms like Instagram, Facebook, Twitter, etc.
As a social media manager, you'll have to perform various tasks such as;
Managing comments on posts
Creating and scheduling engaging posts on social networks
Promoting products to build awareness on social media
Growing their followers, user engagement, social media presence, etc
To succeed as a social media manager, you will need to have a strong understanding of each social media platform, as well as the ability to create engaging and visually-appealing content.
Where to look for social media management jobs?
Here are a few platforms that you can check out for social media manager jobs;
LinkedIn
Upwork
Indeed
People Per Hour
How much can you earn from social media management?
The hourly earnings range between $15 to $50 depending on your experience as a social media manager. Few people will also charge per project (ranging from $1000 to $1500 per month for each project).
If you're looking for a challenging and rewarding career, then a career as a social media manager may be the right side hustle idea for you.
---
FAQs | Ideas for Side Hustle
Here are some of the most commonly asked questions about side hustles to make money.
What is a side hustle?
A side hustle is an extra job or occupation that helps you generate extra money beyond your regular job. For example, if you're a full-time lecturer, tutoring students on the weekends is a side hustle.
Why start a side hustle?
Side hustles are great because they give you the flexibility to work on your own schedule and earn some extra money. Besides that, if you're not happy with your side hustle, you can always quit and find something else to do.
What are the best side hustles from home?
Here are a few side hustle ideas 2023 to try from home;
– Become a blogger
– Sell affiliate products
– Become a tutor
– Try virtual assistance (VA)
What are the best side business ideas that require little investment?
Here are a few best side business ideas with little money;
– Starting a blog (within $100 a year)
– Starting a YouTube channel (zero investment)
– Sell items on eBay, Craigslist, or Facebook Marketplace
– Teach English online
What is a good side hustle?
Blogging is probably the BEST side hustle one can start. You can earn passive income, build your online reputation, develop different skills and connect with influencers in your niche when you're blogging.
Useful Resources on Side Hustles:
---
Final thoughts on side business ideas
Side hustles can be a great way to make some extra money, but they can also be a lot of work.
So if you are thinking about starting a side hustle, make sure to find something that you are REALLY passionate about. That way you won't get burned out easily while working on something extra.
So what are your thoughts on the side gigs to make money? Did you find the list useful? Have any questions? Let us know in the comments.
Source: https://bloggerspassion.com/side-hustle-ideas/
---
---
You might also like this video