There are a lot of bloggers who often ask "Is affiliate marketing worth it?". If you're also one among them and looking for a hands-on guide, you're in the right place.
Before we begin the post, let's first find out the popularity of the term "affiliate marketing" using Google Trends.
Have a look at the Google Trends for the past 5 years;
See that? The search term "affiliate marketing" is popular across the world with a search interest of over 90 (out of 100).
If you look at the trends carefully, you'll also notice that the popularity is growing consistently (not declining, it's just growing rapidly).
The above data from Google Trends does not reveal the actual growth of affiliate marketing but we can certainly see that the affiliate marketing industry isn't dying anytime soon.
So… in this post, we'll discuss;
Why is affiliate marketing worth your time and money
Why is affiliate marketing NOT worth it
Facts and stats about affiliate marketing and much more
Are you curious to find them out? Let's get started!
Is Affiliate Marketing Worth It & Safe In 2023?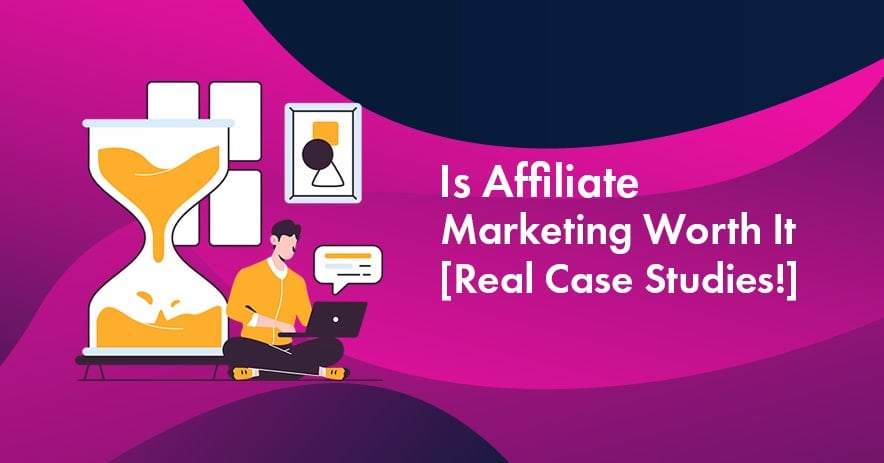 Why & When Is Affiliate Marketing Worth It?
Firstly, let's talk about the advantages of affiliate marketing.
Here are some of the MAJOR reasons to consider affiliate marketing in 2023 and beyond.
Affiliate marketing benefits:
It's an inexpensive setup as you just need a blog or website to start selling affiliate products.
You can make money even while sleeping and you can literally work from anywhere.
Most affiliate programs don't put a cap on how much you can earn so the sky's the limit to your affiliate commissions.
Affiliate marketing is a low-risk monetization model as there's no setup or inventory involved to sell affiliate products.
There are literally thousands of products you can promote through various affiliate networks such as Amazon Associates, eBay, CJ.com, ClickBank, and more.
Affiliate marketing is a performance-based monetization source so your earnings depend on how well you perform.
No special skills or expertise are required to sell affiliate products. Most of the time, all you need is a website to get started.
No need to create products as you can spend time researching the RIGHT affiliate products that are relevant to your target audience.
Above all, affiliate marketing is totally free!
What can you say after looking at affiliate marketing benefits? Is it worth it? You bet!
Let's now discuss when affiliate marketing is totally worth it.
No need to create products
The best part about affiliate marketing is that you don't need to invest in creating products. As an affiliate marketer, you promote other people's products and generate a commission on every sale that you generate.
So yes, affiliate marketing is a great way to earn money online without having to create your own products. Also, there are many affiliate programs to choose from, and you can promote products in any niche.
You can use a wide range of affiliate networks to promote products including;
Amazon Associates
CJ
ClickBank
ShareASale
Awin
Impact and much more
You don't need to provide affiliate commission or support
Affiliate marketing is a relatively low-cost way to generate money online. At most, you need a self-hosted website to start making money.
As an affiliate marketer, you don't need to provide affiliate commissions or customer support.
Why? Because the companies that create products will do that for you and all the affiliates are paid based on their performance. Make sure that you are providing quality content that your readers will find valuable.
Work from anywhere
Do you want to be your own boss? Want to work from anywhere? It doesn't matter whether you're in India or Thailand, you can use affiliate marketing to make passive income online.
There are literally millions of people around the world selling affiliate products to make money. If you're on the hunt for the best remote jobs to earn money, don't miss out on affiliate marketing.
You're helping others
With affiliate marketing, you're NOT only making money but you'll also be able to help others.
The key here is to understand your target audience's needs. Then, promote the right products that solve their problems.
If you're an affiliate who is struggling to sell a product, it's important to help your audience by educating them about the products you promote. By providing quality content, promoting valuable products, and offering discounts, you can ensure that your affiliate marketing efforts are successful.
---
Why & When Is Affiliate Marketing NOT Worth Your Time?
So far we discussed all the good things about affiliate marketing. Let's now discuss some of the disadvantages associated with affiliate marketing.
Affiliate marketing drawbacks:
You have ZERO control over the affiliate programs as the product developers can stop their affiliate program at their will.
It takes time to start seeing decent results with affiliate marketing. Most beginners give up within a few months.
There's a HUGE competition out there. No matter what niche you pick, you'll have to compete with hundreds of websites to get first-page rankings on Google.
So when is affiliate marketing not worth your time and money? The following scenarios tell you exactly that.
When you look for overnight sales
Affiliate marketing makes you rich overnight, right? Wrong!
Honestly speaking, for most people, it takes a lot of years to generate a decent income with affiliate marketing.
The growth is slow but you'll eventually see compounding growth if you consistently add value. That's the beauty of affiliate marketing as it can help you generate sales even if you're sleeping.
Don't expect quick results. Be prepared to work hard for at least a year or two to succeed as an affiliate marketer.
When you consider it as easy
If anyone says that being an affiliate marketer will be easy and that you are going to earn thousands of dollars, don't believe them.
Affiliate marketing is A LOT harder than most people think. You need to put in extra effort to get decent results.
In fact, most beginners who get started with affiliate marketing NEVER make even a single sale. That's the harsh truth about affiliate marketing. You need to put in extra effort, time, and money to succeed as an affiliate.
There's NO guarantee
One BIGGEST reason to avoid affiliate marketing is that there's no guarantee of sales. Even if you work hard, it gets difficult to generate sales.
There are a ton of beginners who quit affiliate marketing just because they struggle to make even ONE affiliate sale.
Uncertainty is common in affiliate marketing.
---
A Real-Life Affiliate Marketing Case Study [$459,000+ Earnings!]
Looking for a real-world case study of affiliate marketing? This section is just for you.
Did you know that we generated over $459,000 just by selling ONE affiliate product?
Yes, that's true.
We made over $459,000 from the world's BIGGEST SEO software Semrush.
Semrush affiliate program is an excellent way to generate a HUGE commission and we're one of the top affiliates for Semrush.
In case you want to try Semrush for free, use the following link.
Try Semrush 30 Days Free Trial
Have a look at our Semrush earning report;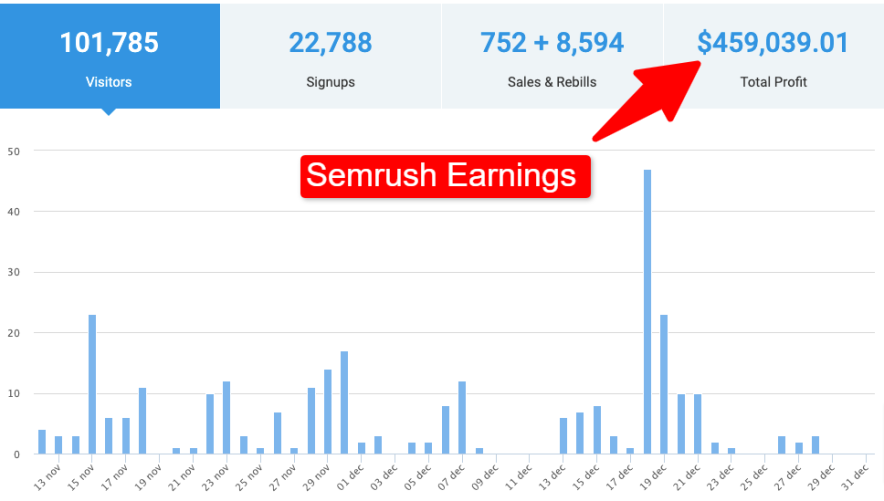 See that? From over 22,000 signups and 750+ sales (including around 8500 rebills), we made that much money from Semrush.
We started promoting Semrush in 2016 and the first payment was ONLY $83.94!
Have a look;
So what can you learn from it?
As an affiliate, you'll NOT generate thousands of dollars from day one. It takes time.
In fact, it took several years to generate over $430K in affiliate commissions from Semrush.
That being said, here are a few things we did to earn thousands of dollars from Semrush;
Firstly, we chose an amazing product that our audience love. In case you don't know, Semrush is the most powerful SEO toolkit used by over 10 million people worldwide (it offers over 50 tools under one roof). So if you want to succeed as an affiliate, choose a product that's used by the majority of your audience.
We created a TON of informative articles around Semrush. You'll find all types of content around Semrush on our blog including reviews, coupons, comparisons, tutorials, and much more. Creating awareness about the products you promote helps.
We ALWAYS focused on search traffic. Almost all the traffic to our Semrush posts comes from search engines like Google. Search traffic converts the BEST!
We're ranking for many highly commercial keywords around Semrush including its free trial, coupon, review, etc. Ultimately, ranking for commercial intent keywords helps you with a ton of sales.
We regularly update our top-performing posts around Semrush. We add lots of value, update the existing features, add new features, and tweak titles and meta descriptions which ultimately helps with more traffic, conversions and sales.
Choose a product that offers a HUGE commission. Semrush pays a $200 commission for every sale and $10 for every trial activation. When you're promoting high-paying affiliate programs, it's easier to make thousands of dollars every month.
So what are you still waiting for? If you are NOT promoting affiliate products yet, start a blog today, pick the right products and start making money.
---
Interesting Affiliate Marketing Stats & Facts for 2023
Are you still NOT convinced to start your affiliate marketing journey and looking for some interesting stats and facts about affiliate marketing? Then, this section is just for you where you'll find interesting statistics.
1. The global affiliate marketing industry is worth over $17 billion, according to Kinsta.
What's the takeaway? Affiliate marketing is a multi-billion dollar industry and there's room for everyone who wants to make money selling affiliate products.
2. 81.2% of affiliate marketers earn more than $20,000 in a year.
Key takeaway? The majority of the bloggers who promote affiliate products earn a decent commission from affiliate marketing.
3. The fastest-growing product category for affiliate marketing is fashion, with 18% revenue.
Have a look at the top 20 affiliate categories.
What's the lesson? If you're looking to promote high-paying and evergreen products, you may want to consider the fashion industry.
4. According to a survey done by Rakuten, 88% of consumers made a purchase recommended by an influencer.
What's the takeaway? If you want to make a solid income from affiliate marketing, become a go-to source. Becoming an influencer in your industry can help you boost your affiliate sales.
5. 93% of customers read online reviews before buying a product.
What's the lesson? If you want to promote an affiliate product effectively, make sure to show reviews of that product from real customers.
---
Top 3 Common Mistakes Most Beginner Affiliate Marketers Make
Are you new to affiliate marketing? Or do you want to start promoting affiliate products? Here are THREE common mistakes most beginners make. Try to avoid them if you want to boost your affiliate commissions.
1. Focusing ONLY on selling
One of the biggest mistakes most affiliate marketers make is they focus only on promoting and selling affiliate products.
What happens when you focus ONLY on selling? You'll barely notice sales.
Instead, focus on helping. Focus on educating your audience about the products you promote.
Create in-depth and useful product reviews that solve your audience's problems. Make sure to put an affiliate link disclosure so your audience knows that you're recommending an affiliate product. That's how you generate more affiliate sales.
2. Ignoring SEO
SEO is the reason why our blog generates over $13,000 per month, mostly selling affiliate products.
If you're neglecting SEO, you're missing a lot of sales on the table.
SEO is not rocket science. Here are a few things you can implement on your affiliate site to get more traffic from Google.
Find relevant keywords. Analyze your competitors. Use tools like Semrush to find long-tail and commercial keywords.
Build backlinks. You can use Quora, guest posts, blog commenting, social bookmarking sites, etc to build relevant links to your site to rank well in Google.
Optimize your content for target keywords. Use plugins like Rank Math.
Always update your best-performing posts with new content, images, links, keywords, etc.
If you're a beginner, you can read our SEO tutorial for beginners where you'll find a ton of tips.
3. Unrealistic goals
Yes, affiliate marketing is an excellent way to generate thousands of dollars.
But it takes time to increase your affiliate income.
Most affiliate marketing beginners set unrealistic goals. They want to generate $1000/month from the day they start promoting affiliate products.
It's NOT going to happen unless you already have a huge following or marketing experience.
Set realistic goals. Try getting your first affiliate sale. Then, aim for 5 sales, 10 sales, 25 sales, and so on.
Read: Most Common Affiliate Marketing Mistakes And How to Avoid Them
---
FAQs | Is Affiliate Marketing Profitable?
Here are a few interesting questions about affiliate marketing.
What is affiliate marketing?
Affiliate marketing lets you promote other people's products without having to create a product of your own. You generate a commission when others purchase those products through your link.
Is affiliate marketing safe?
Affiliate marketing is totally safe. The good thing about affiliate marketing is that you don't have to create products as you can promote others' products. You earn a commission whenever someone purchases using your affiliate links. Most affiliate programs are free to join, so there's no risk involved.
Does affiliate marketing really work? Is Affiliate Marketing Worth It?
Yes, affiliate marketing works and helps you generate passive income online. But it takes time to make good commissions from ANY affiliate program. Having a blog or website really helps with affiliate sales.
What is the best affiliate program that anyone can try for free?
There are many affiliate programs that are totally free to join which include;
– Semrush affiliate program
– Bluehost
– GeneratePress
Which are the best recurring affiliate programs?
More FREE Affiliate Marketing Resources:
---
Final Thoughts | Affiliate Marketing Is Good or Bad?
Affiliate marketing is a performance-based marketing channel that lets you earn a commission for promoting another company's products.
The good news is affiliate marketing is growing strong. So let's come back to the question: is affiliate marketing worth it or not? As you can see from the above case study and stats, it's totally worth it.
So what are your thoughts on affiliate marketing? Do you think affiliate marketing is profitable? Have any questions? Let us know in the comments.
Source: https://bloggerspassion.com/is-affiliate-marketing-worth-it/
---
---
You might also like this video