What are the WooCommerce must have plugins that every store needs?
If you found your way to this post, that's probably the issue you're dealing with right now. While the core WooCommerce plugin offers most of the basic functionality that you need for a store, pretty much all WooCommerce stores rely on dozens or even hundreds of plugins to add key features.
While some of those plugins will be specific to your unique situation, there are also a lot of must have WooCommerce plugins that can benefit pretty much any type of store – no matter what and how you're selling.
That's what this post is about – a curated list of the top WooCommerce plugins that can help any type of WooCommerce store.
To help you more efficiently navigate this list, we'll divide these plugins into seven categories:
Marketing plugins (increase sales) – these plugins help you attract and convert more customers.
Shopping experience plugins – these plugins help you create a better experience for your shoppers, such as translating your store into new languages or adding a wishlist.
Shipping plugins – these plugins help you improve your store's shipping processes and user experience.
Payment plugins – these plugins help you accept payments.
Subscription plugins – these plugins help you set up recurring subscriptions and/or membership functionality.
Security plugins – these plugins protect your store from malicious actors.
Store management plugins – these plugins help you simplify your store admin processes on the backend.
With that being said, there's obviously some overlap between the categories. For example, a WooCommerce multilingual plugin can help you both improve your shopping experience and your marketing (because you can benefit from multilingual SEO, among other improvements).
For that reason, we encourage you to read through the full list to see all the essential plugins.
Best WooCommerce Plugins to Increase Sales (Marketing)
If you're searching for the best WooCommerce plugins to increase sales, the plugins in this section all help you boost your store's conversion rates and/or marketing efforts.

If you want to rank your store in Google, you need the best SEO plugin for WooCommerce on your site.
For most stores, that's one of two options – Rank Math or Yoast SEO.
Rank Math gives you a little more functionality for free, but Yoast SEO is more established.
Either way, both plugins will help you optimize all aspects of your store's SEO. Pick the one that you like the most and use it to boost your store's organic visibility.
Price: Free versions. Paid versions with more features (depends on the plugin).

MailPoet is an all-in-one solution for WooCommerce email marketing. Unlike services such as Mailchimp or AWeber, MailPoet lets you manage everything about your email marketing efforts from your WordPress dashboard.
But at the same time, MailPoet includes its own built-in email sending service to make sure emails make it to your customers' inboxes, which can be a problem with other WordPress-based email marketing plugins.
In addition to sending newsletters, MailPoet also has a tight integration with WooCommerce that lets you send the following emails:
Abandoned cart recovery emails.
Post-purchase email follow-ups.
Targeted automations based on customer details (e.g. all users with a certain number of orders).
You can also use it to send your store's transactional emails, such as order confirmations and password resets.
In fact, MailPoet's WooCommerce integration was so good that WooCommerce acquired MailPoet in 2020.
Price: Free for up to 5,000 emails/month and 1,000 subscribers. Paid plans from $10/month for 500 subscribers and unlimited emails.

As the name suggests, Discount Rules for WooCommerce helps you create custom discount rules to encourage shoppers to make a purchase (or purchase in higher quantities).
Here are some examples of the types of discounts that you can create:
Bulk pricing discounts based on order value or quantity.
Buy one, get one deals (BOGO).
Dynamic pricing based on WordPress user role or purchase history.
Overall, it's a great option if you want to use discounting as a marketing strategy.
Price: Free version. Paid version $59.

Advanced Coupons is similar to the previous plugin, but it's focused on helping you offer coupons instead of automatic discounts.
Rather than reinventing the wheel, it builds on the native WooCommerce coupons feature to give you a ton more options, including advanced cart conditions for coupon usage, BOGO deals, and more.
You also get some other useful features:
Auto-apply coupons by URL.
Automatically add products to cart when applying coupons. For example, you could give someone a free gift when they use a coupon.
Coupon scheduling rules and expiration dates.
Discount shipping methods with coupons (e.g. free shipping coupon).
Price: Free version. Paid version $119.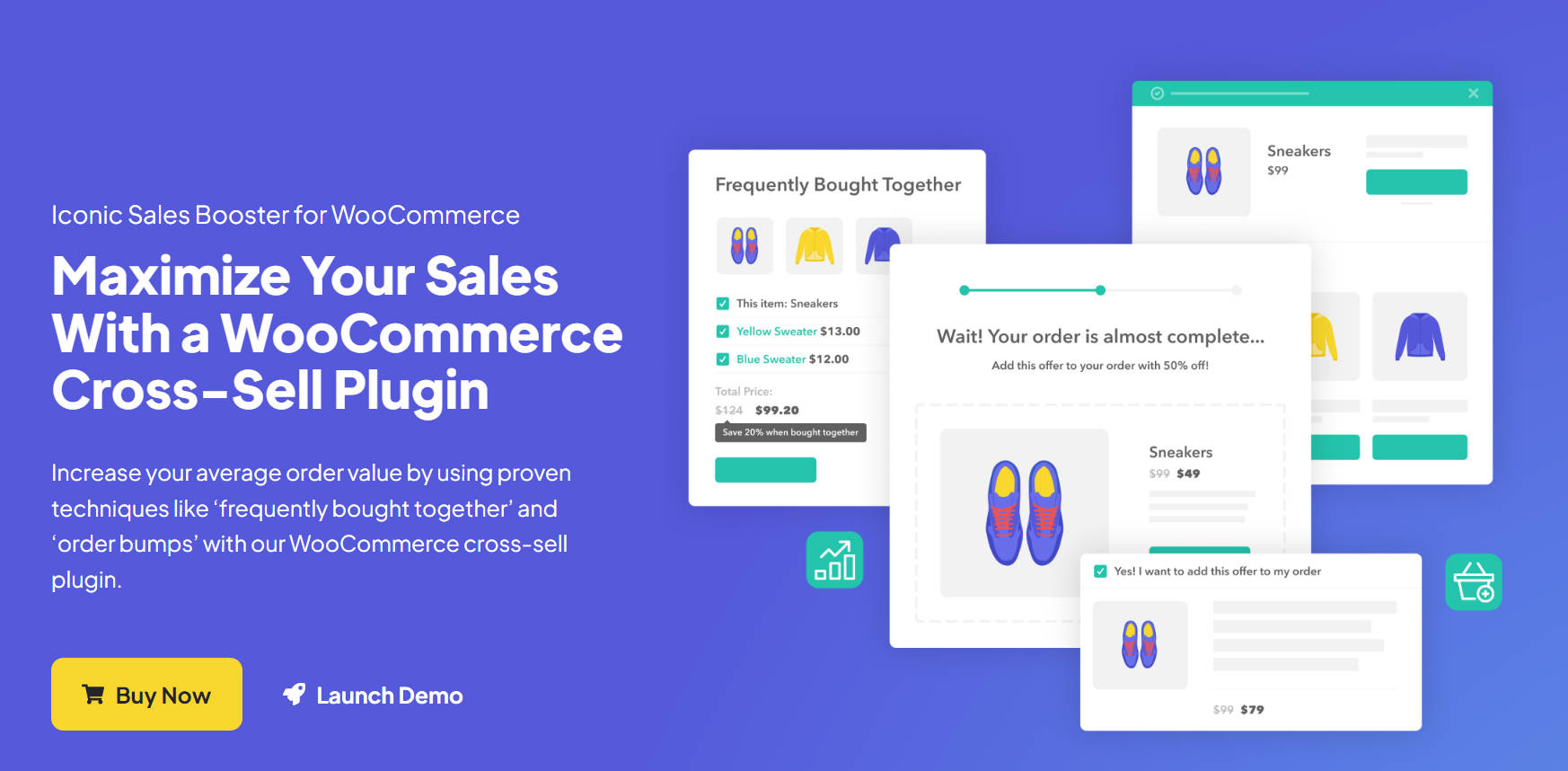 Iconic Sales Booster helps you implement several key strategies to boost sales, mostly focused on cross-sells and upsells:
Display "frequently bought together" products on the product page.
Add a "customer also bought" popup after a shopper adds an item to their cart.
Include order bumps at checkout to let shoppers add a related item by checking a box.
Use post-purchase cross-sells to display special offers after a shopper has checked out. Any items the shopper adds will automatically be added to their order.
You've probably seen all or some of these strategies on some of the largest eCommerce stores out there, such as Amazon. With Iconic Sales Booster, you can easily add them to your own WooCommerce store to boost its sales.
Price: From $79.

Product Feed PRO helps you create a feed of your products that you can submit to Google Shopping, as well as other platforms like Facebook, Pricerunner, and many more.
Because Google Shopping is now free to list in, it's a no-brainer to submit your store's products and boost your visibility.
The plugin also gives you options to filter out certain products, such as automatically removing out-of-stock products.
Price: Free version. Paid version €89.
Note – the pricing tiers are confusing. The "Pro" plan is actually free, while you only need to pay for the "Elite" plan.

As the name suggests, PW WooCommerce Gift Cards lets you sell gift cards for your store, which is a great way to boost sales by "locking in" upfront revenue.
When someone purchases a gift card, they can specify the amount, recipient, and message – just like Amazon.
People will get an email that includes their gift card details and they can easily redeem it and link the balance to their account. Again, just like how it works at Amazon. You can also customize the gift card template according to your needs.
Price: Free version. Paid version $59.
Best Shopping Experience Plugins for WooCommerce
Next, let's look at some plugins that help you create a better shopping experience at your store.
Many of these also work as plugins to increase sales because optimizing your shopping experience is a great way to get shoppers to purchase more.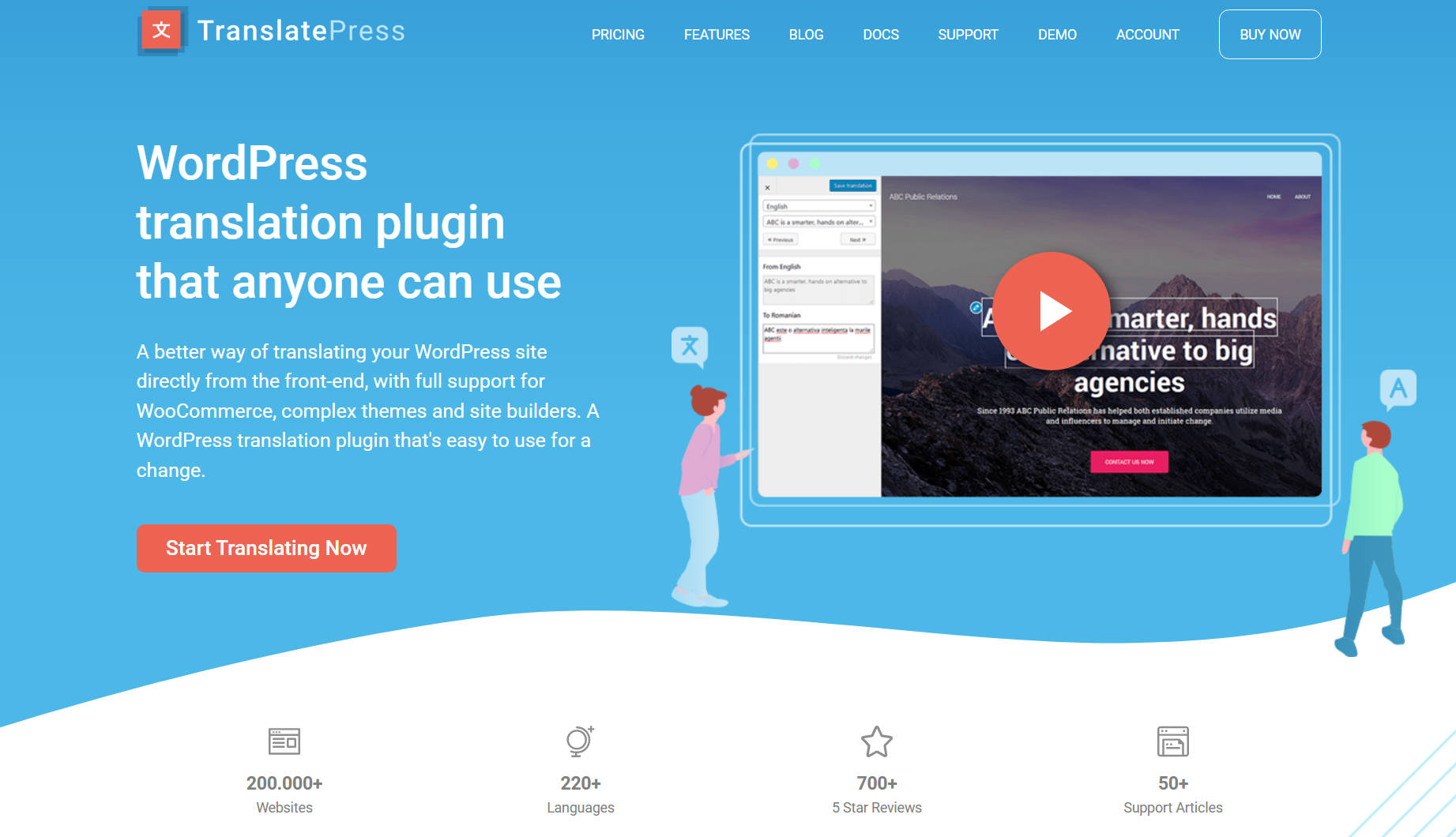 TranslatePress helps you easily translate your store into one or more new languages, which has several major benefits.
First off, most shoppers prefer to browse eCommerce stores in their native languages, which is why we put this plugin in the shopping experience section. For example, in a Gallup survey commissioned by the EU, 90% of respondents said that they prefer when stores offer their native languages and 42% just flat out won't shop at stores that don't support their languages.
Beyond that, creating a multilingual WooCommerce store can also improve your store's marketing, so TranslatePress could have easily fit in the marketing section, too.
When you translate your products and other store content, TranslatePress makes sure to create static, indexable pages for those translations and add key details such as the hreflang tag. This makes it so that Google can rank all of your content in multiple languages, which can boost your store's organic reach in search engines.
With TranslatePress, you can easily translate 100% of your store's content, including single product pages, store listing pages, cart, checkout, and more.
You can either add your translations from scratch or use automatic machine translation from Google Translate or DeepL. Either way, you'll be able to manage/edit your translations using a point-and-click visual interface like this: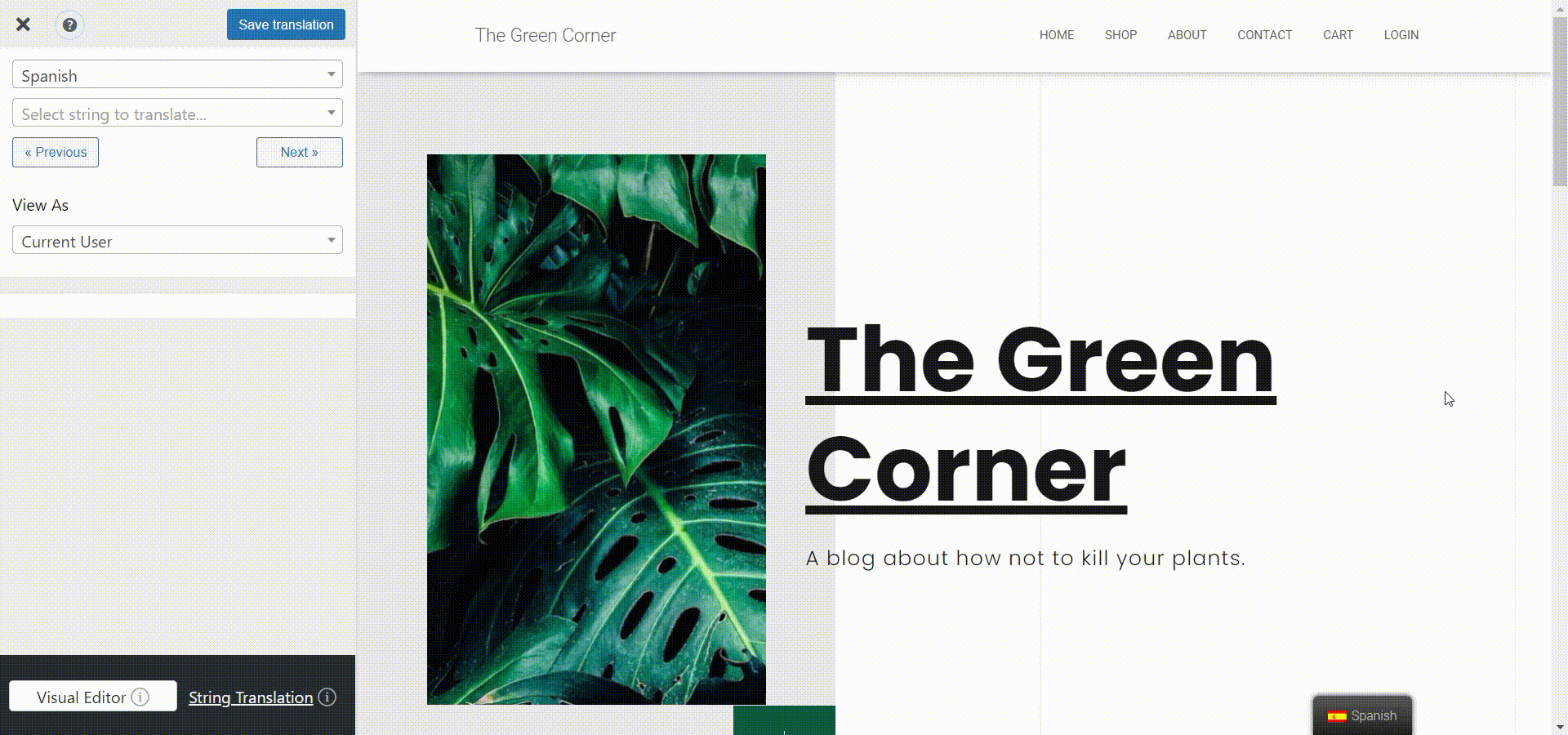 If you're interested in learning more about using TranslatePress to create a multilingual store and why it's the best WooCommerce multilingual plugin, you can check out these posts:
Price: Free version. Paid versions from €89.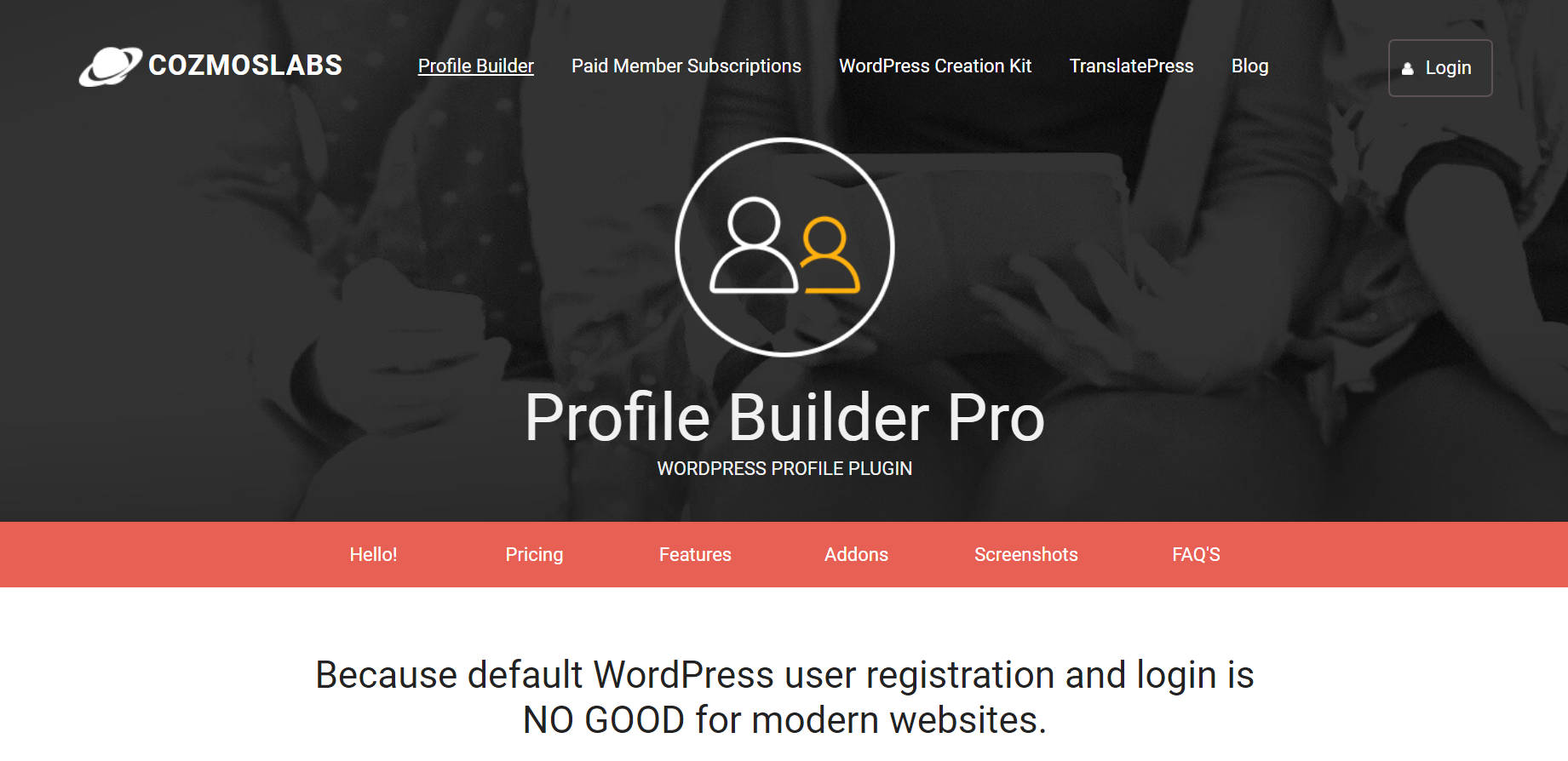 Profile Builder is a must have WooCommerce plugin for improving all aspects of your store's registration, login, and user profile functionality. By improving these key areas of your store, you can create a more user-friendly experience for your shoppers.
For example, you could add custom fields to the WooCommerce registration form, either via a dedicated page or at checkout. You could then also give users the option to edit those fields from their account area.
You can also set up custom redirects after login, use conditional logic for fields, and access tons of other useful features. For example, you could automatically redirect shoppers to a page that displays your latest or most profitable products after the shopper logs in.
For more complex needs, you can even create multiple unique registration forms. For example, you could have one form for retail customers and another form for wholesale customers.
To learn more about how it can help your store and why it's the best WooCommerce registration plugin, check out these posts:
Price: Free version. Paid versions from €69.

Quality product search is essential if you want to help shoppers discover the products that they're most interested in. Unfortunately, the default WordPress search system is not up to the task.
FiboSearch (formerly Ajax Search for WooCommerce) is a WooCommerce-specific search upgrade that creates a much more user-friendly, helpful search system.
Here are some examples of what it offers:
More accurate search results, including searching in custom fields, product attributes, and more.
Real-time search results/suggestions as soon as a user starts typing.
Include product details in search results, such as showing the product picture, price, and so on. You can even include an add to cart button to encourage shoppers to purchase an item right from the search results.
If you have a large store, FiboSearch can also improve search performance by building its own custom search index.
Price: Free version. Paid versions from $49.

As the name suggests, TI WooCommerce Wishlist helps you add wishlist functionality to your store.
Shoppers will be able to easily save any items to their wishlist and you can also add other useful features including the following:
Shareable wishlists, including a link and social share buttons
Multiple wishlists per customer
Wishlist analytics to see which products people are interested in
The premium version also has a neat marketing feature that lets you send emails to customers based on the items in their wishlists. For example, you could send them a message when an item on their wishlist goes on sale.
Price: Free version. Paid versions from $79.

Side Cart lets you create a Shopify-style slide-out side cart on your store. Instead of needing to go to a separate page to view their carts, shoppers can just do everything in the slide-out. You can see a demo here.
The Pro version also lets you include other features such as cross-sells and upsells, one-click PayPal checkout, a bar that counts down to the minimum order for free shipping (great for encouraging shoppers to spend more), and more.
Price: Free version. Paid versions from $14.

Custom Product Tabs adds very simple, but useful, functionality. You can easily add new tabs to the WooCommerce product box (by default, this box includes tabs such as "Description" and "Reviews).
For example, you could use these custom tabs to add a size chart, product instructions, specifications, and so on.
You can add tabs at the individual product level or you can also bulk add tabs to multiple products.
Price: Free version. Paid versions from $29.99.

Direct Checkout for WooCommerce lets you simplify your store's checkout process by skipping the cart and sending people straight to the checkout page, sort of like Amazon's "Buy Now" option.
You can completely remove the add to cart button (useful for single-product stores). Or, you can add a new direct checkout button in addition to the regular add to cart button.
Price: Free version. Paid versions from $49 with lifetime updates.
Best Shipping Plugins for WooCommerce
Unless you exclusively sell digital products or services, you're going to need to ship products to customers. To help you do that effectively, you'll need the best shipping plugin for WooCommerce. Here are our picks…

Flexible Shipping is a popular WooCommerce table rate shipping plugin. While WooCommerce does include built-in shipping rules, a lot of store owners would rather use one of two approaches:
Table rating shipping (that's this plugin)
Real-time shipping rates (that's the next group of plugins)
With table rate shipping, you create your own "table" of shipping rules based on various criteria such as weight, dimensions, order value, shipping destination, and so on. Here's an example:
Order weight less than 1 LB – $5
…between 1 LB and 5 LBs – $10
…above 5 LBS – $15
With Flexible Shipping, you can base your rules on tons of different details, ranging from weight and dimensions all the way up to user-specific criteria like their user role.
Price: Free version. Paid versions from $89.
16. Real-Time Shipping Rate Plugins (Multiple Plugins)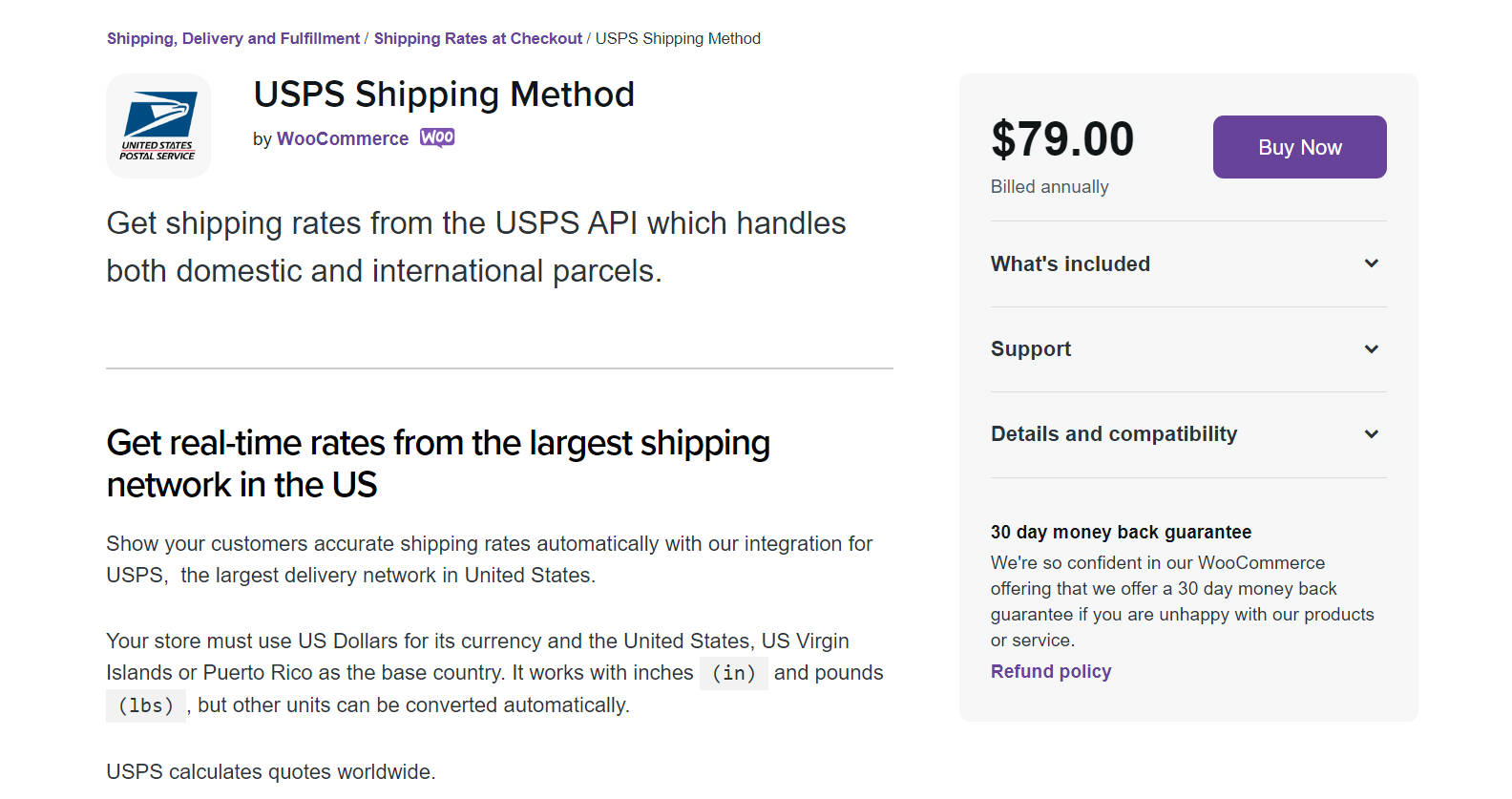 The alternative to WooCommerce table rate shipping is to calculate real-time rates based on the details of each shopper's order.
If you'd prefer this approach, you can use the official plugin for the shipping carrier that you want to use:
While this approach can be more accurate than table-rate shipping, it can also lead to a subpar shopping experience because shoppers won't know the cost of shipping until they go to check out. Basically, there are pros and cons to real-time shipping vs table rate shipping.
Price: $79 each.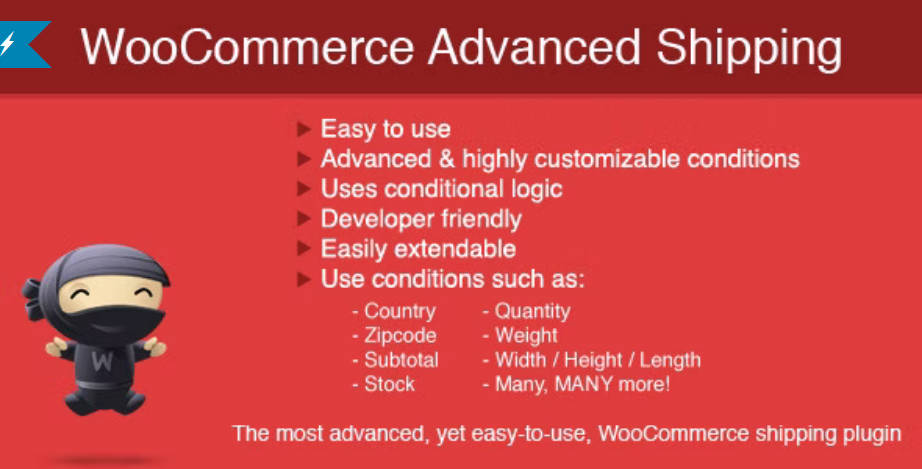 WooCommerce Advanced Shipping is another popular table rate shipping plugin.
Like Flexible Shipping, it lets you create your own custom shipping rules based on tons of details including destination, order value, weight, quantity, dimensions, and more.
The main advantage of choosing this plugin over Flexible Shipping (and the reason that we're including it) is that it's sold via CodeCanyon, which means you get lifetime updates with your purchase.
This can make it a very cost-effective WooCommerce table rate shipping plugin. Despite that, it still has excellent reviews – 4.90 stars on over 14,000 sales.
Price: $23 with lifetime updates.

While the other plugins help you calculate shipping rates, AST helps you provide a better shipping experience once you put the orders in the mail.
You can easily add tracking details to orders and then customers will be able to access that information to see exactly where their orders are. If you want to go even further, it can integrate with the TrackShip service to add features such as automatic email/text notifications when a package is out for delivery.
As a store admin, AST can also help you see where all of your orders are and keep track of everything on your end.
Price: Free version. Paid versions from $129.
Best Payment Plugins for WooCommerce
Every WooCommerce store needs a way to process payments – here are the best payment plugins for WooCommerce to help you do just that.

If you're in a supported country, the official WooCommerce Payments plugin offers the easiest way to start accepting payments.
It's based on Stripe and offers a seamless setup that will have you processing credit cards in no time.
The only downside is that it doesn't currently support all countries. It supports the USA, Canada, most major European countries, Hong Kong, and Singapore.
Price: Free.
20. Your Favorite Local Payment Gateway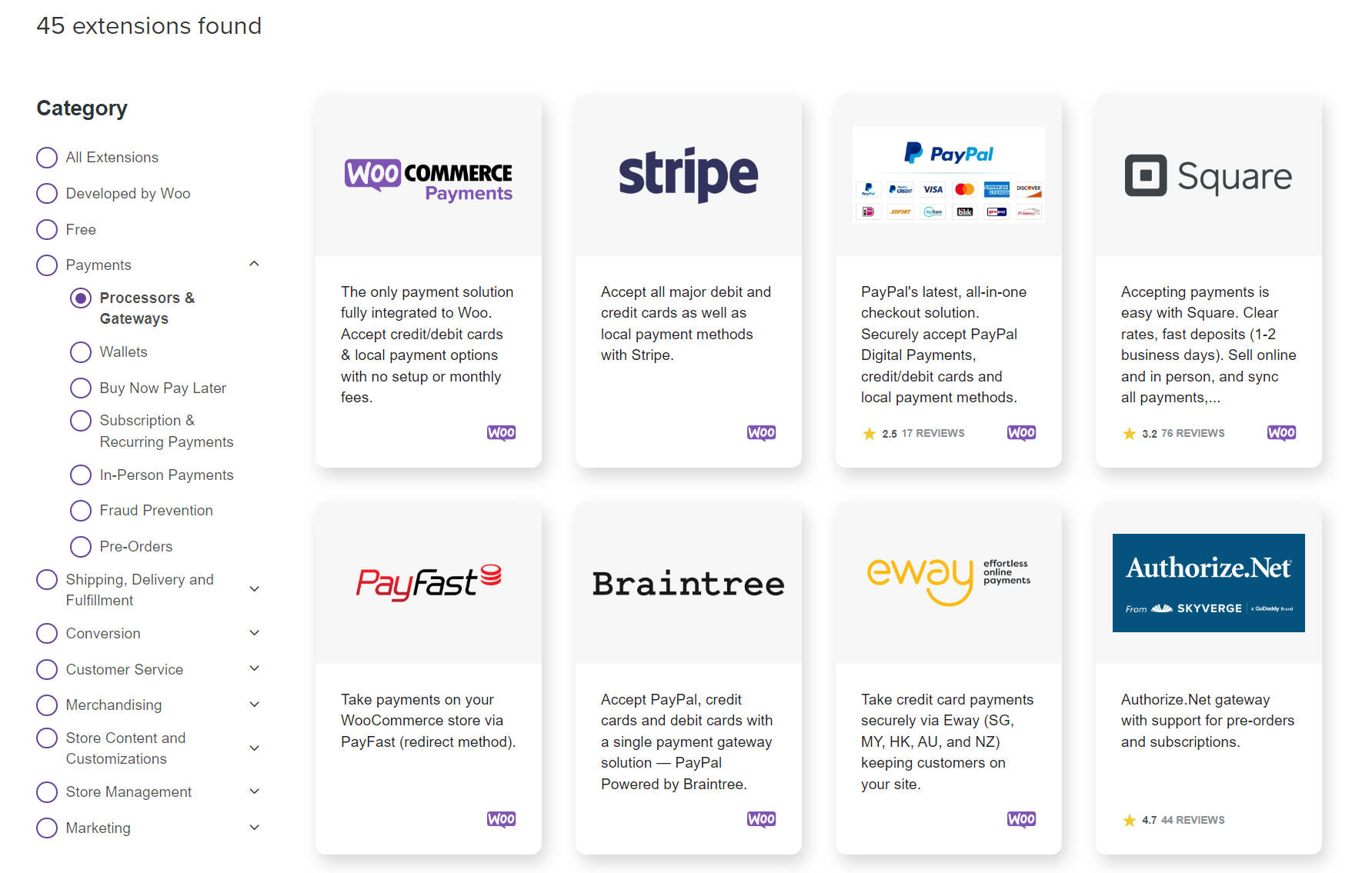 This isn't a single plugin…but one of the best things about WooCommerce is that you can find dedicated payment plugins for even small local payment gateways.
To browse all of these options, check out the Payment processors category at the WooCommerce extensions library.
Best WooCommerce Subscription Plugins
Subscriptions have exploded in popularity as a pricing strategy because they let you build dependable, recurring revenue. Here are the best WooCommerce subscription plugins to help you with recurring payments.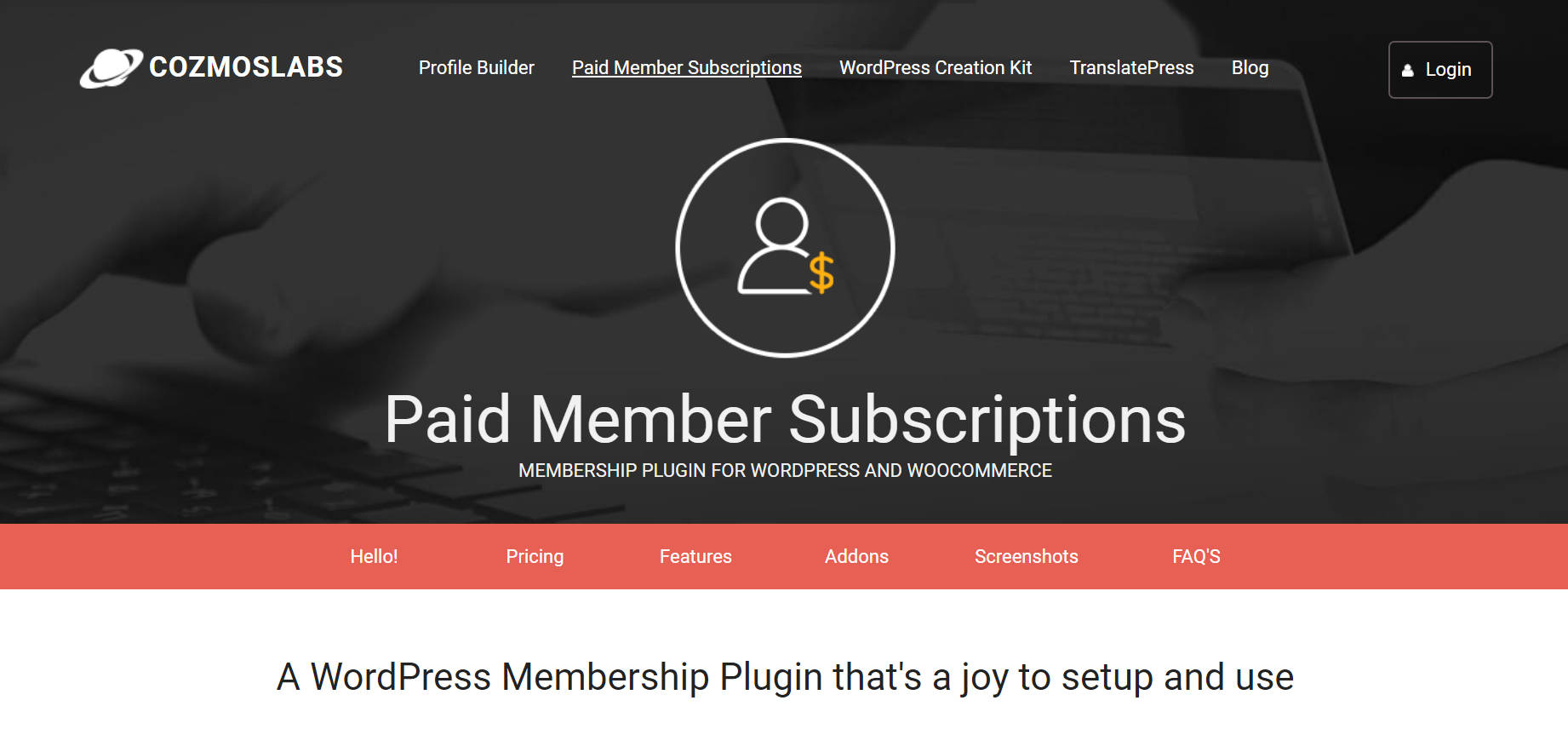 Paid Member Subscriptions is a full-service WooCommerce membership plugin, which opens up a lot of possibilities for your store.
First off, it can help you create WooCommerce subscription products with recurring billing. You can create a membership plan in Paid Member Subscriptions and then link it with a WooCommerce product for recurring billing.
Creating these membership plans also unlocks a lot of other functionality for your store, though:
Offer special discounts on products for people with an active membership. You can even create different tiers with different discounts based on users' plans. You can use this to create your own purchasing club, sort of like Sam's Club or Costco.
Restrict access to some/all of your store based on membership level. You can use this to create a members-only store where people need an active subscription to view/purchase some or all of your products (or access certain content in general).
Paid Member Subscriptions also isn't just for WooCommerce. You can also restrict access to other content on your site as needed and just generally create a full-featured membership website.
Price: Free version. Paid versions from €69.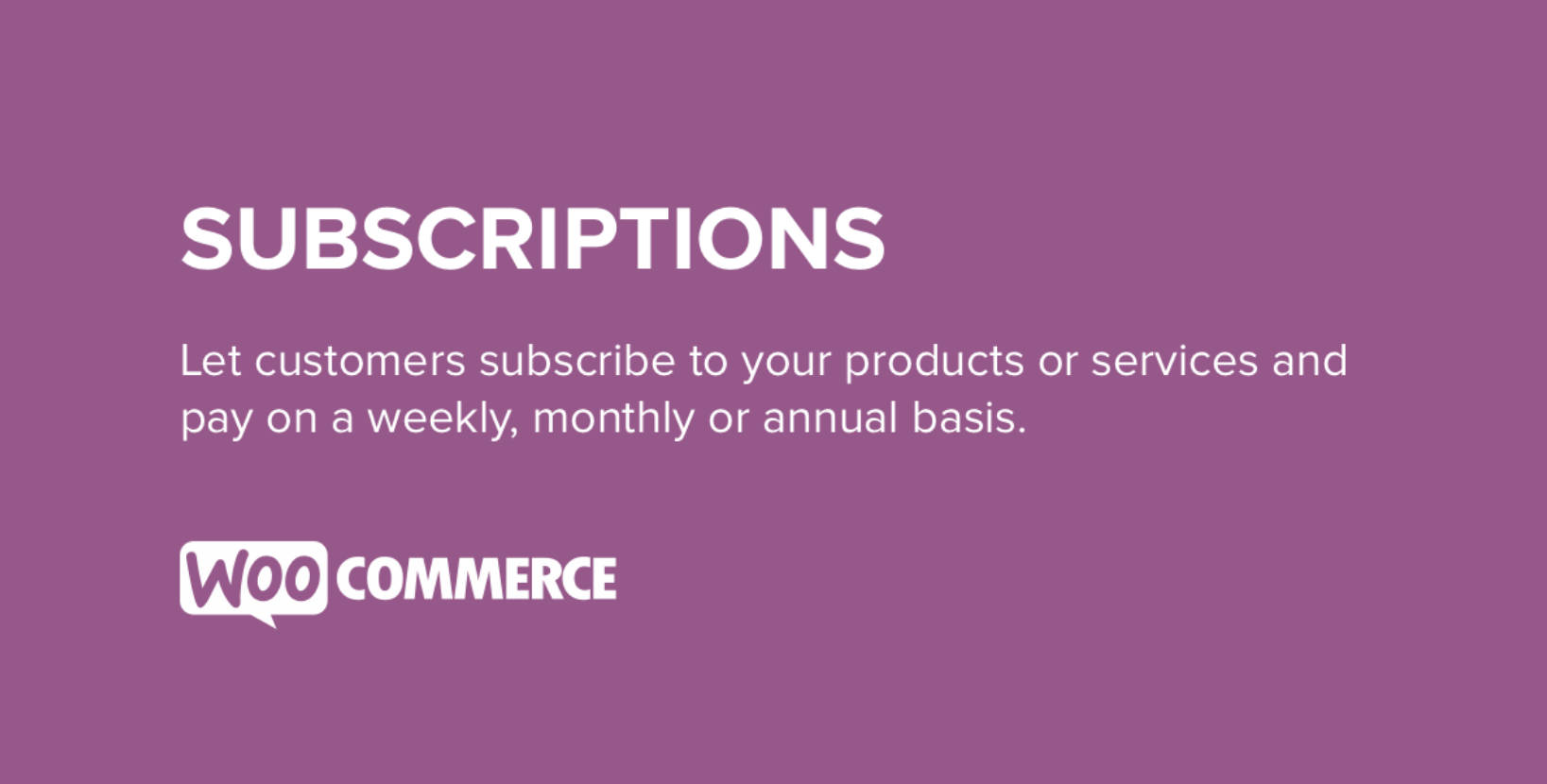 WooCommerce Subscriptions is an official plugin from the WooCommerce team that lets you enable automatic recurring billing.
That is, customers only need to manually make their purchase one time. After that, their credit card will just be automatically billed unless they cancel.
You can use it by itself or you can pair it with Paid Member Subscriptions to enable automatic recurring billing for your WooCommerce membership products.
Price: $199
Best Security Plugins for WooCommerce
Having a security issue is every store owner's worst nightmare. By installing the best security plugins for WooCommerce, you can ensure that never happens.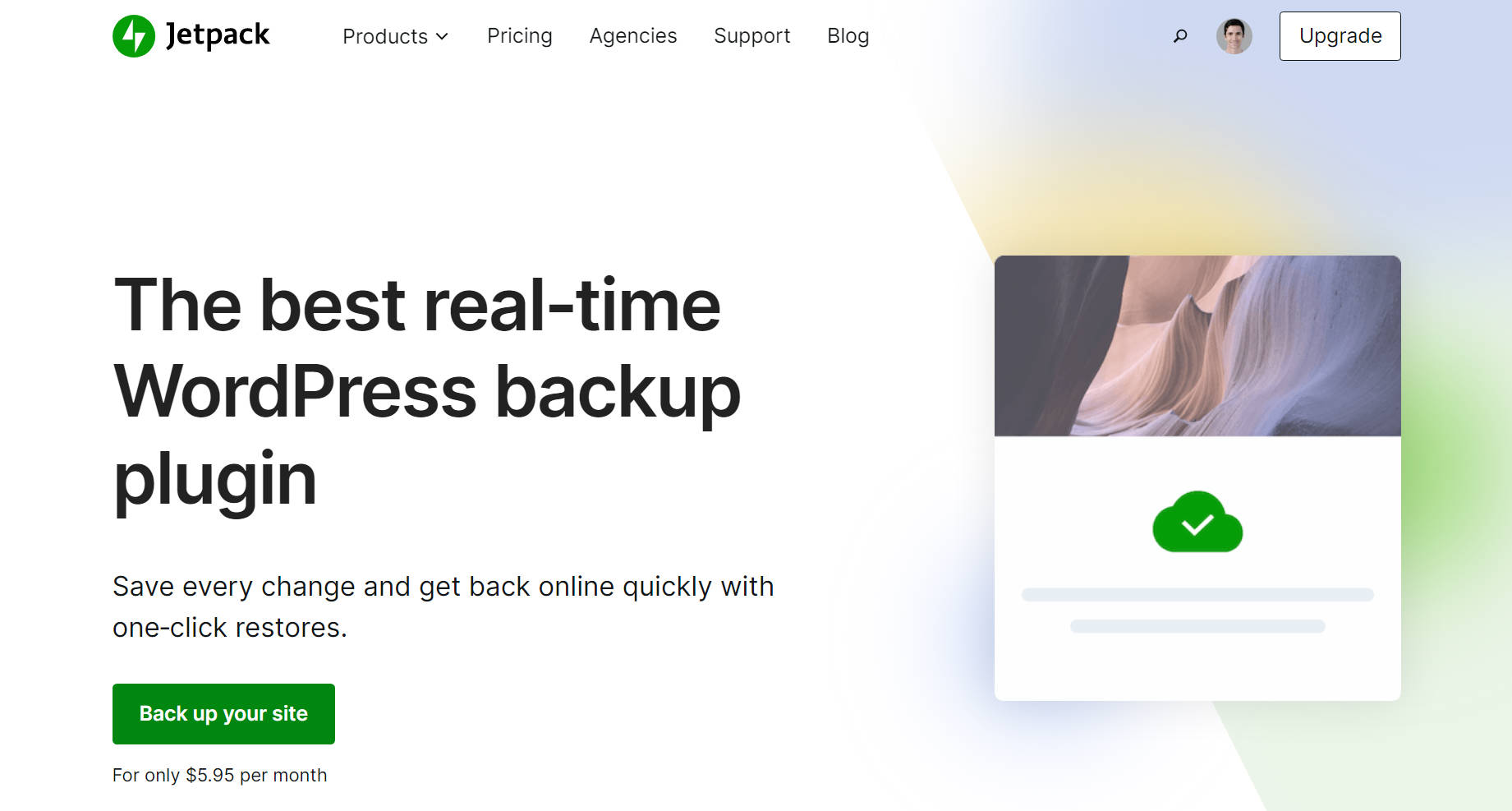 Jetpack is an official plugin from Automattic (the same company behind WooCommerce) that can protect your store in two ways:
You can use Jetpack Backup for automatic real-time backups. This will back up new changes to your store as soon as they happen, which ensures you never lose any order or customer data.
Jetpack Scan will scan the backed-up version of your store to detect malware or other issues without affecting your site's performance. If Jetpack does detect something, you can fix it with one click.
If you don't need the Jetpack Scan features, you can also just use Jetpack Backup by itself.
Price: Jetpack Backup by itself costs ~$120 per year. Jetpack Security (which includes Jetpack Backup plus malware scanning) will cost you ~$300 per year.

Jetpack is great for backing up your data and reacting to infections. However, if you want to prevent infections in the first place, you'll want a dedicated firewall and security plugin like Wordfence.
Wordfence can proactively block existing and emerging threats using its firewall. It also includes lots of other features to protect your store, including login security and threat scanning.
Price: Free version. Paid version from $119.
Best WooCommerce Store Management Plugins
Finally, let's take a look at some must have WooCommerce plugins to improve your store management and admin processes.

As the name suggests, WooCommerce PDF Invoices & Packing Slips helps you provide PDF invoices or print out packing slips to include in your shipments.
You can automatically attach the PDF invoice to shopper's order confirmation emails and you can also easily download it from the order page in your dashboard.
It also integrates with the WooCommerce Automatic Order Printing plugin to automatically print out physical invoices/packing slips as soon as a new order comes in.
The invoice templates are fully customizable with HTML/CSS and you can also purchase premium templates if you don't want to design them from scratch.
Price: Free version. Pro version from €59 and templates from €39.

BEAR lets you bulk edit products using an Excel-like interface, which makes it much faster when you need to update a lot of product details.
You can use filters to find the right products and then edit everything from the spreadsheet interface.
You can also bulk update product details, including using calculations. For example, you could increase the prices of all the products in a certain category by 10%.
If you make a mistake, there's also a history and roll-back feature to undo your changes.
Overall, if you have a lot of products, this one can save you a bunch of time.
Price: Free version. Paid version costs $46 with 6 month support.
27. WebToffee Bulk Import/Export Plugins
This one isn't a single plugin but rather a collection of plugins from the same developer all focused on one goal:
Helping you bulk import or export products, users, order details, or other information to your WooCommerce store.
For example, you could use these to add products to your store from a CSV. Or, you could export order data to a CSV for further analysis.
Here are the various plugins:
Price: Each plugin has a free version. Individual Pro plugins cost $69 or you can get a bundle of all of them.
Try These WooCommerce Must Have Plugins Today
That wraps up our collection of the top WooCommerce plugins for a bunch of different areas.
Your store might not necessarily need every single plugin on this list, but most stores can benefit from installing a lot of these plugins.
For example, even if you only target a single geographic area, creating a multilingual store with TranslatePress can still be worthwhile because you might still have a multilingual audience. For example, 44.6% of California, USA residents speak Spanish at home.
Similarly, even if you don't want to create a full WooCommerce membership site, using Paid Member Subscriptions to create membership plans still lets you create some unique perks, such as offering special discounts to your loyal customers or giving them access to special VIP products.
And no matter what your store is about, Profile Builder can help you upgrade its registration, login, and user profile experience.
Try some or all of these WooCommerce must have plugins today and build a better WooCommerce store!
Subscribe to get early access
to new plugins, discounts and brief updates about what's new with Cozmoslabs!
Source: https://www.cozmoslabs.com/416764-woocommerce-must-have-plugins/
---
---
You might also like this video