Are you looking to sell premium content to your audience in exchange for a fee? Not sure whether to create a membership vs subscription site?
While both membership and subscription sites offer a way to charge users for accessing premium content, deciding on the right one can be difficult, especially if you don't know the main differences between the two.
In this article, we'll explore some of the key differences between a membership vs subscription website. We'll also show you step-by-step how you too can create a subscription or a membership site in WordPress using a robust plugin.
Membership vs Subscription: Key Differences
While both membership sites and subscription sites work great for offering premium content to your audience, there are a few things you should consider before deciding on one option over the other:
What is a Membership Site?
A membership website is generally more community-focused while offering premium content to registered members by charging users recurring fees. Compared to a subscription website, a membership website offers exclusivity to members by assigning them different user roles based on their membership level.
For instance, users who subscribe to the Gold Membership plan will receive the "Gold Members" user role while regular members will just have the "Members" user role. This helps create a sense of exclusivity for registered users and is a great way to make your members feel valued.
However, one of the downsides of creating and running a membership website is that it requires constant moderation and attention. This is because you're constantly keeping a check on the community and making sure all members are following guidelines. On top of this, you have to produce high-quality content that's engaging for your audience. In simpler words, you need to put in much more effort and attention towards maintaining a membership website compared to offering users a one-time subscription.
ScottsBassLessons is a great example of a successful membership site that offers its audience the option to register and join a community and then have access to premium bass lessons. They also offer a free trial to members so they can see whether it's the right fit for them or not.
A membership site is a great option for people who're looking to create a sense of community around their brand and are willing to constantly monitor and moderate their audience's activity in discussion forums. Other than offering a sense of community and premium content, you also need to offer multiple membership price tiers so it's accessible to all types of members. In addition to this, if your premium content isn't valuable to members, there's a high chance they won't renew their membership.
What is a Subscription Site?
While membership websites are focused on a community, a subscription website is all about giving your subscribers valuable content, products, or services in exchange for their money.
This is why with a subscription business model, it's highly important to increase the quality of content so people find value in subscribing. For instance, you don't want users to join your subscription site expecting high-quality content that's not possible for you to create on a regular basis. Ideally, you want to offer content that's easy for you and your team members to produce and publish regularly.
Compared to a membership website, there are fewer costs associated with creating and running a subscription website. This is mainly because you don't have to use premium tools and services to run and manage a community, you just need to create and publish premium content. In return, you can charge subscribers a small fee. On the other hand, it can also become difficult to make sure your audience is engaged as there are no community features or discussion forums to keep users engaged.
BBC Muzzy is a great subscription website designed to help audiences learn and understand languages better with the help of animation. It's a great example to take inspiration from when creating your own subscription website.
Depending on your budget and your business goals, it might be better to create a subscription website if you're looking to offer premium content to your users without having to put in as much effort as you would with creating and managing a membership website.
How to Create a Subscription Site Using the Paid Member Subscriptions Plugin
Here, we'll show you step-by-step how you can create a subscription website yourself using the Paid Member Subscriptions plugin. Depending on the content you plan to add to your site and the goal you have in mind with it you can choose to configure your site as a membership site as well, using the same basic steps.
The Paid Member Subscriptions plugin offers an all-in-one solution for setting up a subscription site or a membership site in WordPress. It offers extensive content restriction options that let you show or hide content in any way you want.
In addition to this, the Paid Member Subscriptions plugin also lets you create any type of subscription plan and offer it to your audience easily. Using an attractive registration form, your audience can subscribe to custom subscription plans easily.
For this tutorial, you'll need a WordPress site as well as the Paid Member Subscriptions plugin.
Step #1: Activate the Paid Member Subscriptions Plugin
Get the Paid Member Subscriptions plugin and install it on your website. You can either download the free version from the WordPress repository or choose one of the premium plans for lots of extra functionalities.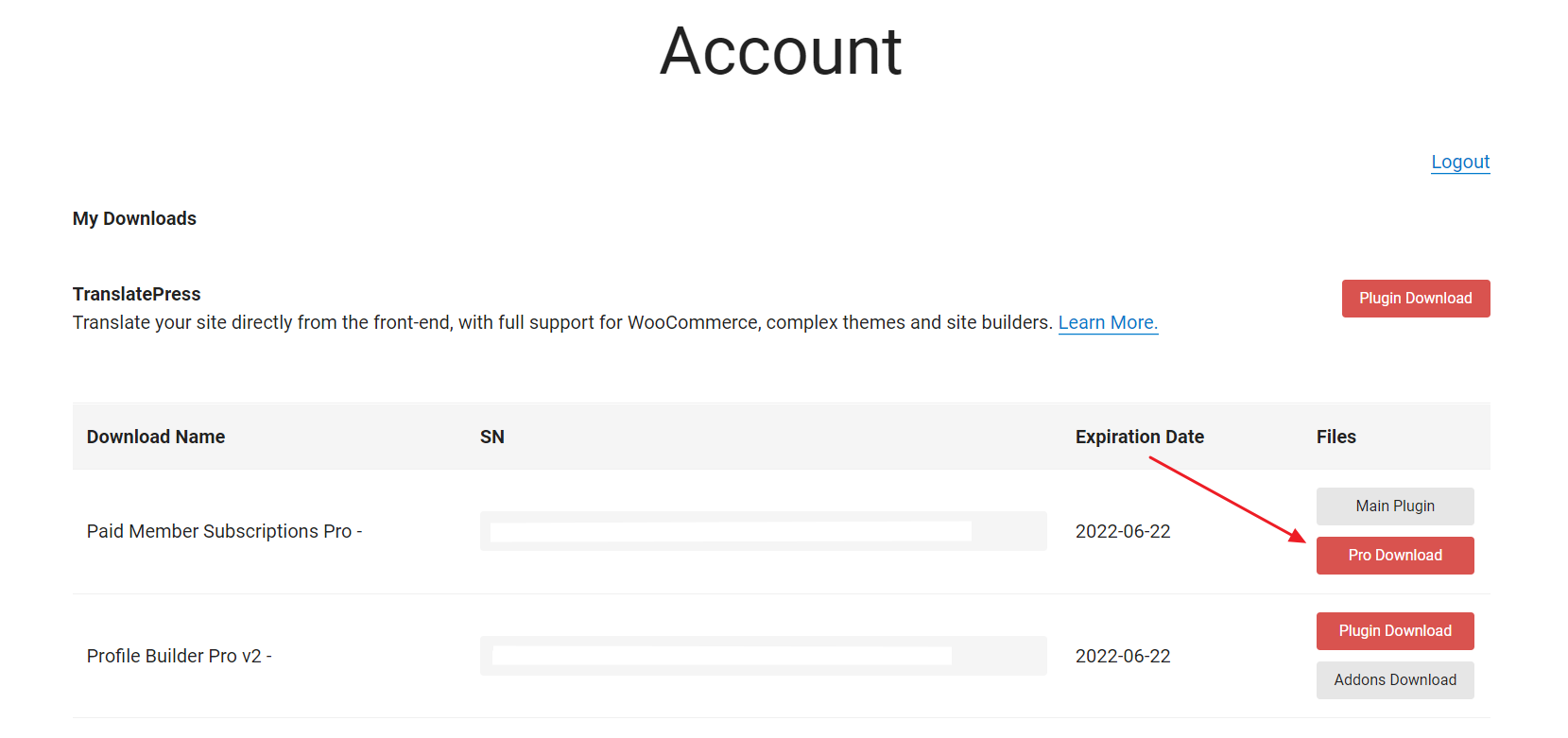 Once the plugin is installed, navigate to Paid Member Subscriptions → Register Version and enter your license key. Enter your Serial Number and click on the Save changes button to continue.
Step #2: Set Up a Subscription Plan
With the Paid Member Subscriptions plugin ready to go, navigate to Paid Member Subscription → Subscription Plans and click on the Add New button.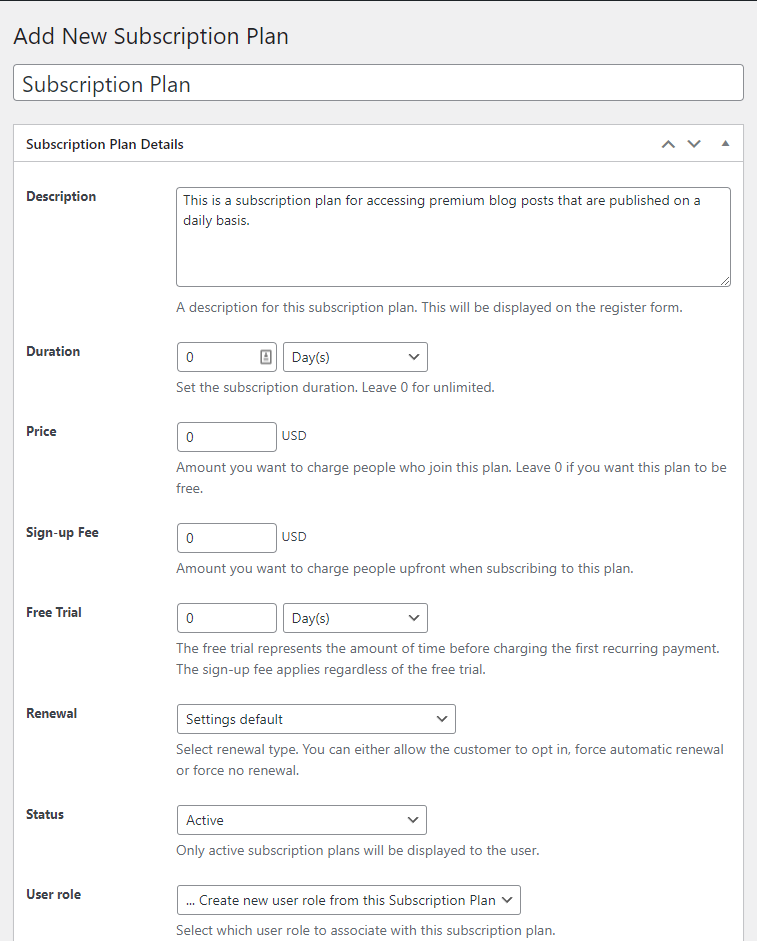 Give your subscription plan a new name and describe what it's about using the Description text field.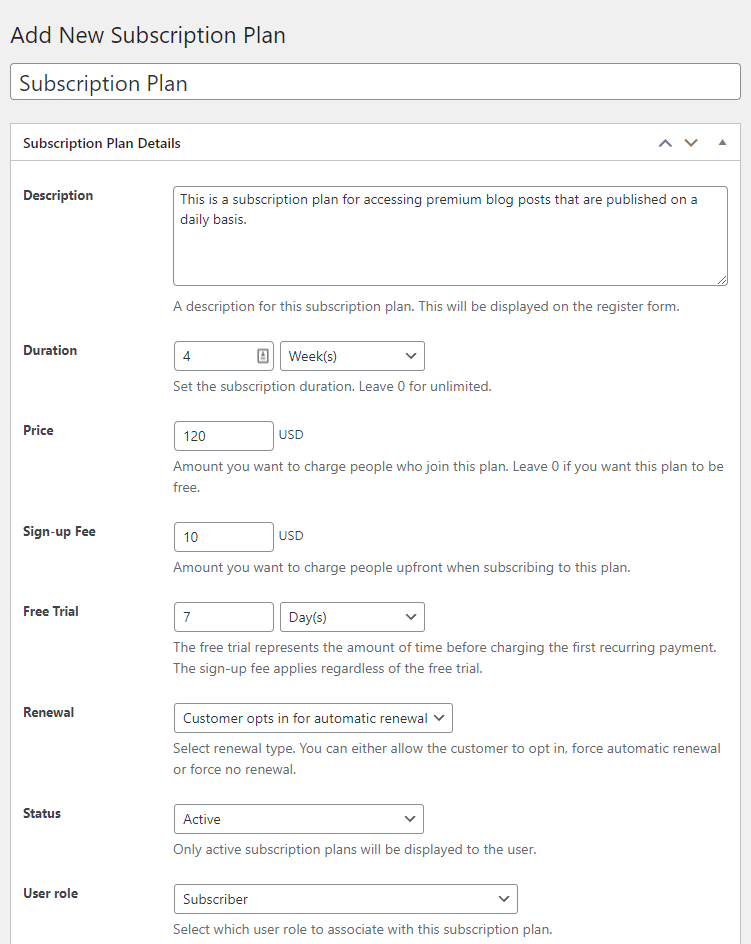 Next, set the Duration of your subscription plan and enter the price you want to charge subscribers using the Price field. You can also assign a Sign-up Fee to your subscription plan so it prevents spam submissions while also covering additional costs associated with new subscribers.
You can also offer more value to your audience and let them test out the subscription plan using the Free Trial field. This way, subscribers won't be charged for the first recurring payment until the free trial period ends.
Using the Renewal dropdown menu, you can set whether to automatically re-subscribe customers or give them the option to do so when they're registering for your subscription plan. Finally, select the user role you want to assign users when they're finished subscribing to your plan using the User role dropdown menu.
Make sure to click on the Save Subscription button to continue.
Step #3: Add Content for Your Subscribers
Now, with a subscription plan in place that customers can subscribe to, it's time to start restricting content.
When adding premium content to any page on your site, you can scroll down to access the extensive content restriction settings Paid Member Subscriptions offers.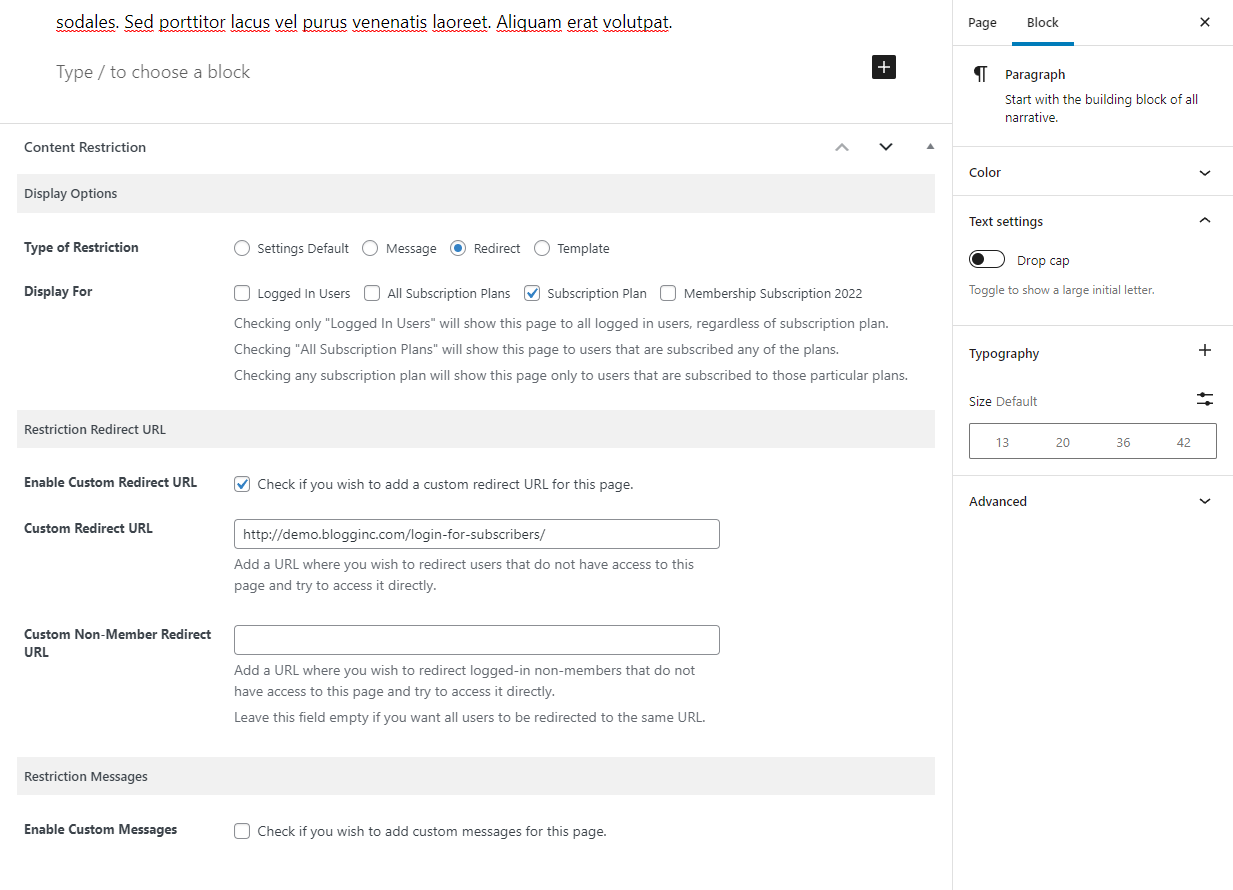 Using the Type of Restriction select boxes, you can decide how regular non-subscribed site visitors will be restricted from the page containing premium content. Select your subscription plan using the Display For section. This will only let users who have subscribed to the plan access the premium content. Make sure to click on the Publish button to continue.
Users with the subscription plan will get to view the premium content while regular site visitors or users without the plan will be prompted to log in to their account before continuing.
The best part is that the Paid Member Subscriptions plugin offers easy back-end subscription management, as well. You can view your active subscription plans and edit them directly from the Paid Member Subscriptions → Subscriptions Plan page.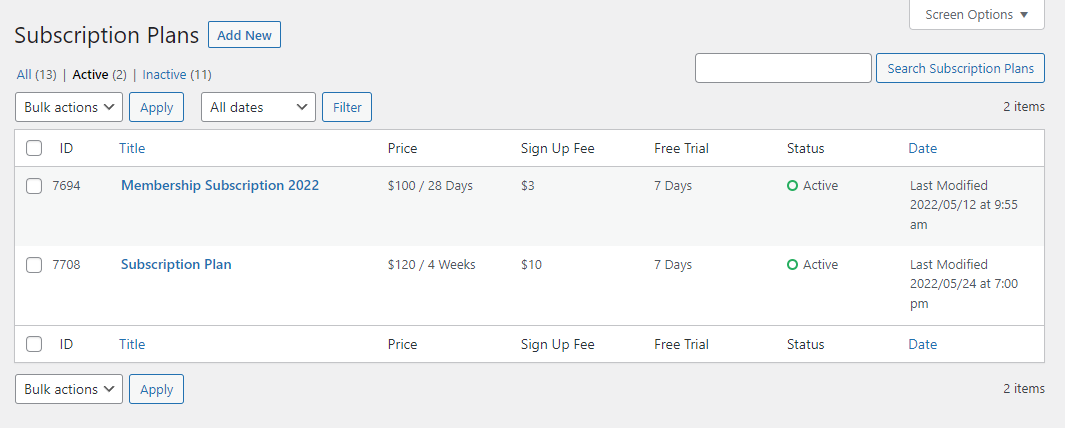 You can also view all subscribed members by navigating to Paid Member Subscriptions → Members.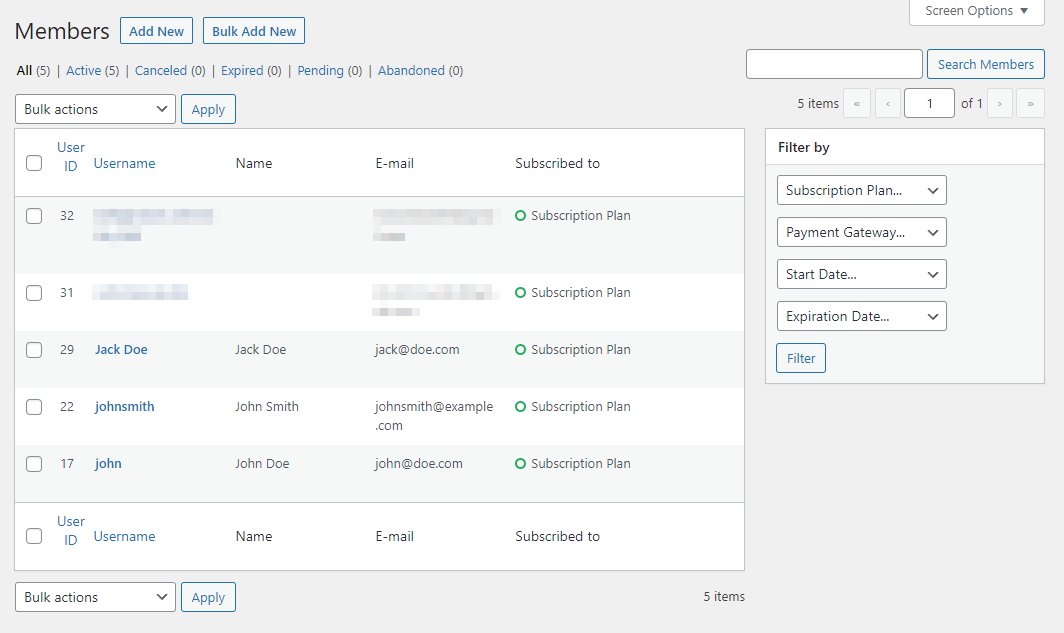 Step #4: Launch Your Subscription Site
You're almost ready to launch your brand new subscription website! But before we do this, it's also essential to create a new registration page for subscribers as well as a login page.
To do this, navigate to Pages → Add New and paste the following shortcode into your new page using the Shortcode block: [pms-register]. Make sure to click on the Publish button to continue. This is going to be your registration page, where users will have the possibility to subscribe to the plans you have set up on your site.
For the login page, follow the same steps, but this time replace the registration shortcode for the login one: [pms-login]. This page will serve as a place for your existing users to log into their accounts.
Bonus: Take Your Subscription Site to the Next Level
The Paid Member Subscriptions plugin offers advanced add-ons that let you extend the functionality of the plugin even further. Let's quickly take a look at some of them:
Multiple Subscriptions Per User. This add-on is useful for letting users sign up for more than one subscription plan. For instance, a user can subscribe to two different subscription plans to access multiple topics at once.
Content Dripping. The Content Dripping add-on is useful for creating content schedules for your audience. This way, you can deliver premium content on a specific date, according to when they first signed up for a subscription plan. As a result, it helps keep users engaged with your content and makes your subscription site look more professional.
Pro Rate. Pro-Rate is a useful add-on that lets subscribers or members upgrade or downgrade their subscription level without having to pay the "Sign-up". It's perfect for creating a prorated membership site.
Create an Engaging Subscription Site Today
While a membership site is a great way to create a sense of community around your brand, it can be difficult to manage one, especially if you're limited on time or need to focus on growing your bottom line.
If that's the case, creating a subscription site can help you get started with a step in the right direction. It costs less to launch and allows you to charge your audience a fee for accessing premium content published on your website. Since WordPress, by default, has limited functionality for creating a fully-fledged subscription site, it's best to use a robust, all-in-one plugin such as Paid Member Subscriptions.
The Paid Member Subscriptions plugin lets you quickly create custom subscription plans and offer easy subscription management options on the back-end. In addition to this, the plugin features 10+ premium and basic add-ons that help you extend the functionality of your site. With more control over content restriction options and easy member management, it's much easier to create a successful subscription website yourself, even if you're not experienced with coding.
Then, when you have the resources, you can switch to a fully-fledged membership site, by simply adding some more functionality to your website(for example a forum), using the same plugin.
Ready to create your own subscription site in WordPress? Get Paid Member Subscriptions today!
Do you still have a hard time differentiating a membership site vs a subscription site? Ask your questions in the comments section below!
Subscribe to get early access
to new plugins, discounts and brief updates about what's new with Cozmoslabs!
Source: https://www.cozmoslabs.com/416434-membership-vs-subscription/
---
You might also like this video