Struggling with how to monetize content on your website?
Building an audience is hard. So once you finally start getting some people to your website, it's natural to start looking for ways to monetize digital content and begin earning an income from your work.
Thankfully, you have plenty of options for making money with content. By combining different monetization strategies, you can turn your content into a robust income stream that will set you up for long-term success.
In this post, we're going to start by talking about the two broad types of content monetization strategies that are available to you.
Then, we'll give you seven actionable ways to monetize digital content in 2022 and beyond.
Let's dig in so that you can start making money…
Different Content Monetization Strategies You Can Consider
When it comes to content monetization, you can roughly divide the strategies into two big buckets:
Direct monetization
Third-party monetization
1. Direct Monetization
The first bucket is direct monetization with your readers.
With this approach, you can make money directly from your readers, either by charging them a fee or requesting donations.
The most effective and popular strategy here is a premium content model.

One example of that would be something like Patreon, but you have better options on WordPress that…
Give you more flexibility
Allow you to own your own relationship with your audience
Let you avoid paying a commission
Essentially, you'll restrict access to some or all of your content. To access the content, visitors will have to pay a membership fee. You can either charge a one-time fee or an ongoing subscription.
Most sites use some type of freemium model, where visitors can access some content for free, but they need to pay to access all of your content.
In 2022 and beyond, direct monetization is one of the best ways to monetize digital content because it lets you build a direct relationship with your subscribers.
That is, your income isn't dependent on the whims of a third party – you're in control over everything.
2. Third-Party Monetization
While direct monetization is our recommended strategy for monetizing content, the second bucket, third-party monetization, can also be a great supplement to your direct monetization strategies.
Essentially, the idea here is that a third party will pay for access to your audience in some way. We'll discuss specific strategies below, but some common examples are display ads, sponsored posts, and affiliate marketing (where you earn a commission if people purchase a product after clicking a link on your site).
The downside of third-party monetization is that you aren't in full control. Another company could stop paying for ads or cut their affiliate commissions (or worse, shut down their affiliate program) and you would instantly see a drop in income with little recourse.
That's why we think third-party monetization is a great supplement to direct monetization.
If you've built up a strong audience via direct monetization, you'll be able to weather the storm if anything ever happens to your third-party monetization partners.
Seven Ways to Monetize Content on Your Website
Now that you know the high-level theory, let's dig into some actual strategies for how to monetize digital content and make more money from your website.
1. Create Subscription Plans to Access Restricted Content (Membership Site)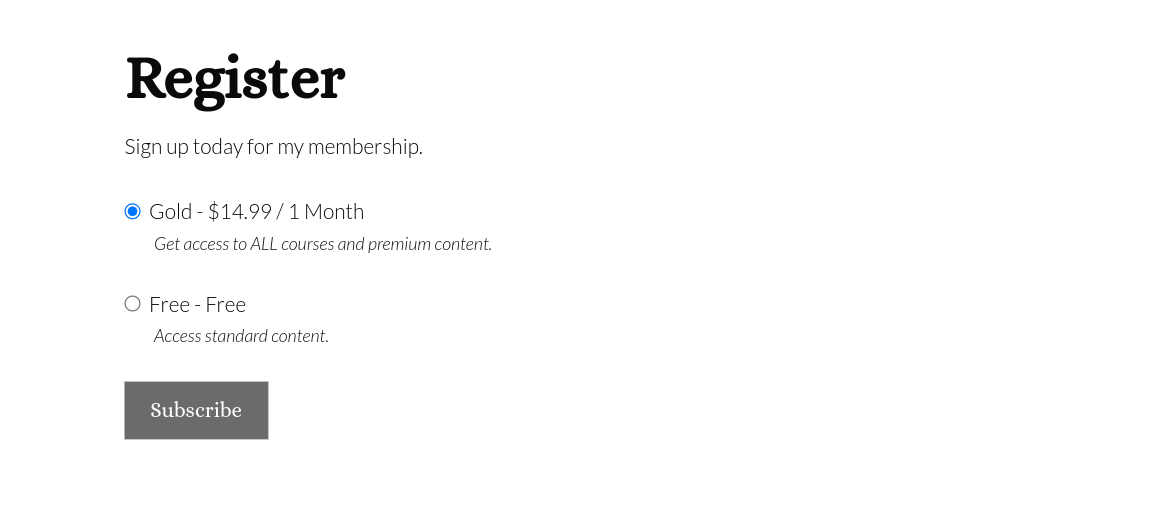 The best direct monetization strategy is to restrict access to some or all of your content and then charge users for access to that content. You'll typically see this called a membership site, as users can register to become members to access content.
You can use this for:
Blog posts or other text content;
Video content;
Podcasts;
Music or other audio content;
Digital art, webcomics, etc;
…pretty much any type of digital content.
You can see some real-life membership website examples here.
To charge for access, you can either charge a one-time fee or a recurring subscription fee. The latter approach is great as recurring revenue lets you build a dependable source of monthly income.
You can also create multiple membership tiers and give different users access to different content. For example, you could have three tiers:
Free tier – access to basic content.
Tier 1 – $5 per month for access to premium content.
Tier 2 – $20 per month for access to special perks that go beyond Tier 1.
If you've built your website with WordPress, you can easily set up these types of restricted content restriction plans using the Paid Member Subscriptions plugin.
Paid Member Subscriptions has all the features that you need to start charging for access to your content including the following:
Create unlimited subscription plans. You can make your plans free or charge one-time or recurring fees. You can also use pricing strategies like free trials or one-time signup fees.
Restrict access to your content based on a user's subscription plan. You can restrict as much or as little content as you want and use different rules for different content. You can also "drip" content out over time to encourage people to continue subscribing.
Easy options for member management. You can manage all of your subscribers from your WordPress dashboard and subscribers also get a frontend dashboard where they can manage their accounts and subscriptions.
We'll share a quick guide on how to set this up below. However, we also have dedicated tutorials if you want a more in-depth look:
Here's the quick version of how it works…
Install the Plugin and Run the Setup Wizard
To begin, you'll want to install and activate the Paid Member Subscriptions plugin on your WordPress site.
You can try it out with the free version at WordPress.org, but the premium version of Paid Member Subscriptions offers a lot of useful features like automatic recurring payments (vs one-time payments in the free version), bulk content restriction, and lots more.
Once you activate the plugin, it should automatically launch a setup wizard. Or, you can go to the new Paid Member Subscriptions area in your WordPress dashboard and click the Open Setup Wizard button to manually launch it.
In the setup wizard, click the button to have Paid Member Subscriptions create key pages for you. Then, continue through the other steps and configure the settings according to your preferences.
For example, the second step lets you set up your preferred payment gateway: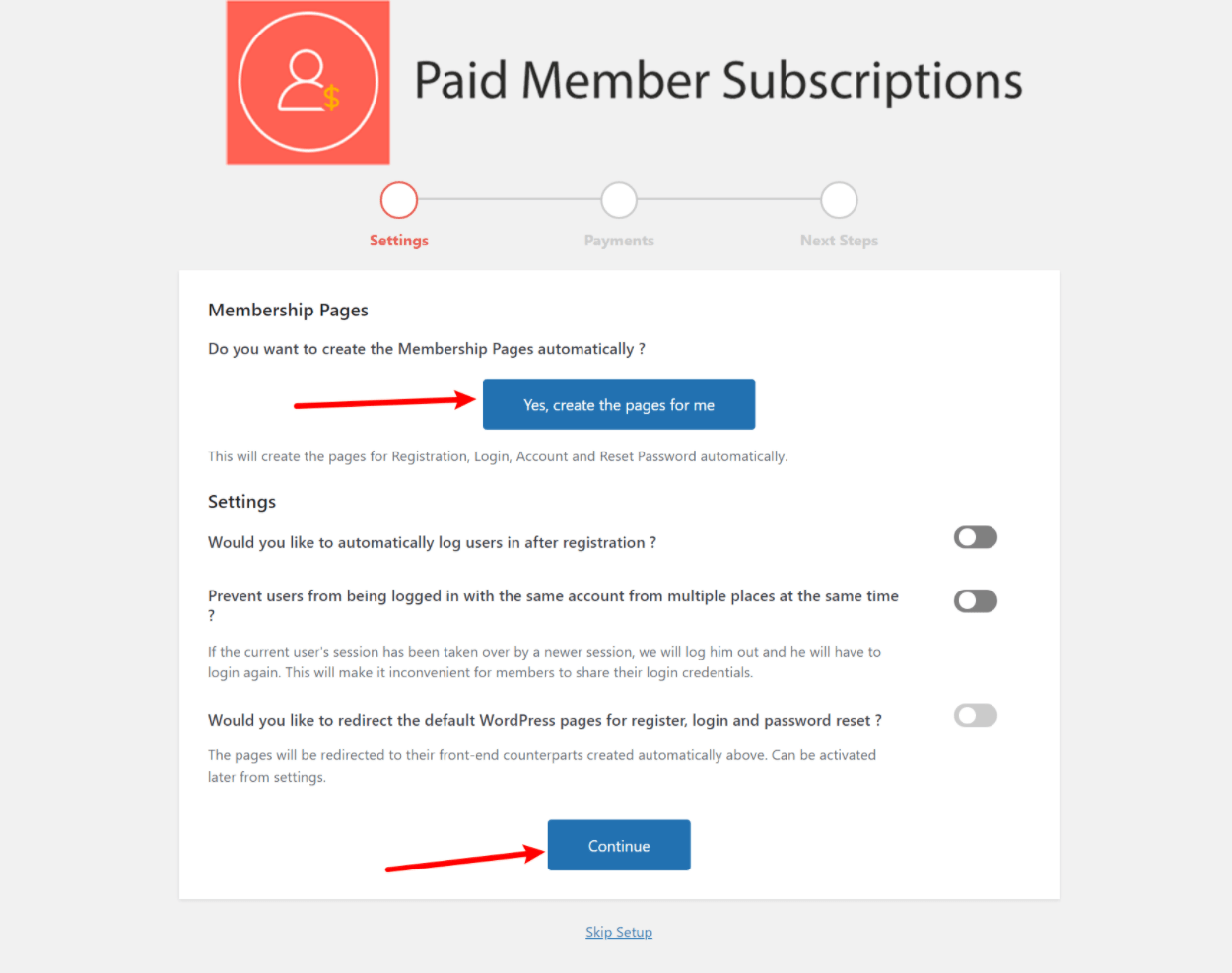 Create Your Membership Plans
Once you've configured the basics, you can create your first membership plan/subscription level.
You can create as many different levels as you want, including both free and paid options. You can set it up so that users can only have one membership plan at a time or you can let them subscribe to multiple plans.
In addition to that, you can also set up your subscription levels in a "hierarchy" so that users can upgrade or downgrade between plans.
To get started, go to Paid Member Subscriptions → Subscription Plans → Add New.
Here, you can configure the membership plan name, pricing details, subscription period, and so on: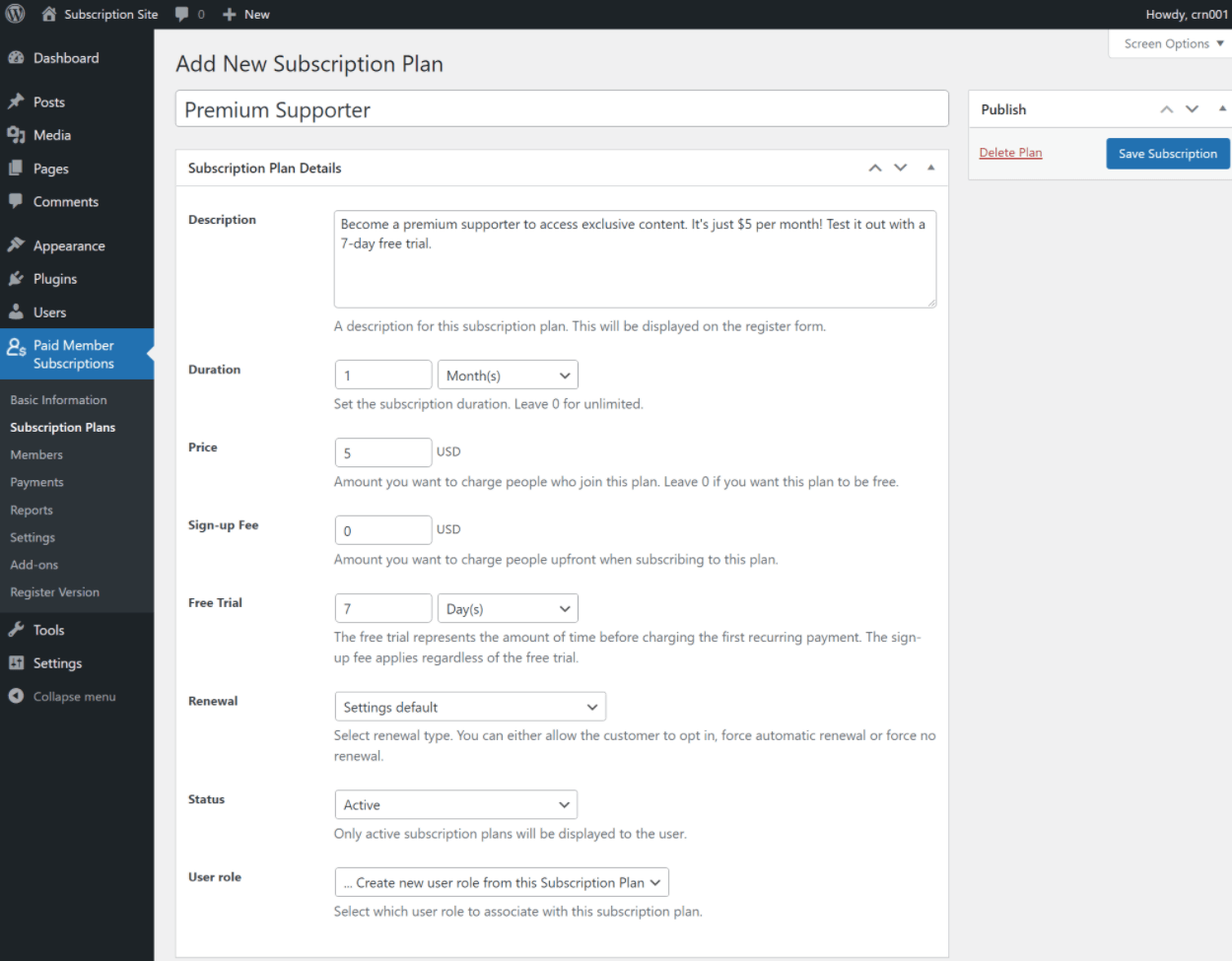 Restrict Your Content
Once you have your subscription plans, you can start restricting your content.
Paid Member Subscriptions lets you restrict content on a few different "levels":
Bulk restriction – you can restrict entire categories, tags, post types, taxonomies, and so on.
Individual restriction – you can restrict individual posts, pages, or custom post types.
Partial restriction – you can restrict just part of a post or page using shortcodes.
To set up individual restriction and partial restriction, you can open the editor for the piece of content that you want to restrict.
For partial restriction, you can add the restriction shortcodes directly to the editor.
For full-page restriction, you can use the Content Restriction box that appears below the editor to restrict that content to specific subscription plans: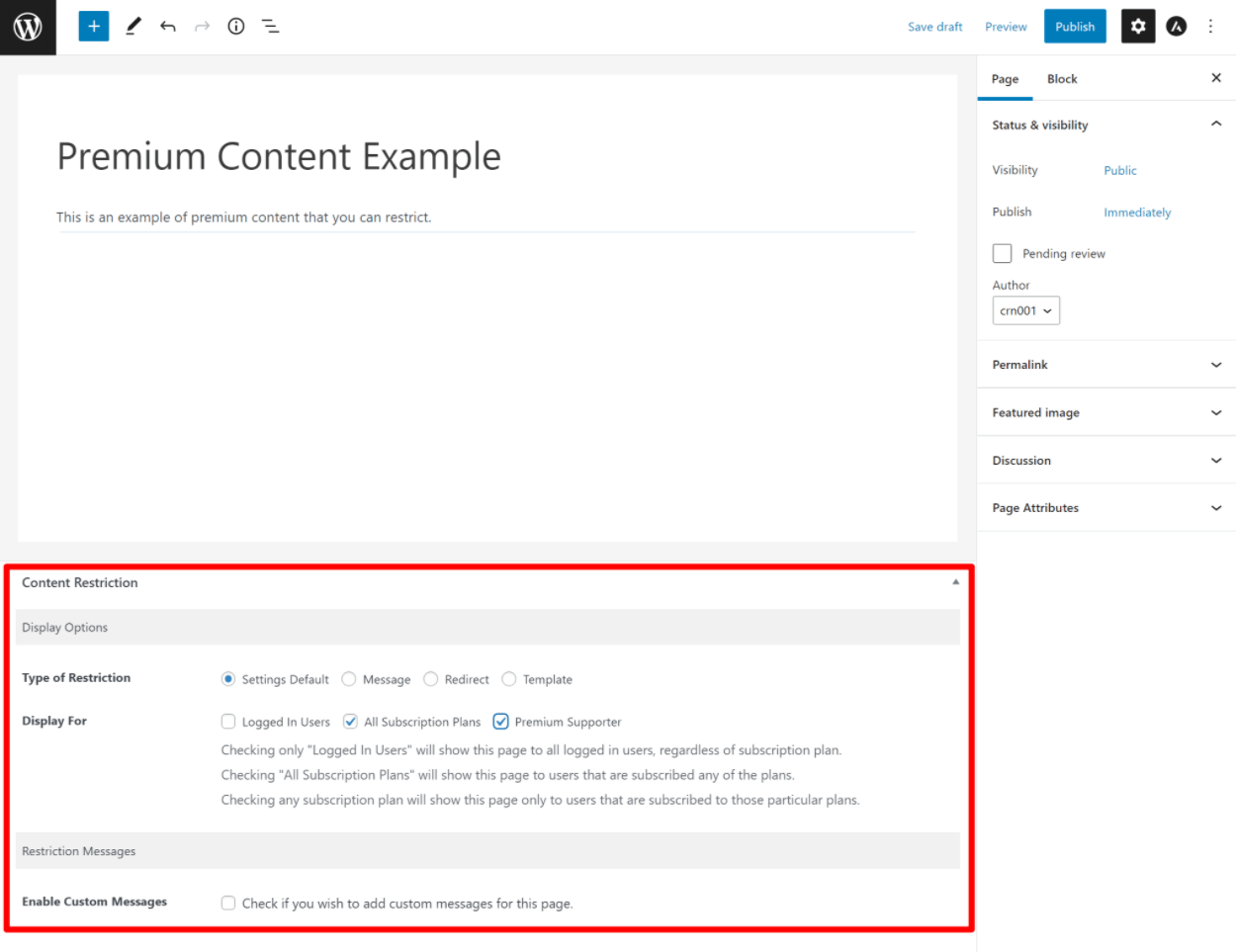 To bulk restrict content, you'll need at least the Basic license of Paid Member Subscriptions to access the Global Content Restriction add-on. Then, you'll get new options to set up bulk restriction rules when you edit a subscription plan.
For example, you could add a rule to restrict all content in the "Premium Content" category: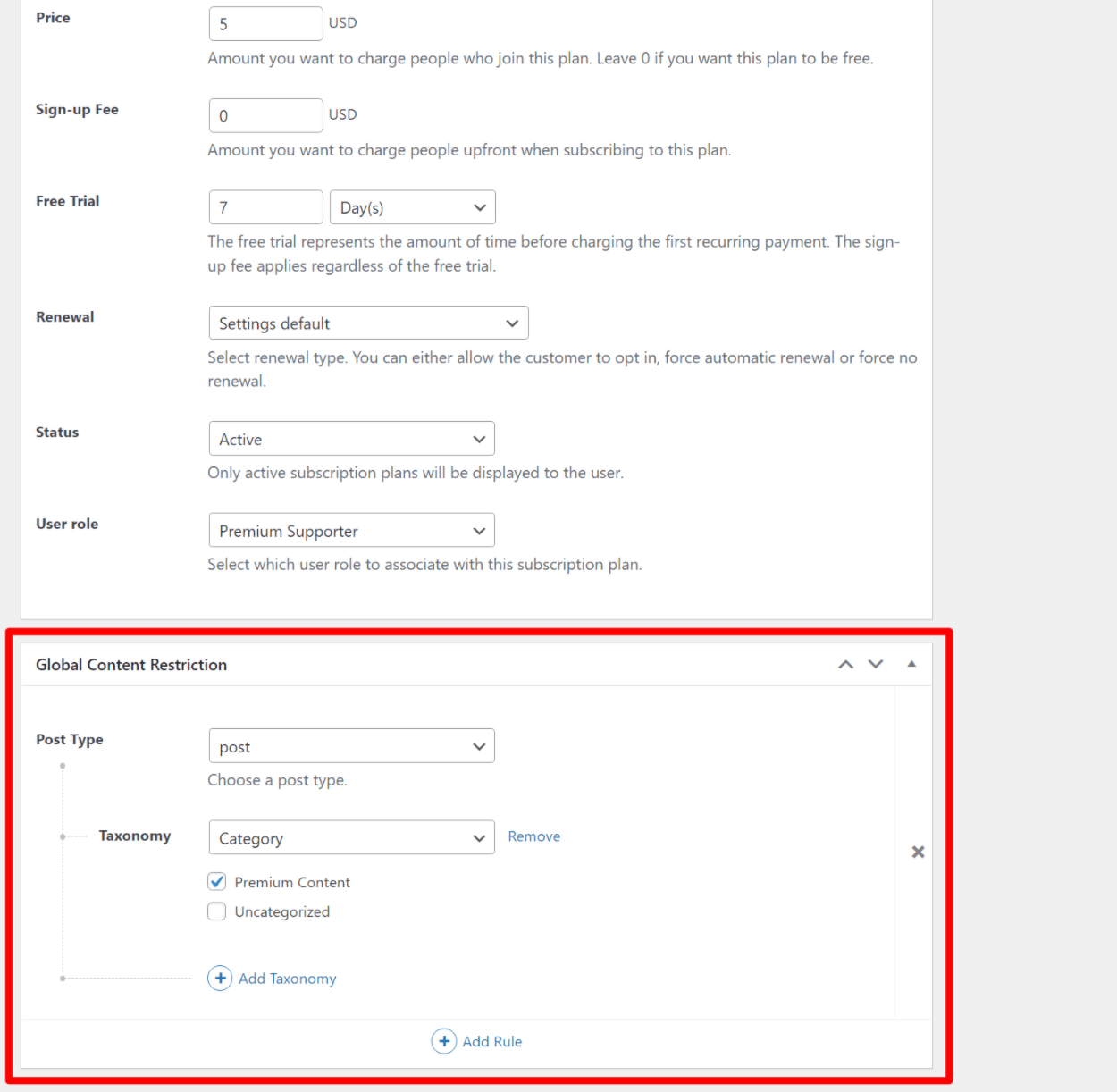 With the Pro license, you also get access to content dripping, which lets you encourage users to maintain their subscriptions by "dripping" your content out over time instead of making it all available at once.
Again, to see a more detailed tutorial for how to monetize content with subscriptions, check out these posts:
2. Promote Products With Affiliate Marketing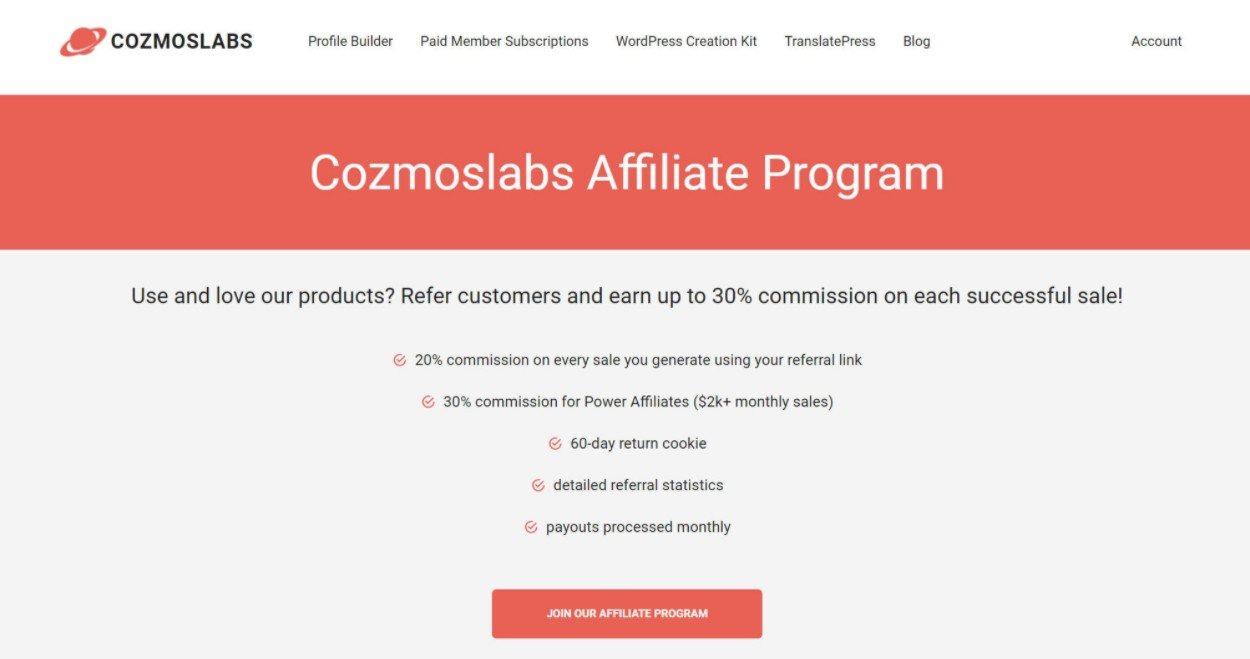 One of the most popular third-party content monetization strategies is affiliate marketing.
The basic idea with affiliate marketing is as follows:
You write a post about a certain product or mention the product as part of a larger post;
When you link to that product, you use a special affiliate link. This link helps the other website track that that specific visit came from your website;
If a person makes a purchase (or performs another set action) after clicking your affiliate link, you earn a commission. This could be a flat rate or a percentage of the sale.
In order to make this work, the company that you want to promote needs to offer an affiliate program.
To find affiliate programs to promote, you can Google terms like "[company you want to promote] + affiliate program".
However, there are a couple of downsides with relying on affiliate marketing for your monetization:
Companies can change their commission rates at any time. For example, Amazon has been continually reducing its affiliate commissions, which has negatively affected a lot of people who relied on Amazon's affiliate program as their sole income source.
Products that you link to can go out of stock. This means you'll constantly need to be checking and updating affiliate links if you want to maximize your revenue.
This is why we think affiliate marketing works best as a supplement to other monetization strategies, rather than as your sole income. For example, adding some affiliate links to your subscription site can be a great way to earn money from your audience.
3. Add Display Ads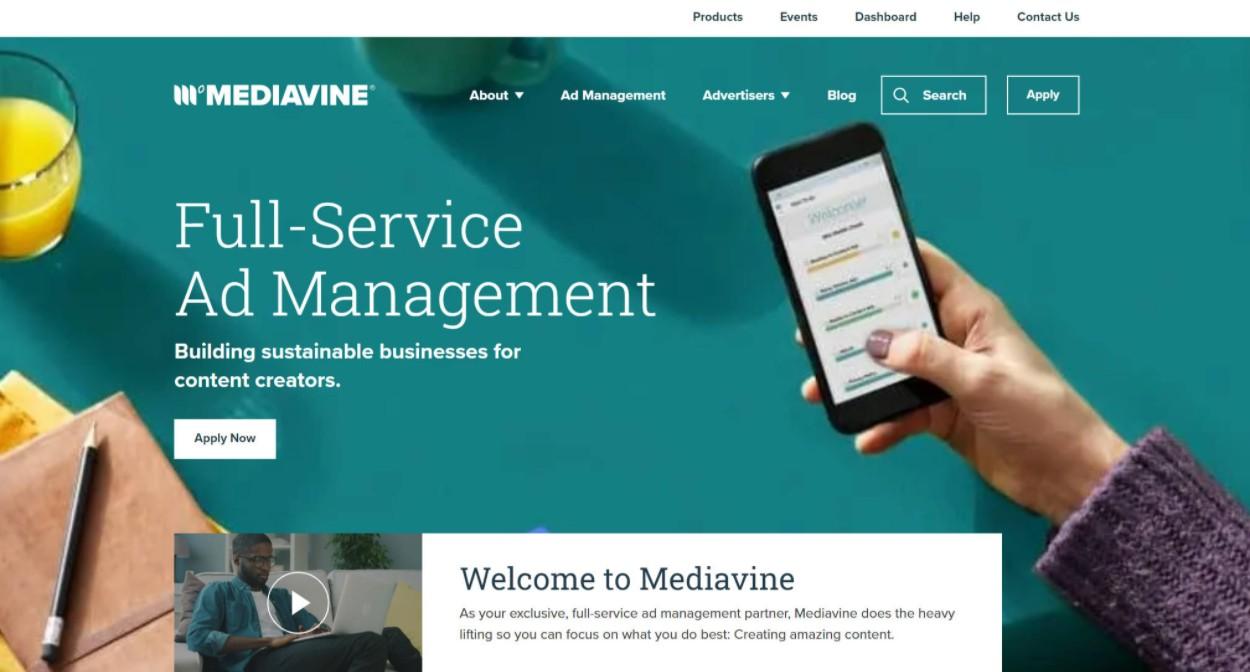 Display ads are another great way to implement third-party monetization on your site.
The idea is simple – advertisers will be happy to pay you in exchange for being able to place their advertisements on your website.
While display ads used to pay pennies, the rates have actually gotten pretty good now thanks to retargeting and other ad tech advancements.
One of the easiest ways to get started with display ads is to use an ad network.
AdSense is one of the most popular networks and is easy to get started with, so a lot of content creators start there. However, AdSense's rates are pretty low, so you'll likely want to move on as your site grows.
If you have enough traffic, you can consider a premium ad network. These networks pay significantly more than AdSense – like 4x+ as much. It's a huge difference.
The two most popular options are:
Mediavine – requires your site to receive at least 50,000 sessions per month.
AdThrive – requires your site to receive at least 100,000 pageviews per month.
While it depends on your content, Mediavine and AdThrive usually pay around $10 per one thousand pageviews at a minimum (with many content creators earning a lot more than that). So if you have 100,000 pageviews per month, that's a cool $1,000 in your pocket.
If your site can't meet those traffic requirements, you can consider networks like Ezoic or Monumetric, which have much lower traffic requirements but still pay a bit better than AdSense.
Another alternative to using an ad network is to sell ads directly to businesses. This requires a lot more effort because you'll need to find those deals, but you can make even more money this way.
4. Accept Sponsorships
Another option for third-party monetization is to accept sponsorship/sponsored posts from businesses.
You'll see this a lot in the lifestyle and travel niches, but you can use this strategy in other niches, as well.
The basic idea is that, if you have a loyal audience, companies/organizations will be happy to pay you money to write a sponsored post on a certain topic.
One common example would be a local travel organization paying a travel blogger to write a sponsored post about traveling in that area. The content is still interesting to readers, but the blogger has a chance to earn money.
Obviously, if you want to get sponsorships, you'll need to have an existing audience. But if you do, sponsorships can be another great revenue stream – just make sure to clearly disclose when a post is sponsored to maintain your editorial integrity.
If you're interested in learning more about getting paid for sponsored content, Goats on the Road has an excellent guide.
5. Accept Donations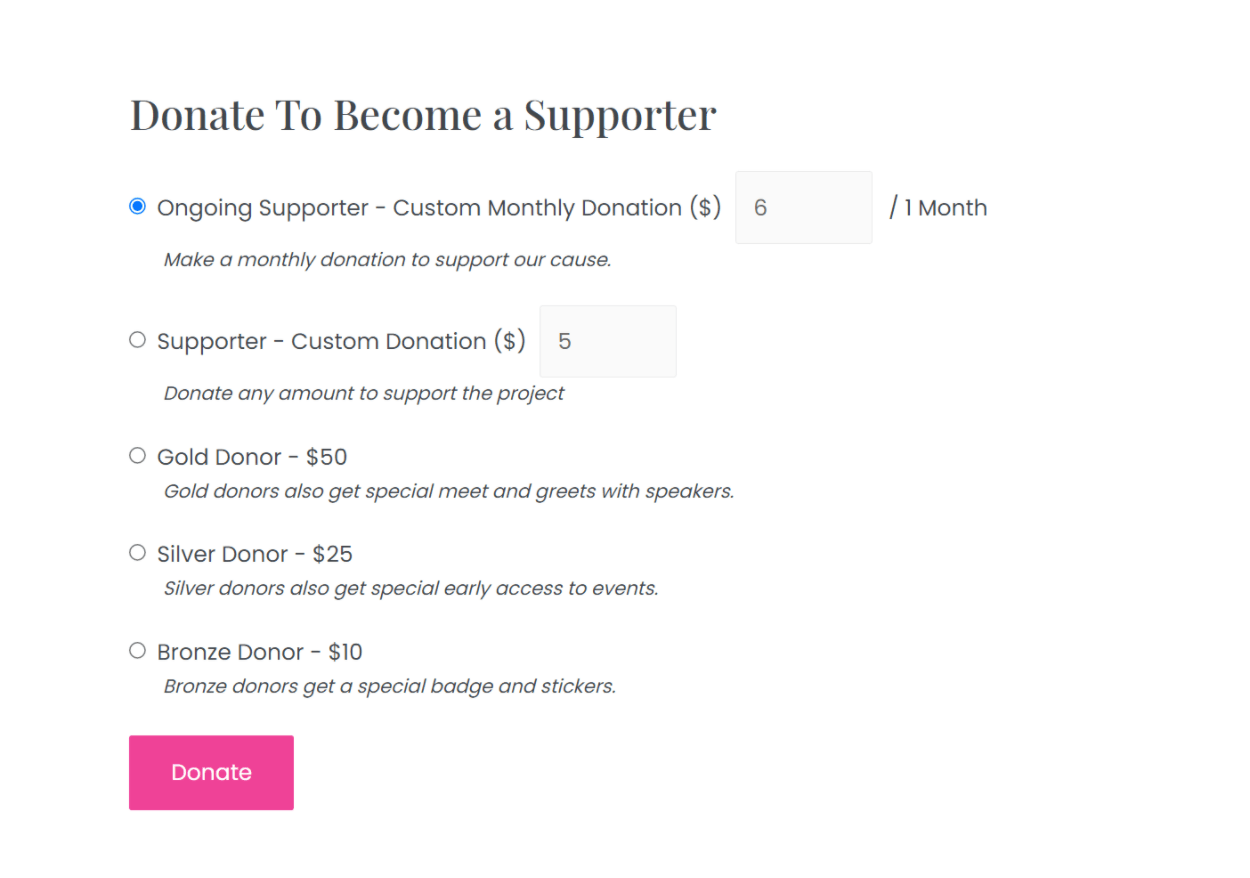 As an alternative to charging for access to your content with subscription plans, you can also just ask your readers for donations to support your content creation efforts.
Obviously, this won't be quite as effective because readers aren't incentivized to pay anything if they can already access all of your content for free, but it does at least give you a chance to make some money.
One way to get the best of both worlds is to offer both paid content and a donation option.
For example, you could offer special premium content to paying members but then still solicit donations from people who view your free content.
Or, you can offer a "pay what you want" membership option, where people can choose how much to pay for premium content.
Best of all, you can set up all of these strategies using the same Paid Member Subscriptions WordPress plugin that we detailed in the subscription section – here are some posts to help:
6. Sell Your Own Products
Another great indirect way to monetize content is to sell your own products based on your content.
For example, you could create a merch store that sells t-shirts or other products based on your content.
If you have a loyal audience, you'd be surprised at how many people will jump at the opportunity to buy some merch.
If you're also using subscriptions to monetize your content, you can combine the two strategies. For example, you could offer special discounts on merch to your paying subscribers or you could have special products that are only available to paying subscribers.
The Paid Member Subscriptions plugin that we detailed above makes it easy to set up both strategies. You can create your eCommerce store using WooCommerce and then handle member-specific coupons and products with Paid Member Subscriptions.
Here are some guides to help you connect Paid Member Subscriptions to your WooCommerce store:
7. Start a Freelancing/Consulting Business
This is kind of a bonus because it's not quite monetizing your content. But you can use your content and the exposure that it generates to find clients for freelancing or consulting.
For example, a lot of successful bloggers also accept freelance writing work as a way to monetize their position.
This isn't the best content monetization strategy because it doesn't scale. But it can be a great way to supplement your other content monetization strategies, especially when you're just getting started and building up your subscription revenue.
Monetize Your Content Today
If you want to monetize digital content, there are two broad strategies you can pursue:
Direct monetization
Third-party monetization
To maximize your revenue, we think it's worth pursuing both strategies.
Direct monetization should be the bedrock of your content monetization strategy because it lets you build a dependable income that's not affected by the whims of third-party advertisers or affiliate programs.
Then, you can use third-party monetization strategies like display ads and affiliate income to earn even more from your content.
By having multiple revenue streams, you can create a strong, stable income from your digital content that can weather the ups and downs of running an online media business.
For the easiest way to start directly monetizing your content on WordPress, you can use the Paid Member Subscriptions plugin. You can create unlimited subscription plans with one-time or recurring payments and then restrict as much or as little of your content as you want.
If you want to get started, you can try the free version at WordPress.org. Then, upgrade to the premium version to access useful features like automatic recurring subscriptions, bulk content restriction, content dripping, and lots more.
Do you still have any questions about how to monetize your website? Let us know in the comments!
Subscribe to get early access
to new plugins, discounts and brief updates about what's new with Cozmoslabs!
Source: https://www.cozmoslabs.com/387441-monetize-content-tactics/
---
You might also like this video