Are you striving for a long to get new WordPress blog topics? Well, you can find new blog ideas with Question Hub very easily in 2021. While answering the suggested questions by Google, if your content is impactful and follows Google's EAT concept, chances are there that your article will earn you more traffic.
In 2021 you will barely get new blog ideas or keywords to rank high in search engines. You will see that experienced WordPress publishers are getting more traffic for keywords and blog topics you want to write. It's tough to compete with experienced publishers because most of them have dedicated teams to optimize their WordPress blog websites. But it's fine. If you have will, there is a way.
What exactly do I do to be a successful publisher? Now it's obvious that this question may strike your consciousness repeatedly. Well, the answer to this question is to create better content than your competitors with consistency. It is a traditional approach that will take its own time, but I ensure you will kiss success. Another approach is to do what your competition is not doing. In this case, the speed of your growth will be accelerated.
Google's Question Hub is one of those tools that you can use to accelerate your rise. Most of the WordPress publishers are not using this tool because the Question Hub is currently working only in four countries India, Nigeria, Indonesia, and the USA.
Let's start the brainstorming, how Question Hub can help small businesses and new WordPress bloggers to get more organic traffic.
What is Question Hub?
Question Hub is an advanced tool that collects unanswered questions and encourages bloggers to create quality content to answer those questions. Certainly, this becomes a great opportunity for bloggers to grab new topics and longtail keywords to rank for. Although Google says that the Question Hub does not improve your search ranking. But in my opinion, you would experience growth in website visitors.
People use different search terms to find relevant content. The experienced bloggers might be getting traffic through some high-quality search terms. You can find some unanswered questions related to the same content. It will be a great opportunity for you to get web traffic when someone else uses the same question or keyword to search for the same content that you answered.
How to Find New Blog Ideas With Question Hub?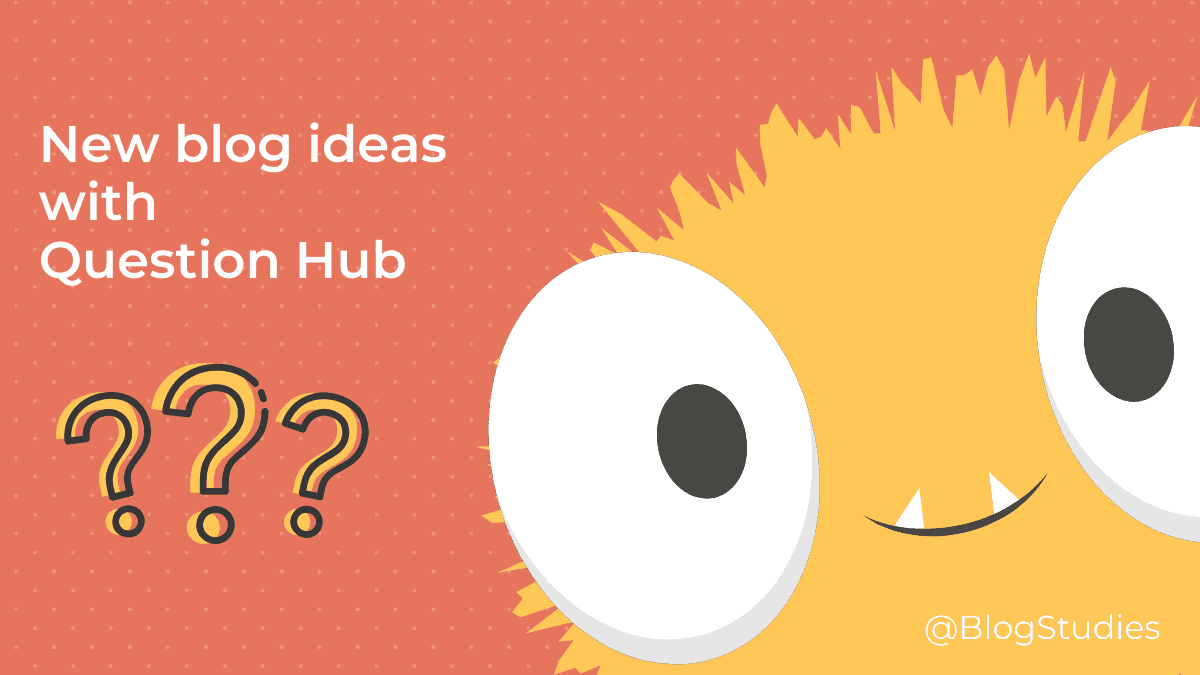 As I mentioned earlier that we use different keywords to find the same content on different search engines. For example, I need a WordPress guide to start a new WordPress blog. I may type the keyword how to start a WordPress blog. You may type a different keyword like start a WordPress blog with Bluehost. Here both of us need the same content, but we are using different keywords to get it.
Once content creator is ready with an article on how to start a WordPress blog, and he never used these keywords in his article. So it will be a great opportunity for him to get traffic for these keywords.
Now the content creator must have an account with Question Hub to submit a URL to answer our questions. He will be rewarded with more organic visitors if anyone searches again with the same keywords.
Importance of Question Hub for WordPress Beginners
It's very tough to find new keywords and topics in the blogging profession for a WordPress beginner. So the best strategy is to try to find and rank for less competitive but relevant keywords and topics. Initially, web traffic will be less but of high quality. Soon your content will start getting new visitors for high competitive keywords too.
Question Hub Content Guidelines
While answering questions on the Question Hub, you have to take care of certain rules because Google takes strict action on webmasters violating its guidelines. You must take care of following guidelines to avoid heavy penalties that Google may impose.
Avoid posting sexually explicit content, vulgar language, hate speech, and terrorist content.
Do not post irrelevant and promotional content.
Google will remove links containing malware and viruses.
Your content must be following Google's copyright policy.
You must be an expert in your niche so that you can justify your answers with true data, for example, the medical niche.
How Question Hub Works? Step by Step Guide
Step-1 Register on Question Hub
Publishers only from India, the USA, Indonesia, and Nigeria can register on Question Hub. Well, they are the luckiest bloggers.
Now open the home page of Question Hub and Hit the Sign-Up button.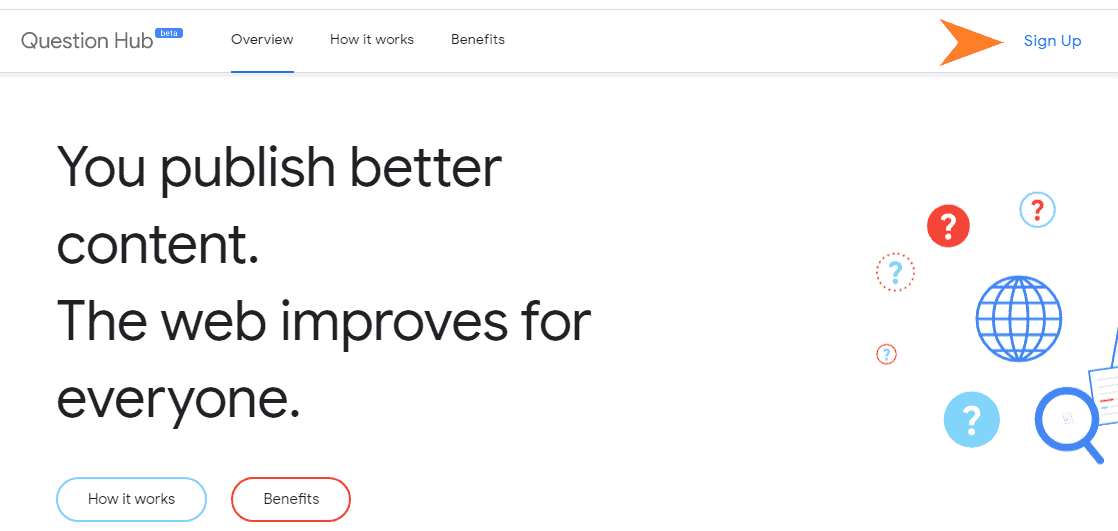 Enter your Gmail id and verify yourself.
Once you verify yourself, you may see a screen asking to give permission to access your Google account. Go ahead and hit the allow button.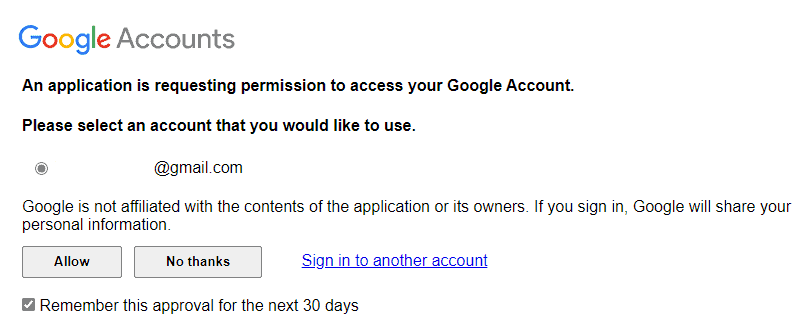 On the next screen, you would be asked to choose a verified Search Console website. You can add multiple websites if required. Now hit the next button.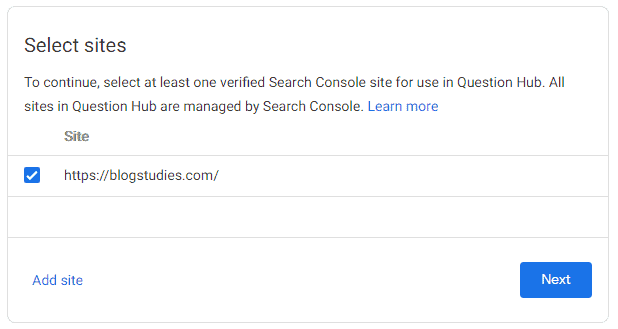 Now select the language preference of your choice. Available language options are English, Hindi, and Indonesian because Question Hub is available only in the USA, India, Indonesia, and Nigeria. You need to select your country as well. Now hit the Get Started button and proceed further.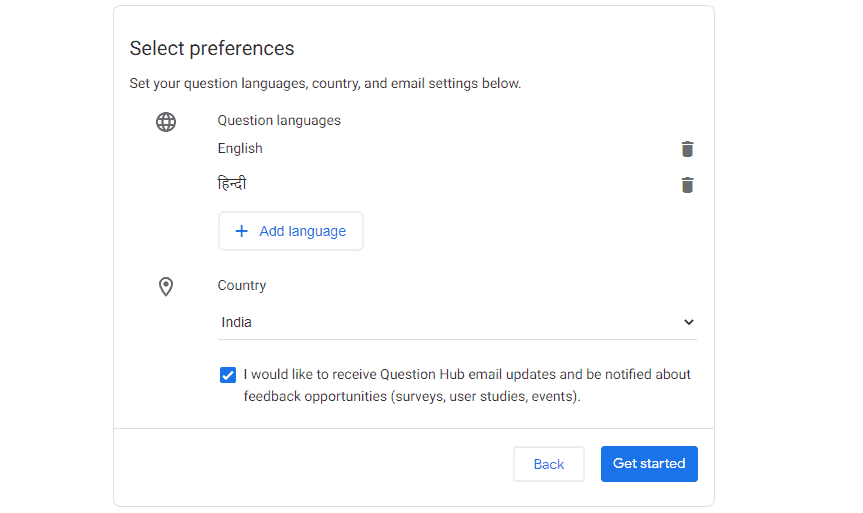 Here your registration process gets completed.
Step-2 How to Add Questions in Question Hub?
The process to add questions in the Question Hub is similar to selecting a niche. You must be an expert in your selected niche so you can answer the questions by creating the best content comprehensively.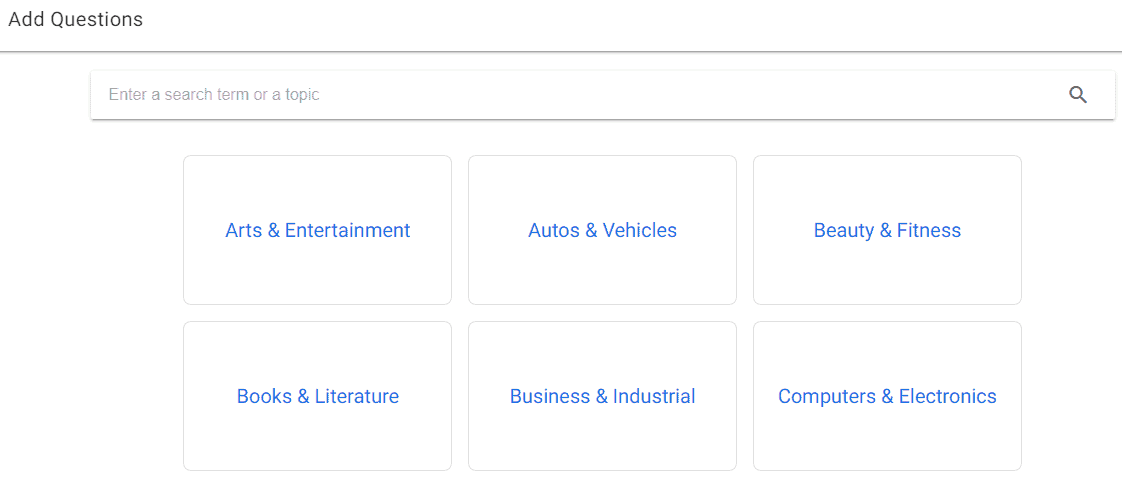 BlogStudies is a blog with expertise in WordPress related content, so here we are choosing WordPress as our niche.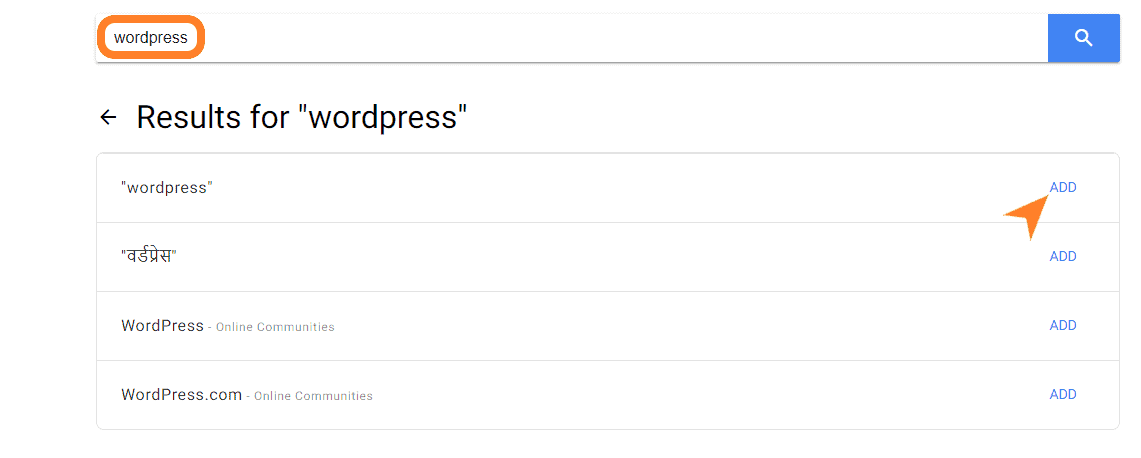 The moment I click on add, 10 unanswered questions related to WordPress are added immediately.

Here you can select the question which can be answered with your existing content. Else, create content as soon as possible. You can dismiss the rest of the questions.
Step-3 How to Submit Answers in the Question Hub?
So far, you have selected your niche and then available unanswered questions. Now it's time to submit answers and rank high in Google Search for these long-tail keywords.

Identify a question which can be answered by one of your blog article in the best way.

Now click on the answer button and paste the URL of the article in the popped window. Finally, submit your answer in the form of a link to your article.
Frequently Asked Questions
---
We have tried to cover all the possible details related to the Question Hub, but there is always room for a bit more information. We have searched the web and collected some questions about the Question Hub. These questions are carrying quality pieces of information and have been asked by curious WordPress users. Let's check them one by one.
Is Question Hub available in my country?
Currently, Question Hub is available in the USA, India, Nigiria, and Indonesia.
I am a Hindi blogger. Can I submit content in Hindi?
Since Question Hub is supporting queries in Hindi, you can search for unanswered questions in Hindi. Just take care of the quality of content, and it must have a factual solution to the question asked.
Does Question Hub help me to improve search ranking?
Google has clarified that submitting content on Question Hub doesn't have any impact on search ranking improvement.
What is the benefit of submitting content on Question Hub?
Google has created Question Hub to avail solutions for unanswered queries. Once the content is available, everyone will find the answer to that query.
Why should I submit content on Question Hub?
Let's understand this with my experience. I found two advantages mainly. First, it helps me to find new blog ideas, and sometimes they are quite unique. Second, it helps me to earn more visitors ✌.
Can a new blogger get the approval of the Question Hub?
Well yes. All you need is Google Search Consol verified website.
How can I check the impact of my submitted content?
You can analyze the impact of your content by hitting the performance button on the Question Hub dashboard.
How Question Hub is different from Quora?
Question Hub is totally focused on answering questions asked by users on Google that never have been answered. You can submit your answer through a URL only.
Whereas quora provide you a bunch of options to interact with other users. For example, you can answer in both ways, manually and by linking to your content, you can follow other creators, you can create pages and many more.
Can I use existing content to answer the questions?
If your content is relevant and provides the answer to the question, then yes, you can submit your existing content.
How can I select topics to find questions on Question Hub?
You can search for topics by hitting the Add Question button under the main menu. Also, you can add more questions to your existing category with the help of Add question button situated on the right side of the category.
Wrap Time.
Be with us on Twitter, Facebook for something new and value additions. Also, for the latest WordPress updates and SEO tips.
You can also join our Facebook group BlogStudies Vitamins to share your expertise with the WordPress enthusiasts who literally need it.
Source: https://blogstudies.com/how-to-find-new-blog-ideas-with-question-hub/
---
You might also like this video