There are certain situations where an admin needs to add payments manually for some subscribers of his membership site.
As it has constantly been requested by our membership plugin users, the ability to manually add a payment and link that to a member is now part of Paid Member Subscriptions core.
This offers extra flexibility when dealing with payments that don't go through the website system.
Whether you're paid by some members in cash, via a bank wire or credit card swipe, there should be an easy way to have all your payments grouped together, as well give your clients access to the subscription plan they paid for.
How to Add Payments Manually in Paid Member Subscriptions
Manually adding a payment in Paid Member Subscriptions is easily done by accessing the Payments submenu page. Here you have a list with all your membership payments.

Simply click the "Add New" button for adding a new payment and link it to a user.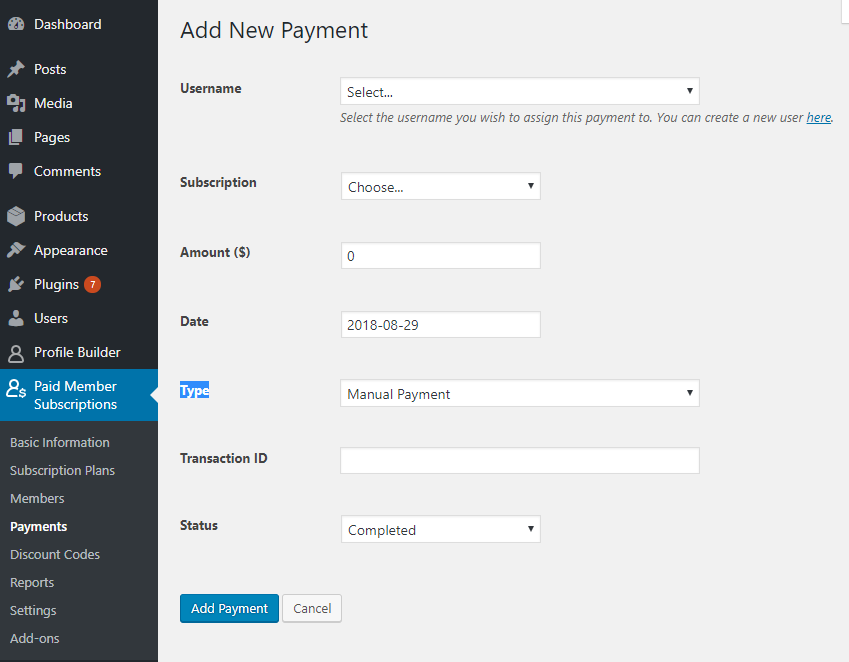 You'll be asked to select the user that made the payment, as well as select the subscription plan the payment was made for. Then you can fill in the payment amount and date before clicking "Add Payment".
For a payment added manually by the admin, the Transaction ID field can be used for adding an external reference for the payment.
Note: Since the payment is linked to a user, successfully adding the payment will automatically add the selected subscription plan to this user.
If we're adding a payment to an existing member (with an active, pending or expired subscription), his current subscription will be updated.
If you're using this add-on to add multiple subscriptions per user, you'll be able to insert multiple payments per user, each for a different subscription plan (from a different group).
That sums up how an admin can enter a manual payment for an existing member or new user.
If you haven't tried Paid Member Subscriptions until now, play with the demo or check out the free version.
Subscribe to get early access
to new plugins, discounts and brief updates about what's new with Cozmoslabs!
Source: https://www.cozmoslabs.com/132904-add-payments-manually-paid-member-subscriptions/
---
You might also like this video