Disclosure: This is a blog about how to make money blogging, and where we recommend affiliat programs for bloggers. As such, this post may contain affiliate links, which means we may receive a commission if you click a link and purchase something that we have recommended. While clicking these links won't cost you any extra money, they will help us keep this site up and running! Please check out our disclosure policy for more details. Thank you for your support!
Blog traffic is often light during the summer months because people spend time outside instead of staring at their computers. Take advantage of the summer traffic slump to work on some big blog projects!
Summer is a notoriously quiet time in blog land. Many bloggers will notice their traffic decreasing over the summer months and take it personally, but I'm here to assure you that the blogging summer traffic slump is real. Not only is the summer blog slump real, but it affects most of us. Don't despair when you see your traffic numbers decline… most of us are in the same boat!
So what is the cause of the summer traffic slump for bloggers?
Nice weather!
When the weather is nice, people want to be outside more and on their computers less. Many people will also head off on summer vacations. Think about it: When it's 80 degrees and sunny, do you want to be indoors typing on your computer or out enjoying the nice weather? I can't blame anyone for spending summer outdoors, even if it does lead to a downturn in traffic for those of us trying to make a living online!
If you find yourself facing a summer blog traffic slump, there are three things you can do:
Take pity on yourself. Nobody likes to see their blog numbers decreasing, even if it is temporary.
Circle the date on the calendar when kids head back to school in the fall, as this is typically when blog traffic starts to increase again.
Work on blog-related items that you typically don't have time to do.
I used to freak out about having less traffic to my blog during the summer months and I would work EXTRA hard to try to woo back readers (to no avail). But then I read something a couple of years ago that pointed out that instead of working more over the summer, I should work smarter. The post recommended cutting back your posting schedule a bit and tackling the items on your blogging to-do list. I loved this idea and adopted the practice last summer. I produce a minimal amount of new content in the summer and instead work on a list of projects that I otherwise don't have time to complete.
If you're facing a summer traffic slump on your blog, I highly recommend doing something similar. While the idea of cutting back your posting schedule might scare you, ultimately there are many things you can do that will benefit your blog – and send more traffic your way – in the long run. Need some ideas? Here are 30 things you can do this summer to bide the time until your blog traffic returns to normal!
1. Take a Class
Blogging is constantly evolving and it's nearly impossible to keep up with everything. Thus, I highly recommend investing in courses that will help you learn a new skill or learn more about an area of interest.
I am currently offering three courses, with another one on the way soon! The first, Affiliate Marketing 101, is a free email course that will teach you the basics of affiliate marketing.
The Top 3 Ways Bloggers Make Money is a free online course that serves as an introduction to ways you can make money blogging.
Finally, Introduction to SEO for Bloggers will teach you everything you need to know to get your site ranked by Google. If you want to have success as a blogger, you NEED to know and use SEO.
Infamous to Influential by Alex Tooby is one of the best Instagram classes around. After growing her own Instagram account, MenandCoffee, to 300,000+ followers, Alex has found great success training others in the art of Instagram. Her approachable style is really easy to follow and she's an active participant in her Facebook group Instagram Marketing Mastermind, which is free for all to join.
The next course I want to take is Rachel Miller's Facebook Massive Strategies Growth Course.
If you want to learn more about photography, check out the photography courses at Craftsy. Here's a tip: You can become a Craftsy affiliate and get your first course for free. Then you can promote the course (or others) to your readers to start earning commissions! You can do the same with CreativeLive. I'm not sure if they give away courses, but they do have tons of blogging, business and creative online courses that you can promote be becoming a CreativeLive affiliate.
2. Switch Hosts
You all know I think Bluehost sucks, but whether you're hosting with Bluehost or someone else, if you're not happy, summer is a great time to switch web hosts. Any good hosting service will help you switch your site(s) over, so the work from your end should be minimal.
My recommendations, per usual, are SiteGround (check out how to start a WordPress blog on SiteGround in 10 minutes), GreenGeeks (check out why you should consider an eco-friendly web host), and BigScoots. I have extensively used all of these services and will personally vouch for each.
3. Update Your Permalink Structure
Back in the good old days, it was generally recommended that bloggers
should include the date in their permalink structure. Now, however, it's generally recommended that bloggers DON'T include the date. (Blogging is nothing if not a fickle beast!) Changing your permalink structure can be difficult, so if you're not technologically-inclined then I would recommend getting help. I was able to change my own permalink structure by following the Yoast Guide to Changing Your Permalink Structure and using their Permalink Helper.
I cannot stress enough: Please do not attempt this on your own if you are not familiar with or comfortable using FTP. Incorrectly setting up the permalink change can break your site and I don't want you to do that!
4. Republish Old Posts
One of the best things about removing the date from your permalink structure is that it gives you the ability to easily republish old blog posts. All you have to do is change the date on the post and hit update, and your old post will suddenly be the first post on your blog again. If you send out a newsletter via RSS feed, the old post will even go out to your readers. Republishing old posts is a great way to make sure old content you've written will be seen again. Just be sure to update the post before republishing.
5. Add New Content to Old Posts
Blog posts should, at a minimum, be 300 words. It's generally believed that Google rewards longer posts with better rankings, though. Look through your old posts to see if there are any topics you can expand upon, either verbally or by adding other content. For instance, is there a video on Youtube that would complement your post? Or maybe there's an infographic or better pictures? And, don't forget to add affiliate links where appropriate!
6. Remove/Update References to Dated Events in Your Posts
When I was writing for About.com, they made us go back through all of our old posts to edit out references to specific points in time. For instance, if I was writing about "Black Friday 2015," they would have me edit out the "2015" to make the content evergreen. People will often stop reading content that they think is old, even if the information is still relevant.
7. Add the Year to Your Post Titles
As you're editing out references to events in the past, you might consider ADDING dates to others. I know, I know, this seems completely counter-productive. While this might seem silly, it has been proven that people frequently Google things like "how to start a blog for free in 2018" because they want to make sure they have the MOST up-to-date information available. Thus, if you have a popular post on your site, it might help you to change the title and the meta description to include the current year. (And yes – keep a list and update these posts at the beginning of 2018 with the new year.)
8. Take New Pictures for Your Best Posts
One of the easiest ways for a blog post to look stale is to never update the photography. If you have a post that does well year-after-year or even one that doesn't do so hot but that you love and wish did better, breathe some new life into the post by taking new pictures.
9. Learn How to Take Better Pictures
If you're going to take new pictures for your site, you might as well take good pictures! You don't have to run out to buy a DSLR to take better pictures, just learn how to use whatever tool you already have! Personally, I use my iPhone for ALL of my pictures. I took the Apple iPhone Photography Tips Class through CreativeLive and really enjoyed it. You can also get some free iPhone photography tips direct from Apple!
10. Optimize the Images on Your Site
Optimizing images can be a tedious job, which means it's a great project to tackle during the summer traffic slump. All photos should have Alt Tags, which should be a short keyword-rich description that literally describes your picture to the search engine. Having a good Alt Tag will help your image come up in things like Google Image Search, which can then send traffic back your way. Make sure your images are the right size. If the file size is too big it will slow down your site. Use a plugin like ShortPixel, which will help you reduce the size of old images. This is what I currently use on all of my sites. There's a free plan, or you can upgrade to a paid option.
11. Update Old Pins
Best practices for pinning change fairly frequently, so if you find yourself with some extra time you might want to go back through some of your older posts and update old pins. Back when Pinterest was first starting, horizontal pins were the way to go, but now long vertical pins are recommended.
12. Create Pins for Old Posts
Depending on how long your blog has been around, you might have some posts that don't even have pins. Or, you might have been in a hurry and never made a pin for a post. If that's the case, use the summer traffic slump to create pins for your old posts.
13. Update Your Social Media Profiles
Every so often you should take a look at your social media profiles to make sure everything is up-to-date and cohesive. Update any links, your bio, or maybe even your picture.
14. Schedule Future Social Media Posts
Some people love social media, but I personally rarely go on any site other than Facebook. I look like I'm active across the internet, though, because I've spent a lot of time scheduling out social media posts. There are so many different social media schedulers these days, from Buffer to HootSuite to RecurPost to Meet Edgar to Missinglettr (check out my MissingLettr review) to ContentStudio… and countless others. Most of them are free to a certain point, but the cost for most are fairly reasonable. Take some time to find a scheduler that you like, and then start planning out future social media posts.
Don't forget: Share the content from your blog, of course, but share content from other blogs as well. Facebook, especially, likes when page owners share other content!
15. Develop an Editorial Calendar
Putting together an editorial calendar is not only a productive use of time during the summer traffic slump, but it will also help you be more organized! Your editorial calendar should plot out any posts you plan to write for the rest of the year, but can also include things like social media promotions, special days you want to keep track of in case you might write about them (for instance, national donut day), and anything else blog-related. CoSchedule is one of the best editorial calendars, in my opinion, but it's pretty pricey. I honestly do a lot of my planning with pen and paper. As much as I love the digital world, sometimes I just need to write things down!
If you're not sure what to write about, check out our list of unique holidays and special events that make for great evergreen blog content!
16. Start Thinking About Your Holiday Gift Guide
While it might seem insanely early right now, retailers are currently planning out their holiday offerings and you should be, too. While you're planning out your editorial calendar for the rest of the year, you should definitely start thinking about your holiday gift guide and any other Q4 post ideas you might want to put together. If you're feeling really ambitious, start reaching out to brands to get yourself on their radars!
17. Make a List of Brands You'd Like to Pitch
Take advantage of the slow summer blog traffic to make a wish list of brands you'd like to work with and then find the PR contacts for those brands.
Tip: Not sure how to find the contact you need? Check out the Clearbit Connect extension for Gmail, which will help you track down many corporate email addresses. All you need is a domain for the extension to search!
18. Start Writing Pitch Letters
One of my very best blogging-related purchases has been the Easy Blogger's Guide to Pitching Brands,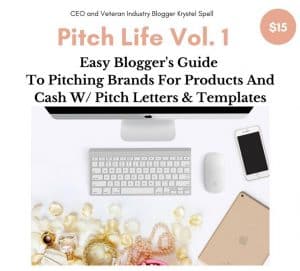 which I reviewed here. Volume 2: Everything But the Pitchin' Sink is also available now, and expands upon the information provided in the first guide. One of my biggest blogging weaknesses is selling myself, so these guides not only helped give me the confidence I needed to start reaching out to brands, but they also made me think about some strategies to use when pitching ideas. The guides also include letters that you can use when reaching out to brands. The author of the guides, Krystel Spell, also offers a free pitch letter basic template that you can download. These guides and/or templates are a must-have if you want to write pitch letters but don't know where to start!
Whether you get Krystel's pitch letter templates or not, keep in mind that in a good pitch letter you should not only sell yourself, but you also need to explicitly let the brand know what you can do for them!
19. Update Your Media Kit
If you're going to pitch brands, you're going to want a media kit that you can send along with your letter. Media kits can be ornate or they can be basic. I've purchased my last couple of media kits from Etsy, though if you go this route you will want to make sure you have the correct editing software installed on your computer! All media kits should have your name/blog/email, traffic data (from Google Analytics) and social media numbers, a blurb about your site, and pricing information. You may also want to include the names of any other big brands with which you've worked.
20. Learn Something from a Blogging eBook
Generally speaking, some bloggers put together courses while others will write ebooks. While blogging classes can be pretty pricey, ebooks are generally much more affordable. You can also get through a book pretty quick and go back to it for easy reference time and again.
I have purchased more than my fair share of blogging ebooks over the years, but here are a couple of my favorites:
If learning how to get more traffic to your blog is one of your top concerns, then I highly recommend Lena Gott's Traffic Transformation Guide. This book is 120 pages of incredibly in-depth information that will show you how to get more traffic to your site. The guide is $79, which is obviously pricey but is one of the few books I highly recommend at this price point. If that's too much, start with her FREE Blog Traffic Bonus Guide, which has 3 steps you can take to increase traffic to your site.
Finally, if you're looking for a book that will teach you how to properly use Google Analytics AND how to get more traffic to your blog, then I highly recommend checking out Skyrocket Your Blog Pageviews Using Google Analytics. This book will provide you with 30 actionable tasks that will help send more traffic your way… and it'll be traffic you want since it'll be based primarily off of the data from your own site's analytics.
21. Respond to Old Comments on Your Blog
If people have been leaving comments on your blog and you haven't responded, use the summer blogging traffic slump to go through and respond to any messages you missed.
22. Leave Comments on Other Blogs
Not only is it just nice to leave comments on other people's blogs, but doing so can help build backlinks to your own site! Additionally, you never know when someone may like your comment and be compelled to click through and check out your blog!
23. Write a Guest Post
Summer is a great time to approach other bloggers about writing a guest post for them. Chances are they'll be taking a vacation at some point and may like the extra content.
24. Create a Newsletter Opt-In Incentive
An easy way to get people to sign up for your email newsletter is to offer something that your ideal reader will be unable to refuse. A recipe blogger might make an ebook of some of their most popular recipes. A homeschool blogger might offer some home classroom materials. There's no right or wrong incentive, just make sure it's targeted to your audience and is copacetic with your blog content.
25. Set-Up an Email Autoresponder Series
If you've subscribed to my email newsletter, you have probably realized that I am TERRIBLE about sending out newsletters. I rarely send anything out. One way to combat this and make better use of your own list is to set up an email autoresponder series. This is basically a pre-written set of emails that will get sent to your subscribers on a schedule that you've determined. Your series could include some of your favorite posts or you could even set up an e-course like I've done with Affiliate Marketing 101. All of the popular email services that bloggers use, including MailerLite (free!), MailChimp (free!), ConvertKit, ConvertFox and Constant Contact, offer the ability to set up autoresponder series.
26. Run Your Headlines Through Headline Analyzer
While they say to not judge a book by its cover, that's easier said than done. The same is often true of blog posts. A witty/informative/interest headline will draw people in and convince them to keep reading. A dull headline, on the other hand, will make people close out of the page so quickly that your head will spin! CoSchedule's Headline Analyzer is a free tool that all bloggers should be using.
27. Back Up Your Blog!
If you haven't done it lately, take a little bit of time this summer to back up your blog! Really, you should be doing this daily or weekly. If you know you haven't in a while, though, go ahead and do so now. You never know when you might need to restore your site and/or computer in general.
28. Learn Everything You Can About SEO
Well, here's a loaded topic if ever there was one. It would be impossible to learn everything about SEO, but that doesn't mean you shouldn't try. Facebook sharing groups are great. Pinterest is great. But the real way to get recurring traffic to your blog that doesn't cost anything and that doesn't involve you pinning hundreds of other blogger's items is to brush up on your SEO skills. There is no shortage of SEO information available online, but I always recommend starting with The Beginner's Guide to SEO from Moz. Despite being free, this information-filled guide is hardy. It has 10 chapters, so you'll want to set aside some time to get through this one.
29. Optimize Your Posts for SEO
If you have a self-hosted WordPress site, Yoast SEO is a must-have plug-in. (Use the free version – no need to upgrade!) Install the plugin, read the Moz guide, and then start going through your old posts to make sure they're optimized for SEO. Depending on when you first launched your blog, this could be a really time-consuming project, which makes it a perfect way to fill time during the summer traffic slump. Also, check out these 10 easy tips for writing SEO-friendly blog posts.
30. Learn How to Use Google Search Console
One tool I'm not sure bloggers are using nearly enough is Google Search Console (formerly known as Google Webmaster Tools). There is so much you can do with this tool, including verifying your site with Google, submitting an XML Sitemap, indexing your posts as soon as you write them (instead of waiting for Google to index them whenever they get around to it), and even getting a list of the search terms that are leading people to your site. While I haven't read it yet, the gals that wrote Skyrocket Your Page Views Using Google Analytics also wrote Dominate the Search Engines Using Webmaster Tools. This book is on my must-buy list because their Google Analytics book was so on-point.
What other ways do you pass the time during the summer traffic slump? Do you take time off? Do you write more?
Lisa Koivu is the founder of Oh, She Blogs! A ten-year blogging veteran, Lisa can also be found posting shopping deals and steals at
ShopGirlDaily.com
. She's also the founder of
She Soars Digital
, where she consults and creates websites for small business owners. In her free time (ha!) she is also a freelance writer who has written for About.com and U.S. News.
Latest posts by Lisa Koivu (see all)
Source: https://ohsheblogs.com/blogging-summer-traffic-slump/?utm_source=rss&utm_medium=rss&utm_campaign=blogging-summer-traffic-slump
You might also like this video