Version 1.5.0 of Paid Member Subscriptions is the biggest release the membership plugin has seen since its initial launch.
I am really proud and excited about it, because it is the result of the collaboration between you, the users who have reached out to our support team for help, the support team, which has been doing its best to listen to your needs and to transform these needs into well documented feature requests, and also the development team which has been hard at work implementing these features.
This update has been in the works for a few months and it has seen a lot of changes in its core, changes that make the plugin more flexible and enable us to push forward new features that without these modifications could not be possible.
So let's see what's new.
Subscription Free Trial Period
It's pretty obvious that to run a profitable membership website you need to convert your users into paying members. One of the best ways that you can incentivise your users to subscribe to one of your membership plans is to offer them a free trial period in which they can have access to your premium content or services.
You can achieve this with Paid Member Subscriptions by editing your Subscription Plan and adding a duration for your free trial.

With the setting above, users that register for the first time to this subscription plan will have a 15 day trial period, after which they will be billed automatically for continuos access.
Subscription Sign-Up Fee
Subscription sign-up fees, as the name implies, is a feature through which you can charge your users an extra amount on top of the subscription plan's default amount when they subscribe.

With the above subscription plan settings a new member will be charged $10 for the first billing cycle of one month and also an extra $5 for signing up.
The subscription sign-up fees also go hand in hand with the free trial feature. The same idea, of incentivising your users to subscribe, applies in this case, as you can offer your users a paid automatically discounted trial period.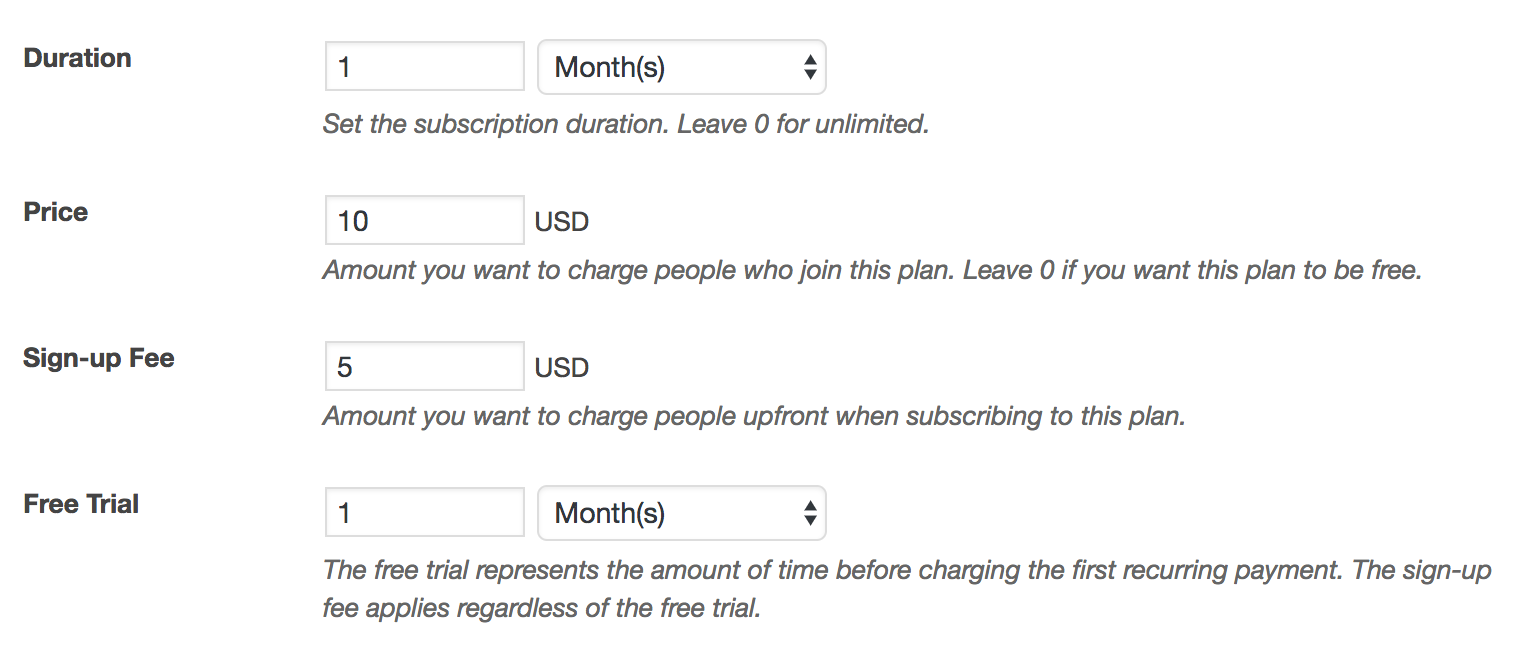 For example, if you've set the above values for your subscription plan, upon subscribing, your users will be charged $5 and will enter a one month trial mode, after which they will be billed $10 on a monthly basis for continuous access.
Please note that free trial periods and sign-up fees are supported for now only by the Stripe payment gateway and PayPal Express Checkout payment gateway, but only for PayPal accounts that have Reference Transactions activated. Learn how to activate Reference Transactions in PayPal.
Subscription Automatic Renewal
When choosing a WordPress membership plugin, flexibility of features is very important. Having the ability to make changes to the way your membership website works with just a few clicks is both a time saver and a headache blocker.
In the previous versions of Paid Member Subscriptions selecting if a subscription plan should be auto renewing was pretty flexible, yet rigid at the same time, in the sense that you could specify in the Settings page of the plugin if the subscription plans should all be auto renewing, none should be auto renewing or let the user decide at the moment of subscribing if their plan should auto renew or not.
Version 1.5.0 brings a new layer of flexibility by adding these same options for each individual subscription plan.
Thus, for a given subscription plan, if you set any other option than "Settings default" for the "Renewal" field, the renewal behaviour for that plan will overwrite the behaviour saved in the Settings page of Paid Member Subscriptions.
Other Improvements
Alongside these big changes, this new version of Paid Member Subscription brings other improvements:
The Cancel Subscription action from the member's account will now only cancel the user's subscription without removing it completely. This way the users still have access, until the end of the billing cycle, to the content they payed for.
A new Abandon Subscription action has been introduced, that will mimic the functionality of the old Cancel Subscription action, so that users can still abandon their subscription if they so desire.
The Member Account shortcode has been improved to display more information about the user's subscription.
The admin Edit Subscription screen has been improved, to offer more flexibility for setting up and editing the details of a subscription.
Please note version 1.5.0 is a major update. The core of Paid Member Subscriptions and its add-ons have seen a lot of changes. Please update your version of the plugin by following these instructions.
We hope you will enjoy the new features of Paid Member Subscription as much as we do. Please let us know in the comments below what you think.
Subscribe to get early access
to new plugins, discounts and brief updates about what's new with Cozmoslabs!
Source: https://www.cozmoslabs.com/95258-paid-member-subscriptions-1-5-0-released-new-features-free-trials-sign-fees/
---
---
You might also like this video