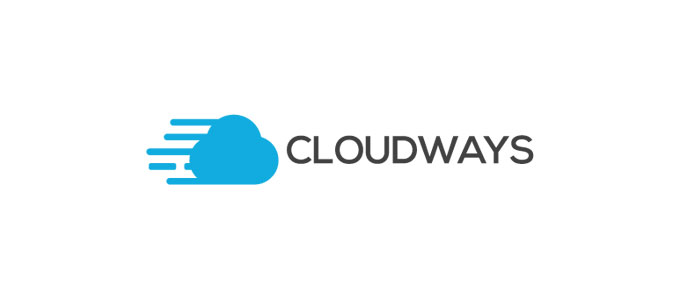 If you ever search for cloud hosting services chances are you probably heard about Cloudways before.
So what it really is?
Cloudways, a veteran in managed Cloud Hosting services, has revamped the interface of its platform and sports an illustrious new logo. Not just the new platform design, but some interesting features have also been added. Let's take a tour of the splendid Cloudways 2.0.
Here's a review about Cloudways managed hosting and the features they provide. I'm sure you'd love it.
The Cloudways' motto "Managed Cloud Hosting for Everyone" actually is appropriate. It has given the users all the freedom they wish for; from choosing the provider to adding team members to their projects, it has it all!
If you are interested, it would be best to test it for real. Signup today and enjoy discounted hosting for 3 whole months! Just use promo code SUMMER16
Signup for Cloudways (it's quick and easy)
Managed Cloud Hosting Like Never Before.
You can choose your own provider from an array of options like Amazon, Google, DigitalOcean, and Vultr. This means a user can deploy a web app in any of the provided 25+ destinations. The platform contains pretty much every region for its users.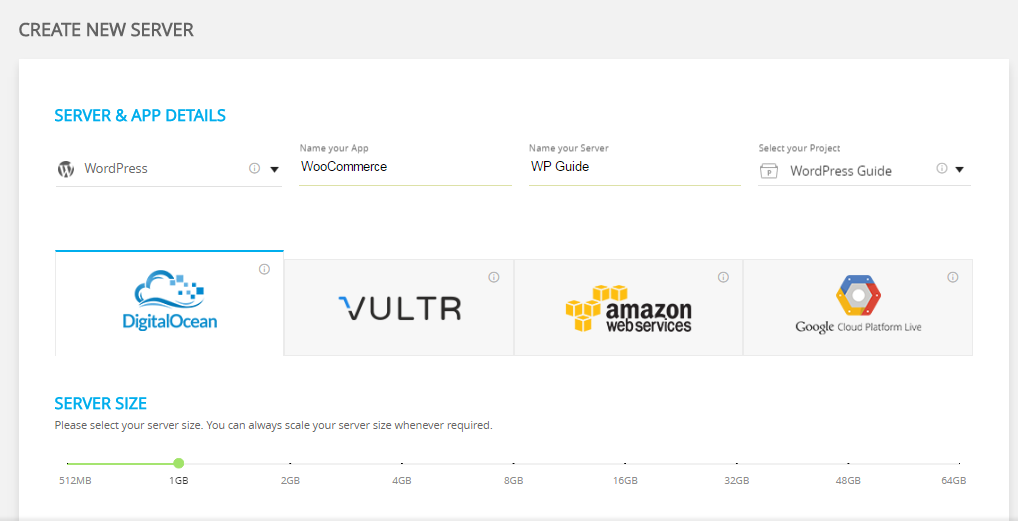 Cloud servers are prone to security threats, but when it comes to Cloudways, a dedicated team of engineers are constantly on the look out to combat these types of threats. Regular OS patches and firmware upgrades by Cloudways engineers makes it safer than the other Managed Cloud Hosting platforms.
Selecting the right app has never been this easy. You can pick from a range of PHP-based development frameworks, content management systems, and e-commerce builders. With easy and speedy deployment, you don't have to wait long. Choose the CPU, RAM, and Storage according to your requirement. Just wait for some minutes and your cloud server is ready to go. That's not it!
In this performance-oriented era, Cloudways guarantees swift web page delivery. The specially designed ThunderStack, a powerful combination of web server and cache technologies, cuts loading time by 100%.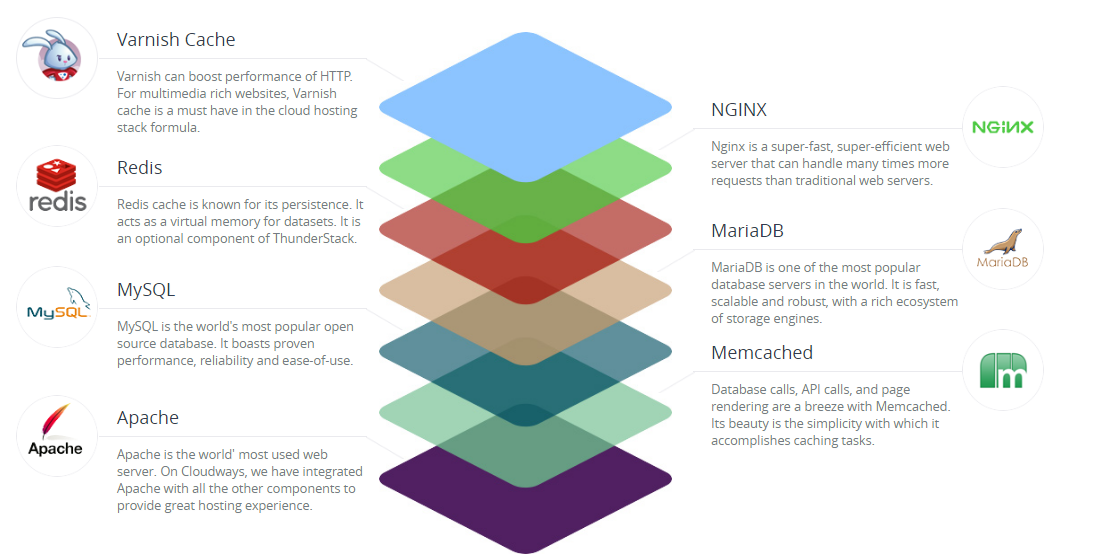 ThunderStack is a unique formation. It uses Nginx and Apache web servers with Varnish and Memcached caching system. This cuts web page loading time significantly. Then, there are optional components of this stack, like the choice of database software. You can pick either MySQL or MariaDB. Then, you can enable Redis to replace Memcached.
One-Click Awesomeness
Cloudways is a simplified and unique way to boost your business and take it to the pinnacle of excellence. It guarantees 1-click operations. This means a user can execute tasks in a few simple clicks. You can also manage your database with the help of Cloudways Database Manager.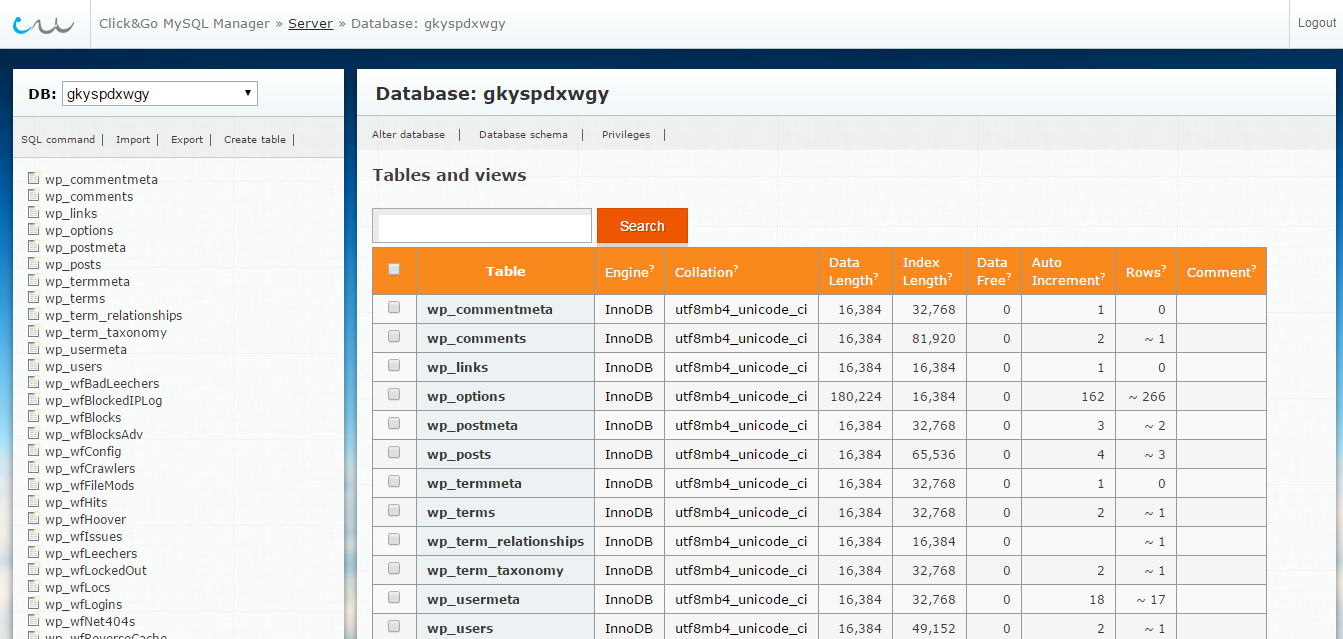 The platform also comes with free SSL certificates via Let's Encrypt.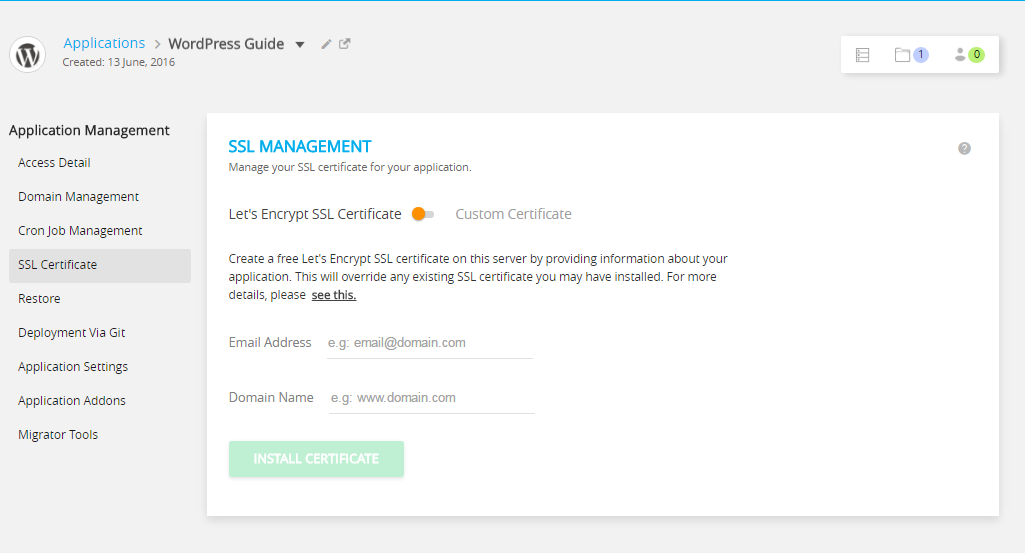 This means you do not have to purchase these certificates for your web apps. Plus, the cloud servers launched through Cloudways can handle more than one website with or without SSL protection.
Scaling is just a simple bar slide. You can scale the server resources (CPU, RAM, and storage) and bandwidth whenever you require. Launch as many web apps as you want, Cloudways gives you the freedom to do so. You can also set parameters directly from the UI.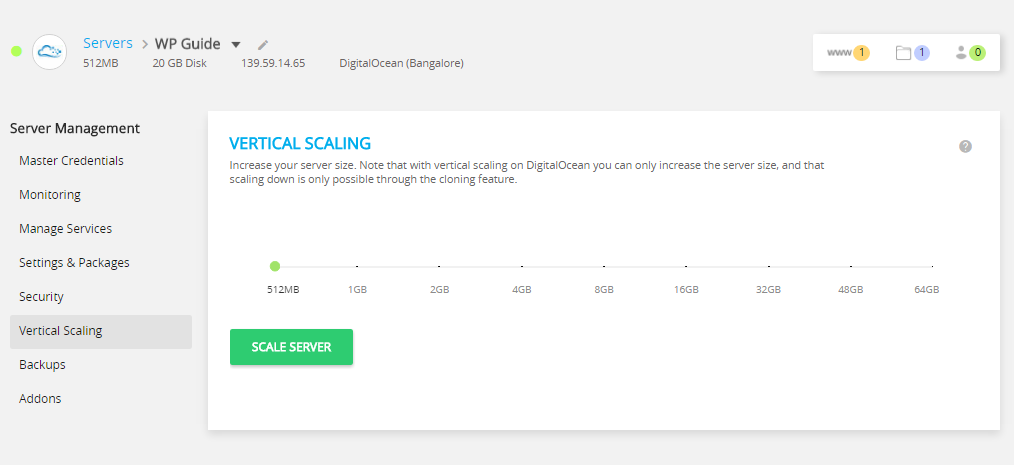 Work Together, Grow Together
As they say, "United we stand, divided we fall". Cloudways gives you the liberty to work with your team. With the latest upgrades, now you can invite your team members whenever you require their help. You can control the roles of your team members.
You create automated workflows using Git and code deployment tools. This means you will keep your code managed and under control.
Another aspect that makes Cloudways stand out from the rest is its 24×7 customer support. Any user can start a live chat session from the platform itself. Alternatively, a simple ticket would do and the customer support team will be there to help you with all server related issues.
I contacted their live chat at the time of writing this and they hardly took a minute to answer.
Suits Every Budget
Considering the type of features, Cloudways looks like a high-end hosting solution as it delivers cloud servers. However, such is not the case with this provider. A production server from Vultr costs only $14 whereas a test server from DigitalOcean costs $5. The billing is done on hourly basis and you get an invoice during the first week of the month.
Like all good cloud solutions, Cloudways works on a Pay-as-You-Go system. A user only pays once an invoice is generated. This means you are never locked for long-term contracts. You can also make your Cloudways account prepaid by adding funds.
Is Cloudways worth looking into?
Well, if you notice at the infrastructure options on Cloudways, you will know that the platform is made for the current times where everything is measured in performance. Many of the
Many of the data centers integrated in the platform seldom go offline. On top of it, the platform provides easy-to-use control panel that has no learning curve. If you know website management, you are good to go. When it comes to website performance, ThunderStack from Cloudways makes web apps run a lot faster when compared to traditional hosting solutions.
Just sign up with Cloudways to get a trial period. From what's available, Cloudways is the best-managed cloud hosting platform in the industry.
Disclosure: This is a sponsored post. All opinions expressed are my own and not influenced in any way.
Source: https://allbloggingtips.com/cloudways-managed-cloud-hosting-review/
---
You might also like this video