A membership plugin is primarily meant to allow users to sign up for subscription plans. It can also be an effective tool for marketing, monetization, content protection, all of this while building an online community.
The challenge, however, is choosing the right membership plugin for your site.
Due to the wide range of membership plugins available today, making the right choice can be hard. Therefor, the first thing you want to do is think about what you want from a membership plugin. What are the specific needs of your membership site?
Ask yourself this before making any decision on which plugin to go with. You shouldn't spend hours installing and configuring a plugin on your site, only to realize it doesn't accommodate all your needs.
Going even further, you don't want to fully integrate a membership plugin into your site, use it for a while and eventually determine that it is not for you, and then realize you are stuck with it because removing it could mean having to have everyone register all over again.
What to Look for in a Membership Plugin
Once you have identified and written down all your needs, make sure to scrutinize every detail.
You'll be glad you did when you realize you have a membership plugin with the exact functionality you need.
When you narrow your choices down to a certain number of plugins, there are some key features you may want to look out for. Those features are outlined below.
1. Easy of Use and Quick Configuration
Not everyone is a programmer, so it is important that a membership plugin is easy to use. You want to make sure you understand the configuration of the plugin so that you can get it just right for your purpose. If you're not an expert, you want the screens to be easy to understand and you don't want the settings page to be confusing.
You also need the configuration to be fast. You don't want to spend an entire day configuring the plugin. While speed is going to have more to do with personal proficiency, the interface's difficulty level is going to be a good predictor of how quickly you can set up the plugin.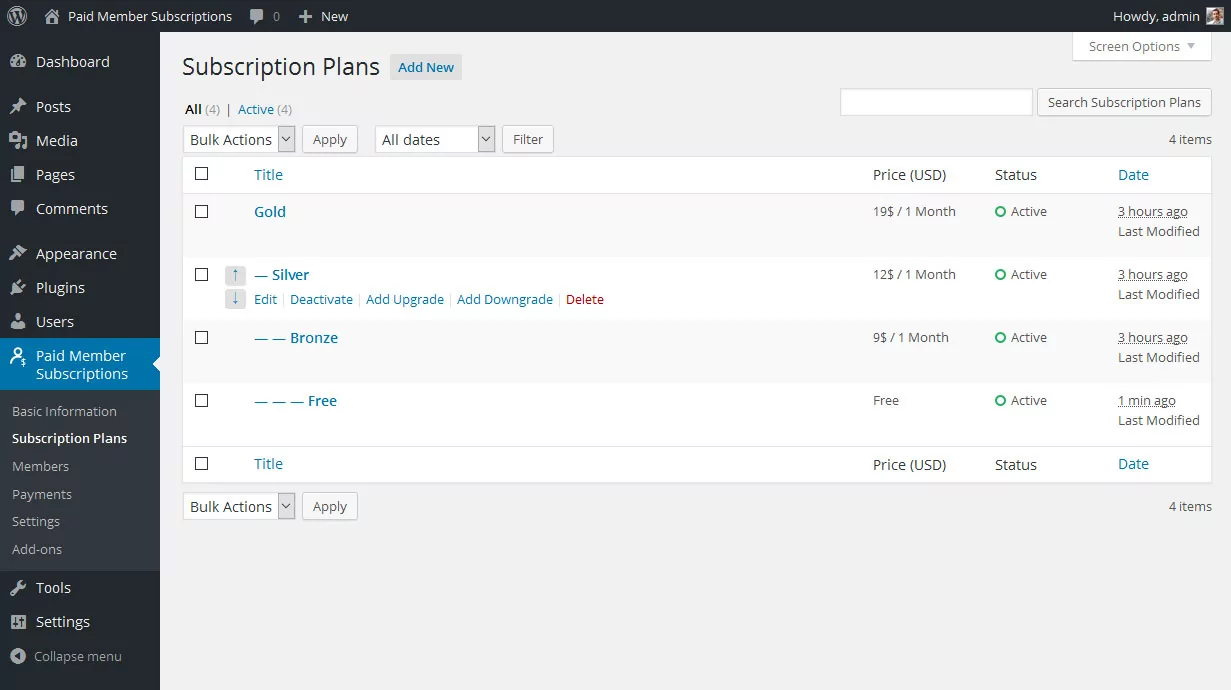 In order to know how easy or complicated a plugin is, you can look at screenshots, read the corresponding documentation or play with a demo version if it's provided.
2. Ability to Add Multiple Subscriptions or Users
For basic membership sites, one subscription per user is enough.
However, if you intend to offer subscription plans for different items on your website, it may be important that a user can sign up for multiple subscriptions. Let's say John is on a website that provides subscriptions for digital marketing tips. He wants the subscription that delivers tutorials on how to create quality blog posts. However, he is also interested in the subscription plan that teaches individuals how to create high-quality YouTube videos. He should be able to register for both.
If you don't have a need for users to create multiple subscriptions, then this is a feature you can omit when configuring the plugin. However, it is not a bad feature to have on-hand if there is a possibility that you will offer subscriptions for multiple items in the future.
3. Automatic Upgrades or Subscription Cancellation
You also want to make sure that your members can easily upgrade their subscriptions if you offer multiple subscription levels. Automatic upgrades will allow members to instantly access a higher plan.
For example, an online publication may give its users a specific amount of access to content for $9.99 per month. If a user wants more content, they may need to pay $15.99 per month. Access to automatic upgrades can be profitable for you while removing all the friction for your subscribers.
Also, if a subscriber wants to cancel their subscription, then they should be able to do so with the click of a button. That cancellation should be able to be set in accordance with the cancellation policy you establish.
4. Payment Gateway Support
Another important factor in choosing the right membership plugin, is what payment gateways it supports.
Sometimes, if you have a more specific and not so popular requirement for a payment gateway, this can really narrow down your search. Make sure to check this closely and because one of the most critical aspect in every membership site are payments. You'll regret later not analyzing this in detail.
Some of the most popular payment gateways out there include: PayPal Standard, PayPal Express/ Pro, Authorize.net and Stripe. Most membership plugins offer these payment gateways.
When subscribers make their payments, the money will move through one of these gateways. From the gateway, you can transfer the money to your bank account.
5. Recurring Payment Support
Most of the times membership subscriptions mean monthly, or recurring, payments. Automatic recurring payment support can ensure that monthly payments are made.
For instance, the subscriber may enter that they want their PayPal account charged every month. Opting for automatic recurring payments prevents them from forgetting. Instead, the amount is automatically withdrawn from their account.
There are two main advantages to recurring payment support. The first is that the subscriber doesn't have the inconvenience of having to go through all the steps of a manual payment. The second is that automatic recurring payments increase your retention rate considerably.
However, you'll most probably want to give flexibility to your users. A good idea would be to give them a choice between automatic and manual renewal. Make sure the membership plugin you choose offers this feature.
6. Ability to Send Email Reminders to Subscribers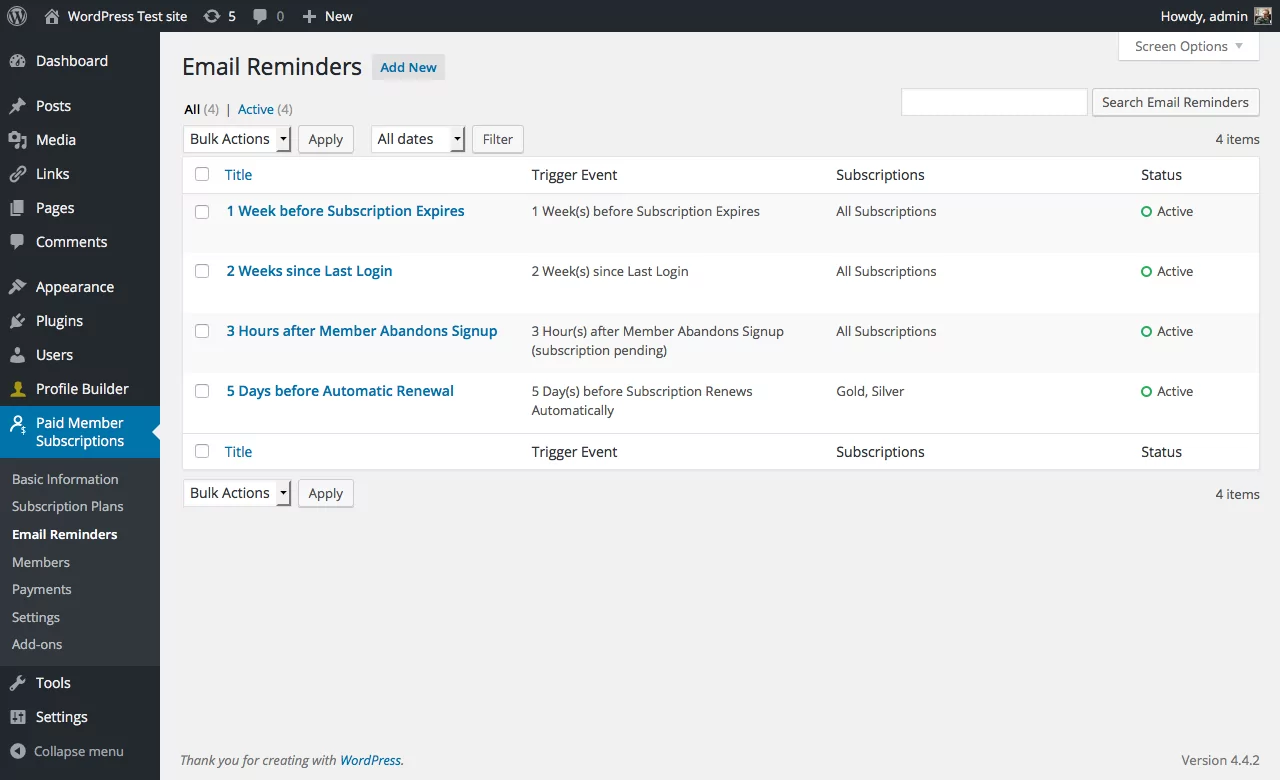 Email reminders are great when the subscriber needs to manually renew their subscription. Let's say a person has paid their subscription up a year in advance. When they signed up, they may have been given the opportunity to automatically renew or renew manually. You can send out the email reminders days or weeks ahead of time so that those renewing manually will remember to do so.
For those on automatic renewal, an email reminder can be sent to them so that they know the account on file is going to be billed. While it may seem counterproductive because subscription renewal notifications give a person the opportunity to reconsider their subscription, it is good customer service and it has other benefits.
The first benefit is that those who need to change their payment method can. The second benefit is that you can give subscribers the opportunity to upgrade their memberships. The third benefit is that your subscribers expect to receive a reminder anyway because it is common courtesy.
The email reminder function can also be used to send a signup confirmation to their email. This confirmation verifies what they signed up for and can welcome them to the site. Other reminders include "pending subscription" when a user leaves before finishing signup, notification that it has been a while since they logged in, and an invitation to come back after a subscription has expired. You just might win them back.
7. Content Dripping
This is an aspect that is important if members gain access to valuable content.
For instance, they may register to acquire exclusive content. Let's compare that content to a mansion. You want the person you've let into your home to earn access to the different rooms over time. You don't want to give them access to the entire thing at once because it takes away from the mystery. You also want to keep building onto your house as they continue to advance room-to-room so that there will always be new rooms for them to enter. That keeps them around.
This is an analogy for content dripping because it offers the ability to schedule content delivery so that a member doesn't register, log in, download everything, sign out, and never comes back.
If it's a paid access site, you don't want to give them the entire premium content upfront for them to take everything and then ask for a refund. You want to schedule content delivery. This will make sure your members will stay around as long as possible.
8. Price
Price is always a factor when choosing any third party software to integrate into your WordPress website. How much you pay will depend on the features that you have determined are needed to run your subscription service the way you want to run it.
However, there are some free membership plugins that are out there and easy to use. Some of them have a premium version, others offer paid add-ons, while other simply charge for support. The free option is an excellent way for you to try out a membership plugin before you buy one.
While it's important, price shouldn't be the main decision maker when looking for the right membership plugin. Compromising on price at this point could really hurt you in the future.
The membership plugin will probably stay on your site years from now, so problems may arise if the plugin it's not backed up by a sustainable business.
9. Documentation and Support
Last but not least, documentation and support are two very important aspects to look into when choosing the right membership plugin. The documentation serves as a guide to help you set up the plugin. Many questions can be answered through the documentation. If you come across an issue where the answer is not in the documentation, then you want to be able to talk to a human being about the problem so a solution can be devised.
Helpful support and proper documentation are super important when your membership plugin is actually making you money. You should look and see if the plugin developer offers phone support, email support, or live chat. You can also take a look at the hours they are available and how quickly they reply to a ticket.
It's always a good idea to consider how easy it is to get the help before you make a plugin purchase.
There is a Membership Plugin that's Right for You
By considering these nine factors when making a decision on which membership plugin is right for you, you are more likely to find one that is going to serve you for a long time. Considering the wide range of membership plugins available today by doing proper research it's very likely you'll find the right fit and the invested time will be totally worth it.
As you look carefully at your project requirements, you may find that there are other features that are important so don't hesitate to add them to your list. In the end, you will be amazed at how complex and effective, a membership plugin can be.
Subscribe to get early access
to new plugins, discounts and brief updates about what's new with Cozmoslabs!
Source: https://www.cozmoslabs.com/58172-right-membership-plugin/
---
You might also like this video