You should be sending more emails. That's something every marketer will preach about.
And guess what, setting up membership email reminders is no different. It should be a top priority, because it can positively impact your revenue.
That's because most of the times your site members have no idea about upcoming deadlines related to their subscription, so you need to remind them. Also, they expect to be reminded.
Especially before their subscription is about to expire, or auto-renew for that matter. It shouldn't be their job to remember these things. Leaving this to chance will hurt your membership retention rate in the long run.
To stress this even further, one of the most requested features for our free membership plugin, Paid Member Subscriptions, was the ability to send automatic email reminders to members.
Why you should always be sending membership email reminders?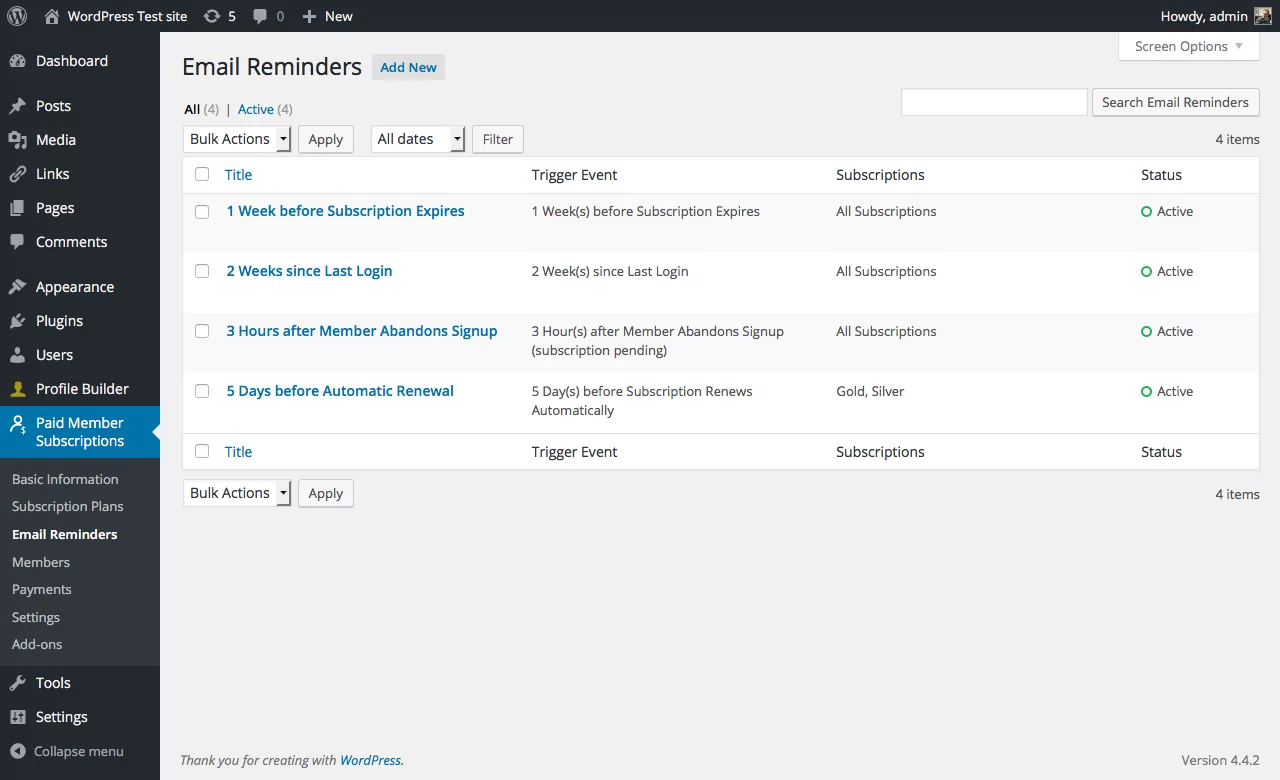 Simply put, because it's one of the simplest, cheapest and most effective ways to increase your membership site revenue by doing the following:
raising your membership retention rates
increasing user engagement
up-selling higher subscription plans, products or services you might offer
boosting signup rates
highlighting your best content
building better connections with your members
Sounds pretty awesome, right? Yet, this practice is so often ignored by membership site owners.
Types of Membership Email Reminders
There are several types of email reminders you can send before or after certain events take place which will have a positive impact on the growth of your membership site.
We'll go into each type below:

After Member Signs Up
Great, you have a new member! Using this trigger event you can send a couple of on-boarding emails to your newly registered member.
A couple of days after signing up you can email and ask him how he's finding the site, send further instructions on how to make the most of his membership, maybe even get feedback.
If he signed up for a free subscription plan, you can wait a few days/weeks, then send him a couple of teaser emails, for up-selling your premium subscription plans or highlighting parts of your paid content.
This trigger comes in very handy when you want to persuade your free members into upgrading to a paid membership plan.
After Member Abandons Signup (subscription pending)
This trigger event can be very efficient in increasing member sign-up rate.
It allows you to get in touch with potential members who didn't complete the signup process and offer to help.
I'm talking about potential members who had second thoughts, are not sure what you're offering is the right fit, faced difficulties during sign up or simply got distracted and browsed elsewhere.
In Paid Member Subscriptions, we're storing all this data so you can easily contact people who didn't complete the subscription payment process and see if there's anything they need before making up their mind.
We've been doing this constantly over at Cozmoslabs as well regarding our plugin purchases, emailing people who didn't complete the purchase to see if there's anything they need help with.
By doing this, we've received very useful feedback over the years on things to improve, highlight better, communicate better, simplify and so on. Acting on this improved our conversion rate. A membership site is no different.
Before Subscription Expires
This is probably one of the most important membership email reminder you need to send, as it has the biggest impact on your site revenue.
If the membership subscriptions you offer don't renew automatically, the best way to let your members know that they need to renew their subscription in order to keep their membership active, is by sending renewal reminder emails.
We'll go into more details regarding these type of reminders below.
After Subscription Expires
Even after their subscription expired, it's always a good idea to try and win a ex-member back.
You can highlight all the updates and new things that were added to his membership in the last period and show him what he's missing out on. Also, feedback from members who decided not to renew can be useful.
Before Subscription Renews Automatically
This trigger is often used in order to give your members a heads up before they're billed again.
Let's say you're selling 1 year recurring memberships. Sometimes, especially for yearly subscriptions, it's a good idea to let your member know that they will be charged again before the next billing cycle.
Since Last Login
Reaching out to members who haven't visited your site in a long time and letting them know what's new is a great way to increase user engagement and keep members showing up.
Also, you can get valuable feedback from reaching out to people who stopped visiting. All of which can help you improve your membership site offering.
Retention is a very big deal for any membership site so you should definitely consider these types of reminders.
Because each one of these reminder types has it's own importance, we made sure to include all of them in our Email Reminders add-on.
Copywriting Does Matter
When it comes to building effective membership email reminders, good copy will always be a factor.
While it's by far less difficult than writing copy for a sales page, there are a few things you should keep in mind while setting up your automatic membership email reminders.
From Name and Email

Try giving these a personal touch, by tying them to a real person (like "Adrian from Cozmoslabs"), instead of a cold company name. Also, it should be a name & company the recipient recognizes and trusts.

You can set both the from name and email for all membership emails in Paid Member Subscriptions, under the Settings->E-mails tab.

Subject line

The most important parts of every email are the subject line and content. Exactly in this order.

The subject line is the thing that will make people open your email. With reminders a good subject line should be clear, to the point, and create a sense of urgency.

The subject line should make the members open the email and get to the content.

Email content

The smart thing to do here is to use the data you have to customize each membership email reminder you send. When adding a new email reminder, we added a list of "Available Tags", so you can use specific member information in the content and give it a personal touch.

Email reminders content shouldn't be too long. Of course, the amount of copy you write depends on the type of renewal email you send. However, keep it simple, direct and actionable.

Tell your members why you're emailing them and direct them to a call to action.

Call to action

You're missing out if your email reminders content doesn't have a call to action at the end. People need guidance on what to do next, and a call to action is the best way to ask them to do something.

The call to action can be a link or button to click, even both when it's the case. Make it obvious, difficult to ignore.

Let's say you're sending a couple of renewal reminder emails. There should always be a link at the end taking them to the renewal page where all they need to do is click "Renew". The more steps you put in front of your members, the less likely they are to take them.

Also, if you want to make your call to action even more powerful, consider offering an incentive.
For renewal reminder emails you can use something like: "Get 30% OFF regular subscription price if you renew now before your membership expires", or "Renew now and get one month free".

Always consider putting an expiration date on your incentive. Adding a sense of urgency to your call to action can go a long way.

For potential members who didn't complete the signup process, you can also send them a link to a free sample of your content, or if you're running an online course let them know what they're missing out by highlighting all the things they could be learning.
Build a campaign, not just a single reminder
The beauty of the Email Reminders add-on is that you can create as many reminders as you want for a specific trigger event.
When you find yourself obsessing too much about perfect copy, remember that sending a badly written reminder is much better than not sending it at all.
And yes, it's a very good idea to send a series of follow up emails for a certain trigger event. This can significantly increase the chances of your reminder achieving it's purpose. That is to be opened, read and clicked.
How would a membership renewal campaign look like?
You should consider sending at least 2-3 emails. If you're selling an annual subscription, the first one should be sent something like a month before expiration. The sooner you can send it, the better. Just don't overdoit.
The second reminder can be sent 15 days or two weeks before, and the last one one day before or even in the expiration day. Make sure to adjust your copy for each reminder.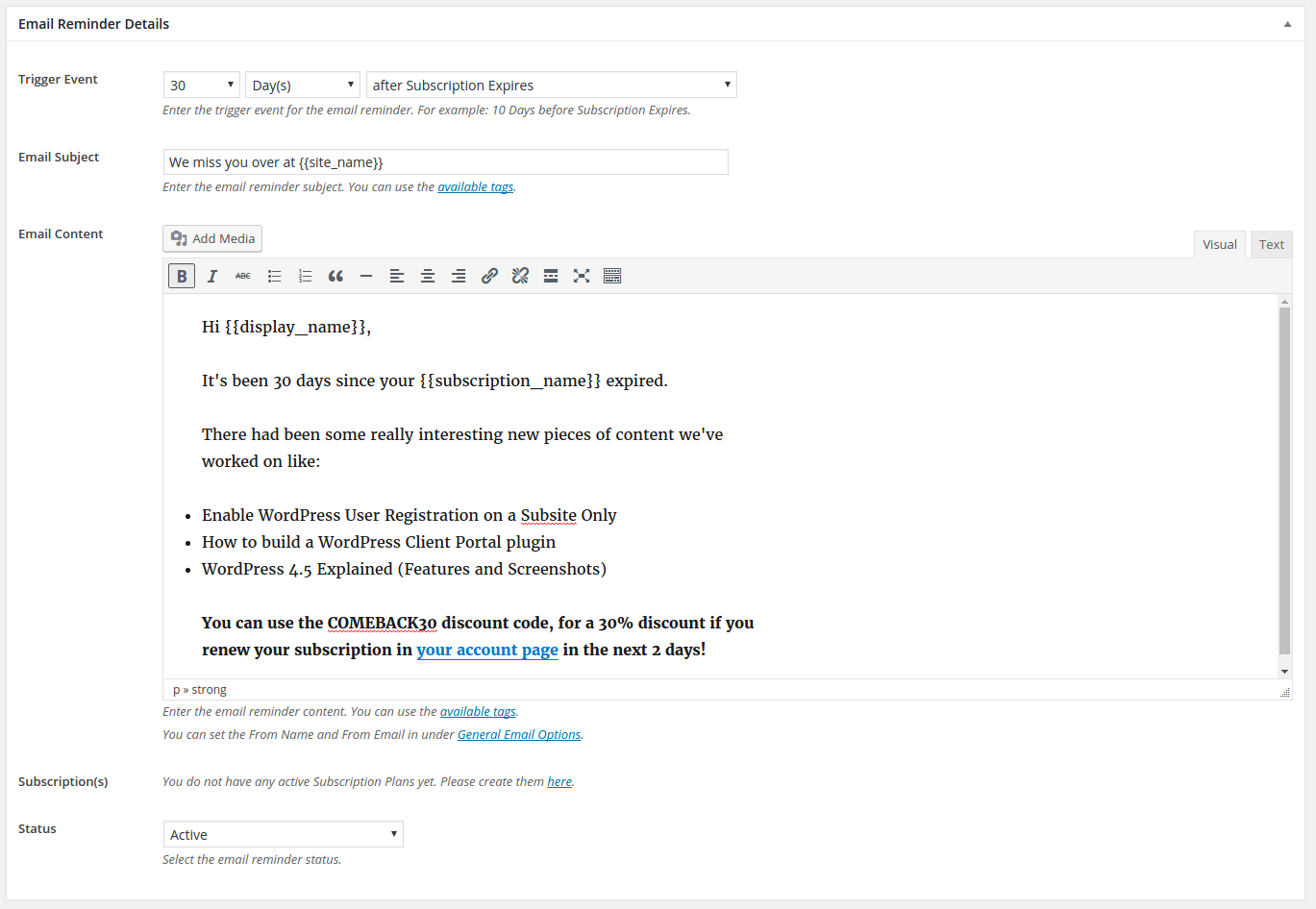 When you find yourself obsessing too much about perfect copy, remember that sending a badly written reminder is much better than not sending it at all.
Don't Ignore Membership Email Deliverability
If you're on a shared hosting, your reminders have a big chance of ending up in your client's spam inbox.
None of the above matter if you can't be sure that your emails are being delivered quickly and reliably to your members. In order to be opened and clicked your email reminders first need to reach their destination.
By default, WordPress sends emails using the php mail() function. While this can work in most cases, it was never designed to ensure that your mail is sent out fast and without issue. Also, if you're on a shared hosting, your reminders have a big chance of ending up in your client's spam inbox.
Using 3rd party mailing services.
While there are a lot of Transactional Email providers, we've been using Postmark App successfully for the past 3 years.
Since they send transactional emails only, ISPs don't mark them as spam. Their infrastructure combined with proper content and delivery practices means higher response rates from your customers.
Other important features are:
Possibility to View 45 days of searchable sending history including full content, bounces, and spam complaints.
See who opened your emails, where they opened it, what clients and platforms they used, and even how long they read the email.
For alternatives to Postmark App, checkout this article.
This way, you can easily check what emails are delivered daily, or if a customer complains about not receiving an email, check the log and see if there was an issue delivering their email.
All you need to do is sign-up for an account, then download one of the available WordPress plugins for a seamless integration, and fill in the plugin Settings page with your newly created account username and password.
SMTP Plugin
The alternative to the alternative to the PHP mail() function is a SMTP Plugin.
Basically it will send emails through a proper mail server similar to what you're using when sending emails from Outlook or Gmail.
Start sending Membership Email Reminders today!
By now, you should have all the tools and knowledge to set up effective email reminders for your membership site. This is something that can be easily automated, so simply set it and forget it.
Also, don't forget that you should remind people far enough ahead so they can see you email and have time to act accordingly.
When done right, membership email reminders can have a significant impact on your membership site revenue.
Find out more about Email Reminders for Paid Member Subscriptions
Subscribe to get early access
to new plugins, discounts and brief updates about what's new with Cozmoslabs!
Source: https://www.cozmoslabs.com/56176-membership-email-reminders/
---
---
You might also like this video