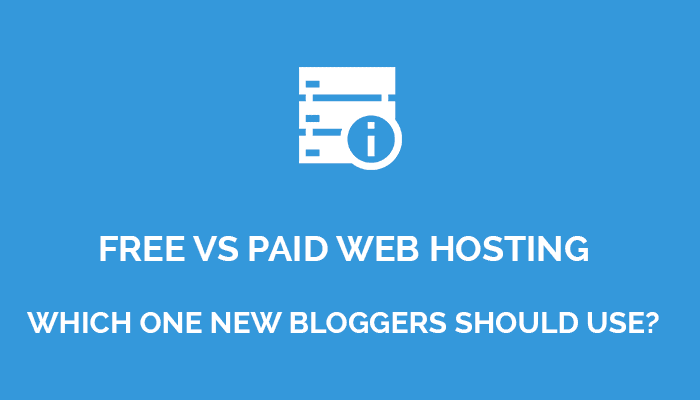 Having a personal blog site has become a trending during the latest years. People use it to record their daily activities, to showcase their expertise, to contact with friends and to make money online. With the increasing popularity of the personal blog, there is a confusion that bothers many new bloggers – should I try a free blog hosting to save budgets or purchase a paid one to guarantee the proper blog running?
To resolve this issue, I've come out a detailed introduction of the strong points and shortcomings of these two hosting types, helping you understand when you should try the free hosting and when you can try the paid option.

About Free Blog Hosting
If you go with a free blog hosting, then it means that you can enjoy the hosting service, usually the shared web hosting, to set up your self-hosted blog site online without charging. This way, you can have your pre-determined domain name, own the full control over the blog, install whatever plugins and themes you like, and do anything you want with the webpage and content.
Among these, the best thing is that you do not need to spend a penny to pay for the hosting solution. Even, your domain name might be allowed for free by your web host. Sounds great? Yes, free hosting is surely a fantastic option. But before going with it, simply have a look at its drawbacks listed in the following.
Limited server resources – Generally, free web hosts put thousands of blogs into one physical web server, meaning that your allocation of disk space and monthly bandwidth is really limited. Therefore, there are no chances for you to grow your blog and to expand the reader base. Generally, the extreme affordability of a free hosting is only 200 textual-mainly webpages and 400 daily visits.
Unstable performance – To be frank, you get what you pay. Even the expensive dedicated hosting may cause downtime, then how can you expect a good uptime by paying nothing? Besides, as you have a large number of neighborhoods in the server, your chances to be negatively affected by their fool operations and massive resource utilizations are increased greatly.
Poor technical support – You cannot guarantee that you would never encounter any technical problem during your utilization of the blog hosting. Once you are in stuck, you are hardly to get a helpful hand from the free hosting.
Hidden fees – This is a dirty secret behind free hosting. It does not require you to pay anything about the hosting service, but charges you something in hidden when you start using the service, such as the script setup fees and blog backup fees.
Expensive renewal fees – Getting the service for free is surely great, but this situation usually only lasts 1 year. After the first year, you have to renew your account, and the renewal price may surprise you with a high rate.
About Paid Blog Hosting
Without doubt, the paid hosting contains all the benefits offered by the free hosting, and can guarantee more features, faster page loading speed, higher uptime track record and better technical support than the free one. However, as every coin has two sides, paid blog hosting can never be comparable to free hosting in terms of the cost-effectiveness.
After researching on Google and referring to the information of some reliable hosting review sites like LinkedHosts, we have found that the price of blog hosting on the market is around $5- $10/mo. To be frank, this kind of rate is not a huge burden for some experienced bloggers, but may be a hesitation for some budget-conscious people such as the notoriously-poor students.
Besides, there are some web hosts offering the so-called full-managed blog hosting, which charges customers around $20/mo. Personally, paying such as high price for blog building is not a cost-effective thing.
Paid hosting comes with many great features.
Unlimited Space
Unlimited Bandwidth and Email Accounts
Unlimited Websites Allowed
FREE 1-Click Installation of WordPress
Money-Back Guarantee
24×7 WordPress Experienced Support
Cheap and Affordable
Extra Addons
If you're looking for reliable and great web hosting within your budget, check out my guide on build a popular blog, then use the paid hosting.
What you want to do with blogging?
In fact, blogging is great method for online money making. If you aim at earning the pocket money or even earning your leaving, then not hesitate to pay for a hosting. On the contrary, if you only want to have a fun from blogging, then there is no need to pay for this.
What kind of blog you are going to build?
For some small blog site that only contains no more than 150 webpages and 300 daily views, the quality free hosting might be enough. But for some content-rich blogs and medium-sized sites, the paid hosting is more secure.
Summary
Now, you must know which hosting type is the best option for you. But still, we have one more tip to tell you – make sure that the hosting provider you choose is reliable and quality. If you don't know where to start, this top-3 award page can narrow down your choices and give your some valuable suggestions.
Source: https://allbloggingtips.com/free-vs-paid-hosting/
---
---
You might also like this video