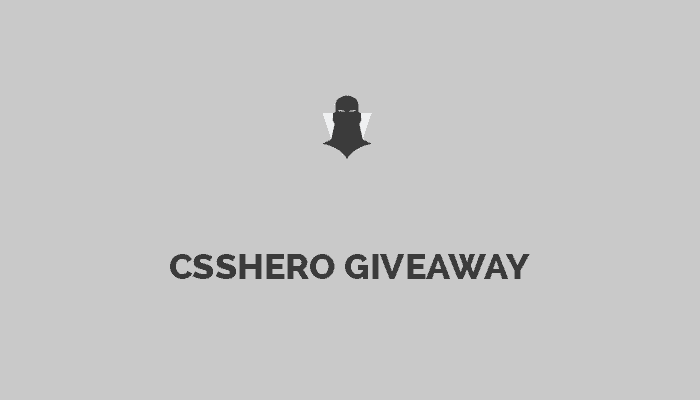 UPDATE: Winners announced!!
Happy new year bloggers!
As one year end, other arrives bringing along fresh waves of hopes, aspirations and surprises.
In order to make this year more special for you, I'm about to give you a surprise. It has been some time since I presented a giveaway surprise and what better occasion could there be to do the same than New Year? So be prepared for a surprise that will make this year even more special for you.
And..the surprize is 10 CSSHero account for lucky winners.
For those who are unaware and are new to the family, let me begin by giving a brief introduction as to what CSSHERO is. It is basically a wordpress plug-in that enables you to customize your themes in an easier manner. There are numerous features that make it favorable among the masses and particularly among the blog owners. CSSHERO slows you to make your site more interesting and appealing.
So what are the features that make CSSHERO a nice choice?
1. Easy to use
If you are someone who has only the basic knowledge regarding these things and are looking for something that would be easier to operate, this would certainly work in your favor. A few clicks are all that you will have to do to bring about the changes that you wish to make to the themes. You can even make the edits on your gadgets.
2. Your personal touch
CSSHERO allows you to give a more personal touch to the themes. You have a wide variety of color choices and you can select the one that you find more in line with your taste. The last color that you used will be stored in the memory thereby giving you an opportunity to compare the changes.
3. Font selection
As CSSHERO offers more than 400 fonts for your use, you are spoilt for choices. You can select the one that you find appropriate and that matches with the nature of your blog with ease without having to make a compromise. Popular web fonts and glyphs are available for your use
4. A simple affair
Ordinarily you would expect the customization of themes to be a difficult business. That would not be the case if you use CSSHERO as it makes the tough job easier. Building gradients, text shadows, all can be handled using CSSHERO with ease. The advanced features would not confuse you and are easy to understand.
Giveaway Prize:
We'll choose 10 winners and each winner will get 1-year starter plan membership of CSSHero.org, Isn't that good? Now you can customize WordPress theme even without technical knowledge!
Contest Duration:
This contest will be open for 12 days. So participate now!
Contest Starts – 9 Jan 2015
Contest Ends – 21 Jan 2015
Announcement date:
We will contact you through your emails for prize. So please make sure to provide valid email address while entering into giveaway!
ENTER NOW
So do not hesitate. Encourage your friends and other people by sharing this incredible piece of news as this would increase your chances of winning the surprise. You do not wish to miss this golden opportunity as the price would be something that would prove to be beneficial for you. Do not be lax. Enter and get the giveaway.
Entering our competition for a CSSHero membership is easy. All you have to do is enter is leave a comment on this post explaining why you need a membership at CSSHero. Then simply register your entry using the RaffleCopter box below. You can increase chances of winning by following All Blogging Tips and sharing this post.
Good luck.
Source: https://allbloggingtips.com/csshero-giveaway/
---
---
You might also like this video