After the newly launched version 2 of Profile Builder PRO, we focused on releasing an update to the Profile Builder Free version from wordpress.org.
Profile Builder Free v2 comes with:
a completely redesigned interface, more focused on flexibility
manage default user profile fields (add/edit/delete)
drag & drop to reorder profile fields
set a minimum password length
enforce minimum password strength (using the built in WordPress strength meter)
email confirmation for new users
allow users to login with email or username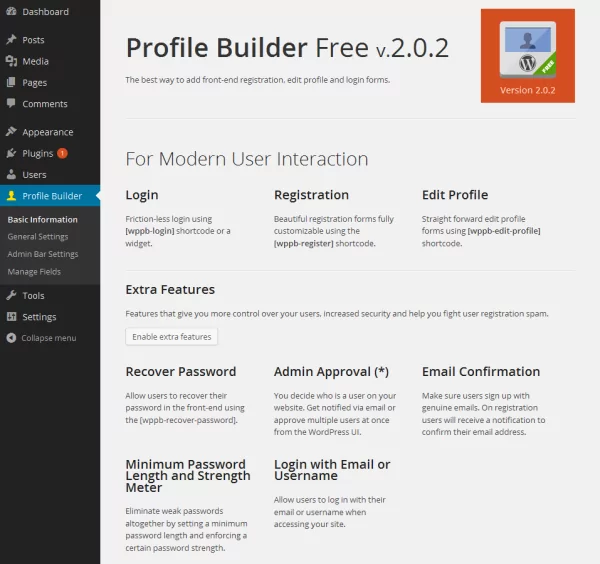 New to Profile Builder?
If you're looking to have a basic front-end registration for your website, you'll find Profile Builder Free very easy to set up. It's shortcode based, allowing you to set up register, login and edit profile forms in minutes.
More functionality (like Extra User Fields (Avatar Upload), Front-end User Listings, Custom Redirects or Multiple Registration Forms) is available in the premium versions.
Subscribe to get early access
to new plugins, discounts and brief updates about what's new with Cozmoslabs!
Source: https://www.cozmoslabs.com/31452-profile-builder-free/
---
You might also like this video