Profile Builder is about to get even better. The past couple of months we've been working hard to improve and extend its functionality.


Most of the architecture and UI of the plugin has been rebuilt from scratch for increased usability, focusing on the most essential tasks you would need from an all in one user registration and management plugin.
Since the official release is approaching soon, we thought we'd give you a sneak peak at some of the new things in Profile Builder 2.0.
Managing Default and Extra User Fields has never been easier
One of the main focus in 2.0 was to offer more flexibility when it comes to managing default and extra user fields. The "Manage Fields" tab now contains a list of both the default and extra (custom) user fields.
You have the same wide list of field types available and can add an unlimited number of custom fields to the front-end registration forms.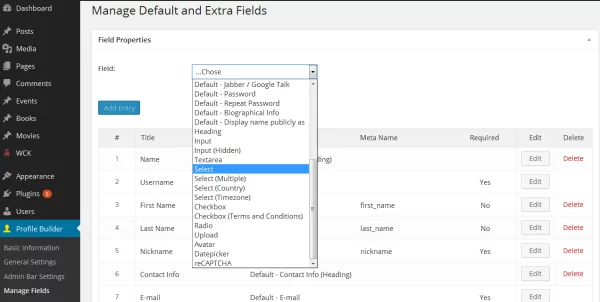 You can now simply drag and drop to reorder the fields exactly the way you need, being able to easily mix the default and extra fields in the front-end forms. This way you'll be able to arrange, remove and add fields at any point. You can easily mark a field as required or private/hidden, and group them by using Headings.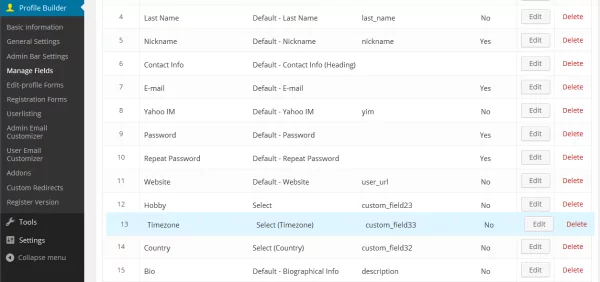 Drag and drop to rearrange and mix default and extra user fields
Multiple Registration Forms
If you're building a professional directory or community website you probably need to register different types of users (e.g. Teachers and Students, Doctors and Pacients) and have them fill in different type of information at registration.
Profile Builder 2.0 allows you to create multiple registration forms with different fields for each user role. This is gold when you need to collect different information from different types of users, and it's something that wasn't available in older versions of the plugin.


The Multiple Registration Forms addon introduced in 2.0 offers the flexibility to create separate registration forms with different custom fields for each user role.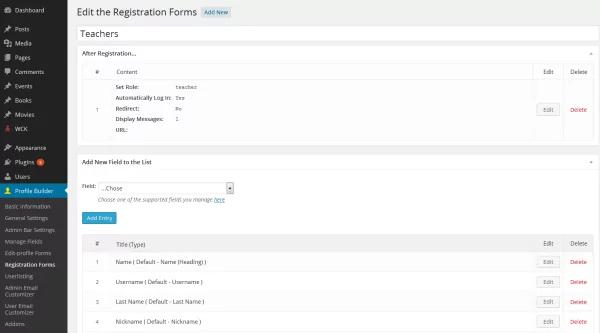 Multiple Edit Profile forms
If you have different types of users registering with different types of extra fields, it makes sense to have multiple Edit Profile Forms for each user role as well. This way you can give each user role the ability to edit the information entered at registration.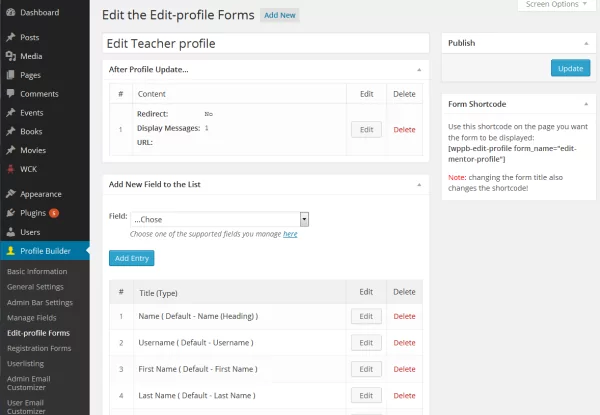 Different Fields for Register and Edit Profile forms
Having the ability to create multiple registration and edit profile forms per user role offers limitless options. In Profile Builder 2.0 you can also define different fields for the Register and Edit Profile forms.
For example in some cases you may want some fields introduced at registration, not to be editable or visible under the Edit Profile form for a certain membership role. These are fields with information that you don't want to allow people to change. You can achieve this by simply removing those fields from the Edit Profile form.
The same applies for when you want to have a lite registration, with just a couple of form fields to fill, but then offer an extended Edit Profile form with multiple fields for when people update their profile.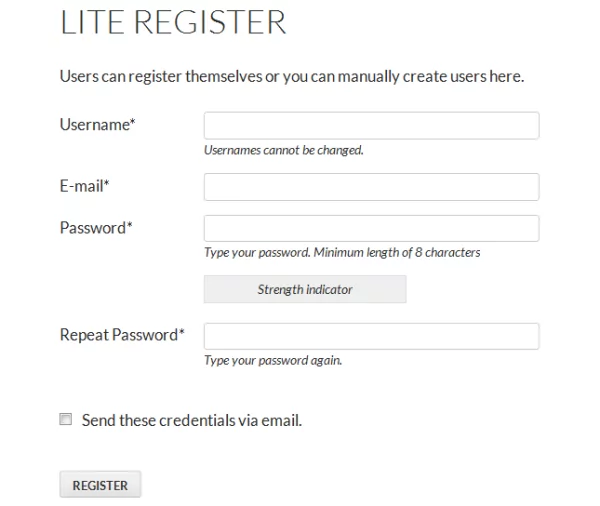 All extra fields won't be visible at registration and will only appear on the Edit Profile page, after registration is completed.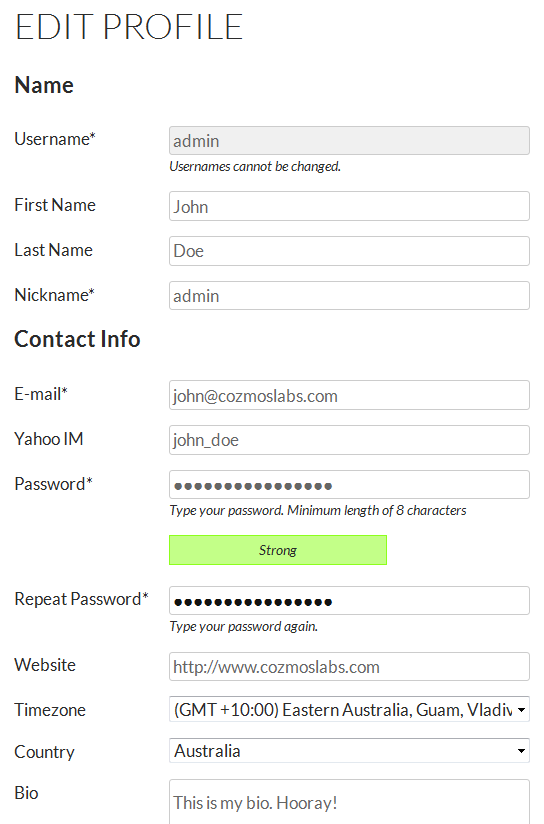 Enforcing Minimum Password Length and Password Strength
Profile Builder 2.0 is more focused on security offering an easy way to add password restrictions. You'll have access to a simple UI for enforcing a minimum password length and password strength for all user registration forms.
The password strength is determined using the powerful built in WordPress password strength meter, and enforced by our plugin on all forms (front-end and back-end) where users can enter, change or update their passwords.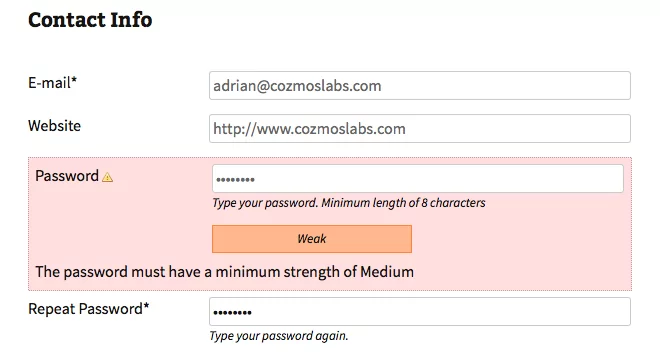 Enforcing the minimum password length and strength on the front-end Edit Profile page.
Enhanced Member Directory
The 2.0 User Listing was also rebuilt from scratch, offering tons of options for sorting and filtering your users. You can create as many Member Directories (User Listings) as you need and for each one of them you can choose settings like: which roles to display, control over pagination, avatar size and sorting options.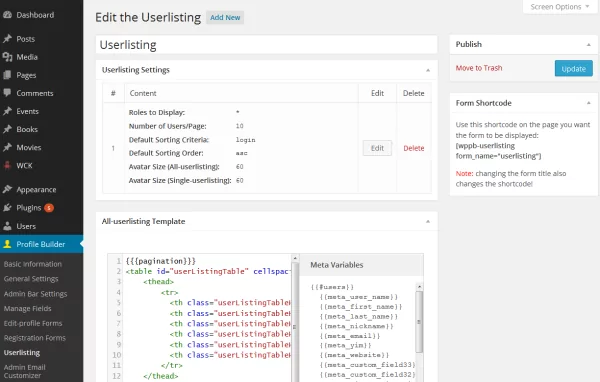 The new User Listing add-on offers all the flexibility you'll ever need for displaying different type of users in a certain manner.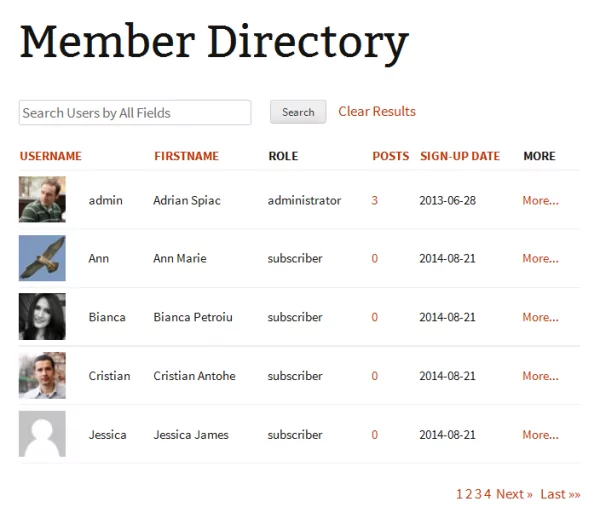 You can search for members based on any extra field and you have lots of filtering options: select which roles to display, sort by role, registration date, posts, or any custom user field.
You have full control over the User Listing visibility, making each one visible to certain roles.
Got you interested?
Jump on the list and get notified once it's out.
[emailform]
P.S. All existing Profile Builder clients will automatically get access to version 2.0 the moment it's out.
Subscribe to get early access
to new plugins, discounts and brief updates about what's new with Cozmoslabs!
Source: https://www.cozmoslabs.com/29090-profile-builder-2-0-new-features-enhancements/
---
You might also like this video