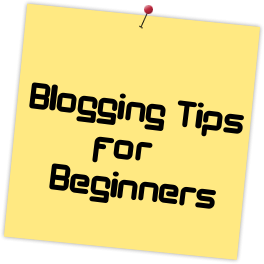 Starting a new blog is no longer hard. Many new bloggers are jumping in this blogging field.

But most of them quit very soon.

Here I decided to share Blogging Tips for Beginners to blog more better.

It doesn't matter if you haven't started a blog yet, or if you're a famous blogger, because just one of below tips can make a big difference in in your blogging.
Blogging Tips for Beginners To Blog More Better
Make Plans before launching your blog.
Choose your blogging niche wisely, choose a niche in which you are expert.
Register a simple, unique and easy to remember domain name for your blog
Signup with some affordable and features than Blogspot
Choose a perfect, SEO friendly and fast loading theme for your blog. I recommend Elegant Themes and ThemeJunkie
Learn SEO, it is too important if you want to take your blog to the next level
Don't copy from anyone else blog. Instead Post unique content on your blog.
Make a STRONG network around your blog niche, it'll help you to increase online presence as well as will make you famous soon
Update Blog Regularly. Don't just publish another blog post instead publish something that your readers would love.
Start blog commenting and write guest post for other blogs to increase website traffic, Backlinks and exposure
Don't dream big, instead set up goals.
Don't always get topics from other blogs.
Build an Mail list. It is really important. Use Madmimi email marketing service, it's free up to 2.5K subscribers and it's too cheap as compared to mailchimp or aweber
Keep your posts simple. Write for readers not search engines. Because readers are the one who can make your blog post go viral.
Be kind towards your readers. Solve their problems, provide them freebies.
Blogging is not an overnight success. It require lot of time, efforts and hard work.
Don't overload your blog with widgets. Use clutter free theme
Make your blog SEO friendly. Use premium themes and plugins like SEOPressor for WP
Link to other blogs in your niche more often, in return they would do the same!
Ask opinions about your blog from it's readers (like I did)
Reply to every comment on your blog. It's important!
Reply to almost every email that you get in your inbox from your blog readers, try to help them as much as you can.
Don't use too many ads on your blog, remember your readers want to learn something new, they don't just want to see ads on your blog.
Don't copy others images to add them on your blog instead create your own images or use any free sites to get images for your blog posts
Quality of your content matters, not quantity. Write awesome content and detail article.
Subscribe to other blogs in your niche. Don't just focus on your blog instead do focus on other blogs as well. If you follow this, your blog will be successful in short time.
Add useful pages in your blog like About, Contact, Archives and Privacy related.
Make Subscribing, Commenting and Contacting on your blog easier. Award your commentator as well.
Don't quit blogging if you don't not earning enough. Instead use blogging to learn new things and to build your name around. Blog to help people, not 'just' to earn.
Want more Blogging Tips for Beginners?
Just enter your email address here and get exclusive updates, resources and best blogging tips for beginners direct to your inbox. (No spam, we promise!)
Your Turn:
Did I missed any blogging tips for beginners?
Which blogging tips for beginners do you like the most?
Don't forget to share this post if you like any of my above blogging tips for beginners.
Source: https://allbloggingtips.com/blogging-tips-for-beginners/
---
---
You might also like this video