The size of your post matters a lot at the time you submit or publish it on the internet.
If your article is either very short or long, it won't be suit to numerous sites.
Similarly, this is also applicable in case of blog post. You will actually lose visitors if your blog post does not have perfect length. The losing of visitors will ultimately lose your customers and sales. Thus, it is necessary for you to be very careful about the length of your post.
Here is a comparison between short length post and length posts.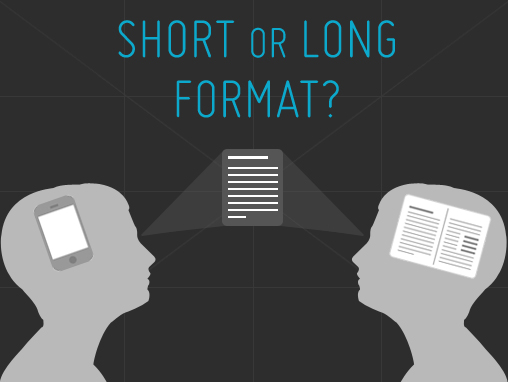 1. Short length post:
Below are some advantages of short length post that are discovered at the time of writing:
Grab attention of readers:
Readers online have short span of attention. It is said that one can concentrate less than 2 minute on an article carefully.
After that the concentration depends on the quality of the article. If your article is good and useful for the users, they will read it till the end.
Thus, with some short post, the readers get engaged in reading those. The small and interesting post can easily catch the eyes of the readers.
Easy to write:
Obviously, they are very easy to write. With a short one, you can adjust the schedule of posting as well as its flexibility. You can also try to publish post daily, and keep the readers busy in reading and commenting on the post by the technique of short posting.
2. Long Length post:
The long post consist of more than 1000 words.
Sometimes, they are of 2000 words that are pretty long. However, lengthy post also has their advantages. Here are some of the advantages of length post:
Pillar content attracting traffic overtime:
Length content is a strong method of content strategy in a blog.
True overtime of traffic is a huge advantage of length content. I
n the recent years, length content still hold the position of true content, and people know that it is the foundation guideline for some of the topics.
For an instance, a number of famous length content in the internet attracts very heavy traffic overtime. If this type of content is interesting, then people utilize lot of time to read it fully, ultimately resulting in the traffic overtime.
Covers the topic deeply:
As you write this content that consists of more than 1000 words, you must have to brainstorm strongly, and apply all the information to make it interesting, in the course of writing it.
Length post covers wide topic like SEO, website, or building back links for a specific blog.
It covers the topic very deeply as it consist more words in comparison to short post that covers only the main matter of the topic. Thus, deep cover is a big advantage of length content, which helps the reader to deeply explain the topic. A question always arises that which one is the best-
Final Words.
Sometimes, short length post are helpful for the readers like in case of basic information, short topics etc. whereas, in some cases length post is significant like in case of long explanation, deep view, better idea etc.
Size depends on a specific situation. Both of the posts have their own advantages fulfilling specific requirements.
Try to provide more useful content to your readers. Even a 500 words post can go viral or 1500 words too.
Learn How To Create Awesome Content That Worth Reading
Which post do you recommend? Long or Short Length? Do post length really matters? Share your views in comments.
Image Credit : bitrebels..com
This post was written on behalf of designmodo
Source: https://allbloggingtips.com/difference-between-short-length-post-vs-length-posts/
---
You might also like this video