People don't just use computers to browse, anymore in 2013 so It's important to create mobile version of website
With the rise in the use of Smartphones, amazing gadget innovations at CES or such events and so, we no longer need a laptop or a computer to browse the internet. Smartphones and mobile internet made it so easy to watch videos, read blogs and get whatever, one wants.
Most of the blogs I read, are from my mobile and I can do it whenever and wherever. When I'm on a journey, the mobile becomes my best pal and so do the same, with others, as well.
Just like me, there are millions of others who love reading blogs from their mobile and this is why you should optimize your website for mobiles. Though there are some responsive themes which are pre-optimized, there are still a lot of others which further are to be taken care of.
But, why should you Create Mobile Version Of Website / blogs?
Because, the number of people who own a Smartphone is rapidly increasing every day.
Internet is available on the go. It is convenient and comfortable carrying a portable device.
Google loves these blogs, which are mobile friendly too. A quarter of my site's traffic is from mobiles.
My site is optimized for mobiles. Is yours?
If not, it is just a few steps away. I came across this site which made it so easy to Create Mobile Version Of Website, so simply.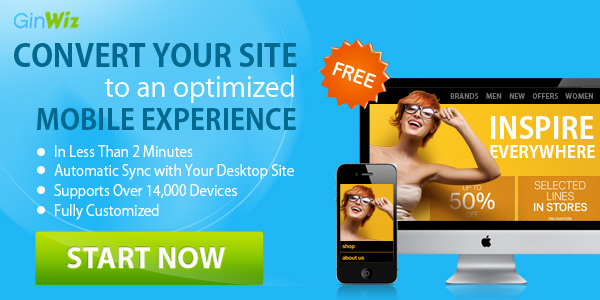 Create Mobile Version Of Website Using GinWiz
GinWiz by InfoGin is an awesome site to create the mobile friendly version of your website with ease. With few clicks, you can optimize your site for thousands of mobile devices. Tablets, Smartphones, basic mobile devices, e-readers, desktops, game consoles and almost every device can load your website.
Features of GinWiz
Easy to sign up, create and convert. The best part is, it's absolutely and completely free to use. You can simply GinWiz in less than five minutes and there are FAQs, Support forums, blog and video tutorials make it much easier.
Design Yourself
Unlike the other services/plugins, GinWiz allows you to create the mobile version of your site with your own requirements. Yes, you can do it all by yourself. There are really a lot of editing options on the go to make your site attractive enough. You need not be a master in coding to do so. One can easily get started, as there is really a lot of tools with a simple interface to create. Moreover, you can also add extra elements like YouTube videos, images, galleries etc., using HTML or CSS.
Easy To Use Templates
Though you can design, there is a really lot of stunning templates which you can use with a click. You can easily pick one from their collection of templates, which you can re-edit later on. They offer free templates for every niche site.
Analytics
You can also have a detailed analytics on the traffic data on your site. GinWiz keeps a track record of all your site's data including page views, unique visitors and even the mobile model, from which readers browsed your site. This will help you in better audience targeting and conversion.
Final Words about create mobile version of website
Though there are a lot of features, yet to be explained, I'm afraid this post is going to be so long to read. What all I say is, go get it. 😀
This can be the best ever tool to Create Mobile Version Of Website. And, another awesome thing is, it also supports e-commerce sites for optimization.
You can also make money with ginwiz using their affiliate program. So, what are you waiting for? Sign up now and create mobile version of website now for free!
Source: https://allbloggingtips.com/create-mobile-version-of-website-with-ginwiz/
---
---
You might also like this video