One of the common complaints most bloggers have is that gaining even a small RSS subscription number consistently is an uphill task for them. They are all struggling with low subscription counts and just cannot seem to get past the double digit subscription number. There are many posts around the internet that will talk about boosting your number of RSS subscribers. But then, this is a post where I share my tips on how you can increase the number of subscribers. And the mistakes that I have learned from, while I tried to gain more readers to become subscribers.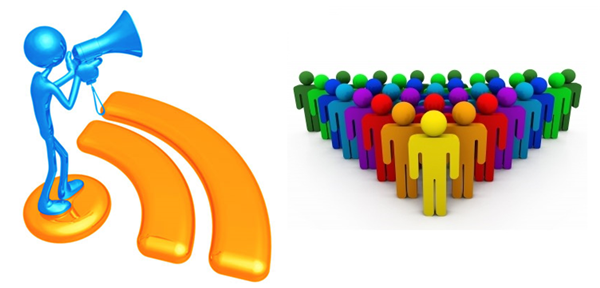 1. RSS is as important as email subscription
Although, you may find the subscription email box on every blog that you go. Fair warning is that some readers will not prefer to be emailed new posts. For example, for me it is much more convenient to read the latest post on Google reader, rather than opening my inbox expecting mails and finding new posts with it. It is a matter of personal preference- and many visitors would prefer your RSS subscription option rather than email deliveries.
See Also: Stylish & Cute Subscription Form To Increase subscribers
2. Write guest posts
Do guest posts on popular blogs, you will definitely find a jump in the subscription number. The only point to note is that make sure your blog has good content on the home page before getting the guest post published. There is no sense in doing a guest post when your blog would fail to impress visitors. And if you don't impress, there will be no RSS sign ups either.
See Also: How Do You Benefit From Guest Bloggers?
3. Use a pop-up
They are intrusive no doubt, but they are proven to work and the best blogs on the internet make use of it. The only reason is – they work! Some blogs that do make use of the pop-up to encourage visitors to sign up are blogs like Shoutmeloud, Famousbloggers etc. They have great traffic and a lot of subscribers. In fact, Darren Rowse managed to increase his conversion rate by more than 700% using pop-ups.
See Also: Another Cool jQuery Popup For Facebook Like Box – v2
4. Start a useful and irresistible series to boost subscription number
Starting a four or five post series on an interesting topic is another clever techniques bloggers use for forcing a visitor to subscribe. But make sure the series is interesting and really worth subscribing for – in that case, people will sign up to ensure that they are notified for every new post you publish in the series.
5. Use an attention grabbing RSS button
You can use a big RSS button so people don't miss it. Most readers don't have the time to find a tiny RSS icon and moreover, RSS links are hard to find in a blog. So ideally provide a nice, big button for users to see. At the same time, you can also use a .gif format animated button. if the button has effects or if it is really attractive, that can really encourage a visitor to sign up for the post subscriptions from your blog.
6. Use your About page
I am the sort of browser who would definitely visit the About page of a blog if I get curious about the blog or if I think the site is interesting. And so many times, an impressive about page has motivated me to sign up to their newsletter or posts. So give your subscription links at the end of your about page.
See Also: Making The Most Of Your About Me Page
7. Give good content
The base line of any high subscription number is that the blog provides great value in their content. Time is precious for everyone. Nobody wants to waste time reading something which bores them and is not of any use. So providing valuable content should be a task you should religiously follow.
See Also; 12 Tips For Writing Engaging Content For Readers
8. Write a post on RSS subscription
This is another technique which I have observed some bloggers are using. You can create a post all around RSS subscription – which talks about what is RSS and how it can be useful to a reader. You can give the benefits and convenience of a RSS feed and their popularity. At the end of the post, you can provide links and call-to-action for the reader to sign up for your feed. This is a technique that is really similar to a squeeze page.
9. Don't show your RSS count
It is recommended not to show your RSS account until it reaches a decent number. Because RSS subscription number is vital social proof, visitors judge your blog status by the number of readers you have on roll. So if the number is too low, you should probably hang back until it reaches a good number. Once it touches a good amount of readers, then you can display it to encourage even more subscribers to join the feed.
10. Finally, a call to action
A call to action is the most obvious way to get a boost in subscription number. Do you end all your posts asking the reader to subscribe to your blog? If not, then start doing it. You readers need to be reminded that there is an option to subscribe to your blog articles. Many readers are not aware and others are too busy or have things on their mind. So a call to action with a subscription link at the end of every post can do you wonders.
Getting new subscribers and increasing subscription number is a challenging task, but it is not impossible. Be confident and never give up even when you feel that people are not reading your blog. It is only a matter of time and a period of lot of learning's before you can become successful. I have done my talking, now I would love to hear some comments from your side below. I would be happy to get a chance to talk to you about increasing subscription number!
Guest Post by Vivek Krishnan from Entrepreneur blog.
Source: https://allbloggingtips.com/10-killer-ways-to-boost-your-rss-subscription-number/
---
---
You might also like this video