There are many bloggers in this world who just blog for fun and take this field as part time but some bloggers take blogging seriously and take there blogs to the highest level with the help of SEO. There are basically two type of SEO On Page SEO and Off Page SEO. We have already shared Top 10 Killer On Page SEO Techniques and now its time for Top 10 Off Page SEO techniques. Creating and managing a blog is only the first part of your blogging career and customizing your blog for search engines is the next and most important part. So here are few tips which may be helpful to newbie bloggers.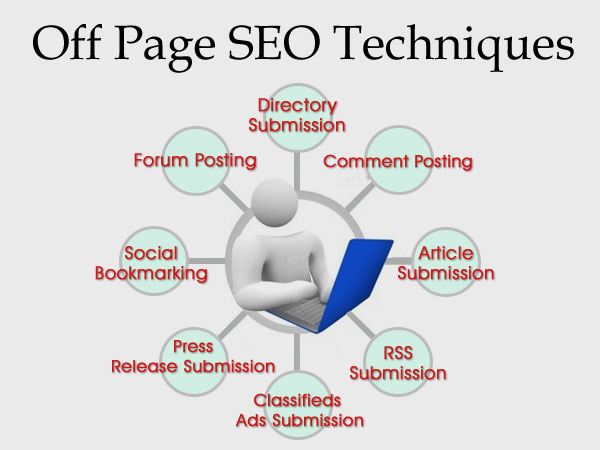 1. Submit your blog to Web Directories.
This is the very old method to tell the world that your blog exists but might not be as useful as it was before still if you submit your blog to highly relevant high page rank web directories than it still helpful for your blog. There is no rocket science involve in this just submit your blog and if approved your blog will be listed for life time. Some directories may require you to exchange link with them and some allow free and paid listing. Always submit your blog to category which is most relevant to your blog so that you get maximum benefit from web directories. Popular web directory examples are Yahoo Directory, Dmoz.org and Technorati.com etc.
2. Submit your blog to Article Directories.
Another great way to get free traffic, recognize your blog on internet and get back-links. Article directories are usually are of high page rank and submitting your articles means high value to your content and one way backlink from high page rank website. Don't over do through and only submit your articles to the high quality article directories like Ezinearticles.com, Goarticles.com, Articlesbase.com etc.
3. Forum Posting.
You must join at-least 3 to 5 forum related to your blog niche in order to get benefit from forums. The main purpose of forum posting is to get free instant traffic for your website and when you got some respect in forums than you can add your blog link in your signatures. Many forums allows your blog link to be do-follow which means full link value. You can very easily find forum related to your blog niche by search the keyword with Forum like "WordPress Forum" etc.
4. Social Bookmarking.
As soon you publish new article on your blog adding your article to social bookmarking websites is going to help it spread more across the internet. Social bookmarking websites are given importance by search engines because these websites are updated daily. Submitting your articles one by one to many social bookmarking website can be very irritating and time consuming so there are websites like SocialMarker.com which allow you to create account once than submit your article on this site and SocialMaker will do the rest for you.
5. Comments.
Leaving comments of other blog related to your blog niche can be very helpful in order to get instant free traffic and back-links. Although not all blogs will allow dofollow back-links but you can find dofollow websites. Also there are many websites which have CommentLuv plugin enabled in it which allow to leave back-link of your article with full title in anchor text which is very useful for your website SEO. You can down a list of CommentLuv enabled blogs list here which is released by iTechCode
6. Social Networking.
Lots of people underestimate the power of social networking websites but let me tell you that many blog on internet are only getting traffic from social networking giants like Facebook, Twitter etc and in huge numbers too. In order to get traffic from search engines you have to work very hard and its a time consuming process where as getting traffic from social networking websites is much easier. Try to add as many bloggers as you can in your profile and participate in groups where blogger meet.
7. RSS Submission.
RSS feed directory submission websites work exactly like social bookmarking websites but here you blog feed is being shared rather than blog pages. People visit these RSS submission websites daily and when ever they found interesting stuff they will visit that site. So if they like your blog than they visit and you get the traffic you want. Also you will get free back-links and some time these websites do the magic and you will get a flood of traffic. You can find a list of RSS Submission websites here.
8. Link Baiting.
Link baiting is a term used when some one picks up some content from your blog and than give reference of your blog in the article. That way you get backlink but for this practice we have to respect other so that they respect us. For example if you pickup some content or image from any website and don't give credit to the website than how can you expect this from others. So for this to work you have to write long and creative articles which really attract users so that they share it with others.
9. .EDU & .GOV Backlinks.
If you want to achieve success quickly in blogging than try to build .EDU and .GOV backlinks to your blog and see the magic. Search engines highly respect .GOV and .EDU websites and link back from these means that you will be on first page of Google.
10. Guest Posting.
Really popular now a days and so many bloggers are successful just this one technique. In guest posting you have to write articles for other blogs and in return you get the traffic and 2 quality one way dofollow back links. Almost all blogs have enabled this option which means endless you can submit your posts to unlimited blogs. But again key is that always submit your articles to high page rank and related blogs for higher return.
Source: https://allbloggingtips.com/top-10-off-page-seo-techniques/
---
---
You might also like this video